Technology has changed the way we do things more so in the past 100 years than ever before. In the construction industry, 2020 is about safer, more efficient, and more autonomous job sites.
Digital advancement and ease of accessibility are at the forefront of construction tech innovation. Read on to learn about Gearflow's Tech to Watch for 2020.
Gearflow's 2020 Construction Tech Watchlist:
1. Artificial Intelligence (AI)
Within the last decade, Artificial Intelligence (AI) has become a well-known term associated with improving or automating processes that before required natural or human intelligence.
Thanks to IBM's "Jeopardy!" project in 2011, the world watched Watson, IBM's "question answering machine," take on two previous human Jeopardy champions. At the time, this project was seen as the validation AI needed for rapid adoption which it had yet to achieve after many failed attempts in the 1960s and again in the 1980s.
Watson ultimately ended up winning the competition with more than a $50,000 lead above the other two contestants. This project proved that AI was no longer an unattainable technology, despite previous beliefs.
Recently, the implementation of AI in various industries to solve problems and improve efficiency has been widely accepted and has made measurable changes. Specifically, in the construction industry, AI adoption is quite low.
Of the start-ups that have entered the construction tech market, few have gained traction. New construction tech start-ups continue to emerge, offering various AI tools to assist throughout the lifecycle of the project. The companies' typical use cases can be divided into three categories: back-office, digital collaboration, and onsite execution.
For example, in the digital collaboration category, a construction planning platform named ALICE uses AI to help contractors create "A Playbook for Planning." ALICE uses project specifications to simulate various project options for both you and your client. The program can also help during preconstruction, claiming to minimize risk, cost, and project duration.
2. Robotics
Another example of an AI-focused construction tech company, this time focusing on the onsite execution category, is Built Robotics. Built Robotics upgrades heavy equipment to operate autonomously using AI guidance systems. Built Robotics feature an autonomous dozer, excavator, and skid steer at the moment.
Robotics holds much potential for the construction industry. As most of the construction industry faces a labor shortage, construction robots are a potential solution in many people's eyes.
Japan's National Institute of Advanced Industrial Science and Technology (AIST) has been developing humanoid robots since the early 2000s. AIST is now on their 5th generation humanoid robot, the HRP-5P. The HRP-5P was able to independently handle and carry large, heavy objects at a mock construction site. In the future, AIST plans to use the HRP-5P as an R&D platform for future robotics.
Various other companies are currently designing and developing both humanoid construction robots as well as smaller construction robots programmed for specific tasks. It will be interesting to see what both big and small robotics companies have in store for the remainder of 2020.
3. Drones
Over the past five years, the adoption of drones has helped construction companies to make improvements and save time. With the various immediate benefits drones offer to the construction industry, it is no surprise that in a 2018 Skyward survey on usage of drones in big businesses, construction companies led in adoption rate. 35% of the construction and engineering companies surveyed reported using drones.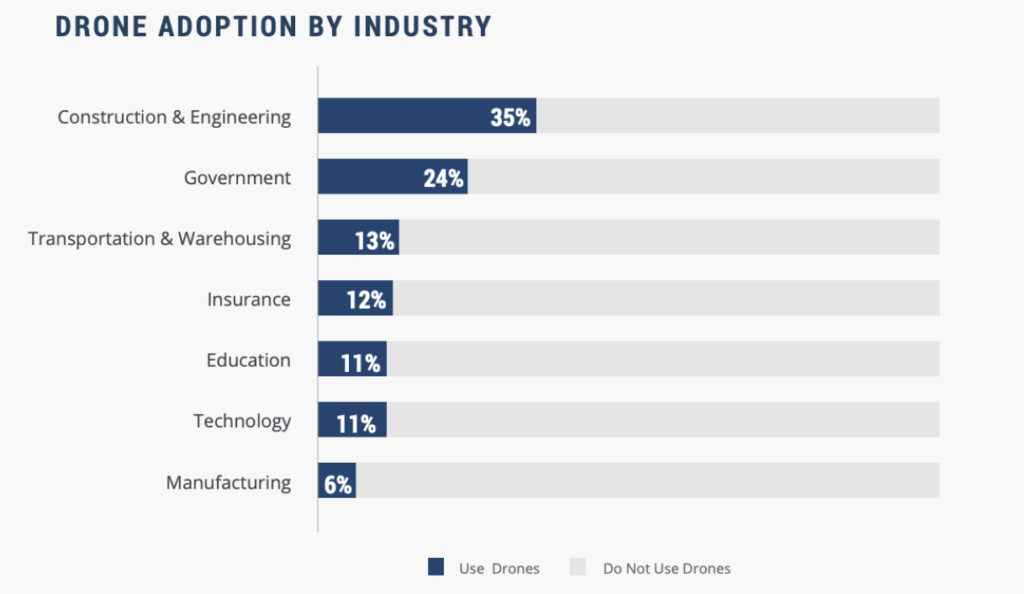 Among construction companies' operations, drones can be used for many tasks. The most obvious example would be keeping clients and other involved parties up to date. Since many drones can take photos and record videos, daily or weekly up to date drone footage can be easily shared with any smartphone, tablet, or computer.
Other benefits of using drones in construction include more accurate initial surveying and planning, access to more frequent aerial surveys, warnings about possible congestions or delays, and monitoring worker productivity.
4. Building Information Modeling Software
Building information modeling (BIM) is a collaborative process that allows all involved parties to communicate throughout a project's lifecycle. BIM is present during the planning, design, construction, operation, and maintenance using a smart model, typically 3D. Now, many companies are also using 4D, 5D, and 6D modeling along with the other tools built into this software. BIM relies heavily on data and utilizes the Internet of Things (IoT) along with augmented reality (AR).
Internet of Things (IoT) refers to an interrelated system of devices with the ability to automatically transfer data or communicate with each other. For example, think about smart home products, everything from locks to fireplaces to lights can all be interconnected, automated, and controlled. IoT is continuously growing with the introduction of new technologies.
The most critical part of BIM is the actionable data it gathers. Technology giant Trimble explains,
"The data can be used to improve accuracy, express design intent from the office to the field, improve knowledge transfer from stakeholder to stakeholder, reduce change orders and field coordination problems, and provide insight into existing buildings for renovation projects later on."
With data shared amongst all stakeholders, inefficiencies in procurement, communication, and scheduling become reduced, ultimately saving involved parties both time and money.
5. Wearables
With the introduction of the ever popular Apple Watch, people have seen the expansive capabilities of tech — specifically within wearable technology. A major insight from the development of this innovation is that it can also increase safety. Within the construction industry specifically, there has been a rise in wearable tech releases as well as in increase in scheduled releases. Some the most notable items include "smart" hardhats, boots, and glasses.
Hardhats
How can a hardhat be smart, you ask? When you're on a job site, chances are you have on your hardhat to protect you from danger. Combining your hardhat's physical protection with IoT sensors and communication capabilities, you can increase job site safety for not only yourself but also your co-workers.
Various construction companies are beginning to incorporate this technology into their crew's safety helmets. In Australia, international engineering firm Laing O'Rourke formed a partnership with MOQDigital to develop "smart" safety helmets for their team. In a case study by MOQDigital, they explain Laing O'Rourke's smart hardhat "monitors the temperature and heart-rate of the wearer, plus the external temperature and humidity. It also contains a GPS module and an accelerometer for determination of orientation and the impact of vibration or shock."
According to UberGizmo, Shimabun, a Japanese company, created a hardhat upgrade kit featuring similar technologies to monitor worker's temperature, motion, and location. This kit also allows for construction companies to track employees' data to improve the safety of job sites and ensure the same accident does not happen twice.
Boots
Just like the hardhats, you might be thinking, how will my work boots utilize IoT technologies? The company SolePower is developing the "SmartBoot" with the goal "to reduce incident rates, increase worksite visibility, and establish metrics from which workflow and safety improvements can be made." The boot has three models for defense, first responders, and industrial and construction workers.
While both the defense boot and the first responder boot have their incredible features, the industrial boot's main features focus on efficiency, safety, and compliance. The industrial boot can measure user fatigue, send emergency alerts, prevent struck-by accidents, and help to improve workflow transparency.
Glasses
Smart glasses have been teased by companies like Google and Snapchat in the past, but have repeatedly failed to meet user expectations. Microsoft's AR "smart glass" headset, HoloLens, brings augmented reality into the construction industry.
Using both augmented reality and IoT, this device can provide users with real-time blueprints placed in their exact locations on the job site, help users visualize models, measure distance, communicate with co-workers both onsite and off-site through hands-free video chat, provide employee training, help users perform inspections, and perform many other tasks with the installation of various third-party apps available for the HoloLens.
One third-party app available for the HoloLens directly relating to construction comes from Trimble, called Trimble Connect. Watch construction workers try the HoloLens with Trimble Connect for the first time:
6. AR and VR
Augmented reality (AR) has already been mentioned multiple times in this article but is an essential technology to highlight. By providing the user with an interactive mixed reality of both real-life and virtual reality (VR), AR allows them to experience an enhanced situation. The use of AR is becoming more and more common across many industries in the 21st century.
For example, furniture retailer IKEA deployed a feature in their mobile app that allows you to see what a specific piece of furniture would look like in your house. Although not perfect, their accuracy is impressive. IKEA boasts that "the app automatically scales products – based on room dimensions – with 98% accuracy."
For the construction industry, AR can offer all involved parties various solutions. For example, as previously mentioned, contractors can view virtual blueprints in real-time. Because the user can see layers when remodeling, contractors would have an easier time determining what's already been done or what needs to be done first.
Virtual reality (VR) is different as it involves an entirely digital experience. According to the University of Maryland, people retain information better when using VR and can apply what they learned after using virtual reality. With other studies backing this up, it is no surprise that teachers and schools across the world are beginning to use this technology.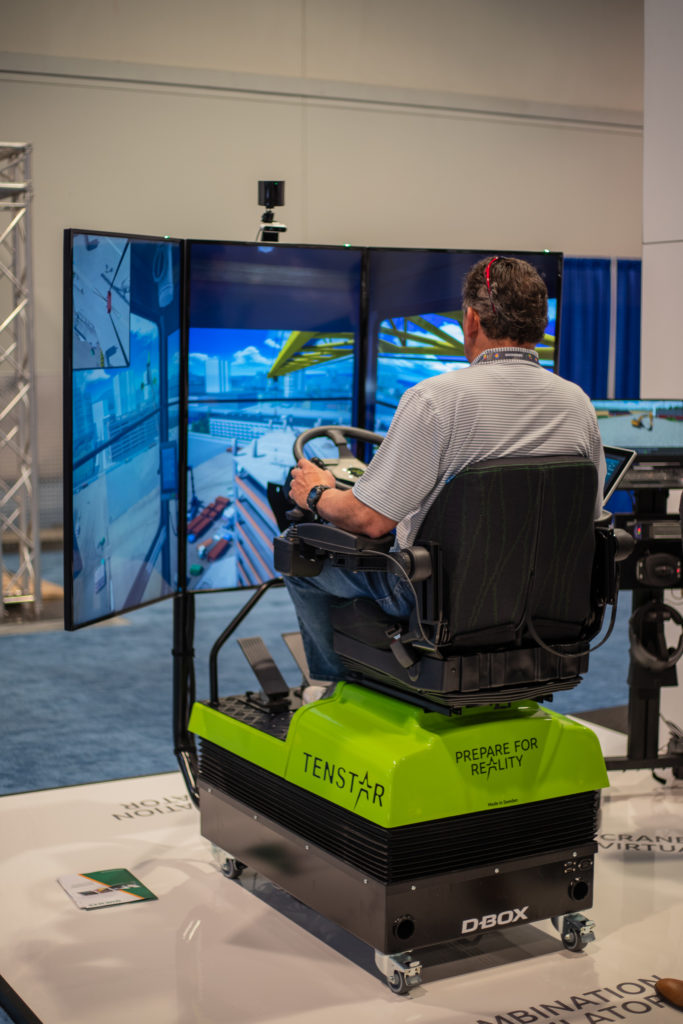 In construction, this is no different. Similar to flight simulators and race car simulators, various construction tech companies have launched heavy equipment simulators to help train heavy equipment operators. In 2017, Serious Labs launched its flagship product, the Mobile Elevated Work Platform VR Simulator (MEWP), which went on to win the International Award for Powered Access Prize (Innovative Technology).
7. Self Healing Concrete
Concrete is the world's most popular building material and has been for some 2,000+ years. One downside of concrete is that despite its strength, all concrete eventually cracks. In 2006, Henk Jonkers, a professor at the Delft University of Technology in the Netherlands, began working on "self-healing" concrete.
"The problem with cracks in concrete is leakage… if you have cracks, water comes through." Jonkers tells CNN. Water coming through is bad because if the steel reinforcements in the concrete corrode, it can cause the entire structure to collapse.
A big step for construction tech, the self-healing concrete is prepared the same as regular concrete except for a "healing agent" is also added in the mix. This healing agent is small bacteria that produce limestone when contacting water. Limestone then fills in the microcracks, increasing the lifespan of the concrete to about 200 years.
Cover image by Gearflow