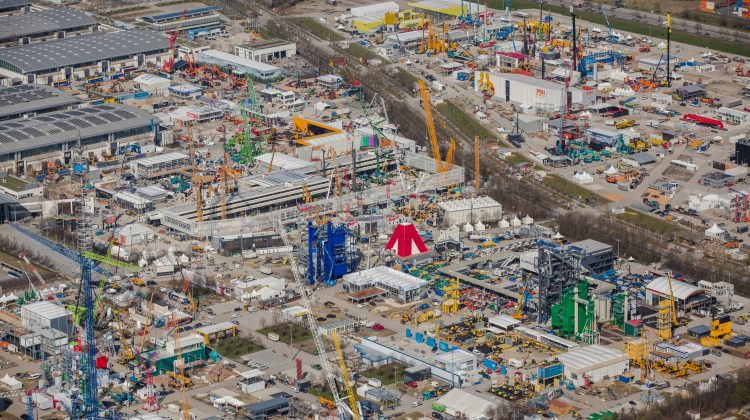 By Karen Scally
Supply chain problems holding up maintenance and repairs.
Inflation adding to rising parts' costs.
Labor shortages impeding work.
Job site productivity lower than it was 40 years ago.
If you are an equipment owner or fleet manager in the construction industry, you are dealing with one — if not all — of the above challenges.
To help, we've rounded up the 2022 construction trade shows and conferences that will arm you with the products, insights, and resources you need to keep your jobs on track.
These are events where, as a contractor, you can either check out the latest heavy equipment innovations or you can learn about more efficient fleet management. These construction trade shows and conferences primarily target contractors in the heavy civil, grading, excavating, demolition, and site preparation segments.
If you are a supplier of construction equipment and parts, we've also put together the top events that assist you with serving the contractor end users more productively, depending on whether you're a dealer, aftermarket parts supplier, or an OEM.
Is there an event this year that you think should have made our list? Drop it in the comments below and share why you've found it valuable.
Construction Trade Shows and Conferences for Heavy Equipment Owners and Fleet Managers
Las Vegas
Jan. 18-20, 2022
What it is: For 47 years, World of Concrete has served the concrete and masonry construction industry by connecting and educating buyers and sellers. The annual show attracts about 1,500 exhibitors, including OEMs and distributors, for its 60,000 attendees.
Who should attend: Commercial contractors, general contractors, repair contractors, and residential contractors
Event highlights: "How to Turn Inefficiency into Profitability" will provide tools and techniques to better prepare for construction projects. Brad Humphrey, vice president of HR and Employee Development at Pavecon, will offer strategies to scope work and needed equipment.
Feb. 26-March 1, 2022
San Diego
What it is: The National Demolition Association's annual convention and expo, attended by more than 1,000 demolition professionals, will feature education, OEM and supplier exhibits, and a live demo event.
Who should attend: Demolition contractors, general contractors, and excavating contractors
Event highlights: The "High Tech vs. High Touch" panel will discuss generational differences in the workplace, and the Live DEMOlition Event will feature innovative equipment, processes, and more.
March 20-22, 2022
San Antonio
What it is: The Association of Equipment Management Professionals annual meeting and conference addresses issues that affect the entire Equipment Triangle, which includes end users, manufacturers, and dealers alike.
Who should attend: Heavy equipment fleet managers, shop managers, and fleet directors
Event highlights: "Hidden in Plain Sight: A Workshop on How to Discover Inefficiencies in Your Fleet Workflows" will help expose the missed opportunities to hang on to your margins in the race to get equipment back up and running quickly. Ben Preston, cofounder of Gearflow, will lead the workshop's panelists in uncovering these pain points, which is essential to finding solutions that save you time and money.
March 29-31, 2022
Nashville, Tennessee
What it is: World of Asphalt is the leading asphalt trade show and conference, featuring 500 exhibitors and 150 education sessions. It is also co-located with AGG1 Aggregates Academy & Expo.
Who should attend: Asphalt contractors and pavement maintenance contractors
Event highlights: "Top Ten Reasons Why Small Businesses Fail" is designed for small contractors with 100 employees or less. Larry Kokkelenberg, the president of Organization Trainers & Consultants, will address what can be done to avoid those failures.
Oct. 24-30, 2022
Munich, Germany
What it is: Bauma is the show of all shows for the construction equipment industry — the largest one in the world, held every three years. It brings in about 620,000 visitors to see its 3,700 exhibitors for an overview of the latest technologies and trends in equipment.
Who should attend: Equipment and fleet decision makers
Event highlights: Its sheer size — at 6.6 million sq. ft. of exhibit space, there is something to see for everyone.
Oct. 27-28, 2022
Cincinnati, Ohio
What it is: The Association of Equipment Management Professionals' yearly event focuses on the growth of equipment managers so they can stay ahead of the curve as the construction equipment industry changes.
Who should attend: Heavy equipment fleet professionals
Event highlights: Roundtable sessions, key insights from industry experts, and networking opportunities with peers
Construction Trade Shows for Heavy Equipment and Parts Suppliers
Jan. 17-19, 2022
Orlando, Florida
What it is: The Associated Equipment Distributors annual educational conference and CONDEX trade show brings together distributors, OEMs, and service providers in the heavy equipment industry.
Who should attend: Independent distributors that sell, rent, and provide aftermarket support for heavy equipment
Event highlights: "No Pain, No Gain: The Digital Transformation That Will Make Dealers Priceless" will uncover the tremendous opportunity that is emerging to restore productivity back to contractors. Luke Powers, CEO and founder of Gearflow, will highlight how technology can transition dealers from merely equipment and parts acquisition channels to fleet uptime partners.
Sept. 7-9, 2022
Orlando, Florida
What it is: The annual conference and trade show for the Independent Distributors Association, which represents aftermarket heavy equipment parts distributors, highlights solutions for customers looking for OEM alternatives.
Who should attend: Aftermarket parts supplier executives
Event highlights: In addition to the education sessions and exhibiting opportunities, attendees can network at the IDA's annual golf tournament, to be held this year at Disney's Lake Buena Vista Golf Course.
Are You Ready to Sell More Online?
Join the largest parts marketplace built for construction — the one place where equipment owners and fleet managers can buy their parts from suppliers they trust so they can get back to work.
Nov. 16-18, 2022
Napa, California
What it is: The Association of Equipment Manufacturers' annual meeting helps advance heavy equipment manufacturers and their partners in equipping the success of the construction industry.
Who should attend: OEM executives
Event highlights: A roundtable with OEMs and end-users will discuss the future of the industry and exchange ideas for improvement and action. Topics will include culture, sustainability, corporate responsibility, leadership, and the post-covid workforce, among others.
Looking for more content designed to provide additional insights for heavy equipment management? Make sure to sign up for the Gearflow newsletter here.