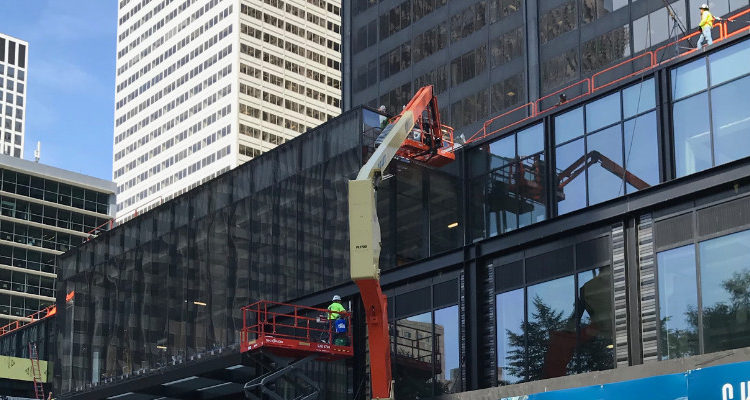 Fostering the independent rental – OEM relationship.

There are hundreds of manufacturers of heavy equipment. Although reliability, efficiency, and effectiveness can vary from manufacturer to manufacturer, many OEMs can largely do the same thing.

So how do you choose?

As I have written about before, the relationship is everything.

Gearflow sat with Tom Saxelby, VP at US Markets and long time Genie sales vet, to understand what makes a strong OEM partner and how an OEM can differentiate to form lasting relationships with their rental partners.
The Consolidator Advantage
There are approximately 18,000 rental locations in the US that make up the $54 billion dollar equipment rental industry.

80% of which are independent rental companies.

"When consolidation began to really ramp up I thought the independents would go away and that there would be five or six rental companies serving the entire market" notes Saxelby.
"However, I have come to learn that you can't kill an independent."

When asked why independent still makes up a large majority of the industry, Saxelby adds

"People like to do business locally and they value the service that comes with it. If a contractor runs into a service issue or billing problem, the owner of the rental business is just a phone call away. This type of customer service makes independent companies light on their feet and appealing to the end user operators" says Saxelby.

When uptime on a jobsite is everything, an hour and a half on the phone can kill you.

"Throughout the whole lifecycle of equipment, the buck stops at one person at an independent yard. This can be an advantage vs larger organizations" notes Saxelby.

However, the national rental accounts have many advantages when it comes to their relationships with OEMs.

First, their buying power is unmatched.

United Rentals, for instance, has a $14B rental fleet.

With that kind of fleet and order volume, pricing and volume discounts are common when acquiring new assets – an advantage that most if not all independents don't have the luxury of having.

Second, they have the brand recognition.

Every OEM has company wide strategies to form healthy relationships with the big players. This includes extensive training, sponsored events, and strategic partnerships for new innovations.

However, many independent rental companies are relatively unknown to the OEMs. They could be largely offline, serving a remote area, or just getting started. Without a large sales team covering the country to form relationships with all of the potential independent rental partners, many OEMs miss out on these opportunities.

Third, the national rental accounts have teams of people responsible for purchasing.

"As an OEM, it can be difficult." notes Saxelby. "You can do a great job forming relationships locally but still lose the deal at the corporate level once it goes to their purchasing team."

National rental accounts have sophisticated fleet evaluation and buying methodologies that look at factors beyond retail price. These external factors can make or break a deal. Many times, a national rental company will pay a premium to work with an OEM because of the higher Return On Invested Capital (ROIC) they can achieve through the ancillary factors.

"The nationals are certainly looking at price first and foremost. However, they are also placing a heavy weight on their internal rating system that goes into a Total Cost of Ownership evaluation" says Saxelby.

"It is common for the consolidators to have an internal rating of each OEM partner. Are the OEMs coming in to train the operators on safety, are they training the sales people on new features, are they providing reliable parts support, etc. If the OEM reps are just blindly representing their brand, it will affect their rating."

This level of sophistication when evaluating the Total Cost of Ownership (TCO) gives the nationals a major advantage when purchasing and managing fleet. They are able to measure and predict their ROIC prior to determining what OEM to partner with.

An independent rental business may not be able to compete with the buying power or brand recognition of a national, but they can absolutely emulate the national's OEM evaluation strategy when acquiring new assets.

I asked Saxelby what are the three things that he asks himself while evaluating OEM partners at US Markets that all independent rental companies should emulate.

"It starts with that TCO model," says Saxelby.
1. What Is The Total Cost Of Ownership?
"Because we are in the re-rental business at USM we do not touch any of the equipment therefore we are reliant on everybody else. When evaluating manufacturers to add to our fleet, it goes back to what service we get" notes Saxelby.

"Being on the phone for an hour and a half with an OEM versus working with someone that is jumping through the phone to help you when you have a down piece of equipment can make a world of a difference."
"When I would visit with the mom and pop shops, most of the buying was done on the back of a napkin, more or less. It was more gut feel, what do I like, etc" adds Saxelby.

This doesn't have to be the case.

"Come up with a TCO model when you are evaluating what OEM to work with. What is the price, what kind of service are you getting throughout the equipment's life, and what is the residual value of the equipment when it goes out the door in seven years" Saxelby advises.

There are many ways that the total cost of ownership can outweigh the cost savings you may get off retail price at the point of purchase.

"What is the parts availability, how is it serviced, what wholesale value does it get, are customers turning it down. All of these lead to downtime and downtime is what kills you" explains Saxelby.
2. What Opportunities Are There To Innovate?
It's no secret that there is a shortage in tradesmen.

In the automotive industry, mechanics are earning in the $125/hr range and that number continues to climb – a strong indicator that there is more demand than supply.

Instead of relying on creating more mechanics, operators, and sales reps we need to be focusing on how to use technology to increase our efficiency and output per person.

This is something that a few OEMs are really focusing on through telematics.

SkyJack Elevate, JLG ClearSky, and Genie Connect have all been released in the past year to help their rental partners maximize the uptime of their equipment.

This technology is not only reserved for the national rental companies. Independent rental companies should be proactive in their implementation of telematics into their processes and find OEM partners who are willing to work with them on the initiative.

"We are really excited to use Genie Connect to add predictive maintenance to our operations" says Saxelby.

"Genie is providing IoT devices for our equipment and letting us mine our own data so we can begin fixing components before equipment goes down on a job. This prevents service work on a job site which is far more expensive than maintaining equipment in our yard" explains Saxelby.

"Genie is also looking at the data to discover weak points in the design to be more informed with their redesigns and prevent recalls. The more we look at how the equipment holds up the better operators we will be."

A lot of times, our human instinct is to resist technology out of fear of being replaced.

On the contrary, the only way we move forward as an industry is to use data and technology to enable us to do more of what we do best.

Telematics has the potential to increase the output of mechanics. VR can make safety training more accessible. E-commerce can make sales reps more effective. Data can make marketers more targeted.

"Independents need to see technology as an enhancement, not replacement, or else we will get left behind. Find partners who are willing to work with you to innovate" says Saxelby.
3. How Do They Help Monetize My Equipment?
Sales reps at OEMs need to constantly find ways to differentiate beyond the equipment. All the factors I mentioned earlier i.e. parts availability, service, technology play a part in TCO.

Unfortunately, many of these factors are out of the control of your sales rep.

However, sales reps have control over one of the best ways to form close relationships with rental partners and lower their TCO.

Help you make money off your equipment you just bought.

"One of the strategies I had come up with at Genie was to brand through the end user. We don't sell to the end user but started forming a lot of relationships with big contractors like Turner, PCL, Walsh, Skanska, Kiewit, etc and offer free safety training. The only thing we asked in exchange was that they rent a Genie" says Saxelby.

"Next thing you know, the Google data farms project is underway in Iowa and Turner ordered 2,500 Genie scissor lifts that the local rental companies had to source."
Now that Saxelby is able to see the relationship from the independent rental side, he can see the value of a great OEM partner that truly cares about the growth of their business.

"What we need as a rental yard first and foremost is support from our OEMs to maximize uptime. But if you, as a manufacturer, can bring business to my rental yard that is huge" says Saxelby.

Post sale support can come in many forms. Joint calls with contractors, marketing support, best practice sharing, training, lead generation, and more.

"At USM, Teupen has done an awesome job using our re-rental business model as a marketing tool for them. They funnel rental leads to us which many times has led to sales for Teupen. We are in the same partnership with MEC promoting their Titan 60-s" says Saxelby.

"At Genie, we would do joint calls on bigger deals with our rental partners as well as pass along leads from folks calling us to rent Genies" says Saxelby.

"We also conducted independent dealer counsels. We would get our rental partners together once a year to share best practices, have financial consultants come in, operations people, service people, etc. The goal was to bring everyone together to discuss ways to be more efficient and profitable as a rental business. This would bubble issues and opportunities to the top that would lead to design improvements, process improvements, etc for us as a manufacturer" adds Saxelby.

"That's why the relationship is so key. It's a massive mistake to ignore the customer and take partners for granted. You need this street intel from customers to guide decisions" says Saxelby.

Saxelby's perspective is unique. He knows what has worked to create strong relationships from the OEM side and looks for those in new OEM partners at USM.

"We just bought three of the Sullair 1600's to begin to dabble in the air compressor market. We are leaning heavily on Sullair to educate train us on the equipment and applications. Simultaneously, we are listening to our customers to understand how many units we need, what sizes they need, etc. It's never a gut feel. These decisions are made by listening to our customers and evaluating OEM partners that fill those needs through a total cost of ownership lens inclusive of all quantitative and qualitative factors" says Saxelby.
Recap
After sitting with Tom Saxelby, VP of US Markets and Genie vet, it's clear that a strong rental – OEM partnership goes far beyond the equipment itself.

A strong partnership means that the OEM invests in the growth of their rental partners. That investment can come in many forms.

During his time at Genie, Saxelby fostered strong relationships with his rental partners through:
Organizing an independent rental owner counsel for best practice sharing
Marketing to contractors to funnel business through his rental partners
Providing free sales training, service training, and safety training
Handing off rental leads to his rental partners
Innovating in tandem with rental providers on the use of telematics
From an independent rental perspective, Saxelby evaluates his OEM partners in the following three ways:
What is the total cost of ownership of an OEM's equipment?
What technological opportunities exist to innovate alongside an OEM?
How does the OEM help me monetize my equipment?