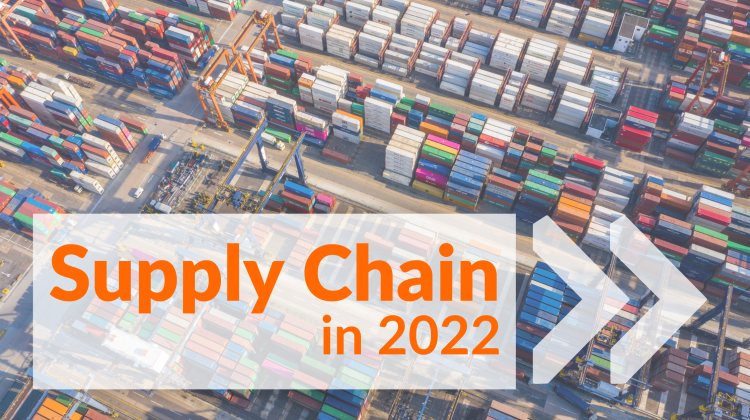 By Karen Scally
Though some of the most acute pains of the pandemic may be waning, many of the problems left in its wake persist.
One of those problems for those in the construction equipment industry? The supply chain in 2022.
Due to lagging productivity and skilled labor shortages, contractors were already feeling the heat prior to the bottlenecks that the industry's seen with equipment and parts over the past two years.
"Today's contractors are operating on razor-thin margins, but the supply chain constraints are certainly squeezing them even more," says Tom Christerson, director of sales for EquipmentWatch.
Though the supply chain challenges are expected to continue for a while longer, Christerson says there is hope.
"Equipment acquisition has been incredibly difficult to navigate even for the most experienced equipment managers, but I do believe volatility can be an opportunity," he says.
Today's contractors are operating on razor-thin margins, but the supply chain constraints are certainly squeezing them even more."

Tom Christerson, director of sales for EquipmentWatch
The Association of Equipment Management Professionals recently hosted a webinar on how to navigate the supply chain issues for heavy equipment, including valuable viewpoints from all three legs of the Equipment Triangle, with Benjamin Duyck, director of market intelligence for AEM, speaking for OEMs; Diane Benck, vice president of general operations for West Side Tractor Sales Co., and RCE Equipment Solutions, speaking for dealers; and Christerson, speaking for equipment users.
Here's what AEMP says fleet managers must know.
1. The Problems Existed Prior to the Pandemic
Perhaps one of the biggest misconceptions is that the pandemic is the root source of the current supply chain mess we're in.
But the pandemic didn't cause the problems; it simply exposed a slew of underlying issues — and admittedly exacerbated them.
"The issues have been brewing for a lot longer, and COVID-19 was just an unforeseen shock that really exposed larger ongoing trends," AEM's Duyck says. "COVID-19 restrictions, followed by a growing number of workers leaving the workforce, have led to shutdowns and scarcity of products."
Duyck says the supply chain's immediate response when the pandemic hit was to slash production, expecting that demand would slow, and shipping companies also reduced their schedules.
West Side Tractor's Benck says dealers reacted similarly, cutting their orders back as well.
Then as the economic recovery happened faster than expected, it revealed just how much contractors have grown to rely on their dealers for inventory, a ripple effect from the aftermath of the Great Recession, Benck says. Following the downturn in 2008-09, contractors began to shift risk back to the dealers through rentals and leases instead of purchasing equipment.
The days of calling the dealer for a dozen machines for a job that starts in a few weeks might not work very well."

Diane Benck, vice president of general operations for West Side Tractor Sales Co., and RCE Equipment Solutions
"What happened is that the dealer rental fleets ballooned everywhere, and it was fueled by low interest costs, by favorable tax policies, and by end users not wanting to get caught with too much equipment," she says. "Our customers got really used to not planning very much and relied heavily on dealer rental fleets when they got a large job."
As a result of dealers cutting orders, manufacturers reducing production, and shipping scaling back, when the markets surged, there was a lack of product ready to re-enter the chain.
"The supply chain is like an engine that's running on oil, with inventories being the oil of the engine," Duyck says. "And as these inventories deplete — as oil depletes in your engine — the engine will continue to run, but one day the engine will just stop and seize. And I think that is what we're experiencing here today."
This has led dealer fleets to be down 15-20%, Benck says. That decrease coupled with the demand the markets are experiencing have created a significant shortfall in equipment availability.
"The days of calling the dealer for a dozen machines for a job that starts in a few weeks might not work very well," she says.
What the global pandemic uncovered was just how overreliant the world has grown on its interdependent relationships, and everything functioning well together.
We've gone from an average lead time for an average piece of equipment from three months all the way to eight and a half months."

Benjamin Duyck, director of market intelligence for AEM
"The supply chains are too stretched out globally," Duyck says. "I'm a strong proponent of globalization, but when you have a shock like COVID-19, it can really disrupt the way the global supply chain works. You have difficulties in coordinating international shipping, port backups, and container shortages. Containers are almost like red blood cells — the whole system carrying around the oxygen."
2. Both Demand and Costs Are Sky High
Because the economy fell so sharply in the early days of the pandemic, the markets severely underestimated how they would roar back to life, particularly for essential services like construction.
Duyck says preliminary findings from AEM's research show that demand for equipment and components is growing strongly, coming in 6-10% higher than expected in 2021. But with all the aforementioned blockages in distribution, this has resulted in lead times for OEMs that have tripled since 2019.
"It's a trend that's increasing, and I personally don't see it decreasing very quickly," he says. "We've gone from an average lead time for an average piece of equipment from three months all the way to eight and a half months."
Despite these challenges, equipment and component manufacturers reported that their production levels grew 5-10% in 2021, but estimated that it could have been 15-20%, if the bottlenecks hadn't existed.
Inflation is also at the highest level it has been since the 1980s, due to the substantial demand and expanding monetary policies.
"Inflation for our industry specifically, it really has a double pincer movement, because it not only increases the price of the components and increases the price of the equipment, but for construction, it increases mortgage rates and it increases loan costs," Duyck says. "You're already looking at contractors that have razor-thin profit margins, and now they have to deal with the increase in loans. That might affect how much construction is happening as well."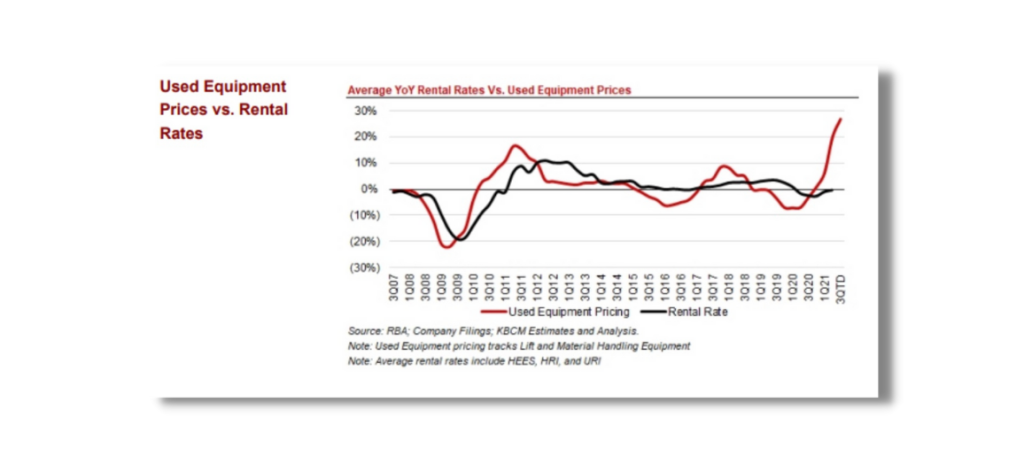 Used equipment rates and rental rates are also high, says EquipmentWatch's Christerson.
Excavator prices at auction were up over 20% YoY in Q4 2021, and skid steers were up about 50% for the same time period.
Rental rate increases follow the spike in used equipment prices, Christerson says. The American Rental Association expects rental revenue to rise over 10% in 2022 and another 6% in 2023.
3. Now's the Time to Fix This
Though the experts agree that the goal posts keep moving on when the supply chain problems may ease, most manufacturers do not expect to see relief until at least some time in 2023.
One variable that could extend the disruptions hinges on the fallout from Russia's invasion into Ukraine and the uncertainty of what kind of impact that conflict will have globally.
Benck says the other factor that could change the course of the bottlenecks would be if we slip into a recession.
"I'm hoping that we have a better ending than that, but recessions do fix this problem pretty quickly," she says. "Who knows with Russia and interest rates really where our market is going."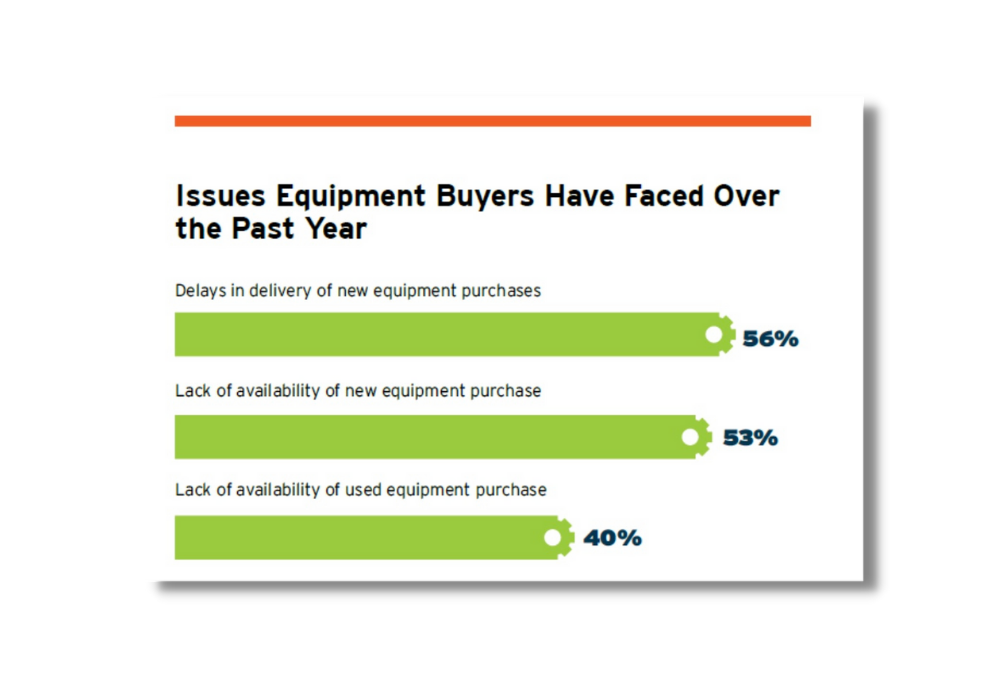 Considering that the pains may last for another 12-24 months, OEMs and dealers are taking steps to mitigate the situation as best they can.
"It always reminds me that the best time to plant a tree was yesterday or 10 years ago, and the second best time to plant the trees is today," Duyck says. "A lot of the things that can alleviate supply chain issues work best if you've engaged in them before supply chain issues have actually arrived."
Some of the things that Duyck says AEM members are planning to do this year include:
Increasing their supplier base and onboarding alternative suppliers
Improving communications throughout their supply chains
Increasing their safety stock
Reshoring and nearshoring supply chains
Investing in business intelligence and analytics
He says that the investment in technology is important for all three sides of the Equipment Triangle to help move the industry out of this crisis and build a foundation to thwart a similar one in the future.
"If contractors have better insights into the uptime of a piece of equipment — how often it operates — they can engage in preventive maintenance," Duyck says. "It also sends better signaling to the dealers in this plight and the manufacturers on what demand that they can expect, removing that uncertainty of what demand is real or what demand is just due to an overreaction. But I think for end users, it also helps them with the decision on when they need to buy more equipment depending on the uptime."
4. Fleet Managers Need to Plan Differently
So what can equipment owners and fleet managers do?
Benck says equipment users need to be aware that dealers are already sold out of many products for 2022, and manufacturers are not yet accepting orders for 2023 — which are expected to open with higher prices.
There's also a hefty backorder of replacement parts, including:
Benck says this has forced dealers to get creative, including pulling parts off equipment in their yards for their customers — but that is compounding the problem of their already-diminished rental fleets.
Are You Ready to Sell More Online?
Join the largest parts marketplace built for construction — the one place where equipment owners and fleet managers can buy their parts from suppliers they trust so they can get back to work.
She recommends that fleet managers:
Hold onto current equipment stock longer
Schedule repairs sooner with the lead times for parts in mind in order to prevent unplanned downtime
Talk to your dealers now about orders for spring 2023
Embrace technology and get the most out of the equipment you own
Fleet managers should also consider selling or even renting under-utilized assets, Christerson says.
"We do suggest a periodic review of retail rental rates versus your internal rates," he says. "We've also seen an uptick in contractors renting their underutilized assets via third-party peer-to-peer rental services or even intentionally splitting off a rental division from their companies. It's a hot market, so you might as well capitalize on that."
5. Educate Yourself for the Future
Fleet managers can also tap into additional resources on how to manage the supply chain challenges and hone decision-making skills at this year's AEMP Connect Equipment Management Conference and Annual Meeting, set for March 20-22, 2022, in San Antonio.
Sessions there will focus on insights from the field and actionable steps fleet managers can take to better plan their equipment and parts procurement. Here's a preview of three of those sessions:

Supply Chain Solutions Parts I & II
Robby Justin Smith ll, the president and CEO of TBR Strategies LLC, will lead these two-part sessions, set for 10:15-11 a.m. and 11:15 a.m.-12:15 p.m. on March 22, 2022. The first session, "Parts Criticality: What to Have and to Hold," will dive into how equipment managers can improve the inventory management of their maintenance, repair, and operational supplies.
While conducting almost 350 assessments of organizations with asset management challenges, Smith says he's uncovered that only about 20% have implemented true inventory control. He'll start by walking attendees through what they need to know to establish the basic functions of inventory control and explore their four major costs.
"We want to move away from solely relying on tribal knowledge to make decisions and rely more on the facts and data."

Robby Justin Smith ll, the president and CEO of TBR Strategies LLC
He'll then introduce a progressive method to evaluate critical parts and how to determine reordering points.
"We'll also discuss safety stock for those critical items, with the way lead times have been drastically increasing with all the issues that we're having within the supply chain," Smith says.
Attendees will walk away armed with formulas and metrics to make informed decisions, instead of relying on past experiences or their gut, in order to be better prepared to navigate longer procurement timeframes.
"We want to move away from solely relying on tribal knowledge to make decisions and rely more on the facts and data," he says. "We want to have the processes in place, so that … the business is still going to function. There's math and there's science behind it."
The second session, "Tying the Knot: Successful Inventory Management," will cover data integrity and learning how the ideal CMMS (computerized maintenance management system) will be able to help you manage inventory accurately.
"People don't look at inventory the way they should," Smith says. "They should look at their inventory space just as they would a bank. You can't walk into your inventory space and take what you want without documenting everything or following the procedures."
He'll also examine the costs of failing to ensure data integrity and how companies can eliminate just-in-case parts.
"When you have the right part at the right time and the right amount, you can then fully trust your inventory practices," Smith says.
Adapting Acquisition Strategies for a Supply-Constrained Equipment Environment
In this session, scheduled for 2-3:30 p.m. on March 21, 2022, Garrett Schemmel, CEO and cofounder of IronUp, will lead a panel of AEMP members to discuss how their organizations are adapting their equipment and parts acquisitions in light of the supply chain challenges brought on by the pandemic.
The panelists will include Gil Gilbert, AEMP board member; Carlos Soriano of Bechtel; and
Harold Romberg of Waste Management.
Schemmel says he'll guide the panel through a "fireside chat" format to highlight just how the supply chain disruptions have impacted their acquisition decisions with real-world examples.
"There's three acquisition channels, practically speaking," Schemmel says. "There's new machine acquisition; there's used machine acquisition/disposition; and there's external rental. So we'll walk through that and talk about how the pie chart has changed."
He says they'll discuss the role that an organization's scale has played in mitigating the disruptions and how dealers, for both on-highway and off-highway equipment, have responded to their needs.
After hearing from the panel's experienced fleet leaders, Schemmel says attendees should recognize that they're navigating these challenges alongside their peers and that they can learn from them to better manage their supply chains.
"You're not in this alone," he says.
Equipment managers can also take advantage of other AEMP resources and upcoming events, including the Leadership Summit from June 21-23, 2022, in West Palm Beach, Florida, and the EquipmentSHIFT Conference from October 27-18, 2022, in Cincinnati.
Visit aemp.org for more information.
Looking for more content designed to provide additional insights for heavy equipment management? Make sure to sign up for the Gearflow newsletter here.