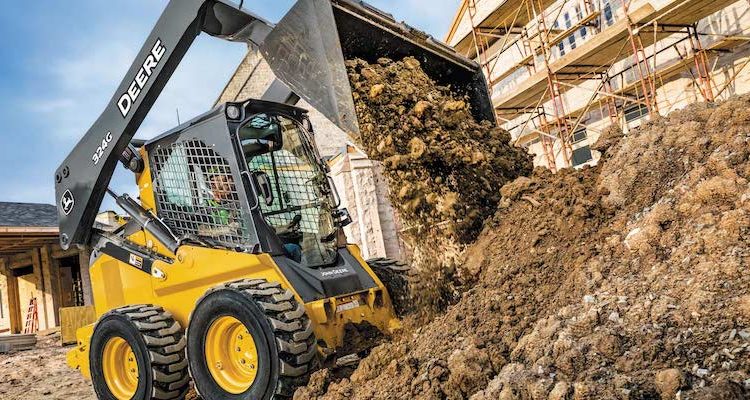 Tom Trone, Entrepreneur, Retired John Deere Executive, and Current Tech Investor, offers his advice to leaders at OEMs and Rental Companies on how to grow business in today's construction equipment industry
Trone joined John Deere in 1999 and spent nearly 20 years helping to shape Deere. The transition was towards a data-led and customer first organization, which it is known for today. He was at the forefront of successful technology and process innovations at John Deere. These included implementation of an information-sharing platform that became one of the first intranets in the country. Trone currently works in a wide range of roles. One of his three roles – a strategic advisor for the American Rental Association. Trone is also a marketing professor at Illinois State University and a Founding Principal at Riverbend Angels.
Gearflow chatted with Tom to uncover what has made John Deere such a prominent brand for so long and how their success can guide sales and marketing leaders in the construction equipment industry.
1. Stay Hyper-Focused on Customer Experience
When Tom joined John Deere in 1999, they were going through an organizational change. Robert Lane was elected CEO, succeeding Hans Becherer. Lane had an early career in global banking and financial services, bringing his financial discipline with him to build a new culture at John Deere.
Lane prepared the company for the next century of growth, using ROI and asset efficiency as the backbone of that growth. He did so by starting with a change in the organization's leadership. Following the immediate change, Lane continued to have an obsession with attracting and retaining the best global talent. Lane's financial diligence backed by a world class team molded John Deere into a customer focused culture that led to record growth at Deere, more than doubling revenues between 2000 and 2008.
Improving the customer experience became the north star that everyone remained fixated on.
To improve the customer's experience, a review of the entire customer purchase process was required. That experience was then benchmarked against other high performing companies with high brand equity.
Tom recalls spending three to four months with Toyota Lexus to understand how they used data to drive their business. There were four elements on which Toyota Lexus measures success. All were around the customer purchase and support experience.
Four Elements Of The Customer Experience
1. Sales Process
2. Delivery Process
3. After Purchase Service Experience
4. Overall Ownership Experience

Using these four elements as their primary measures of success, Lexus went from 0 to leader in the luxury auto industry in 7 years.
Tom helped to implement the same customer satisfaction and customer voice data into John Deere's business and dealer objectives. This change shifted the conversation away from a financial and product driven dialogue to one around the customer experience.
Tom believes that too many OEMs and dealers get caught up attempting to differentiate on product features or price. John Deere has built its reputation and leadership position by making every element of the customer experience a positive one. Furthermore, they remain diligent in capturing and utilizing a wealth of data to measure the success of each element to identify opportunities to improve the customer experience.
2. Promote Internal Information Sharing to Create A Global View
The late 90's and early 2000's represented a rapid global expansion for John Deere. A lot of Lane's success in building a global brand is attributed to the leadership he was able to develop. Tom is a great example of this.
Before John Deere, Tom introduced an information sharing platform to Deere as they were looking at tools to enable resource management and process improvements. This platform was one of the first internet-based organizational internal information sharing systems used in the United States, now commonly referred to as an intranet.
Tom's experience implementing this system is what led to his recruitment into Deere.
Tom's role was to identify opportunities to drive efficiencies during Deere's global expansion efforts. Technology was used as a catalyst to do so.
One example that came to mind was with the advent of social media, digital marketing, and the data that came with it. Each business unit within John Deere did a lot of data mining on their respective customers to identify marketing and process improvement opportunities.
The practice of using data to inform decisions within each of John Deere's business unit was a good one. However, they recognized that information remained siloed within each business unit. There were linkages between their Agriculture business and Forestry business, for instance, that were going unrecognized.
Tom's focus was to help identify what those common elements were and create a global view of John Deere's business.
The same goes for business functions within an organization. Promoting the communication between functions, i.e. finance and marketing, can lead to opportunities to improve the customer experience that otherwise would go unnoticed.
3. Let Your Customers Guide Your Decision Making
Time and time again, decisions are made at organizations without the use of customer data or context.
John Deere, on the other hand, has been a data driven company since the 1850's. John Deere's son, Charles, was responsible for building the dealer network. In doing so, he gathered data on their customers and applications of their products. Measuring customer data has been engrained in John Deere's culture since their inception.
When Tom joined, that infrastructure was already very well developed.
Product marketing at John Deere has direct commissions with dealers and with customers by way of dealer and customer advocate groups. The groups were designed to gain first party intel on market conditions and trends, factors and influence, and equipment applications.
The advocate groups are a major point of contact for John Deere, influencing both equipment design and go to market strategies.
For example, the customer advocacy groups helped Tom's pre-Deere team pioneer the first harvest yield maps. These maps were an early application of what is now FarmSight in the Intelligent Solutions Group at Deere. The integration of GPS and yield monitors to collect data from the farming equipment was an innovation to enrich the customer experience and operational efficiencies – a project Tom had a heavy involvement in.
3rd party market and customer data is important but first party data (data the organization creates and owns) is vital.
First party data is the most valuable asset for marketers.
From a digital marketing perspective, this can be visitors to the website, emails in a CRM, mobile app downloads, etc. This data can help you reach your target audience in a precise, cost efficient manner.
Because John Deere had digital data on everyone visiting their web properties, they were able to effectively reach customers visiting their website and measure the ROI of every dollar spent on digital advertising. Furthermore, they were able to build look-a-like models off of those data sets to reach prospective customers that fit the same profile of those already engaged.
Data led digital marketing allows for success to be measured with cost per customer acquisition unit economics. This value was passed along to the dealers who have a similar digital ecosystem to support their own sales and marketing efforts.
Digital data enables the disposal of marketing waste – spending money on marketing that does not move the needle for the business.
4. Use Market Data to Forecast Growth
A missing element for many of the smaller OEMs and rental businesses is the use of market data to dictate the direction of their business.
To Toms noted astonishment, there are still businesses that don't have an understanding of the current markets they serve and how they differentiate within them.
For John Deere, feeding market data into their financial forecasts and production schedules was a critical component to their growth. This feedback loop allows Deere to stay nimble and minimize the amount of working capital that sits on their balance sheets. Furthermore, it helped them to identify pockets of opportunity as they approached different markets.
For OEMs and dealers, it is critical to use this data to inform decision making.
For instance, before every equipment purchase decision, an equipment rental business should conduct an ROI analysis on the machine.
This will give businesses an understanding of break-even points after depreciation, when there is opportunity to invest in the fleet, and at what price is beneficial to offload assets.
Furthermore, market data can inform what equipment to purchase.
For instance, equipment rental businesses can conduct research into the other players in their local markets, what each businesses inventory consists of from both a product and a brand perspective, and what work is being done in the area.
Similarly, for an OEM, gathering data on market share at the county level, share of wallet down to the account level, and average age of fleet can inform their sales team as to what accounts have the highest conversion probability.
This data does not have to be purchased.
The information already lives with the sales and marketing teams throughout the country. Institute information sharing at your organization and take a quantitative, proactive approach to sales and marketing.
5. Integrate A Customer Relationship Management System into Your Everyday
One major difference between global organizations like John Deere and the smaller businesses competing for market share is simple. The way larger organizations use their CRM system.
Most small businesses that have a CRM system simply use it as a customer database. Some of the more refined businesses within that group have it tied to billing. However, it does not take a global organization to use a CRM in a way that helps grow the business.
John Deere uses a single system for all activity tracking, customer profiling, marketing automation, sales, and logistics. This allows John Deere to add transparency to the sales process and proactively identify opportunities to improve both internally and externally.
Businesses that do not adopt a fully integrated CRM are missing out on these growth opportunities.
Advice To Leadership
When asking Tom what advice he would give to current leadership at OEMs, dealers, and rental businesses, he outlined the following tips:
1. Always think about the customer experience and find ways to measure it
2. Prioritize the training and development of your team
3. Gather data and insights from your customers
4. Start working data into your decision making
5. Look for technology that can support your sales and marketing efforts