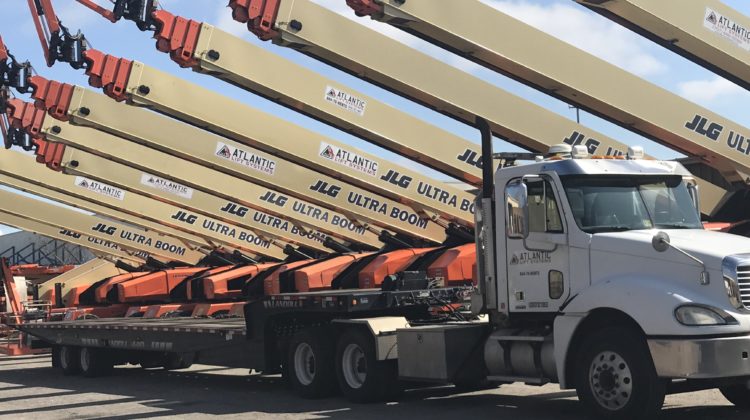 Finding and hiring young talent in construction is a challenge.
The number of workers aging out of the construction industry is not equal to the influx of millennials into the construction workforce. In fact, the discrepancy is concerning. Only 3% of millennials show interest in the construction industry.
These trends pose challenges to attracting and hiring talent. Business owners must create a culture that attracts, nurtures, and retains that talent. The businesses that succeed in creating this culture are the businesses that continue to grow.
Gearflow sat with Allan Haynsworth, President and Owner of Atlantic Lift Systems, and Julieanne Hastings, Atlantic Lift Systems' Marketing Coordinator, to understand how they build a culture that allows them to continue growing.
30 Years In Heavy Equipment
Atlantic Lift Systems has been a family-owned business since 1988. They are one of the leading providers of high reach and material handling equipment in the Southeast with branches in Norfolk, Richmond, and Hampton, Virginia. 
Today, Atlantic Lift Systems is the largest independent equipment rental company in the South, offering a variety of equipment including Aerial Manlifts, Telescoping forklifts, and other general contractor equipment like asphalt rollers, excavators, portable light towers, air compressors, generators, and more.
In July 2018, Atlantic Lift Systems celebrated 30 years of family ownership. Allan Haynsworth started at Atlantic Lift Systems in 2001 and worked his way through the customer service department to VP of sales before eventually taking over as Owner and President in 2012.
"Allan leads by example," says Hastings. "He follows his own set of core values which encompass work ethic, integrity, passion, and commitment. Allan has been the driving force in adding two new branches and aggressively growing the rental fleet."
Leading by Example
These core values in Atlantic Lift Systems' culture shows in the type of talent they bring in. "Clarity about who we are, what we value, and where we are headed as a company is a large component of what kind of people we want to bring aboard," says Hastings.
"I look at the ability to learn on the job and think creatively, which becomes increasingly more important when you consider the overall shortage of skilled workers that we are faced with," says Haynsworth.
Haynsworth believes in personal and professional development and recognizes the importance of learning from others. He is an active member of Entrepreneurs Organization as well as Peer Executive Groups which gave Atlantic Lift Systems a Top Gun Award in August of 2018.
"Curiosity, flexibility, and ability to learn adds a great deal of value to a candidate who might not have exactly the right technical experience. This is assessed with a carefully planned interview process that goes beyond basic questions about technical experience and incorporates strategies to determine a person's critical and diverse thinking abilities, communication skills, and attitudes about collaboration and teamwork.
These are valuable questions that help us seek out those who will be not only a great fit for our organization, but who can add yet another layer of success to our mission of delivering targeted solutions," adds Hastings.
I asked Haynsworth and Hastings how they would define their culture as they look to add talent to fit within it. Their nine guiding hiring principles are what act as Atlantic Lift Systems backbone of growth.
Atlantic Lift Systems' Nine Guiding Principles to Hiring
1. Client Obsession
"Leaders start with the client's point of view and work backward to develop solutions'" says Haynsworth. "We are Client Obsessed and value a 'do whatever it takes' attitude. We are always looking for those qualities in candidates." This philosophy is shared by many construction equipment business owners that I have interviewed in the past and is an important principle to engrain in a company's culture. If you aren't solving a client's pain, then you won't be around for long.
2. Outdo Yourself
"Focusing outward leads to chasing competition. The best way for us to compete is to focus inward and work on improving ourselves to better our customers," says Haynsworth. Refocus the time and energy it takes to chase competitors towards getting to know your customers. Letting your customers dictate how you grow is the quickest way to finding your added value for those customers. If you are obsessing over your competitors, you have already lost out.
3. Think Long-Term
"When in doubt, choose the best solution for the long-term health of the company," says Haynsworth. As the founder of Patagonia Yvon Choulnard puts it, build a company with a 100 year outlook. Many decisions are made to sacrifice long term value for the sake of short-term gains. Building a culture with this mindset can lead to catastrophe.
4. Curiosity
"Leaders are eager to learn, they ask questions, and seek to find understanding," says Haynsworth. A lifelong pursuit of learning is what separates the successful from the stagnant. Build a culture around fostering the curiosity to learn. Ask your employees to run training programs, do job rotations, subsidize night classes, send employees to conferences outside of the industry around tech or B2B sales. This will force your team to think outside of the rental equipment box and develop a reputation for thought leadership. Curiosity creates learning and learning generates mental stimulation. Mental stimulation creates a sustainable high performing culture which will prevent the loss of employees over an extra $1 an hour.
5. Work Until Completion
"Leaders are persistent," says Haynsworth. This mentality starts at the top. Leadership by commitment is the practice of leading by example and demonstrating to your team that you are all in it together. Leadership by commitment inspires. On the other hand, leadership by compliance does not. Leadership by compliance is the practice of compliance to a hierarchy. Those further up the chain do not do the jobs of those down the chain. Hard work is ordered, not demonstrated. A culture built around compliance can become toxic and resentment inevitably festers.
6. Solve Problems
"Leaders take time to learn," says Haynsworth. Customers rent equipment because they have a problem that needs to be solved. Oftentimes in construction, a single problem has many solutions with different ways and many different pieces of equipment. The best sales reps in equipment rental have a deep understanding of the construction problems and work to solve them for their customers. Customers do not care about the latest and greatest features and "nice to haves". They care more about what equipment will solve my problem in the most efficient manner possible. Equipment rental businesses must shift mindsets away from renting equipment to customers and towards solving problems for their customers with equipment.
7. Confront the Issues Early
"Leaders don't wait until a problem gets out of control; they resolve the problem at its infancy," says Haynsworth. Escalation of commitment is a common occurrence in businesses and cultures that do not confront issues early. Escalation of commitment is a human behavior pattern that rationalizes irrational decisions that perpetuate negative outcomes. This is also commonly referred to as the sunk cost fallacy.
For example, you spend $100,000 on a used 180-foot boom lift. You thought you were getting a great deal and the high margins justified the cost even at lower utilization. However, once you get it on your yard you realize that the boom is rusty beyond use. You have already spent $100,000 so why not spend an extra $10,000 to replace it. Once fixed, the problems continue. Busted engine, rusted axles, etc. Because you have already spent so much money on it, you continue to rationalize the added costs and continue to pour money into it. You have now exceeded the price of a brand new boom lift between the parts cost, labor, and opportunity cost. You have already spent this much so it would be a waste to get rid of it now.
The problem perpetuates. Build a culture around identifying issues early and stopping them at their infancy no matter how uncomfortable it may be.
8. Frugality
"Leaders accomplish more with less which fosters creativity. Expenses without purpose leaves little for rewards," says Haynsworth. Some of the most successful companies have built a culture around frugality. If it doesn't benefit your customer, then don't spend the money i.e. first-class flights, expensive hotels, and high-end office furniture. For example, Jeff Bezos, founder of Amazon, made his first desk out of a door. From that point on, even after he earned his billionaire status, all desks at Amazon including his own are made out of doors. This instilled the frugal mindset into the culture and forced creative thinking.
9. Optimism
"Leaders see the light at the end of the tunnel," says Haynsworth. This goes without saying. A great culture is rallied around a unifying mission. It's up to the leaders of the company to maintain a positive outlook on that mission even during the tough times. Otherwise morale will fluctuate month to month with the growth of the company.
Recap
Sourcing and hiring talent in the construction industry is an ongoing challenge. Business owners cannot expect to offer the highest pay, nor should they. In fact, it has been found that across industries and income level that money is the least important factor to employee satisfaction according to Harvard Business Review:
"One of the most striking results we've found is that, across all income levels, the top predictor of workplace satisfaction is not pay: It is the culture and values of the organization, followed closely by the quality of senior leadership and the career opportunities at the company. Among the six workplace factors we examined, compensation and benefits were consistently rated among the least important factors of workplace happiness. "
The key is in the culture. Allan Haynsworth and Julie Hastings of Atlantic Lift Systems define their culture as:
Client Obsession
Outdo yourself
Think Long-Term
Curiosity
Work until completion
Problem solving
Confront issues early
Frugality
Optimism