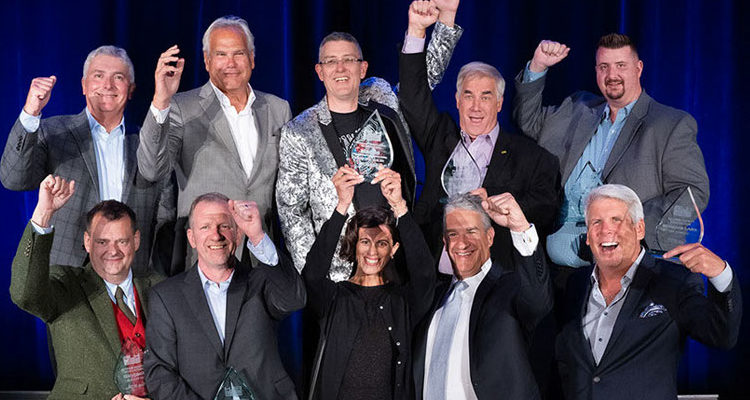 Access Rental Equipment Professionals Gather at the ALH Conference and Awards in San Diego
It is not often that so many talented equipment rental professionals converge to one place. This years' Access, Lift and Handlers Conference and Awards gave the attendees the rare opportunity to not only celebrate excellence in the construction equipment rental industry, but learn and network from some of the industry's best experts.

Held for the first time in California, the one day event was organized by the KHL Group and Access, Lift & Handlers. Hundreds of equipment rental industry professionals attended the show in San Diego and included a diversity of rental companies, equipment dealers, industry associations, used equipment brokers and equipment manufacturers.

This gave the attendees a wonderful opportunity to network with customers, meet equipment rental professionals from other markets and maybe make some new friends. The event featured high-level presentations from the industry's top leaders focused on rental company operations.

This was followed by the prestigious ALH Awards and gala dinner that evening.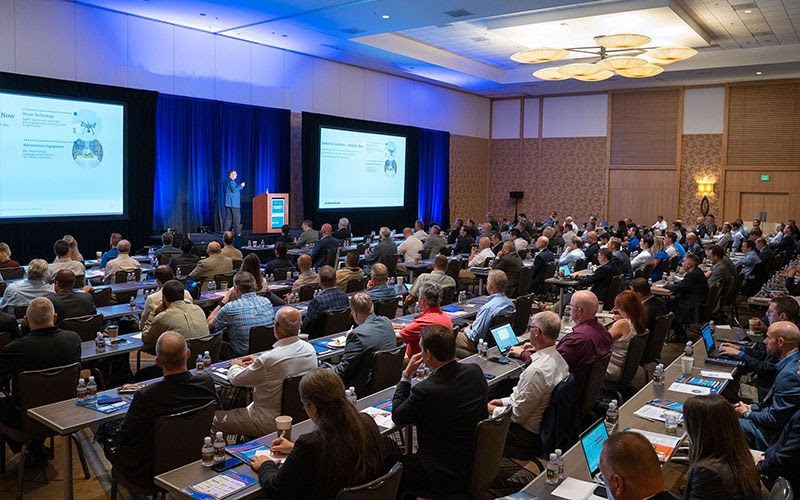 SPEAKERS AND TOPICS
The event's expert speakers presented a variety of topics including building a safety culture, rental models of the future, maximizing operations using mobile technology, and much more. It was a valuable opportunity to stay up on the latest market trends and hear a professionals' outlook on the equipment rental industry.

The day kicked off with a welcoming from the Editor of Access, Lift & Handlers, Lindsey Anderson

From there, the attendees were off and running. First up was Keynote Speaker Dale Asplund, Executive Vice President and Chief Operating Officer of United Rentals.

OVERVIEW OF THE U.S. EQUIPMENT RENTAL INDUSTRY
Asplund was able to give his insight into the strategic development of United Rentals over the last 20 years and an overview new telemetric technologies that allow the U.S. equipment rental industry and its professionals to stay competitive and focus their attention on customer service.

Asplund sees a transformation in rentals driven by "connected operations." Each stage of the rental transaction is managed by an app carried by yard associates, mechanics and customers. These apps manage the transaction by communicating with assets that are rigged with telematics devices.
According to Asplund, 315,000 telematics devices are deployed across North America. The goal is to reach 450,000 by 2021.

From the data on these devices, United Rentals knows how its assets are being used and whether they need maintenance. Asplund sees this as just the beginning of innovation professionals can use in the equipment rental industry.

"The data from the devices is only so good," he stated. "The next generation of the technology will be about how you manage an asset remotely. You shouldn't have to have someone on the site to tell how much gas is in the tank or not in the tank.

"Remote management will let customers become more productive, because they don't need as many people to help them do what they need to get done," he added.

This next wave of rental innovations is what United Rentals call "fluid solutions technology," which includes pump telemetry, tank monitoring and remote monitoring for generators and all kinds of assets.

Asplund also listed drones as another technology that will impact the industry. Surveying a jobsite by drone makes the site safer, with more accurate measurements, surveys and inspections. The drones also provide a layer of updated data every day to see the progress of a jobsite.

Rental companies that update their equipment with these emerging technologies stay competitive, providing additional services to their construction customers.

Autonomous equipment, for warehouse management and in-the-field solutions, are "advanced solutions, available now," Asplund stated.

"Our industry is a laggard," Asplund said. "There will be a day when people will be forced to make a quick transition. The rental business has to grow and take share from the 'own' business."

With new technological solutions that can extract additional value from rented equipment, providing on-demand solutions for customers, as well as maintain and manage fleets remotely, the equipment rental industry (and its professionals) have a strong incentive to adapt.

RENTAL MARKET: TRENDS AND FORECASTS
Next up was John McClelland, the Chief Economist for the Amercian Rental Association. John discussed not only the economics of the construction equipment rental industry, but the trends and forecasts of the rental market.

He also gave an insight into what is driving rental revenue growth in the U.S. and Canada.

MANAGING OPERATIONAL RISKS TO MINIMIZE INSURANCE COSTS
Insurance costs are always a big concern to any business. Jay Gnadt, the Senior Vice President and Director of Data Analytics of Lockton Companies explained how to manage operational risks and minimize insurance costs.

Construction presents many safety risks and it is important to identify your total cost of risk.

Gnadt is an expert in risk management, analytical skills, property and casualty insurance.

OPERATOR TRAINING AND THE NEW ANSI STANDARDS
Safety is another big concern when it comes to construction. Tony Groat, the North America Regional Manager for IPAF, emphasized that training your employees can be done properly if you establish requirements for the use, inspection, testing and maintenance of Mobile Elevating Work Platforms (MEWPs).

The worker must have the qualifications of operating a MEWP and must demonstrate competency and proficiency.

SIMULATORS AND TRAINING: AN UPDATE ON DEVELOPMENTS
Jim Colvin, CEO of Serious Labs gave an amazing presentation on the evolution of training simulators throughout the decades. In particular, the Serious Labs MEWP SIM.

Colvin noted that continuous innovation is a key driver to their success. By partnering with other industry leaders, Serious Labs is on the leading edge of developing advanced training simulator products.

KEY FINDINGS FROM IPAF'S INNOVATE WORKSHOP
Next up was Tony Radke, Sales Manager of ALH to discuss the findings of the recent IPAF Innovate Workshop.

Called Innovation for Future Progress, Radke talked about the need to improve the industry's methods of communication to ensure lifesaving when it comes to the safe use of MEWPs.

USING AUGMENTED REALITY FOR TECHNICIANS IN FIELD
It is estimated that there are currently over 200,000 unfilled construction industry jobs nationwide. Korry Kobel, director of engineering at JLG Industries talked about how this shortage has forced the industry to get creative and lean more toward technology.

Along with augmented reality, Kobel spoke of more usage of drones, AI, automated machinery, collaboration software and more off-site construction using autonomous robots.
FUTURE AERIAL TECHNOLOGY
As the construction industry changes, there is a constant need for new innovation and technology. Matt Fearon, President of Genie Lifts discussed these technologies, along with telematics, that will increase jobsite productivity and save on costs.

DIGITALIZATION AND KEY PRIORITIES FOR RENTAL COMPANIES
Greg Bennett, VP of sales for Point of Rental is a 20 year veteran of the construction equipment rental industry. His talk with professionals on the importance and impact of technology emphasized the importance of managing rental fleets with telematic integration and equipment dealer software.

RENTAL, TELEMATICS & THE INTERNET OF THINGS
Dan Middleton, Chief Revenue Officer of EquipmentShare presented ideas on industry trends in Internet of Things. How it is impacting every industry including equipment rental.

However, Middleton discussed how it benefits contractors in customer satisfaction, productivity, a reduction in maintenance and increase recurring revenues.

CALIFORNIA'S RENTAL MARKET: AN INSIDER'S VIEW
For a first hand account of the rental market on the West Coast, Kevin Aylesworth, President of All Access Rentals talked about competing for clients in California, the cost of doing business in the state and the difficulties of finding and keeping qualified employees.

All Access is one of the largest independent rental companies in Southern California with a fleet of scissor lifts, booms, telehandlers and industrial forklifts.

TELEMATICS AND DATA OWNERSHIP
When it comes to data ownership and privacy, it can be a dicey situation that leaves a lot of unanswered questions. Brad Boehler, President of Skyjack talked about data privacy concerns, who owns the data and who has access to it.

Skyjack's data philosophy is that the rental company owns the data and there should be opt/in – op/out option for limited Skyjack data access.

RECONDITIONING MACHINES & THE IMPACT ON VALUE
In order to uphold the value of your rental equipment, what are the best maintenance practices? New tires? Fresh coat of paint? Raffi Aharonian, Managing Director at Rouse Services answered many of the concerns equipment owners tend to have.

When it comes to equipment value trends, Rouse Services provides the most accurate and reliable information that includes valuations, used equipment sales support and rental metrics benchmarking.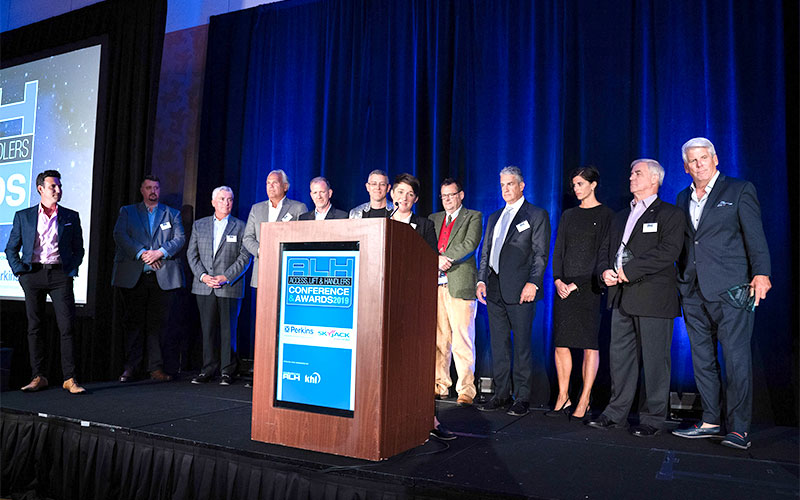 AWARD PRESENTATION
Although the conference already had an amazing line-up of expert speakers, the awards show was the highlight of the day. This year's ALH Awards was all about the rock stars in the field of equipment rentals.

With over 60 entries, the judging panel singled out the top competitors in 10 categories. The night was hosted by local TV personality Jeff Krapf.

THE JUDGING PANEL
Shawn Boone – General Manager of Haulotte U.S. https://www.haulotte-usa.com/
Troy Gabriel – CEO of Franklin Equipment https://franklinequipment.com/
Luke Powers – Founder and President of Gearflow.com
Lindsey Anderson – Editor of Access, Lift & Handlers

"It has an honor in being selected as a judge, says Luke Powers of Gearflow. "The companies that participated this year are incredible. The innovations they have created are truly going to change the future of the rental industry."
AWARD WINNERS
ACCESS INDUSTRY EMPLOYER OF THE YEAR
TVH Parts Co.
A worldwide leader in quality replacement parts, accessories and technology, TVH Parts was given the top nod for Employer of the Year. TVH Parts prides itself in providing a challenging and rewarding environment for their employees which encourages teamwork, growth, creativity and initiative.

TVH Parts cares for the well being of its employees. In addition to health insurance, TVH provides an on-site health clinic, walking stations, fitness classes, on-site day care and a restaurant with a chef.

The company is actively involved in the communities and support not only local, but national charities. It's core value of "Power, Spirit, Group, Soul and Goal" is what really set it apart from this year's competition.

ACCESS PROJECT OF THE YEAR – ACCESS EQUIPMENT
For the top Access Project of the year, the prize went to New England's Marr Scaffolding Company.

The project involved scaffolding for foundation and glass installation at the new Four Seasons Private Residence in Boston. The challenge was the 742 ft. budding. Eight custom davit arms had to be installed at the top. Along with the davit arms, 750 ft. of wires were needed in case of an emergency descent to the ground.

The custom arms with an 11 ft. mast and boom were custom built by Bee Access. The davits were the largest ever built by Bee. These eight davits allowed for four 25 ft. swing stages to work simultaneously on the project.

ACCESS PROJECT OF THE YEAR – MAST CLIMBING WORK PLATFORMS AND HOISTS BrandSafway
For the second category of Access Project of the year, the top award went to BrandSafway.

Seattle's famous landmark Space Needle was in need of some restoration. The $100 million project was awarded to BrandSafway and entailed installing new glass walls, benches and floors all while staying open for the tourists.

Because tower cranes could not be used due to the property's small footprint, BrandSafway created what they called the "donut." The 106 ft. diameter, 72,000 lb. QuickDeck access system was hoisted 50 ft. in the air using 12 traction hoists. This temporary system was the highest and most weather protected access system ever created.

BrandSafway is a leading provider of specialized services to the global industrial, commercial and infrastructure markets, BrandSafway delivers access and scaffolding systems, forming and shoring, industrial services and related solutions to more than 30,000 customers worldwide.

ACCESS RENTAL INNOVATION
Skyjack is already known for its reliable access and material handling equipment. Its new technology, Elevate On, follows a mobile-first philosophy that provides measurable and actionable data.

This new technology can be operated with a cell phone and done right on-site. It provides paperless, digital tracking and functional pre-checks. Elevate On's innovative design streamlines the process by providing immediate visibility on equipment usage, operator logs and pre-check reports.

This new technology integrates a valuable solution for entire fleets can help improve owners' business models. In an ever evolving industry, a technology solution needs to go beyond just telematics.

ACCESS SAFETY INNOVATION
A new feature of the Serious Labs MEWP VR Operator Training Simulator was recognized as the Access Safety Innovation of the year.

The new ESP Scoring software is a scoring system designed to translate standardized training metrics into practical terms. The scoring system's innovative ability to use machine observations of a trainees behavior can provide a valuable assessment of efficiency, safety and proficiency. These three factors work together to determine the health and productivity of a jobsite.

PRODUCT INNOVATION – MEWPS OVER 20 FEET
When it comes to MEWPS, Teupen's most popular model, the LEO92SJ Plus was awarded Product Innovation over 20 feet. The LEO92SJ features an advanced 98 foot straight telescoping geometric boom with an angled roller support system.

The basket is adjustable and can hold from one to four workers. This helps not only carries more workers, but more materials and tools. It's 882 lbs lift capacity allow efficiency and comfort on the jobsite while working at greater heights.

The height and width adjustable track chassis maximizes performance in both indoor and outdoor projects.

The LEO92SJ was also designed with more sensors inside the boom system for rough work conditions and high reliability. The existing 1-2-3 emergency lowering system makes the MEWP one of the safest in the industry.
PRODUCT INNOVATION – MEWPS UNDER 20 FEET
Taking home the prize for innovation for MEWPS under 20 feet was the Snorkel S3019E. This exceptional all-electric, self-propelled lift stood out not only for its performance, but for its safety engineering.

Several cutting-edge features of the S3019E are entirely new to construction grade scissor lifts. These include an all-electric drive, a low entrance height and no hydraulic hose.

The Snorkel features a sunken scissor stack that stores right inside the chassis, providing a low step-in height. Its' compact design is perfect to get through tight doorways and small passenger elevators.

PRODUCT INNOVATION – TELEHANDLERS
The prize for best Product Innovation Telehanders went to Magni Telescopic Handlers. It's model RTH 13.26 SH was recognized for being the most exceptional powerful rotating telescopic handler in the industry.

The RTH features a maximum lifting height of 86 ft. and capacity of 28,600 lbs. It is an ideal telehandler when working on construction projects where heavy loads need to be lifted up to great heights.

This telehandler is fitted with attachment recognition chips (RFID), which allows the machine to know which attachment is loaded. The machine can then select the proper load chart and present it to the operator.

Magni's remote operating system allows the machine to be operated outside of the cab. This ability to operate the machine without having to sit in the cab, provides maximum efficiency and placement accuracy.

RISING STAR AWARD – RENTAL COMPANIES WITH LESS THAN 10 LOCATIONS
Truly a Rising Star, ABLE Equipment Rental has been a leader in the rental and sales equipment industry since 1996. ABLE is known for its exceptional customer service, on time delivery and a vast inventory of well maintained rental construction equipment.

Family owned and operated, ABLE provides exceptional service for contractors, industrial facilities, municipalities and is an authorized leader of sales, service, parts, and inspections for many major industry brands.

ALH PERSON OF THE YEAR
Tony Groat, IPAF
International Powered Access Federation's North America Regional Manager, Tony Groat, was named the 2019 ALH Person of the Year. Tony was acknowledged for his work on establishing new safety and training standards for MEWP operation in the U.S. and Canada. His passion, hard work and exceptional expertise in developing and promoting IPAF's training programs have helped produced compliance with ANSI and CSA standards.

"This award is very gratefully received," says Tony. "My thanks go to both the awards organizers and judging panel, and to my colleagues at IPAF and on the various councils and standards committees, who have supported the work so well over the past few years. There is always more to do and we look forward to the new ANSI standards coming into effect in the next few months."