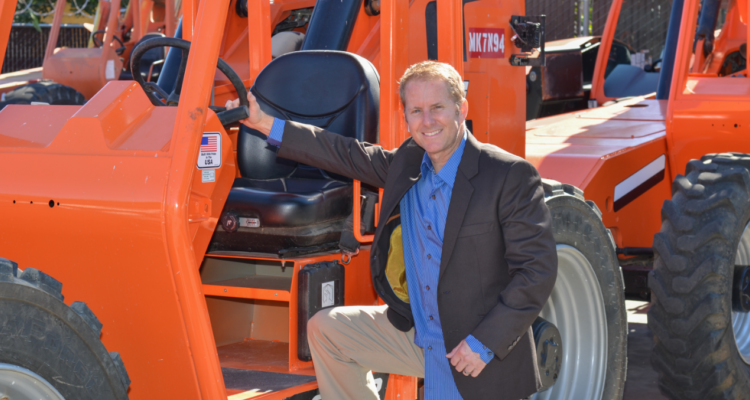 "I was dead on arrival," said Kevin Aylesworth, Founder of All Access Rentals in Southern California.
"When I was brought back to life, the message was clear – I needed to shift all of my attention to investing in the people around me."
All Access Rentals
Aylesworth founded All Access Rentals in San Diego in 1999. He has added two more locations, in Santa Ana and Riverside, and has grown All Access Rentals into one of the leading heavy equipment rental companies in Southern California.
Aylesworth credits this success to his people.
"95% of our sales come from re-orders, most of which from customers who have been with us for 20 years," says Aylesworth.
"Our customers understand the determination that we have as a group to make their experience more than just renting a piece of equipment. If you rent from us, within a month, you will understand the velocity at which All Access can make a difference to your business and everyone that comes within that footprint."
It is evident in talking with Aylesworth that he is obsessed with finding new ways to improve the lives of those around him, whether that is an employee, a customer, or even a competitor.
Aylesworth admits that although this was always an ideology of his, it was not always an obsession.
So what changed?
Aylesworth's passion is racing hydroplane boats, speed boats that travel upwards of 200mph, which he had been racing since he was 16. During his time at U.S. Rentals, starting at the age of 18, he had a chance to pilot the company-sponsored Miss U.S. Rentals.
In 2005, Aylesworth raced in the Bay Fair in San Diego, where he narrowly survived a near-fatal crash.
After spending weeks in the hospital, and months recovering, Aylesworth's outlook on life changed.
"It definitely invigorated me. To have a second chance of life was a clear message that I was brought back to make an impact on the people around me and do what is right. When it came to All Access, I needed to show people the right way to do things in a world that is full of unethical business practices," said Aylesworth.
"Many corporations have lost their way. They have driven towards becoming massive moneymakers – profitable at all costs. This was part of the reason I left the world of national rental to start All Access Rentals. We are all here to make the lives of our employees and customers better; if we can make strides towards a better environment while we do it, even better. I never wanted to lose that principle, and with All Access, I had control over that experience. We reevaluated everything," said Aylesworth.
Investing in your people, in many ways, has lost its meaning.
Everyone says they do it.
So why do some construction equipment rental companies have higher retention rates and better customer service than others despite renting out the same equipment?
I asked Aylesworth to break down what he means by "invest in your people."
Here are the 12 ways All Access Rentals invest in their people:
1. Narrow Your Focus On The Singular Job
"We evaluate every decision by boiling each department down to the person and asking ourselves how we can make it easier for that person to do their job," said Aylesworth.
"A good example is our truck drivers. Finding a 25-year-old truck driver in this day and age is challenging. I would guess that the typical truck driver in the US is in their mid 50's. Those with 20+ years experience are also the safest drivers, so we looked at every aspect of that person's job and found ways to make each task easier, safer, and more efficient for someone in their mid-50s," said Aylesworth.
When I asked him to name a few examples, he was able to rattle off over a dozen different ways they have improved the experience of their truck drivers.
"We bought a brand new fleet of state of the art trucks with trailers lower to the ground, to make loading and unloading easier. We have all-electric drive scissor lifts because they are easier to get on and off the trucks. Our trucks have traffic sensors to adjust the speed based on the traffic around them. They are all six-speed instead of eight-speed to make them easier to drive," said Aylesworth.
And the list went on.
2. Make The Right Human Decisions
"You need a 60ft boom, 95% of them are gas-powered. We know that these are not only bad for the environment, but they also provide a worse experience for our customers," said Aylesworth.
"We are working with JLG to have an all-electric fleet because it's a better all-around human decision to make. We don't do hydraulic drive scissor lifts for the same reason. They may be more affordable, but they are far less efficient. Better environment, better experience," added Aylesworth.
3. Target The Right Customer
"At All Access, we focus on working with clients that value our way of doing business. Customers that value the customer service relationships they form with our employees."
"Our rental clients treat our equipment as if it were their own,"
All Access provides clients with experience that can not be received elsewhere. "Our clients are willing to pay for the experience we provide,"
By forming these mutually beneficial relationships, All Access Rentals and its clients can create more long term value for all involved parties. "Our clients respecting our company creates a better working environment for the employees."
"We get to choose to provide our services to those clients that respect and value All Access while eliminating our services to those who don't,"
4. Prioritize Safety
"You can't rent a better piece of equipment from anyone else," said Aylesworth.
"We buy the highest end equipment available; every piece comes with every option made. Back up cameras, back up sensors, safety features, touchpad key system, GPS, we've got it all. It may raise the price of each machine by $10k, but we believe if we can get a safer machine to our customers, then we will form better relationships. These relationships have lasted the test of time," said Aylesworth.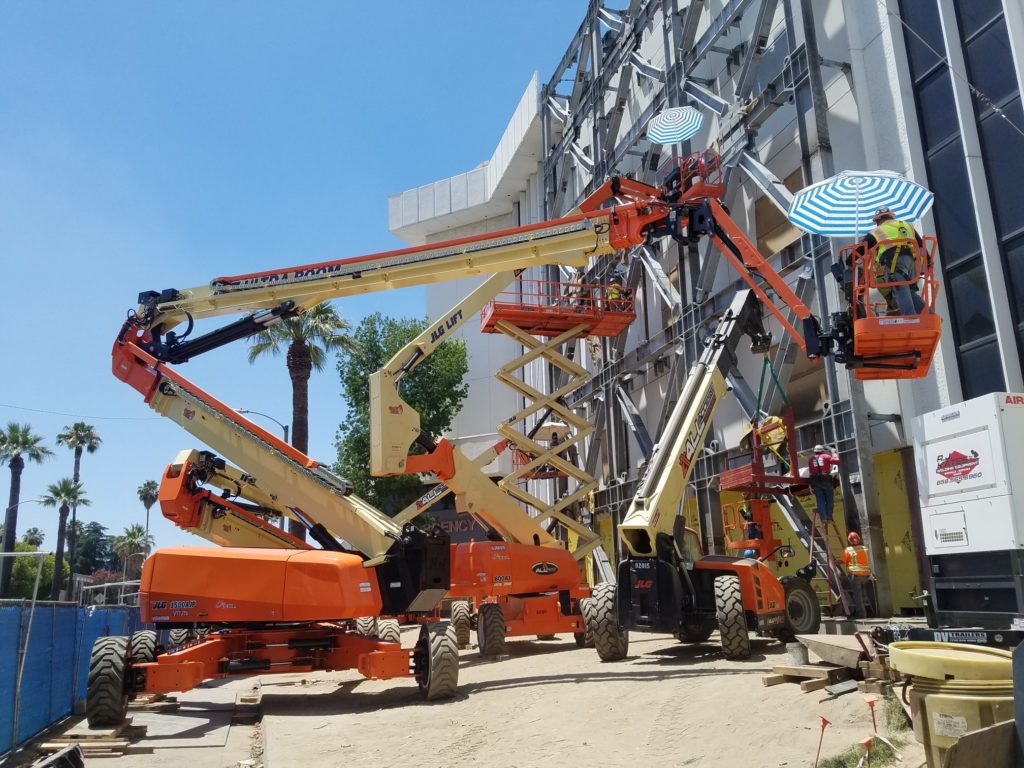 5. Invest In Technology
"The autonomous trucks and equipment – we will be the first to adopt those. If it's easier and safer to drive, we want that technology," stated Aylesworth.
"We have our first electric drive, autopilot service truck. We had to find an engineer in Texas to service the service trucks because those people are hard to find. However, we are starting to see success with the electric drive vehicles for our managers, so we want to continue to adopt those into our every day," added Aylesworth.
6. Hire Right, Not Fast
"When we hired our 300th employee but only had a staff of 40, I knew we needed to change how we evaluated and acquired talent," said Aylesworth.
"We were good at hiring quickly but bad at retaining talent and evaluating performance. Now, we only hire one employee at a time and invest weeks in evaluating that person."
"A prime example of that is coming across a mechanic who has spent 15 years at a competitor and is excellent at what he or she does. You wind up building an expectation about this person and create the narrative that they are exactly what you need. However, by the time you spend two weeks with the person, you realize that they do not enjoy being a mechanic and have always been interested in sales. If you invest the time in that person ahead of time, you can see if there is a role in your organization or even at your competitor's organization that would make that person happy," said Aylesworth.
7. Don't Train Half Way
"We've had great success sending our salespeople to training, which is the typical training success story," said Aylesworth.
"But there is one example that stands out in my mind as someone that changed how we think about training."
"We have a guy that we have known since he was a kid. He got into the steel business at a young age and spent years loading up steel trucks all day long. He came to us wanting to get into sales. We believed in him and his work ethic, so we hired him on to our sales team. We sent him to all of the typical sales training, and after 2-3 years, it still wasn't clicking. He was struggling, and with two kids and a wife to support, it became really difficult for him. We realized that he was struggling because we only went halfway in training him."
"We dug in with him and sent him outside of California to different sales training, management training, and self-help sessions for close to two years. I had at least ten different people tell me that we were investing in someone that simply won't get to the level he needs to get to. This year he got himself a new Rolex from landing in our Rolex club once again. He's crushing it," said Aylesworth.
"If you believe in someone enough, you must find the resources necessary to develop that person into the best version of themselves. The effect that this had on him personally and to our team as a whole has been tremendous to see," added Aylesworth.
8. Work As A Unit
"I like to reference the Parable of the Lost Sheep when thinking about managing the team," said Aylesworth.
"It's a biblical story about a shepherd who leaves his flock of ninety-nine sheep to find the one which is lost. This ideology is ingrained in our team. If someone is struggling at their job or at home, whether it's difficulties in a marriage or the pressures of parenting, we as a team work together to make sure that person is helped," explained Aylesworth.
9. Develop Empathy
"Our credit and collections manager is my favorite example of the impact that investing in your people can have," said Aylesworth.
"Credit and collections is a very difficult job. You have to collect money from people who don't want to or, in many cases, cannot pay. She developed a hardness about her after years of doing this job. She has been with us for a long time, and we felt that she was never put in a position to develop empathy for people at large scale within an organization."
"We decided to put her on our board and invest in developing her leadership skills. We sent her to various training sessions, including to see Tony Robbins. Within six months, not only did her collections go up by 30%, but she was also generating new customers for the business and developing managers within the company."
"She has become such a strong leader at All Access and even led the charge on getting everyone at the company to eat healthily. Her impact on the company has been huge, and it's largely due to the empathy she was able to develop. She was so used to being restricted by rules and regulations of the collections job that she never had the chance to be the best version of herself."
"She is now the most optimistic person at the company, works like crazy to help customers dig themselves out of financial distress, and completely runs the inner workings of All Access."
"If you invest in your people, you allow them to be the best version of themselves. The impact that can have across all facets of business and life is profound," said Aylesworth.
10. People Before Profit
"We were making 10% of our revenue on Sundays, primarily helping with emergency customer needs. I loved the revenue coming in, but I knew we had to change," said Aylesworth.
"What if we had a truck driver who worked seven days a week and missed their kid going off to school every day because he was getting home at 3 am? What if, instead, we shut down on Sundays no matter what the circumstances?"
"We evaluated every situation. We realized that although the revenue was good, it was not good for our employees to be going seven days a week. We decided to give Sundays back to our employees, and it is now forbidden to work on Sundays at All Access."
"This required us to retrain our customers. If they had a situation that could lead to a problem come Sunday, how do we identify and solve it with them on Friday, and what would be leftover for us to pick up on Monday? We started to take a look at who we are responsible for and worked hard for those customers on Fridays to make it work."
"This really paid off. Not only are our employees happier because they get to spend more time with their families, but our customers are running more efficient predictable businesses," said Aylesworth.
11. Happy At Home, Happy At Work
Many examples of this message have been brought out in previous examples, but this theme came up in my conversation with Aylesworth over and over.
"We have an obligation to do what's right for our employees. If we can help save one marriage by keeping that person at home more, then it's all worth it. When everyone is happy and excited to come to work because they are happy in their personal lives, everyone wins," said Aylesworth.
12. Create A Better Experience
Kevin Aylesworth focuses on creating a better experience for the people around him. His goal is to have his customers, his employees, and the 300 plus people he had a hand in hiring over the years be better off than they were before he met them.
"My last piece of advice is best summarized by Bill Barry (the late President of U.S. Rentals and eventually United Rentals)"
"He said everyone can rent a piece of equipment. Not everyone can employ the person standing in front of you. If I can invest my time in making sure the person in front of me is excited about what they are doing, from the first employee to the last, there will be no competition," said Aylesworth.