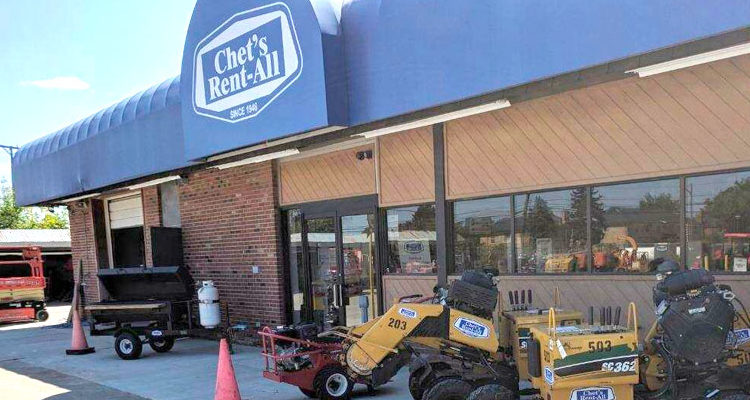 To compete in the equipment rental industry, stores must offer top of the line and/or well-maintained machines to attract and keep customers. Downtime to a customer could cost you the relationship. As these rental businesses buy newer equipment, older machines may end up sitting around the yard not producing revenue. Chet's Rent-All has found a way to reap the benefits of selling rental equipment online.
Not only are the older models less desirable, but they are also at a point in their lifespan where equipment value has depreciated and maintenance costs have increased. It doesn't take much for an older fleet to begin eating away at profits.
What to do with the underutilized and dated equipment?
As the industry continues to grow, there is a large demand for rental equipment. While some stores want to carry the latest and greatest, other smaller yards are content with something slightly used.
Gearflow offers an opportunity for both sellers and buyers to find each other. Our online platform allows rental companies nationwide to buy and sell both equipment and parts. Through the easy to use dashboard, each seller can build their unique storefront, list their inventories and sell direct.
A Gearflow Success Story
One such storefront that has utilized Gearflow for equipment and parts sales is Chet's Rent All. With eight locations throughout Michigan, they found an innovative way to expand the business beyond the state line. Chet's success through Gearflow and its online presence has dramatically changed their business dynamic.
Chet's was approached by Gearlfow in 2017 and they immediately saw the golden opportunity. The rental company jumped on board and became Gearflow's first seller.
The company uploaded its entire inventory into their storefront and within 18 hours, had their first sale. It wasn't much. Just a bottle of Beaver Nutscrub hand soap, but it steamrolled from there.
Commitment to the Customer
The tagline "Your Equipment Assistant" is what Gearflow is all about. We do the heavy lifting by providing an online marketplace that opens up sales opportunities across the U.S.
Buying or selling a huge machine such as an excavator is no small task. However, Gearflow's easy online transactions, seller dashboard, and search functionalities give the user a smooth, convenient shopping opportunity.
At first, it wasn't always that way. The original Gearflow site did not have the amazing user experience it does today. However, Gearflow is constantly growing through customer feedback to improve the user's experience.
"When I first saw the Gearflow dashboard it was clunky and hard to use," says Sarah Wilcox, Chet's Director of Business Development. "I provided some constructive feedback to the guys on how to improve it."
Geaflow paid attention to Sarah's advice. Within six months, the online site was upgraded to a better UX and has helped increase sales for all sellers.
"I appreciated that they listened. It meant they cared about what they were doing holistically," added Sarah.
About Chet's Rent All
When it comes to rental equipment, experience counts and Chet's may know a thing or two. For the last 71 years, Chet's has been serving contractors and homeowners all over Southeastern Michigan.
Family owned and operated, Chet's has grown considerably since that first store in 1946. Now, with 8 locations and 62 employees, Chet's offers high quality and well-maintained equipment and construction tools. Long and short term rentals can be delivered right to your job site.
Chet's inventory includes JLG Aerial, IHI Excavators, Kubota Skid steers, along with a large line of concrete and contractor tools.
In addition to equipment rental, Chet's offers certified aerial lift training. This operator training complies with all OSHA standards and focuses on fall protection and enhanced operator performance.
Conclusion
The success story of Chet's and the Gearflow platform is just one example of how a rental equipment business can create additional benefits and revenue streams by selling online. Just glance out the window and take a look at your yard. There may be some extra cash sitting right in front of you.
Let Gearflow do the heavy lifting and get that idle equipment in front of a nationwide audience. Chet's saw the opportunity and their success story is one we will tell many times over.