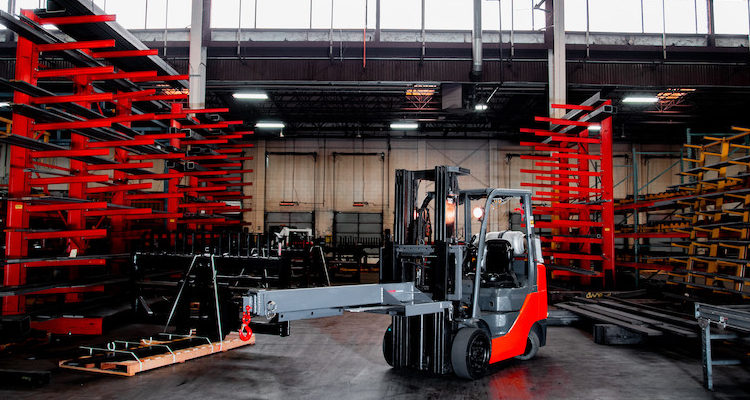 "We were shocked when we got acquired. It was one of those shocking moments that things will not be the same." This type of quote is not uncommon in the construction equipment rental industry…
Scott Clevenger, VP of Sales at Arrow Material Handling Products and 16-year construction industry vet, looks back at his time at RSC Equipment.
RSC Equipment Rentals was the second largest equipment rental company in the mid 2000's. In 2011, United Rentals acquired RSC for $4.2 billion including $2.3b in debt – the largest acquisition in industry history. Despite the merger of the #1 and #2 companies in the industry, United Rentals still only made up 11% of the market.
Now with a $9.75b market cap, over 1,200 locations, and a $14b fleet, United Rentals still only makes up about 13% of the market. However, the rapid merger and acquisition pace remains.
United Rentals completed $5b in acquisitions across four companies (BlueLine, NES, Neff, and BakerCorp) in 2018 alone.
Clevenger started his career in engineering until he discovered his interest in sales, transitioning to a sales role at an independent rental company in 2005 which was quickly acquired by RSC Equipment. Clevenger spent nearly 7 years at RSC Equipment Rental until it was acquired by United Rentals. After spending one year with United, Clevenger made the leap to the OEM side via sales roles at Atlas Copco, Xtreme Manufacturing, and now Arrow Material Handling Products.
Gearflow sat with Clevenger to discuss how he has experienced the industry change, the challenges that come with it, and how to embrace the change in order to succeed in this new era.
Customers Know More About Your Product Than You Do
The typical path to purchase in construction equipment has evolved. Customers want to be self-sufficient where they can be.
According to Forrester, B2B buyers prefer to conduct research on their own versus talking to a sales rep by a factor of 3 to 1. In fact, according to the same study, buyers are already 57% of the way through a purchase before they reach out.
"They don't want to deal with people and I get that" Clevenger says while describing the change in behavior from customers.
"They know what they need and don't need a sales person to buy something that has been bought twenty times before."
This does not mean relationship selling is dead.
"I don't ever overlook the relationship part of sales. It's so critical. You might not play as much golf as you did ten years ago but that personal connection is required to build a relationship with your customer instead of simply just taking orders. Don't try and take on the whole market, see what is out there in the more niche markets and own those relationships."
The human element of sales in the construction equipment industry will never go away.
Just as customers are better informed about your products, you can now be more informed about your customer than ever before. Find data and technology that gets you closer to a sale prior to meeting with your customer. Find ways to help your sales team be better informed about your customer just as your customer is better informed about your products.
Support the self-serve customer.
Businesses that shy away from this next generation of customer are bound to fail.
Invest In Sales Enablement
Technology is engrained in the makeup of every modern product in the construction equipment industry to make equipment operators more efficient and effective at their jobs.
However, the team that sells that product is rarely equipped with any amount of technology to help them be more efficient and effective. Technology should be thought of the same way it is in manufacturing.
Job enablement, not replacement.
Clevenger talks about two ways he uses technology to support his sales team grow their brand in a fragmented market:
1. Trialability
"You don't go to market the same way now you did 5-10 years ago.
For instance, we are the only ones who have a wear indicator in our forks but the challenge is coming up with creative ways to allow customers to understand what they are dealing with.
We create prototypes using 3d printers so our sales reps can bring them on the road. Customers typically already know everything that can be found on a brochure. Now it's all about visualization for the customer.
We also do live demonstrations at our trade shows, altering the height or load of the forks, so people can see how our Fork Lift Safety Device (FLSD) effects the product."
2. Market Data
There are roughly 18,000 rental equipment locations in the US. 80% of those are made up of independent rental companies. This means there are thousands of independent rental businesses that represent potential dealers for companies like Arrow Material Handling Products.
Most OEMs recognize this and believe that the only answer to increasing market share within the independent market is to hire more sales reps.
However, each rental company is unique in what they specialize in. The types of customers they serve, and therefore the types of equipment they are potentially in the market for. Using data to identify indicators of what makes a rental business a potential customer should be analyzed to make your sales team more effective.
"You change your selling tactic with all of this consolidation" Clevenger remarks
"We are trying to get smarter around owning niche markets as opposed to taking on the whole market. For instance, when wind farms were being built in Iowa there was never enough equipment. Knowing the activity in that area was a major opportunity for us.
We do our best to look into fleet mix, fleet size, customer base, competition, location, etc. to inform our sales teams and dealers."
We Are A Microwave Society
According to McKinsey, 86% of B2B buyers prefer using self-service tools for reordering rather than talking to a sales representative.
"People want to click on a button, send the order, and have it show up. They simply have a better format now" notes Clevenger.
"In the 70's, with TV dinners, dinner took 35 minutes and it was quick and easy. Now, if it takes more than 30 seconds you are pacing the floor. We are a microwave society, we want it now.
You see this in other parts of the construction equipment industry.
United Rentals generated $6.6 million in sales within the first year of the launch of their UROne App.
Grainger did 56% of their revenue, or $5.84 billion, through Grainger.com.
BuildingConnected, a marketplace connecting General Contractors to suppliers and Sub Contractors, was acquired for $275 million by Autodesk.
This shift in buying behavior presents an opportunity for independent rental companies. For the businesses that adapt, growth can be achieved without a linear increase in expenses. The correct use of the right technology can streamline order processing. It can also inform sales teams to better enable what this industry was built on – building relationships and customer service.
About Arrow Material Handling Products
Arrow Material Handling Products continues its growth by remaining agile, adapting quickly to change, capitalizing on core competencies and focusing on unparalleled Quality.
Arrow has engineering and design teams, machining centers and welding teams to accommodate and build custom attachments that fit an ever-changing menu of products for common and unique applications. Using Solid Works 3D CAD software and Finite Element Analysis (FEA) the Arrow Team can collaborate in and accommodate a variety of formats.
You can check out Arrow's products on Gearflow.com here.