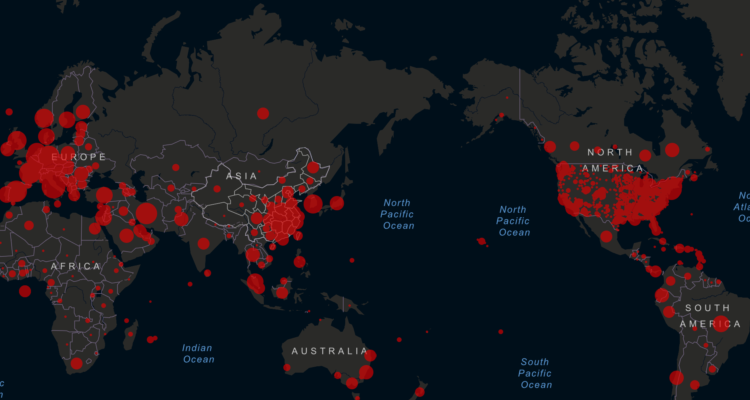 By now, many of us are feeling the effects of a global pandemic. At the end of February, I wrote an article on the impact of coronavirus on the construction industry. Unfortunately, a lot has changed in the past month. From border closings to country-wide lockdowns, COVID-19 has led governments across the world to take extreme measures, some of which have never been seen before. Many people around the globe underestimated the virus, which has aided in its wide-scale spread.
Optimistic Anticipation?
Until recently, most Americans didn't expect something of this magnitude to take place in their backyards. But, in the past month, the United States has seen an enormous increase in confirmed Coronavirus cases. Since February 25th, the total number of confirmed cases in the US has risen from a mere 60 cases to over 60,000 cases as of March 25th.
Previous concerns around how this would impact the construction industry were optimistic, estimating small delays on orders and a slowdown in production times. The results of Construction Dive's March 13th survey confirm the previous concerns but also highlight another concern: anxiety amongst workers.
The uncertainty of this outbreak causes a lot of confusion and anxiety. So far, in the US, many states have issued either statewide or county-mandated "stay at home and shelter in place" orders to prevent the spread of COVID-19. These orders require "non-essential" employees to work from home and encourage all people to reduce human contact. States that have put orders in place include California, Connecticut, Delaware, Illinois, Indiana, Louisiana, Massachusetts, Michigan, Missouri, New Jersey, New York, Ohio, Oregon, Pennsylvania, Texas, and Washington. It is expected that more states will implement similar measures in the coming days and weeks.
Broad Definition of "Essential" Employees
As most of the country adjust to working from home, workers in construction and manufacturing are among the workers deemed "essential" and are encouraged to continue work as usual. Aside from Boston and Philadelphia, many construction job sites across the country remain active. Boston's Mayor, Martin Walsh, shut down all non-emergency construction projects within the city for at least two weeks.
"This is a difficult decision to make. Construction is the core of our economy, but it must be done, out of an abundance of caution."

– Martin Walsh, Boston's Mayor
Although active layoffs are occurring across the United States, Rubeela Farooqi, Chief U.S. Economist at High-Frequency Economics, believes manufacturing and construction jobs will be among the safest. Employers in these industries "will be hesitant to lay off workers." These employers "can't just hire someone without experience," she added. Instead, these employers are assuming that individuals will be focused on the preventative measures to slow the spread of COVID-19.
Factories Around the World Experience Downtime
According to The Wall Street Journal, "factories are staggering shifts, banning visitors and installing barriers between workers to protect them from infection." Despite the measures being taken, people worry that production levels are going to continue to slow down.
As the virus spread rapidly in Europe, many European manufacturers stopped production and closed their factories. The Wall Street Journal also reported that Volkswagen was preparing to shut down most of its European plants. Additionally, the world's biggest plane manufacturer, Airbus SE, will be "halting production at plants in France and Spain for four days, to enact new sanitation measures and retool workspaces to allow more distance between workers."
A Shift in Production
Some manufacturers are even shifting production. According to Construction Enquirer, "Digger giant JCB has been approached to switch its production lines to making ventilators as the coronavirus crisis escalates. Prime minister Boris Johnson has called on the construction maker to ready its factory in case of a national emergency." Similarly, many spirit producers are beginning to make hand sanitizer.
The National Association of Manufacturers (NAM) released a survey regarding the impacts of COVID-19 on their members. The results indicated that over 75% of manufacturers anticipate a negative financial impact.
On Sunday night, Donald Trump tweeted that Ford, General Motors, and Tesla got the go-ahead to make ventilators and other "metal products." Trump has not yet ordered any companies to begin production on these items using the Defense Production Act (DPA). The DPA is a law that allows the government to control the production and distribution of materials deemed essential to national defense.
This tweet comes after news that General Motors, Ford, and Fiat Chrysler announced that their factories would temporarily close due to the virus.
How Do You Respond?
Rachel McCleery, a Ford spokesperson, said, "We have had preliminary discussions with the U.S. and U.K. governments and are looking into the feasibility. It's vital that we all pull together to help the country, weather this crisis, and come out the other side stronger than ever."
"We are working closely with Ventec to rapidly scale up production of their critically important respiratory products to support our country's fight against the COVID-19 pandemic… We will continue to explore ways to help in this time of crisis."

– Mary Barra, General Motors' Chairman, and CEO said,
Tesla's CEO, Elon Musk, responded via Twitter, saying, "Just had a long engineering discussion with Medtronic about state-of-the-art ventilators. Very impressive team!" Both Medtronic and Ventec are companies that make medical equipment such as ventilators.
During Michigan's Governor's address on Monday, Gretchen Whitmer indicated that the federal allotment of supplies barely covered one hospital shift. There was also mention of the disgusting bidding war happening between other states and the federal government competing against each other for medical supplies.
This has created a call to action from local companies and organizations to donate or sell at fair value all COVID-19 personal protective equipment (PPE) they may have access to and or inventory of.
Rental Hit Hard
In many states, because construction is considered essential, equipment rental companies must remain open as well. According to the American Rental Association (ARA), the rental industry, including both heavy equipment rental and party & event rental, are being impacted by COVID-19.
The map above represents a survey the ARA conducted comparing event revenue from March 2019 as of March 9, 2020. 57.06% of respondents predicted no losses, and only 0.61% predicted losses over 60% in March 2020 compared to March 2019. Unfortunately, as fear around the virus began to grow, so did the number of cancellations. Just one week later, on March 16, 2020, the ARA sent out the same survey.
This time, only 1.88% of event rental companies predicted no losses, and over 54% predicted to lose over 60% of revenue compared to last year.
Heavy equipment rental reported a lesser economic impact. The same survey above was also distributed among equipment rental companies on March 9th, 2020, and March 16th, 2020. Although the differences are not as drastic as party rental, these projections are still worrying.
In just one week, equipment rental companies expecting no losses compared to March 2019 dropped from 95.12% to only 38.42%. As of March 9th, less than 3.5% of respondents expected to report a loss of more than 15%. On March 16th, that number jumped to 28.81%, who are planning to report losses higher than 15%.
The ARA's CEO, Tony Conant, said, "This is a dire time for our industry. We're putting the needs of our members in the rental community first. ARA and ARA insurance have put initiatives in place to ease the financial stress on our members… Our goal is to continue assisting our members and keep them informed on resources that are available to help them manage through these unprecedented times,"
What About Contractors?
Deemed essential employees, many contractors continue to work despite the "stay-at-home" orders. The Associated General Contractors of America says, "AGC of America has continually sought to make clear that our industry is essential to responding to and recovering from this virus." The Association has made various points to back their claim. The AGC's CEO, Stephen E. Sandherr, released a statement in response to construction halts throughout the country. An excerpt can be found below:
"Halting construction activity will do more harm than good for construction workers, community residents, and the economy. Construction firms are already acting to ensure the safety and health of their employees in the face of the coronavirus outbreak. These new measures, which include increased hygiene and halting group gatherings of staff, are in addition to the fact construction workers already wear protective equipment, including gloves that will help protect them and their co-workers… These measures have the potential to bankrupt many construction firms who have contractual obligations to stay on schedule or risk incurring significant financial penalties."

– Stephen E. Sandherr, CEO – The Associated General Contractors of America
Among contractors, confusion has been widespread with "stay-at-home" orders. In many cities, construction firms are telling employees they will proceed on a day to day basis. For those not in work, in places like Boston, Cambridge, Philadelphia, and six counties in the San Francisco area, uncertainty continues to grow.
For contractors, there are two popular opinions on job site shutdowns. Some contractors feel that the only way to protect themselves from contracting COVID-19 is to shut down job sites. The other side feels that if correct preventive methods are put in place and enforced, construction should not be shut down. New York City Council's Deputy Leader for Policy, Brad Lander, tweeted the following in response.
The AGC also released the findings of their online survey, which can be seen below, stating that 28% of respondents said that they had been told to "halt or delay work." Out of 909 responses, that means more than 250 contractors have had to stop work due to COVID-19.
"We expect that more government agencies will order projects to be halted in the near future."

– Ken Simonson, AGC's chief economist
22% of respondents (about 200 contractors) also claimed that suppliers had told them deliveries would be late or canceled.
Do Your Part to Prevent the Spread of COVID-19
Currently, we are all going through a lot of unknowns and changes. Over the next few weeks, it is expected for some of these unknowns to begin being straightened out. If you haven't yet, you should expect to feel the effects of a global pandemic. If you have been practicing social distancing, you will not experience many changes if a city-wide or state-wide lockdown is put into place.

As you have heard thousands of times, remember to wash your hands with soap for at least 20 seconds, and avoid touching your face. A lot has changed in the past month, and things will continue to change in the months that come. If you feel sick, stay home! Make sure to stay up to date on Coronavirus information from the CDC and your local government.
Your Turn
As much still remains unknown, we're curious as to how our readers have been affected by the coronavirus. We'd love for you to share your feedback and any other comments with us.
Feel free to answer any of these questions or write your own response:
How has the coronavirus affected your daily life?
What changes, if any, have occurred in your workplace due to the coronavirus?
Are there any specific techniques you are using to make shelter in place orders more bearable?