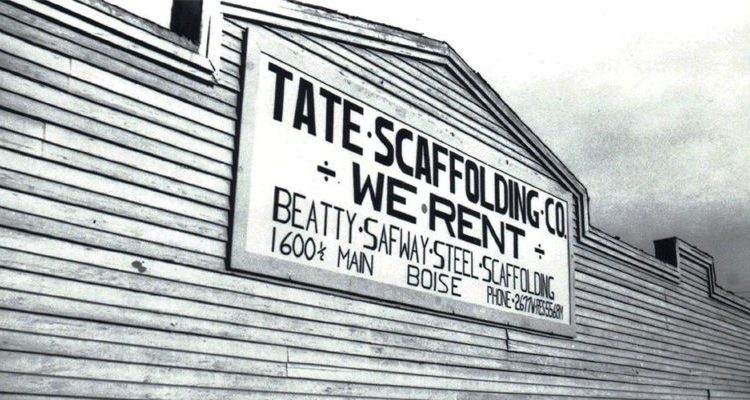 Tates Rents is an equipment rental company located in Boise, Idaho. Tates' story is filled with praise from not only their employees, but also the local community, since 1946. Gearflow had the chance to speak with Tates' general manager, Haley Hennessey, about how they've built such a positive reputation.
When Paul Tate decided to start his own scaffolding company, he did it in an unexpected location; on the second floor of a building in downtown Boise, Idaho. When clients rented scaffolding frames, one employee would slide the frames out of the second-story window to another worker on the ground below.
In post-war 1946, the Safway Scaffolding Company was born. Today, 73 years later, it's just known as Tates Rents. This award-winning company has gone well beyond scaffolding and become a leader in the construction equipment rental industry.
History
Tates Rents has expanded from that original building to 9 locations throughout the Boise area. They also now employ over 95 people. Their vast event rental and construction equipment rental inventory is the largest in Idaho.
Back in the 1940s, grandfather Paul was the original driving force behind the young company's success. That driving included a delivery truck that was concocted of Ford, Plymouth, and other random parts.
As the business began to grow, Paul added ladders, liquefied gas, Ramset, and Porter-Cable tools, along with other equipment lines to the existing scaffolding inventory.
In 1962, second-generation son, Syd, came on board. The company was now called the Tate Scaffolding and Power Tool Company. When Paul retired in 1969, Syd became President.
In the early eighties, with the help of an advertising consultant, the company changed its branding and name to today's Tates Rents.
Since the 1990s, the rental equipment company has been taken over by the third generation of Tates. Eric, Trent, Clint, and Paula have continued the Tate legacy, keeping their grandfather's vision alive – "A commitment to taking care of our customers and to providing legendary service and equipment to the people of the Treasure Valley and beyond."
Core Values
Being in business for decades is not by accident. Tates Rents is proud of the company's core values that drive their success.
"We are family-owned, and that allows us to be flexible and very nimble in our market. We are able to make decisions quickly. This is a huge component of our success," says Haley Hennessey General Manager at Tates Rents.
The trust that the Tate family has in their employees has empowered them to be creative, flexible, and willing to work together with customers to find solutions.
"At the counter level, don't be a robot. Make your own good decisions, and we will trust you to do the right thing. A lot of companies forget that and go strictly by the book," says Hennessey.
Hennessey added that the core values of Tates start with having a family that is very generous to its employees.
"We put people first. We take care of our community, families, and customers. They're the foundation of our business," says Hennessey.
The work hard, play hard attitude of culture is easily recognizable not only by employees but by the business community as well. For the second year in a row, Tates' name appears on the list of the 2019 Best Places to Work in Idaho.
Other factors of Tates' success are through employee development, accountability, and building of relationships with coworkers, customers, and suppliers.
Growth in Idaho
Idaho is the new paradise of the west. For the second year in a row, the state has led the nation in growth. New residents and companies are flocking to Idaho for a more business-friendly environment, lower cost of living, and a backdrop of gorgeous scenery. This growth has spurred a boom in new construction projects.
With this new flood of residents, the new home construction and city expansion have benefited Tates and strengthened their business. However, Tates could no longer only rely on their 73-year reputation. Locals are well aware of the rental company's superior customer service and equipment, but the new arrivals needed an education.
"We stay hungry, and everyone here has bought into that idea. It's central to the personality of the company, and trying to match the growth of Idaho is a big order," states Hennessey. "All levels of the company are excited to take advantage of that growth is part of why we have become so successful."
Community Involvement
Having been in the Treasure Valley all these years, Tates tries to make a difference by always being involved in their community.
"We are everything small grassroots and like to stay connected. We sponsor little league teams, cart racing, and anything our employees' kids are doing. Our community service is based on the interests of our employees," says Hennessey
During this holiday season, the employees of Tates sponsored a tree for the St Alphonsus Festival of Trees. Everyone at Tates Rents was excited to participate. The employees all kicked in and made individual decorations for the tree.
The Festival of Trees fundraiser helps to benefit the hospital's women's mobile outreach program. This program gives rural communities access to the most advanced screening tools to detect early cancer.
Recognition
Based on Tates' decades-long reputation as the top equipment rental company in the state, it is no surprise that the family business has gained many industry awards.
For excellence in business performance, Tates Rents was recently awarded the 2019 Top Gun by Peer Executive Groups. This year is Tates Rents' second in a row for the honor. The Top Gun Awards are to recognize equipment rental businesses and dealers who have excelled in six key financial metrics relative to their peers.  The Top Gun goes to the top 25% of stores, based on two ranked financial indicators calculated from financial statements submitted by rental store operators to Peer Executive Groups.
Tates Rents is the "best rental company in the Boise area". Awarded by Best of the Treasure Valley, Tates Rents received the most online votes and 5-star online reviews from Google and Yelp in the tool rental category. The Tates family give their hardworking employees and dedication to excellence all the credit.
To top it off, 2019 Idaho Private 100 included Tates Rents. Recognition is only for top private companies, ranked by revenue. This award is a back-to-back victory for Tates, who in 2018 also made it on the list.
Equipment
Tates Rents prides itself on its vast inventory of construction equipment. Over 9,000 pieces of top brand and well-maintained equipment are available for rent or to buy. Everything contractors and homeowners need, including backhoes, excavators, forklifts, skid loaders, tractors, trenchers, aerial lifts, and a wide selection of smaller construction tools. In addition to machines, Tates Rents carries over 50,000 parts from more than 100 suppliers good for almost any repair.