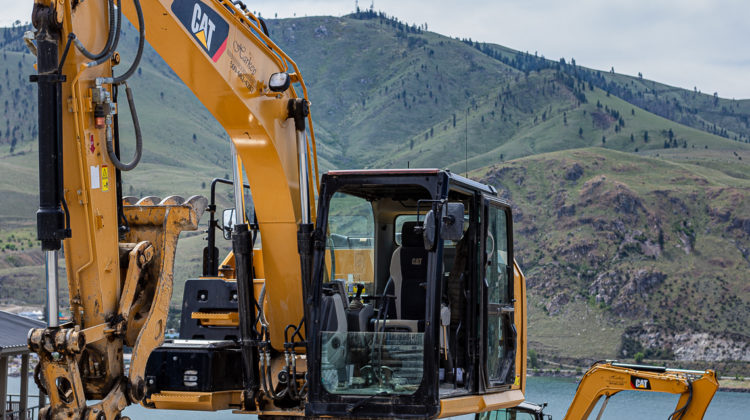 If you were that kid that loved to play in the dirt and mud, a career as a heavy equipment operator could be your dream job. Not only is this job currently in high demand, but it can also provide great pay. According to many operators, it is the best job they have ever had.
There are many routes you can take to become a heavy equipment operator. Choosing the right path can be daunting. So, to help you down the right dirt road, Gearflow has put together the complete guide on how to become a heavy equipment operator.
What is a Heavy Equipment Operator?
A heavy equipment operator also called an operating engineer, operates a variety of technical and complex machinery to perform thousands of tasks. Heavy equipment is employed throughout the entire construction process as well as building maintenance in the future.
Earthmoving equipment such as excavators, wheel loaders, and skid steers can demolish old buildings, dig foundations, and move dirt (along with many other materials). Material handling equipment like forklifts, conveyors, and telehandlers can move materials around the job site, lift materials into place, and assist in stacking materials upon delivery. Depending on the project, contractors and project managers may use many other types of specialized equipment.
Keep in mind, being an operator is not just about playing with big toys in the dirt. With any construction project, it is about safety and competency. The operator will be in charge of very expensive equipment and will need the knowledge on how to complete the task correctly and safely. A mistake could cause serious injury, costly damage, and high OSHA (Occupational Health & Safety Administration) fines.
Proper training and sound judgment are therefore vital.
Along with the mental aspects required, operators will need physical stamina. Days can be long and tiring. Good vision, depth perception, hand, eye (and foot) coordination, along with quick reaction times, are essential.
Various Types of Heavy Equipment
First, think about what type of machine you would enjoy operating. Don't just immediately go to the stereotypical bulldozer or excavator. It could be anything from a landscaping trencher to a skyscraper tower crane. Specific equipment varies depending on the construction project's needs.
Below is a list of the most common types of heavy equipment:
Scrapers
Excavators
Front End Loaders
Bulldozers
Road Graders
Skid Steers
Forklifts
Cranes
Farm Equipment
Pile Drivers
Oil Rigs
Asphalt Pavers & Rollers
Dump Trucks
So, where do YOU start?
The 5 Steps to Becoming a Heavy Equipment Operator:
Step 1: Stay in School!
Graduate high school or get your GED. All equipment companies and training schools require this. If you are able to, join any vocational training courses while you're still in high school. Most of the time, these schools carry insurance to cover operators under the age of 21. Therefore, if you do make a mistake it is less costly to do it while learning, as opposed to doing it with an employer.
If you have access to heavy equipment within your network of family and friends, asking to volunteer on residential DIY or farm projects could propel your preliminary education on how the equipment is operated, maintained, and repaired. This provides great momentum when you're ready to launch your career.
Step 2: Do Your Research
From the onset, you will need to make some decisions. You'll need to decide or at least have an idea about what equipment you would like to operate. You won't be permanently committed to that machine, but at least you'll have established a goal to work towards and stay focused. Consider looking into the most economical places to live and work. Then, think about how you'll break-in.
Knowing the machine type or field you are most interested in, will provide clarity on which sector of the industry offers operator jobs for those pieces of equipment. For example, if you want to be home in the evenings, limit travel, and prefer a fixed schedule, then working for a local municipality, scrap yard, or factory may be an excellent choice for you.
If you're open-minded to traveling, new environments, and flexible scheduling, then joining an operators union, general contractor firm, or crane company may be ideal for you. These jobs will give you the exposure to see the world, get your feet wet in the industry, and see the career possibilities as an operator.
Ask yourself: do I want to invest in an operator training school, and if so, what are the best to attend? Should I become a union apprentice? Or should I jump right in, get dirty, and learn on the job. Both have benefits in their ways, and it depends on if you consider yourself an applied or academic learner.
Remember, each path has its pros and cons. By researching, considering all your options, and making informed decisions, you'll be able to earn a great paying and satisfying job.
Step 3: Training
There are three options to become a competent heavy equipment operator. As mentioned above, on the job training is usually the easiest option. However, for a more rounded education, vocational college or technical school will bring you up to speed quickly and adequately. The third option is to join a labor union or state apprenticeship program.
Let's discuss all three.
Start at the bottom, literally.
You may have to start as a ditch digger. Without any proper training or certification, you will have to work your way up. This usually means low pay and dirty, back-breaking work. More than likely, you will begin your digging career with a shovel.
Don't take it lightly. Show up on time, work hard, and, most importantly, ask the boss to train on equipment the company might use. Show genuine interest and dedication. You may start with a mini-excavator or a skid steer. With persistence and practice, you can advance and improve your value for a future operator opportunity.
The downside is that this route will take time, lots of time. Most seat time at construction companies goes to their existing operator who has the experience and seniority. Existing operators are busy making a living and may not want to take the time to train you consistently. Building strong working relationships, showing respect and intelligence will help build the foundation of your future.
Another con would be a lack of certification. With modern safety and liability concerns, the requirement to operate a majority of heavy machinery is much more structured than in years past. Contractors are looking for employees that can not only operate the machine but have sufficient training with safety and specific construction practices. A lot of times, they are limited on insurable operators due to age. The minimum being 21 in some states, and 25 years old in others, so make sure to check your local requirements before applying for jobs.
Training or Vocational School
Heavy equipment training schools are a fast, comprehensive way to get you into your first professional gig. Again, do your research. Each school will vary in curriculum and cost, so be diligent and find an accredited school that is right for you.
The length of programs could range from a few weeks to a year. Costs range depending on what type of program and where you plan to attend. As a guideline, heavy equipment training typically costs $4,000-$18,000.
If you are furloughed or currently collecting unemployment, some states offer tuition-free classes and/or degrees. As a result of the current COVID-19 pandemic, there is a "No worker left behind" initiative that allows you to attend a community college or vocational school for up to two years without any tuition expense. For a list of programs that may be available near you, visit the American Job Center Finder website.
In most schools, you'll get hands-on training (or more recently virtual reality training) for common types of equipment, and learn the necessary classroom curriculum along with what's required to pass certification exams.
One such example of a training school is on the banks of the Columbia River in Woodland, Washington. West Coast Training has been prepping heavy equipment operators since 1959 and is one of the top schools on the West Coast.
"Our program is a comprehensive and rigorous eight-week course that prepares students for the real world. Once completed, they will be ready to go on day one," said recruiter Tom Newman of West Coast Training.
The school's campus is located on a 28-acre property and mimics a real-world construction site. Student housing and career services come included with tuition. Classes are small by design, with only 8 or 9 students per course.
Operators are ready to go, on day one
"We do it that way because we are big on hands-on training," said Newman. "This enables all students to get a lot of good seat time on the equipment. Hands-on is the best way to learn."
Seat time includes operating machines such as front loaders, backhoes, excavators, bulldozers, graders, and other general construction equipment. By exposing the student to a variety of machines, it increases one's value when marketing themselves to potential employers.
At West Coast Training, classes are five days a week for 10 hours a day. Half of the time, students learn safety protocol and how to read a blueprint or formula for setting a grade stake. The other half is field time spent on the equipment. By the end of the eight-week course, students will have put in a thorough 400 hours of training.
"Another benefit of a training school is that the [established] criteria is set to the National Center for Construction Education & Research (NCCRE) standards," said Newman. "We teach to these standards to ensure a competent, well-rounded operator."
Apprenticeship Programs
In addition to private training schools, many states and local labor unions offer apprenticeship programs to put you on a career track in heavy equipment. For select programs, these can be free, and for others, they can cost a few thousand dollars. Joint labor and employer training trusts typically fund apprenticeships.
The largest union in North America is the International Union of Operating Engineers (IUOE). Consisting of 400,000 members in 123 local unions throughout the United States and Canada, the IUOE has been training and representing operating engineers since 1896.
IUOE apprentices receive free training, funded by training trusts jointly sponsored by local unions and employers, at heavy equipment operator training schools. These training programs are to ensure that all IUOE members are highly trained and skilled as they go out into the workforce.
One such union is the IUOE Local 12, which covers Las Vegas and Southern California. We spoke with Louie Lapitas, who is in charge of the Nevada apprenticeship program.
"A great advantage of starting in a union is that anybody off the street can apply. There is no experience necessary," said Lupitas.
Once the applicant is interviewed and passes the entrance exam, the apprentice begins working and training simultaneously.
Earn While You Learn
"We like to refer to it as earn while you learn," said Lupitas. "During the IOUE program's three-year time frame, apprentices will accrue 6,000 total hours of machine time and classroom training."
With all the hours required, the apprentices have an opportunity to master their skills on a variety of equipment. This versatility keeps union members valuable as construction needs vary from project to project.
For every 1,000 hours earned, the students' pay will increase. Union wages are very competitive and include benefits like health insurance and pension plans. Upon completion of the 6,000 hours, the apprentice will then receive a journeyman certification.
Although labor unions are one way to go, be sure to check out government programs as well. The Employment and Training Administration and the Office of Apprenticeship Training, Employer, and Labor Services can also be helpful in finding apprenticeship opportunities.
Step 4: Certification
Now that you have completed your training, you may need a few other items to complete your portfolio. One very important item is a Commercial Drivers License (CDL). Although not legally required, the majority of construction companies prefer employees to obtain one to operate any equipment or truck. Not having a CDL could significantly diminish your job opportunities.
Depending on the state, the completion of an operator exam may be required. Testing on heavy equipment varies by state and generally costs between $75 and $200. Some states require a specific license for operating the specified vehicle.
Certain states require certifications from places like the National Association of Heavy Equipment Training Services (NAHETS) or the National Commission for the Certification of Crane Operators (NCCCO).

NAHETS offers their training programs at three locations in the United States while NCCCO offers many more training options. Both organizations provide students with the necessary certifications to join the construction workforce as an entry level heavy equipment operator.
Certification card example:
Step 5: Get a Job!
Job Forecast
Now it is time to get out in the real world. Luckily, today's job market for heavy equipment operators is thriving. Government spending on infrastructure is expected to increase, along with private construction projects. This influx of projects will result in new positions over the next ten years.
According to the Bureau of Labor, there were 453,200 total operator jobs in 2018. Predictions estimate that number to rise by 10% each year through 2028.
At West Coast Training, the program is very rigorous and thorough but still does not guarantee a job. "The demand is high, and career trajectories are very good," stated Newman. "We can get them that head start to work anywhere, but they still don't have experience. However, the lack of a labor force is allowing these students to get jobs right away. Companies are approaching us for workers."
Newman adds, "There will always be a need for heavy equipment operators. Construction is booming everywhere, but if the housing industry goes down, it will be the operators that survive. We will always need infrastructure. Roads, bridges, and airport projects will continue if the economy takes a bad turn."
That lack of labor is due to many young adults going to college instead of getting into the trades. The perception is that construction jobs do not pay well and that it is demeaning work. However, that mindset is widely untrue. For example, after working for a few years, many blue-collar jobs can pay around $100,000. Plus, you won't have to worry about hundreds of thousands of dollars in student debt.
Workers who are versatile and can operate multiple types of equipment tend to have the best job opportunities. There are a variety of industries where you can apply your newfound and growing skills. Primary places include construction, transportation, trucking, trades, and government contracting.
Location, location location.
So, where are all the jobs? Well, everywhere, but it comes down to your choice of lifestyle. Are you willing to locate somewhere remote such as Alaska or North Dakota? Are you willing to pay more to live in the city? You will need to find a balance between salary and cost of living that is right for you.
Salaries
No matter where you end up, the jobs will be there. While doing your initial research, consider the location's cost of living versus what you will earn. Salaries will vary from state to state and city to city. To give you an idea, we have listed a few of the top and bottom states for average salary.
Top 5 Average Annual Salaries by State:
Last updated May 26, 2020
1. New York – $83,840
2. Illinois – $79,330
3. Hawaii – $78,500
4. New Jersey – $78,120
5. California – $75,440
Bottom 5 Average Annual Salaries by State:
5. Alabama – $41,510
4. South Carolina – $40,680
3. Georgia – $38,290
2. Arkansas – $37,900
1. Mississippi – $37,010
Overall, according to Salary.com, the national median salary for a heavy equipment operator is $64,361 per year.
If you go through the union apprentice program, expect to earn up to 35% higher than comparable non-union wages as well as a job list that is always awaiting fulfillment. Unions are always underserved with operators, so the opportunity to work is almost always available.
Conclusion
We hope that this complete guide has helped with your decision to operate heavy equipment. "While it is not for everyone, it can be a fun, fulfilling career choice," says Newman. "I look down the road, and we need young people that know how to do these things, and that need is not going away. What an honorable way to make a living. It is the backbone of America."
If you're interested in a job in construction but don't think becoming a heavy equipment operator is right for you, check out our guide to other construction workforce jobs.
Cover image by Gearflow