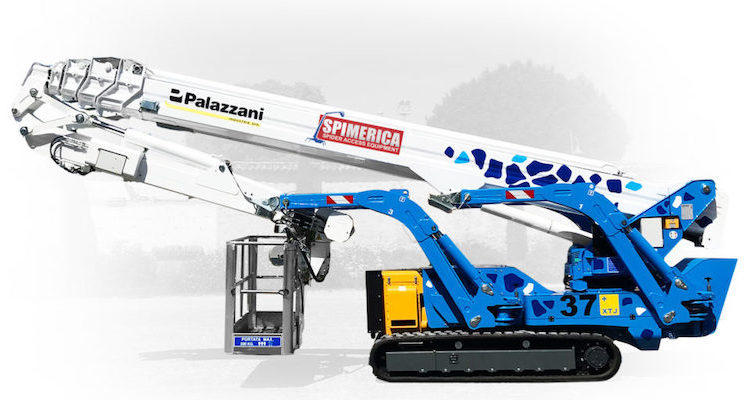 I sat with Ben Taft, President of Spimerica, to learn about his experience launching a dealership with European equipment manufacturer Palazzani and what advice he would give to others considering taking a similar leap.
We are in a unique period of time in the construction equipment industry in the US.

By 2020, it is estimated that the global construction equipment market will be around $90B, up from $70B in 2016. The United States is largely responsible for that growth.

Over one million construction equipment units are expected to be sold in 2022, over 25% of which will be sold in North America.

Meanwhile, the fourth largest construction equipment market worldwide, Europe, is forecast to consistently lose market share and dip to under 15% of the total unit sales in 2022.

With construction equipment rental growing at a 5% – 6% CAGR, there is a lot of opportunity for European and Asian equipment manufacturers to establish a global presence with expansion into the United States.

With equipment becoming more and more versatile i.e. how telehandler usage has changed, there is an opportunity for specialty equipment manufacturers to come into the US and specialize in something unique to the market or provide lower cost alternatives.

These manufacturers depend on new heavy equipment dealers to emerge.

Ben Taft, President of Spimerica, saw the same opportunity and took the leap to found his own heavy equipment dealership in the summer of 2019.

Gearflow sat with Taft to learn about Spimerica and what advice he would give to someone considering starting their own construction equipment dealership.

From United Rentals To Spider Lifts
Taft started his career at United Rentals in North Carolina and eventually became a branch manager in Miami. Over his 18 years at United Rentals, he learned the ins and outs of equipment rental.

Taft then brought that experience to the world of Spider Lifts.

Spider Lifts, or Atrium Lifts, are a category of aerial lift that can fit through a double door and reach a working height of 170'+. They were specifically designed for doing indoor jobs at height but have expanded into forestry and crane work.

After spending nearly 4 years at Teupen, Taft decided to branch out on his own and partner with the Italian manufacturer Pallazani to introduce their atrium lifts to the United States.

"I was approached by a manufacturer who has not been in the US and was looking to expand globally," says Taft

"After visiting their facility in Italy and witnessing their safety culture, the innovation going into their machines, and after sale support I realized that they closely aligned to my core values and vision."

"They made me comfortable taking the leap and 6 months later this is the most fun I have had in my whole career." notes Taft.

Knowing that there are likely others being approached by manufacturers, particularly from those internationally, I wanted to hear from Taft what his advice is to others considering taking a similar leap.
Pre-Establish Values
What I found unique about speaking with Taft was his reiteration of his values and the importance he placed on finding a partner that shared those values.

"First thing for me is safety. If a manufacturer is misaligned on safety, it won't work." says Taft.

"It was pretty evident how Palazzani took safety into account in every part of the manufacturing process. They use the highest standard of components, highest quality steel for the booms, a unique way of molding the steel for the booms to achieve greater reach, etc. When you have a machine that goes up 170 feet and fits through a double door, you need to have the utmost assurance in the machine. Standards are checked and double checked." adds Taft.

It was clear in talking to Taft that the number one priority for anyone looking to branch out on their own is to find an OEM partner that is aligned on their values.

"If Palazzani had a safety problem that they couldn't correct, I couldn't work with them. I have two brothers that work in the rental industry. I don't want them on a machine that I don't feel comfortable with." remarks Taft.

"In the US as a whole, we are seeing a huge influx of international companies trying to find a way into the US to be considered a global manufacturer. You have to be really careful who you align yourself with."
Find Your Specialization
There are an estimated 15,000 equipment rental locations in the United States who are buying close to one million machines a year in aggregate.

United Rentals alone has a fleet of 660,000 units valued at $14B as of 2018.

With so much purchase activity and such a large customer base, how do you differentiate and stay focused?

First, you have to find your niche.

"Our core is the larger regional rental companies and tree care companies in the Southeast, Southwest, and Mid Atlantic. Going directly to the nationals is of course tempting given my relationships there but our focus is to support our core customers and we can expand from there." says Taft.
Promote Your Customers First
The benefit of being a marketer for a heavy equipment dealership is that you have two different customers you can promote in the same transaction – the rental business and the contractor or equipment end user.

However, many companies are solely focused on promoting their brand through traditional methods. Few customers share a brand's message, but many share a success story about themselves or the customers they serve.

"What I experienced in my previous role at Teupen was that we were able to create a lot of buzz through our social posts because of how we used social. It was less about promoting our brand, it was more about shining a light on our customers."

"This kind of marketing shows that we truly care about the success of our customers and it in turn provides better organic exposure for our brand," says Taft.
Do Things Different
This, of course, is a broad statement but it is so important.

Although there are thousands of equipment businesses in the industry, there are still a lot of opportunities to stand out.

This can come from the way you market your business but also from the kind of service you offer.

"I feel like customer service has been lost a bit" says Taft.

"At Spimerica, we want to do things the right way to make our customers feel as comfortable as possible. We provide training at delivery and ensure nice product roll outs. Palazzani provides us with a product support person in the US. Everyone at Palazzani speaks great english and our phones can roll over to theirs so our customers will always have an expert to talk to if they have any service questions. Parts are all centralized in Ft Lauderdale so we can cut down on lead times for parts ordering. We are always looking for ways to improve the overall customer experience in tandem with Palazzani."
Recap
There is a lot of opportunity for entrepreneurship in the construction equipment space. Manufacturers are looking for equipment dealership partners with vertical expertise to help them expand into the United States.

Taft found that opportunity with Palazzani and launched Spimerica in the Fall of 2019.

HIs advice for others considering taking a similar leap is to:
Pre-establish your company values
Find and focus on your specialization
Promote your brand through the success of your customers
Do things different than what customers have come to expect
Have fun with the process