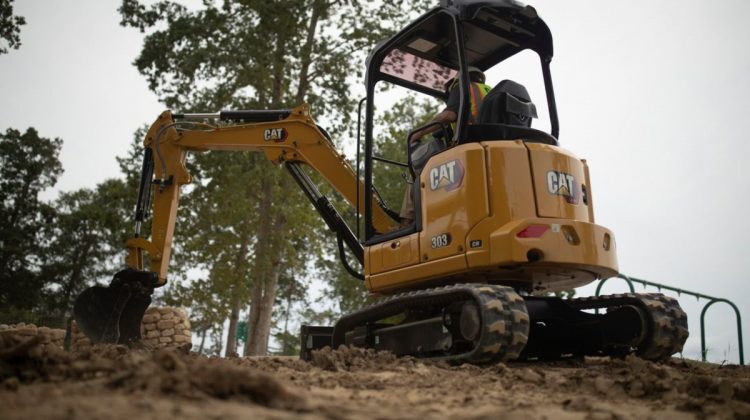 By Karen Scally
So it's time to replace your mini excavator tracks.
But with so many models and tread patterns out there, how do you make your selection?
It's true, there are many factors you have to consider when choosing replacement tracks — and it can quickly get overwhelming. Even worse, you could end up buying a product that doesn't fit or wasn't right for your application.
With that in mind, we've put together this guide to help make your decision easier, by covering the essentials you need to know. Since rubber is the most popular choice for mini excavators, we've rounded up more than 20 brands of rubber excavator tracks for you to evaluate.
Before you finalize your purchase, we recommend getting the advice of a product specialist to ensure proper fitment and answer any specific questions you may have.
How Long Do Excavator Tracks Last?
Honest answer, it depends.
Generally, with normal wear and tear, about every two years or 1,500 hours, according to Compact Equipment.
This of course will vary based on the type of job site conditions your mini excavator operates on. Harsher, rockier terrains may require your rubber excavator tracks to be replaced more frequently. Improper maintenance can also lead to a shorter lifespan.
You should check your rubber tracks as part of your daily equipment walk-around inspection, looking for large cracks, exposed steel cables, or other significant damage. If those are found, the tracks need to be replaced right away.
Each manufacturer has its own lifespan guidelines, so it's also important to consult their specifications in your owner's manual.
Tread Patterns for Excavator Tracks
Excavator tracks come in a variety of tread patterns, each designed for different applications and ground conditions. You'll need to know what kind of surfaces and how often you will use your mini excavator on them.
The most common treads include:
Block: One of the most popular OEM patterns, this staggered tread is intended for multi-purpose use.
C-pattern: This pattern resembles a "C" shape and can be used both on and off road.
Zigzag: This tread can handle switching between hard and loose surfaces during a single job.
Turf: When you need to minimize disruption to finished ground, the turf pattern is ideal for work in the grass.
How Do You Measure Excavator Tracks?
First, check your existing rubber tracks to see if the size or serial number is noted on the inside.
If you can't locate the size, you need at least three key measurements before proceeding with your track selection.
Measure the track's width in millimeters
Measure the pitch of the track, which is the distance between the center of one link (lug) to the center of another, in millimeters
Count the total number of track links
Track width x track pitch x total links = track size
You'll also need the make and model of your mini excavator.
Now, you're ready to start your search.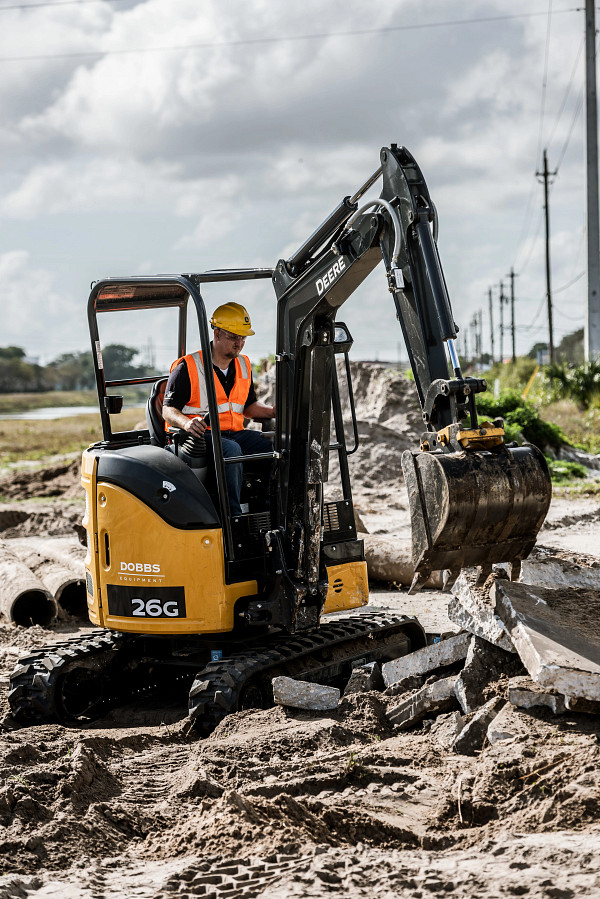 Bobcat Genuine excavator rubber tracks come in a variety of tread patterns with embedded steel reinforced cores that are heat treated and hammer forged. They feature extra-thick cables wrapped in nylon fiber and wire-to-rubber bonding to extend track life.
Bridgestone's mini excavator rubber tracks are made from several rubber compounds, and their block tread pattern is designed to reduce slippage. They feature anti-rust steel cord and a tapered core metal, as well as sidewall protection technology. Founded in 1931, Bridgestone is one of the largest suppliers of rubber tracks for OEMs.
Camso rubber tracks by Michelin come in two models for mini excavators, the MEX HXD and the MEX SD. The MEX HXD is specifically built for harsh conditions, whereas the MEX SD is suitable for most applications. Both feature a patented 3S internal iron core.
Cat's Genuine rubber tracks are designed for the needs of your mini hydraulic excavators. They are manufactured and tested to ensure operations continue at peak performance.
Since 2002, Dominion Equipment Parts has offered its mini excavator rubber tracks for a variety of brands. The company ships from seven distribution centers across the U.S., and it offers a one-year limited non-prorated warranty against manufacturer's defects for its excavator tracks.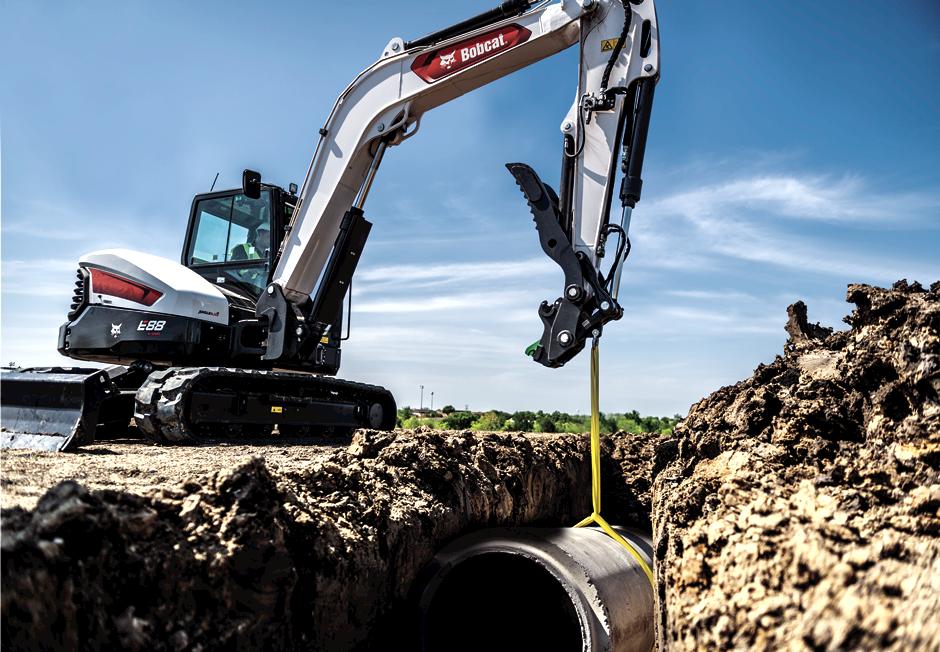 DuroForce's aftermarket rubber tracks for mini excavators meet or exceed OEM standards. They contain virgin rubber, carbon black, and other compounds to reduce damage and feature solid steel forged links that are treated in a special acid wash to bond the rubber and steel.
EarthQuest rubber tracks by Wilson Finley contain a blend of natural and synthetic rubber and feature a forged and heat-treated embedded metal core. Founded in 1955, Wilson Finley has locations across the Southeast.
GTW's mini excavator jointless rubber tracks use high-grade pins to increase track strength and a formula with up to 70% natural rubber. The company, with its North American headquarters in Chicago, offers a premium track and a J track range.
ITR America offers multiple tread patterns on its rubber tracks for a wide range of mini excavator brands. In 2019, the company opened its undercarriage facility in Hobart, Indiana.
John Deere has improved the life of its roller path for its rubber tracks, along with the durability of its steel cords and adhesive strength of its metal core. The company's warranty covers up to 18 months or 1,500 hours, whichever is first, against material or manufacturer defects.
KTSU America, established in 2010, offers embedded metal and nonmetal core tracks for mini-excavators. Their design features jointless steel cords and a blend of natural and synthetic rubber compounds.
McLaren has several rubber track options for mini excavators, including its NextGen and Maximizer lines. The company, founded in 1997, uses a proprietary rubber compound that contains up to 20% more rubber than standard tracks to extend their life.
MWE's rubber tracks for mini excavators feature a thick carcass with an engineered tread design and continuously wound cable. The company offers several tread patterns for a variety of job site terrains.
The mini excavator rubber tracks by Prowler feature deep heat-resistant lugs and embedded steel links. They contain a mix of all-natural rubber and synthetics and continuously wound steel cables, and they are backed by an 18-month/1,500-hour warranty.
Romac's rubber tracks for mini excavators are made from specially formulated rubber compounds. They feature all-steel links and drop-forged steel inserts to increase durability. Romac, founded in 1992, offers a one-year non-prorated warranty on their rubber tracks.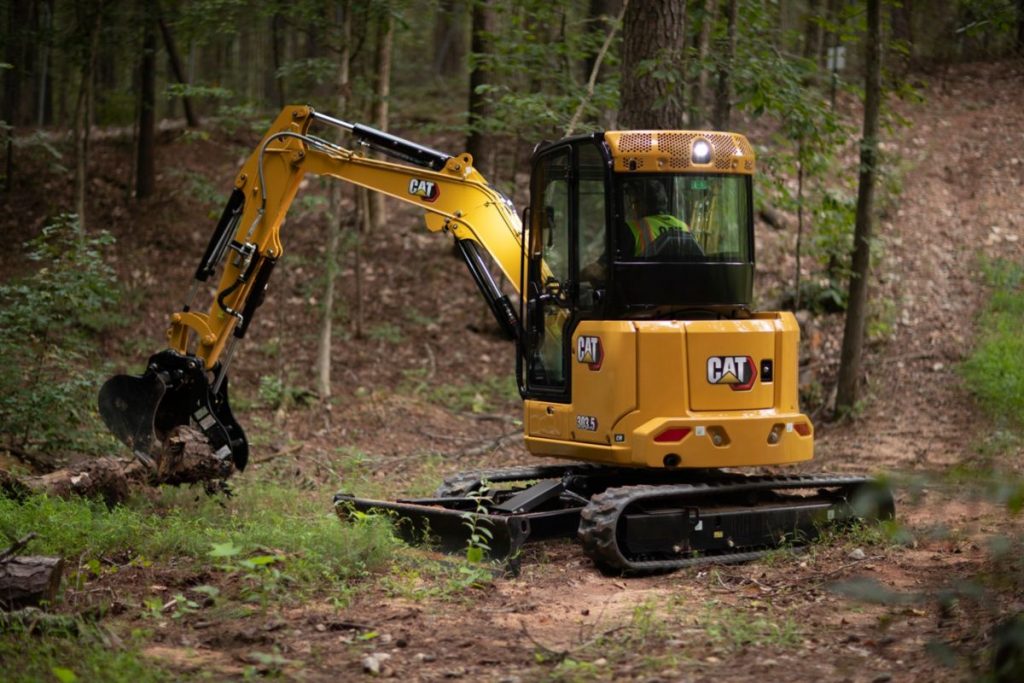 Rio Rubber Tracks manufactures rubber excavator tracks that feature jointless steel cords, five-ply heavy-duty steel cable braiding, and single-molded tread bars. They are available in a variety of sizes and tread patterns, and the company offers a 12-month warranty for its compact excavator tracks.
Rubbertrax was one of the first to offer continuous steel cord rubber tracks. The company's mini excavator tracks, available for a variety of makes and models, feature drop-forged metal inserts and natural and synthetic rubber compounds.
SRJ's HiQual rubber tracks feature a patented S-wave tread pattern for a smoother ride. Its patented anti-vibration rubber track for excavators can reduce vibration by up to 50% on 3-ton machines. All tracks are made with 100% natural virgin rubber.
Summit's rubber excavator tracks use a blend of natural and synthetic rubber — no recycled product. The company, founded in 1982, manufactures its tracks to OEM specs and guarantees that they will fit your machine.
Trabber's rubber tracks are integrated with an anti-vibration track system, where the track roller leans on the track's diamond-shaped metal core. This reduces wear on the tracks and provides a more comfortable ride.
Trelleborg's CRT-800 range of rubber tracks for mini excavators feature continuous wound cables, forged steel pieces, and a cut-resistant rubber compound to protect metal components from oxidation.
Trident manufactures rubber tracks from high-quality raw materials, and they feature continuous steel cord, forged and heat-treated metal cores, and coated steel cords to resist corrosion. They come in a wide range of sizes and patterns to fit over 5,000 models.
Trojan's rubber tracks for mini excavators feature dual continuous steel belt technology and hot-dipped drop-forged steel inserts. The tracks meet or exceed OEM specs, and the company offers a two-year warranty.
TVH offers rubber mini excavator tracks for Bobcat, Case, Cat, JCB, John Deere, Kubota, and Takeuchi models.
Looking for more content designed to provide additional insights for heavy equipment management? Make sure to sign up for the Gearflow newsletter here.