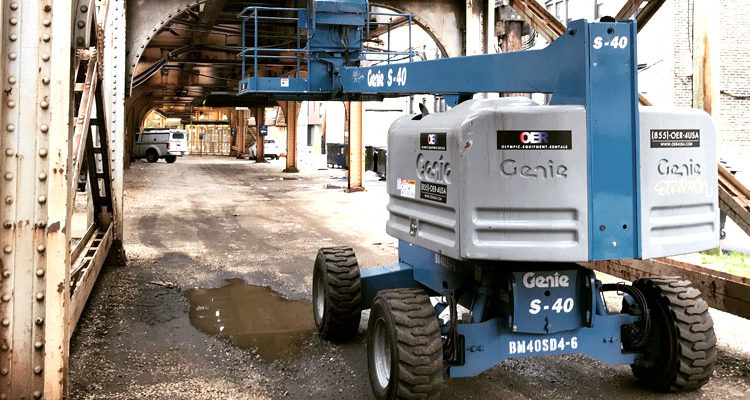 The ANSI A92 Main Committee has recently announced a delay in the implementation of its new standards originally developed in December 2018.
These new standards set new requirements for the safe use of mobile elevated work platforms (MEWPs) by specifying proper work applications, operator training, equipment design, inspections, and maintenance.
One of the main requirements is developing a safe use program for any job site that uses a MEWP.
Gearflow spoke with Tony Groat, a member of the ANSI A92 main committee and sub-committee, about not only the delay but the benefits of these new standards.
"These standards were developed to harmonize safety rules on a global scale. Because each country has a different set of rules, it makes it difficult for MEWP manufacturers to do business in foreign markets, says Groat.
With over 30 years of experience in the rental industry, Groat is heavily involved in MEWP safety. His specialties are ANSI A92 regulations and OSHA requirements relating to lifts, ladders, and scaffolding.
Groat added, "We have to have a global mindset. Why shouldn't safety training be universal all over the world? By harmonizing these standards on a global platform, everyone is on the same page.
Because of an appeal by the ARA and Tutus Solutions, the new effective date for ANSI A92 is slated for March 1, 2020.
These appeals were brought on to oppose the requirements that an ANSI Manual of Responsibilities (MOR) must be placed on every MEWP.
"Some think that the manual is critical, some think it is just another waste of paper on a machine, states Groat.
The appeal also brought up that modifications or additions to a MEWP must be made only with the permission of the manufacturer. The ANSI agreed that those provisions were not in compliance with ANSI's Commercial Terms Policy.
Groat and the rest of the committee believes the acceptance of new standards should be open to everyone's input. Hence the delay. The rule changes cannot go into effect until a thorough, articulated language is approved by all parties.
Once the new appeal language is accepted, it goes out one more time for public comment. Typically this takes 15-30 days to review.
This delay has caused some concern from equipment manufacturers that have already invested in the R&D as well as the implementation of new safety features in their equipment. These changes have increased production costs and sales are affected. Rental companies are unwilling to pay the extra cost for safety features that are not required at this time. Many will wait until it's official.
What Are the New A92 Standards?
The goal of the new A92 rules is to align North American standard requirements with current ISO standards. It gives specific, detailed guidelines for dealers, manufacturers and heavy equipment operators to comply with. This helps eliminate the inevitable training and safety questions that may come up.
The standards are applied to MEWP equipment which includes electric scissor lifts, boom lifts, and stock pickers.
ANSI Standard A92.20 – Aerial Equipment Design
Safety is of the utmost importance to any construction site. MEWP manufacturers take this just as serious and have developed new design innovations to comply with these new ANSI standards.
These new rules only apply to new equipment. Existing lifts will not need to be retrofitted.
Some of the new design changes include gated entrances. The work platform can no longer be chained. At the entrance, a toeboard will need to be present to prevent material or tools being ejected from the platform.
The tires on rough terrain MEWPs will be required to be solid or foam filled.
For repair documentation, a decal or other label must be provided to record the dates of the machines last annual inspection.
The minimum height for platform railings will be raised from 1m (39 in.) to 1.1m (43.5 in.). This may require some new models to include folding rails to get through standard doorways.
As for the lift itself, a reduction in lift and loads speeds will ensure a smooth, safe ascent.
In addition to the slower lift speed, active platform load-sensing alarms will warn operators if a situation becomes unsafe. These sensors will sound off when a load exceeds its limit or if a boom goes beyond the recommended slope.
Most machines will actively monitor platform load and will not operate with normal control functionality if overloaded beyond rated capacity. This can help operators with weight ratio calculations.
The wind is always a safety concern when operating outside. New wind force requirements can potentially reduce load capacities on scissors and vertical platform lifts. Some models may include unique indoor/outdoor settings that will change the lifts capabilities based on the environment.
Lastly, the operator manual must include a listing of all MEWP functions, features, operating characteristics, limitations and devices to be included in familiarization. This will make it clear what needs to be included.
A92.22 Safe Use
The rules start at the yard before the equipment heads out for use. Dealers and owners must offer familiarization to assist users and operators, but only upon request. Current standards have required familiarization upon delivery by sale, lease, rental or any form of use.
"Ultimately, the responsibility of safety falls on the employer of the operator. All owners of MEWPs and contractors that rent equipment are subject to these rules, says Groat." This shifts the responsibility off of the dealer.
In addition to training and familiarization, employers need to decide whether the user of a MEWP is physically and mentally capable to operate the machine safely. For example, Is this person afraid of heights?
Once at the job site, supervisors need to establish a safe use program that complies with these new requirements. This includes mapping out what specific tasks the machine will do, risk assessment and timeline of the project.
Supervisors must then evaluate the additional safety risks that are specific to the use of the MEWP. Working at height, load capacity, wind force, avoiding power lines and accessing unstable areas.
Once all risks are assessed, a plan is created for not only safety but rescue scenarios as well. This includes planning a safe and timely rescue in case the MEWP breaks down, becomes entangled or if there is a fall from the platform.
Now that the safety plan has been established, everyone on the job site needs to be informed and have a complete understanding of the potential hazards involved. This all must be done before work begins.
It starts with the quality training of the operator. To use a MEWP, the worker must not only be properly trained but authorized for use. Any unauthorized personnel in the basket is a violation.
If the lift will include another occupant, this person must have familiarization of the equipment and safety procedures including fall prevention. The safety plan should include a list of which workers have received training. All usage of the MEWP must be followed carefully by a trained and qualified supervisor to ensure the established safety plan is carefully followed.
ANSI Standard A92.24 – Training
When it comes to safety during a MEWP task, proper training is key.
Documented training is now mandatory for aerial equipment operators in each MEWP class. In addition to operators, occupants and supervisors will now require proper training as well. Detailed methods and guidelines to prepare MEWP training and familiarization are provided in the new standards.
To begin, training areas will need to be hazard-free and the least amount of distractions for both classroom and hands-on practical training.
New rules don't just apply to the operator anymore. Any occupant that is not operating the MEWP is subject to these new rules. They must know about fall prevention systems and what to do if the operator is unable to operate the lift.
Although the occupant will have this additional training, the operator is ultimately responsible for work procedures within the platform.
Operators will now be required to read the operator manual. Each lift will also require a walk around inspection before use. Then along with becoming familiar with the controls, the operator must have a complete understanding of the lift's limitations.
The last requirement for A92.24 is a backup operator on the ground who can lower the lift in the case of an emergency or machine break down.
ANSI MEWP Classification Examples
These new A92 standards apply to the following lifts and are grouped in specific use classifications.
Group A, Type 1 MEWP:
These include push stock picker, atrium lifts and any aerial platform that never extends beyond the chassis. The machine is not drivable at height and may only be moved with the platform retracted.
Group A, Type 3 MEWP:
These include electric scissor lift and driveable stock pickers. Both of these machines fit the description of Group A because the platform never extends beyond the equipment tipping line, and travel can be initiated from the platform.
Group B, Type 3 MEWP:
These include drivable boom lifts. The aerial platform extends beyond the wheels and the machine can be moved by the operator while on the elevated work platform.
Within each of these groups, machines are separated into types: Type 1 for those that travel only in the stowed position, Type 2 for those that can travel while elevated but controlled from the chassis, and Type 3 for those that can travel while elevated but controlled from the work platform.
About Tony Groat
Recently named the 2019 ALH Person of the Year, Groat has been an advocate on establishing new safety and training standards for MEWP operation in the U.S. and Canada.
Groat has been involved in the rental industry for over 30 years. Most recently as manager of IPAF North America. His passion, hard work and exceptional expertise in developing and promoting IPAF's training programs have helped produced compliance with ANSI and CSA standards.
He is a past president of the North East Sub Contractors Association (NESCA), a former board member of the Associated Equipment Distributors (AED) and a long-term member of the American Rental Association (ARA) and the Scaffold & Access Industry Association (SAIA).