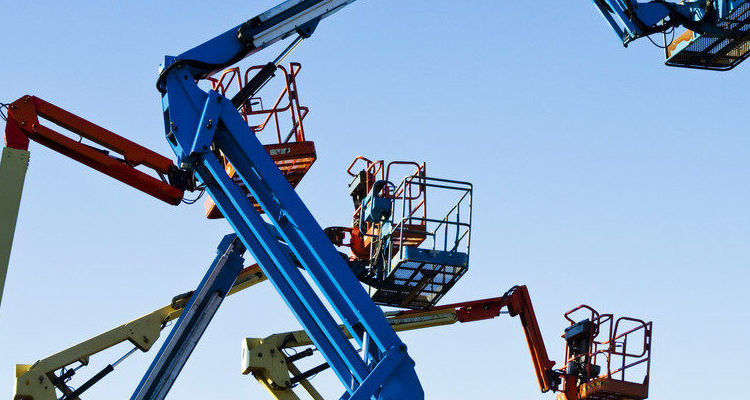 Who is Terrance Weber?
US Aerials & Equipment has only been in business just over a year but is quickly becoming one of the premier aerial platform companies in the New York metro area. Its success rests solely on the shoulders of President and CEO Terrance Weber. A 20 year veteran in the aerial lift and construction equipment rental industry, Weber was born into a hard-working construction family. That family work ethic was ingrained into Weber and has prepared him to do whatever it takes to succeed.
Although US Aerials & Equipment (USAE) has just hit their first anniversary, it's success and growth is unprecedented. In only that time, USAE has added $3 million in equipment and is currently bringing $100k in rental revenue per month.
Gearflow spoke with Weber about his long journey and the secret to his success.
A Twenty-year Struggle
"We are not sitting back, catching sales. [Our team is] actively out there with pickaxes and shovels digging for sales. Everyone on the team is committed and prepared to work lean and mean and be available 24/7. Be prepared to earn it," said Weber.
And earn it he has. The road to his success had many obstacles and many disappointments. It was a 20-year struggle, but his hard work and determination have paid off.
Weber, an African American, grew up in a union carpentry household just outside of New York in the Long Island town of Port Washington.
"My father owned a carpentry shop for 45 years. This was [a time] before minorities were able to participate in the union. It's impressive," remarked Weber. My father set an example that few can live up to."
It was through his father that Weber began to establish his business connections and friendships. His dad did business with many of the same companies that USAE does business with today. Owners of construction companies, real estate developers, engineers, and business people associated with the trades.
"My dad did business with the fathers and grandfathers of businesses that I work with today, but now, it is with the sons and grandsons. We all grew up in the same town, and I met a lot of them there."
Weber, a Howard University graduate, admits that he got started in the equipment rental industry on the late side and is perhaps his 3rd or 4th career.
Hard Work Pays Off
His lack of experience did not stop him. Taking the lessons from his family and his ambitions, Weber jumped into the business with a small rental company called Damm Equipment. Weber randomly found the Long Island business who happened to be looking for a sales rep. His first month on the job set the tone for the rest of his career.
During that first month, a crane accident in New York temporarily halted all crane operations on job sites. When Weber went in to pitch his services with developers from the Bronx Terminal Market project, he had an advantage. Aerial lifts did not apply to the crane stoppage, and Damm Equipment was on the verge of purchasing JLG's 86' rough terrain scissor lift prototype which eventually turned into the 80SL. 
The machines were needed immediately for work on the exterior of the Market. When Weber mentioned the lifts, it grabbed the attention of the purchasing agent.
"For what they were doing, these lifts would work perfectly," said Weber. "They needed four to do something with us."
Instead of the 86 footers, Weber sub rented four JLG 80' scissor lifts from Acme Equipment Rental. Those were put on the job right away, and within a month, Weber's career was off to a flying start.
Or so he thought. His reward? Damm Equipment let him go.
"They fired me because they didn't want to pay me the commissions. After a month on the job and landing that big sale," said Weber.
"Get Out There and Sell"
The setback did not discourage Weber. He immediately got on the phone and reached out to other equipment rental stores. United Rentals offered him a job in Arkansas. His next call, however, was much more enticing.
"So, the next place I called was Able Equipment, and I interviewed with the owner in the parking lot. He hired me on the spot and made me a sales guy," said Weber. "The next day, he handed me an iPad, a cell phone, and some business cards. He also told me sales guys shouldn't be hanging out in the office. Get out there and sell."
Weber stayed with Able for the next six years. Although he lacked experience, Weber made it up with hard work.
"I did not know enough… just enough to be dangerous. I was grateful to the Able family because when I needed a job, they gave it to me. No one ever gave me accounts; I was aggressive. I called my friends and worked hard," stated Weber.
The Last Standing Salesman
Unfortunately, the economy was starting to take a downturn, and the big crash was coming. However, because of Weber's accomplishments at Able, he was able to stay on board until the very end. The last of the sales team to be let go.
Adds Weber, "Literally every week I thought it was going to be my last. I wasn't sure how I was doing compared to other guys. It turns out, I was doing pretty good and didn't know it."
Toward the end of his time at Able, Weber had the ingenuity of mapping Manhattan. From one side of the island to the other, he found every single piece of equipment and construction. What he found at that time was there were three dominant rental companies in the industry: United Rentals, Pride Equipment, and a company called Independent Aerials.
"United Rental jobs had 5 to 6 reps on the sites. Same with Pride. But with Independent, there was only one rep. One guy for thousands of pieces of equipment. How on this planet can this one guy have this much market share?" he wondered
The Elevator Pitch of a Lifetime
Weber saw this as an opportunity. In his eyes, these were the whales of the equipment rental industry. He chose the top 30 and began to lean on them. Eventually, he started to get some traction. One particular company had a person in charge of equipment that Weber was determined to hunt down. 
"We had a major curtainwall client who was doing the glass on John Jay college over on the West Side. I learned exactly where and when this guy was going to be on the job site. I planned to run into him there," said Weber.
The planned encounter with one man turned into two. Weber ran into the two men and immediately introduced himself to the client's employee. As Weber was pitching the benefits of Able Equipment, the other man began to smile.
Weber recalled, "This other guy in the room has this huge grin on his face. What is going on here? The other guy introduces himself and says, 'I am Mike Rand, the owner of Independent Aerial, and you have been busy.' Mike knew that I would be out of a job soon. So, he gave me his business card and said I should give him a call."
Quick Turnaround
As it turned out, Rand was right. The recession finally bottomed out, and Weber was out of a job once more. However, it did not last long. He had a new job by that afternoon.
"That day came when Able let me go. It was a sad day. I was fired that morning, but by 1 pm, I was already employed by Independent Aerial and started transferring all my clients over," says Weber.
Not only did he have a job, but Weber found a mentor in Rand. The owner of Independent took Weber under his wing, introduced him to all the right people, and pointed him in the right direction. For the next six years, Weber was very successful and made a lifetime friendship with the owner.
"To this day, he is on my unofficial board of US Aerials," said Weber.
Time to Take the Leap
When RSC acquired independent Aerials, life took another turn for Weber. He was released again and headed back to Able Equipment. Another six years of selling and work experience added to Weber's already impressive resume. However, Weber wanted more. 
"Able was good to me, but there were no management opportunities for me there. I had done all I could do. I was already managing the biggest accounts and just wanted more. Once I realized this, I began to put together a plan for what I wanted to do next," said Weber. "I then approached Matt Lange at Interstate Aerial, whom I had heard might be selling. I made a proposal and went to work. If I could take an established firm like Interstate, that's not known in the New York marketplace, and gain a market share; then I'm ready to start my own company."
As Weber had predicted, Interstate was sold to Sunbelt Rentals. When Lange announced to the employees, he mentioned: "Terrance's growth was the greatest growth in the history of the company."
Another pink slip…?
Weber's reward? Another pink slip. Sunbelt explained that there was no more room for him.
"It shocked me when Sunbelt didn't even make an offer. But, I always had it in the back of my mind to go on my own, and knew it was time to make a move," said Weber. "Throughout my career, I have successfully moved millions of dollars through the many companies I worked for. I knew I could move market share, but I questioned if I could move this share to a new company without a footprint in New York City."
Once he decided to go out on his own, Weber got together with Terex Corporation for guidance. The company has a program that believes in startups and helps them to obtain financial help. Weber put together a business plan for submission, and US Aerials & Equipment was born.
"I own this thing 100%," said Weber. "No partners, but I put together a winning team. For those who said I could not manage a winning team, come see what we are doing."
Now on his own, the USAE founder talks about the advantages of being independent.
"What being an independent has taught me is that anyone can sell price, but a real salesman sells a sense of well being and security. The ability to sell value and do what others cannot. Independents are a 'make it happen' business. We will make it happen, and that is the value."
About US Aerials & Equipment
USAE is the only minority business enterprise in the New York Metro rental equipment market. Based in Long Island City, NY, the company provides world-class service, product knowledge, and a large inventory of high-quality equipment from top manufacturers.

The young company has built a team of an accountant, two staffers, a mechanic, and three drivers. Weber is currently the only salesperson.
"That is going to change soon," states Weber. "We are pushing. It's about growing. We want to be the fastest-growing aerial equipment company in New York. In 2020, we are hoping to double our revenue, increase our talent, and significantly increase our fleet."
That fleet currently consists of Genie, JLG, and Skyjack aerial lifts that offer heights from 12′ to 337′. For material moving, there are forklifts, telehandlers, pallet jacks, and rough terrain forklifts. Each run by fuel or LPG and have a lifting capacity between 3000 and 36000 lbs. In addition to heavy equipment, USAE offers solar-powered traffic equipment, including arrow boards, light towers, and message boards.
USAE will deliver anywhere the New York metro area with its own Mack tractor-trailer or a ten wheel International straight truck.
Social Media
When it comes to the usage of social media, Weber feels that he has been way ahead of the curve. First, as a salesman, then as an owner.
"I've been more honest, so more people want to follow me on social media," said Weber. "People say I have been lucky. I'm just going to work hard and create my luck. I do that by outworking everyone else, and it has worked. We have a little less than 18k followers within the industry. What I like about social media is that it has allowed me to share my experiences with the younger sales guys. It has allowed me to be a role model and teacher to many. Most of the feedback I get is so positive that it has allowed me to be confident in what I am doing."
His advice to the next generation of entrepreneurs, "Do your homework, do a comprehensive business plan and be prepared."
Inspiration
The story of Terrance Weber and USAE is genuinely inspiring. During Weber's path to success, he has turned setbacks into positive forward progress. He owes a lot of that success to his father, his mentors, co-workers and girlfriend Kathleen.
"I have a super talented girlfriend from the financial world, Kathleen, who has been so incredibly supportive. I also have team of rock stars at USAE. Without them, none of this is possible. In particular, Julia, our financial director, has put her heart and soul into this company and I can never repay that."