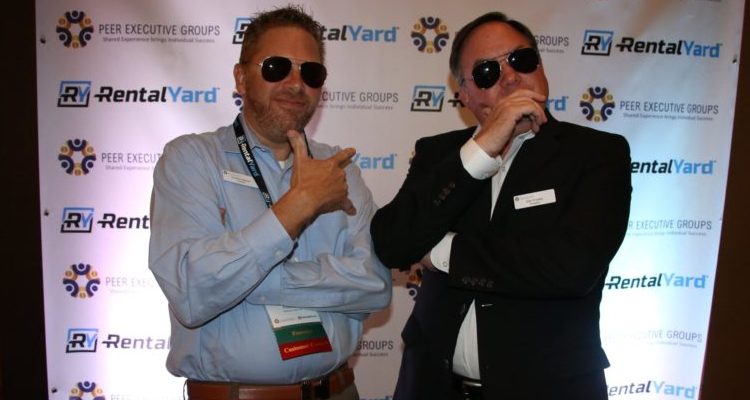 Peer Executive Groups (PEG) has recently announced the winners of its 2019 Top Gun Awards. These recognitions are given to the top 25% of nationwide rental stores who received the PEG Pinnacle Award for Financial Excellence. The criteria for the award was based on two ranked financial indicators that are calculated from submitted financial statements. These submissions were from rental store operators enrolled in PEG peer groups along with non-members who also chose to participate.

This year's awards went to 15 deserving stores throughout the U.S who specialize in general tool and construction rentals. The winners will be recognized at PEG's October "Meeting of the Minds" Conference. Held at the Talking Stick Resort in Scottsdale, AZ, the conference will include workshops and a tradeshow.

This is the second year for the Top Gun Awards general tool/construction category. New to this year's ceremony will be the first ever winners of party/event rental category..

Peer Executive Groups (PEG) is located in Bethlehem, PA. It is a business analysis group that is dedicated to the growth and success of participating members in the construction rental equipment industry. It is an opportunity for industry professionals to not only get great business advice, but peer-driven accountability.

PEG has a comprehensive network of subject matter experts, facilitators, and industry vendors/suppliers that allows them to create and deliver meetings for long-lasting groups of business owners.

In addition to rental equipment companies, PEG has developed several peer groups in a variety of industries. There are more than 170 companies which participate in 19 peer groups.

In order to determine this year's Top Gun winners, PEG has established a detailed criteria to judge each participant. Over 100 members submitted financial data and were subjected to six essential metrics to determine performance benchmarks. The top 25% of these companies make up the Top Gun group.

The following are the determining 6 KPI metrics:
CHANGE IN BUSINESS VALUE
Benchmark: More than 10% growth each year.
Calculation: Multiply EBITDA (earnings before interest, tax, depreciation and amortization) by 5

The primary baseline for this metric is a multiplier of EBITDA that rental equipment businesses are valued prior to an acquisition. Depending on the size of the business, the mulitier might be closer to 3x EBITDA for smaller companies. With a smaller footprint. A larger, more established rental store ay to closer to 7x or 8x EBITDA.

RENTAL SALES GROWTH
Benchmark: More than 10% growth each year.
Calculation: Divide the change in year over year revenue by the previous year's total revenue.

This metric looked at rental companies with over 10% growth as it relates to change in business value.

Using a Trailing Twelve Months measurement is a good gauge to determine the health of a business. If current S&P 500's growth is at 10-12%, the company's growth should be around the same.

A variance in this metric could show the company's growing value is not the same as its' revenue. This could simply mean the company is investing back into the business and expenses are growing linearly with revenue. This would cause EBITDA to remain the same despite the revenue increase.

ASSET UTILIZATION
Benchmark: Greater than 50%
Calculation: Divide Rental Revenue by Original Equipment Cost (OEC) as recommended by the ARA.

How a rental company utilizes its' assets is determined by an Asset Utilization Matrix. This matrix determines how both physical and dollar assets are used effectively. A look at the 4 matrix categories – Overworked, Shooting Stars, Problem Children and Cash Cows – were used to see if the company's utilization fall sin the is in the 60-70% range.

DEBT TO ASSET RATIO
Benchmark: Less than 30%
Calculation: Divide the long term debt by total original asset cost.

A rental store's debt to asset ratio is important to its long term success. This metric was looked at to see how a company's long term debt versus its' equity in the equipment is kept as low as possible. A low debt to asset ratio means the business has more leverage during a good economy, but less pressure during a downturn.

PERSONNEL EXPENSES AS A PERCENTAGE OF SALES
Benchmark: Less than 35%
Calculation: Wages, taxes, and benefits divided by revenue.

Employee expense is the biggest cost to management. In order to become as Top Gun, these costs needed to be under 35%. This allows the business to bring in great revenue with a lean team. A company with too many employees or underperforming workers can greatly affect this metric. It is a good benchmark to shoot for in order to expose the effectiveness of your team and management.

EBITDA
Benchmark: Greater than 30% of revenue and more than 10% growth each year.
Calculation: Based on net income before adding back Interest, Taxes, Depreciation, and Amortization.

EBITDA is your measure of profitability and free cash flow. It is what is typically used as a measure of your valuation. The PEC looked at this metric to determine which participants focused on improving rental sales growth, asset utilization, debt to asset ratio, and overhead wages as a percentage of sales.
THE TOP GUNS
The following are PEG members who earned the title of 2019 Top Guns. These well deserving rental stores accomplished each of the 6 KPI metrics and continue to grow a successful business. The winners for tool and construction rental include:
Aspen Rent All, Basalt, Colorado
A second-generation family owned business, Aspen Rent All has served Basalt and the Roaring Fork Valley since 1967. It's rental inventory includes a variety of construction equipment. Earthmoving rental equipment such as skid steer loaders and excavators along with aerial lifts such as telehandlers, scissor lifts and boom lifts.

Atlantic Lift Systems, Norfolk, Virginia
https://atlanticliftsystems.com/
Virginia's Atlantic Lift Systems started out in the material handling business back in 1965. Since then, the family owned rental store has expanded into offering forklifts, aerial equipment, scissor lifts, earth moving equipment and many other products requested by our clients' needs. Each piece of equipment is supported by our factory trained technicians to ensure highly maintained machines that work properly and help jobsite productivity.
Badger Rental Services, Savannah, Georgia
https://badgerrentalservices.com
For the past 40 years, Badger Rental Services has provided Savannah GA and the surroundiung areas with a large inventory of quality rental equipment for homeowners, construction contractors and industrial maintenance professionals.

In 1979, founder Roy Redmond and his wife Patty began the rental business in their own home. The Originally called P&R Tools, the Redmnonds saw an opportunity in the Savannah area to proved quality equipment rental and great customer service.
Bottom Line Equipment, Lafayette, Louisiana
https://www.bottomlineequipment.com
Just months after Kurt and Kim Degueyter began Bottom Line Equipment, Louisiana was hit with one of this nation's worst natural disasters – Hurricane Katrina. The storm devastated New Orleans and the Gulf Coast. The Degueyters took their small inventory and found themselves helping with the chaos and cleanup of the storm's aftermath. After initially removing debris and clearing streets, Bottom Line started providing equipment for the demo of damaged homes and buildings.

From there, Bottom Line Equipment has grown from two pieces of equipment into a rental fleet of over 500 machines. Its' growth, in part was due to the demand for construction equipment in the petrochemical and pipeline industries.

Now with five locations in both Louisiana and Texas, Bottom Line has over 1200 pieces of rental equipment and over 300 specialty attachments pieces. A well maintained collection of heavy equipment rental machines consists of several major brands – Caterpillar, Komatsu, Deere, Hitachi, Kobelco, Linkbelt, JLG, Broce, Kawasaki and more. Bottom Line prides itself on offering a top quality rental fleet. Most equipment has an average age of 23 months and 1000 hours.

Bullet Rentals – Klamath Falls, Oregon
Since 1994, Bullet Rentals has been offering construction equipment and tool rentals to contractors and homeowners in Central and Southern Oregon. Bullet carries a large inventory of aerial platform machines, excavation equipment, earthmoving rentals, material handling, to general construction equipment.

Top brand names such as Wacker Neuson, Genie, Husqvarna, and Mustang. Each piece of equipment or tool is well maintained and backed by a knowledgeable and friendly staff.
Cal-West Rentals – Petaluma, California
Located in California's Bay Area, Cal-West Rentals is a family-owned and operated rental business that prides itself on offering well maintained equipment and tools.

It's inventory of top brands such as CAT, Kubota, Genie and Komatsu provides contractors, homeowners, and ranchers excellent customer service and quality rental equipment at competitive prices.

Cal-West's fleet includes earthmoving machines such as bulldozers, excavators, skid steers, track loaders, trenchers along with scissor and boom lifts.

In addition to its fleet of heavy equipment, Cal-West has a party and event division called Encore Events Rentals that provides rental needs in the event industry.
C.E. Rentals, Elmhurst, Illinois
For CE Rentals, it is all about the customer. Their commitment to service is backed by dependability, integrity and quality. They believe that a solid partnership is the key to a long term relationship.

CE Rentals carry a vast fleet of of wellmaninted equipment and offer delivery right to your jobsite. In addition to construction equipment rental, CE Rentals offers complete service and repair of all machines at competitive pricing. Regardless if you rent from CE or not.
Chet's Rent All, Rochester Hills, Michigan
For over 70 years, Chet's Rent-All has been serving contractors and homeowners for all their projetc equipment needs. Started in 1946, Chet's has been a part of communities across South-Eastern Michigan.

Chet's offers a wide variety of tool and equipment rentals for not only industry professionals, but the the do-it-yourselfers.

In addition to an excellent inventory of construction equipment, Chet's Rent All has a price match guarantee. They won't be beat on price, quality or service.

Not sure how to operate the equipment? Chet's offers expert aerial lift training and certification that meets all OSHA standards. A great opportunity to improve operator performance and prevent accidents.
Goggin Rental – Kalamazoo, Michigan
With 52 years of experience, Goggin Rental is known for its great selection of rental equipment, as well as great service and satisfaction. Their extensive inventory of construction rental machines is backed by a simple business philosophy "One Call Rents it All."

Located in Kalamazoo, Goggin offers top name brand commercial grade rental equipment in top operating condition Names such as Honda, Bil-Jax, Bobcat, Vermeer, Toro and more.

Their experienced crew and modern rental software will help you selecting the right tool for the right job. Need it delivered? Goggin will bring it right to your jobsite, then take it away when the project is complete.
Leppo Rents – Tallmadge, Ohio
Leppo Equipment was founded in 1945 in Akron, Ohio. For years, they have been committed to offering the best equipment and outstanding customer service.

That dedication means that the machines will be ready to go when promised, fully fueled and delivered right on time.

Leepo has six locations serving Northeast Ohio and Western PA – Akron, Canton, Cleveland, Cleveland-West, Wooster, and Youngstown.
Mako Equipment – Santa Fe Springs, California
Mako Equipment Rental is an authorized distributor of JLG products. Located in Southern California, Mako's fleet includes a wide variety of well maintained aerial platforms

Mako offers JLG boomlifts, atrium lifts, scissor lifts and forklifts. Each with the option of electric or propane powered.
Rabern Rentals – Amarillo, Texas
Rabern Rental is one of those businesses that goes all out to provide for the customer. The Amarillo store was opened in 1984 and is considered the flagship location. The 9 acre facility holds the large fleet of machines and a newly designed showroom.

With a huge supply of construction equipment, Rabern will both buy and sell. The vast selection of equipment include skid steers, graders, backhoes, aerial platforms, excavators and generators. Delivered right to the job, on time, and properly maintained.
Rental Guys, Chico, California
Rental Guys is a great source for selling or renting tools and equipment in North California. Their extensive equipment rental inventory includes Bobcat skid steers, backhoes, Kubota tractors, Genie lifts, and a wide variety of smaller construction tools.

All equipment is well maintained and backed by a knowledgeable and experienced staff. Top quality service that makes weekend or major project that much easier. Delivery is available on all machine in the yard.

Rental Guys also offers Redi-Mix concrete and bulk landscape materials.
Rental Max, Wheaton, Illinois
Tates Rents, Boise, Idaho
Tejas Equipment Rental & Sales, Mc Allen, Texas
Vandalia Rentals, Vandalia, Ohio