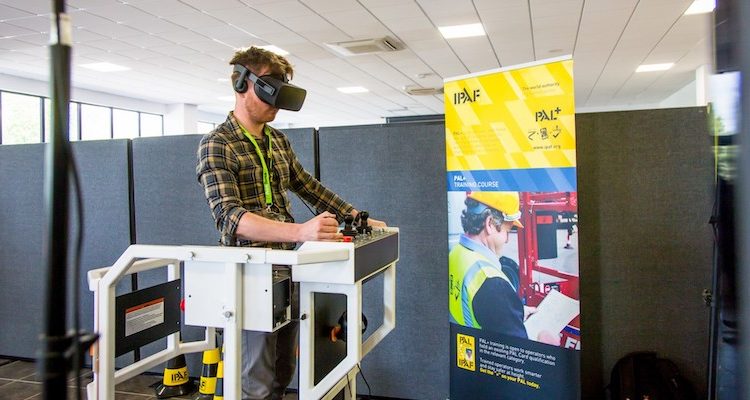 People learn by doing. Typically, a classroom setting does not see engagement or retention when it comes to heavy equipment training. A company based out of Edmonton, Alberta has not only reimagined workforce training in heavy equipment- but changed the way we think about learning.
Since 2005, Serious Labs has developed innovative training tools that immerse the student in an engaging, life-like world. This advanced technology reduces the need for typical classroom learning and replaces it with a vivid VR experience and machine simulation. The hands-on approach of learning allows trainees to expand their capabilities and future potential more than ever before.
The Concept
Serious Labs has recognized that a new digital generation has a disconnect with traditional education.  Classrooms and one-on-one training do not always engage the student, and retention rates have diminished. It is not that the trainee is not interested; it is because traditional training lacks engagement. This disconnect creates a longer timeframe for heavy equipment operators to earn the required certifications to be compliant with equipment.
Gearflow had a chance to speak with Summer Scott, Director of Marketing, to gain some insight into this unique training technology.
"The construction and heavy equipment industry haven't been thinking forward," said Scott. "We want to disrupt that industry which has more traditional learning, with technology that engages the worker, teaches safety, and delivers in a way that does not interrupt the actual work. For an emerging workforce that is familiar with technology, this is right up their alley."
Not a shocker, but most young adults play video games. So why not mix work with play? Serious Labs' technology blends virtual reality with real world jobsite simulation and instructional design. Through a colorful, interactive VR experience, training has become a series of virtual challenges with real-time decisions and consequences.
According to Serious Labs back in 2013, 53% of all adults play video games, but it significantly increases in the 19 to 29 age range. 81% of this potential workforce are gamers. Utilizing the concept of gamification or simulation design stimulates brain activity in 3 important areas. The orientation of attention, the sustaining of attention, and conflict resolution. All areas are related to attention span and retention and are vital to learning.
VR Simulation and Equipment Training
In 2017, Serious Labs launched its flagship product, the Mobile Elevated Work Platform VR Simulator (MEWP). The product debuted at the Las Vegas ConExpo. The MEWP VR simulator turned out to be an instant success and won the International Award for Powered Access Prize (Innovative Technology). This innovativion combines a scissor lift module with a boom lift module to provide a comprehensive operator assessment and remediation solution for the access industry.
The importance of creating a non-dangerous work scenario is critical to building an operator's confidence. Without the worry of an injury or accident, trainees can focus on vital operator skills and risk assessment.
Serious Labs believes that "gaming is the most universal, most enduring, most powerful way of learning in human history."
With that mindset, and by reducing the need for a classroom and books, learning retainment has drastically increased.
VR simuation training targets a younger, emerging workforce, and therefore the technology is not always adopted by older generations. Serious Labs' business model focuses on making the product valuable for every industry.
"Because the simulator is high tech, sometimes older generations will shy away because it is unfamiliar territory. However, all it takes is getting them on the machine. Once they are on it, they immediately buy in," adds Scott.
The Technology
The software for the simulator is rightly named Serious Games. By combining this software with a physical machine, it can immerse trainees in a world with realistic physics and vivid graphics.
Traditional training on an actual machine can be expensive and dangerous. Tying up a physical machine for a day of training is not a practical solution for a contractor. By utilizing the VR technology, a trainee can free up that equipment and learn in a safe, virtual world.
The MEWP VR simulator is made to mimic an actual lift basket that meets OSHA standards. Once inside the platform, the trainee straps on a VR headset. The hardware integrates actual machine joysticks, controls, and buttons. The simulator includes a motion base that synchronizes with exactly what the operator sees and provides sensory feedback.
"The MEWP simulator mimics being on an actual scissor or boom lift. The physics are unbelievably accurate. The rumbling, the sounds, the shakes; it is almost the same as being on a lift, but in a risk-free environment," said Scott.
The machine monitors the operator's movement, action, position, and orientation. The simulator then collects analytics and evaluates the operators' performance. These digital assessments are impossible to gather through traditional evaluation methods.
The Criteria
It is not all fun and games.The simulator includes the learning criteria, along with accurate facts that an operator needs to become competent on a lift. This subject matter was designed by industry experts and based on safety standards and product knowledge.
Serious Labs works closely with certified partners to ensure the criteria are up to ANSI and OSHA standards. The training scenarios assess for certification validation while enforcing industry best practices.
In addition to safety standards, the software can electronically analyze the worker's performance and give vital feedback in real time. By allowing the students to make mistakes in a virtual environment, they can absorb this information and, by repetition, improve each time.
Scott adds, "By working with experts in different fields, that gives us valuable information that controls why we are doing what we are doing. We try to be as receptive as possible, so the VR scenarios achieve critical learning outcomes which transfer meaningful skills to the real world."
The scissor lift modules consist of 18 scenarios on slab and diesel rough terrain scissor lifts. The articulating boom lift modules have 16 scenarios. The scenarios get progressively more challenging as the operator continues through the lessons. The operators' every move is measured to ensure they are doing what they are supposed to be doing but also to note what they are not doing, such as safety checks, smooth control function, chassis and platform placement, multifunction operation, and driving on slopes and rough terrain. These tasks will measure the operator's safety, efficiency, and proficiency in operating the equipment.
Beyond construction, Serious Labs is expanding its software to other industry related material. Airline maintenance is one example of how the MEWP VR simulators can reduce damage and injuries.
"Planes are very expensive pieces of machinery, so there is a lot on the line, said Scott. "When you are on a lift doing repairs or inspection, even the smallest nick on the plane will be a hefty amount of money. The airplane modules on our simulators have a heightened sensitivity to platform placement and equipment functions to help train workers to get around those parabolic structures safely and efficiently. They can better handle dangerous or expensive situations."
Marketplace
Serious Labs is an international company with services worldwide.
"We use a channel partner approach. We partner with rental companies worldwide, and in turn, sell or rent our products on our behalf," says Scott.
The majority of these partners are located in North America. Rental and construction companies utilize this learning method and provide training to general contractors, rental yards, and other heavy equipment operators.
One of the largest rental equipment companies has added Blended Simulator Training to its' existing criteria. United Rentals has partnered with Serious Labs to improve heavy equipment training through technology.
The rental giant certifies thousands of operators each year through its internal United Academy. By adding the Mobile Elevated Work Platform VR Simulator into the training courses, it rounded out the current mixture of online instruction, game-based scenarios, and in-person evaluations.
The Serious Labs' Blended Simulator Training brings a real-world VR experience that seamlessly blends to United Rentals' existing Academy courses. This dynamic and innovative training tool has been endorsed by heavy equipment unions and associations across the nation.
The Serious Lab learning technology has also expanded overseas to Europe, Asia, and South America. Large rental companies such as Riwall and Loxam have also seen the advantages of VR.
"We are a robust business. We like to listen to people in the industry, and that is one of the biggest things that sets us apart from our competitors," said Scott. "We are very industry focused. We don't create a product because we decided there was a problem. We create a solution because we have been told by the industry that there is a problem, and we continue to listen."
While Serious Labs' innovations have not quite eliminated books, pencils, and desks, they are revolutionizing the methods in which we learn in the equipment industry. By integrating emerging technology into the training process, every generation operator can not only learn but also enjoy the ride.
Gearflow would like to thank Summer Scott of Serious Labs for her valuable insight.
For more information on Serious Labs, please visit their website: http://seriouslabs.com/