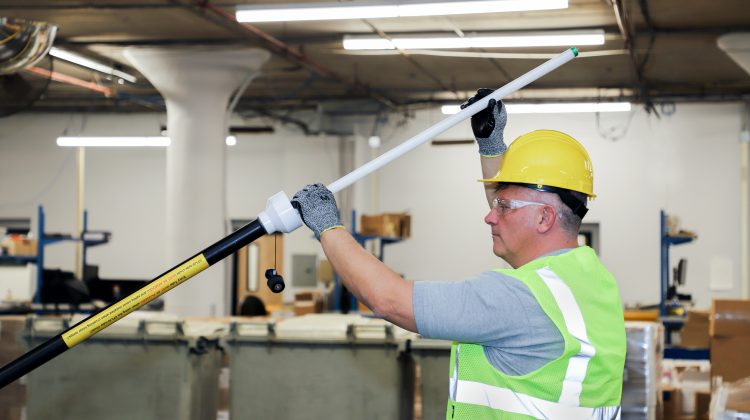 By Karen Scally
When it comes to sustainability, contractors increasingly want to do the right thing — and many are required to do so, whether by regulations or project owners.
But adopting these initiatives can initially seem costly and overwhelming, as if the only way to achieve them is to overhaul current practices and purchase all-new environmentally friendly equipment and tools.
Even simple steps like recycling take extra time and effort to accomplish.
So how can contractors embrace sustainability without sacrificing productivity — and profitability?
That's where TerraCycle Regulated Waste comes in, offering solutions to easily recycle lighting, batteries, and other electronics.
This is of particular importance to contractors that are required to properly dispose of hazardous waste, including mercury-containing fluorescent light bulbs, under the EPA's Universal Waste Program.
For example, with TerraCycle's Bulb Eater, contractors can quickly crush fluorescent bulbs in its 55-gallon drum, processing a 4-ft. bulb in less than a second.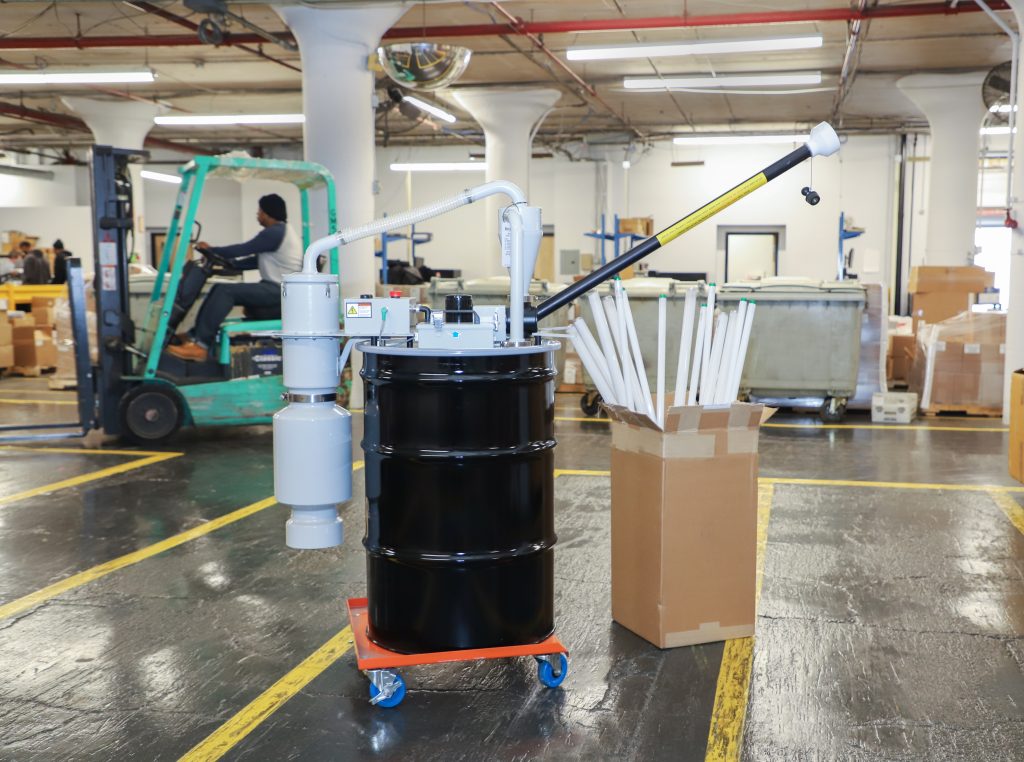 Electrical, demolition, and remediation contractors are increasingly finding that the Bulb Eaters are saving them labor hours, storage space, and recycling rate costs compared to traditional regulated waste disposal methods, according to Joe Day, former director of business development for TerraCycle Regulated Waste.
"Our contractor business has grown," Day says. "The Bulb Eater, in particular, has become a better solution than ever to contractors, who then can reuse that machine from job to job to job and so on.
Shining a Light on Better Recycling Solutions
TerraCycle Regulated Waste's story formally began in 2018 when parent company TerraCycle, which is on a mission to eliminate waste from materials that have been previously challenging to recycle, acquired AirCycle.
However, its origins actually extend far beyond that, since AirCycle was founded in 1978 in the Chicago area, and the company introduced the Bulb Eater in 1999.
In addition to the Bulb Eater, TerraCycle also offers the EasyPak, which allows customers to return small to moderate amounts of regulated waste in prepaid containers via UPS for recycling, and bulk recycling options for large quantities through scheduled pickups.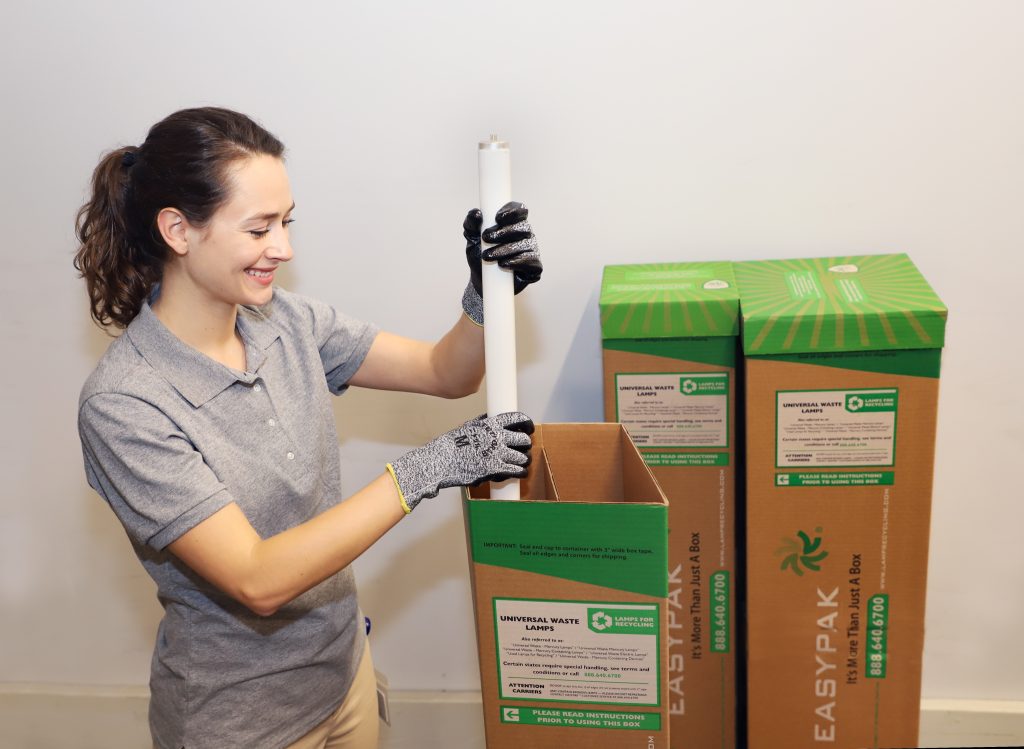 "We provide recycling solutions, ranging from just a single box or a bucket all the way up to entire 53-ft. trailer loads of waste," Day says.
He says the company's seen the growth in contractor customers because more facilities are outsourcing lighting retrofits, instead of handling them internally.
"Lighting change-outs are now viewed more often as projects rather than maintenance, and because it's at a project level, it's being outsourced very often to these contractor groups that will go in and either take out fluorescent lighting and replace it with new LED, or in some cases, replace it just with an updated version of fluorescent lighting," Day says. "But either way, there is recognition in the marketplace — now more than ever — that it makes sense to do what's known as a lighting retrofit and treat it more as a project rather than just changing out one or two fixtures at a time."
Are You Ready to Sell More Online?
Join the largest parts marketplace built for construction — the one place where equipment owners and fleet managers can buy their parts from suppliers they trust so they can get back to work.
Day says the Bulb Eater can help contractors dispose of that lighting waste more efficiently than traditional methods, which usually involve contractors packing up the used bulbs and scheduling a pickup from recyclers. This is a time-consuming and costly process.
The Bulb Eater can crush and hold up to 1,350 4-ft. fluorescent lamps, turning them into 100% recyclable material. This can reduce labor by up to 20 hours per 1,000 lamps and save up to 50% on recycling costs, according to TerraCycle Regulated Waste. The Bulb Eater's small footprint also reduces storage space by 80%.
It creates a safer work environment as well. The EPA estimates that 2-3% of bulbs are accidentally broken during boxing for recycling pickup. With its five-stage filtration system, the Bulb Eater captures 99.9% of the lamps' mercury emissions, minimizing risks and liabilities.
Making Sustainability an Easier Choice
When it's easier to properly dispose of mercury-containing and other regulated waste, it makes it less likely that these potentially harmful products will end up back in the ground, which is still a constant battle.
"Today, our biggest competitor is still the landfill," Day says. "It's unfortunate, because as much as the world should know about the dangers of mercury, it's either through a lack of awareness or maybe less innocent reasons that a lot of these fluorescent lights still find their ways to the landfill. So building that awareness and making sure that commercial organizations know that they really need to be recycling that waste is still the big challenge."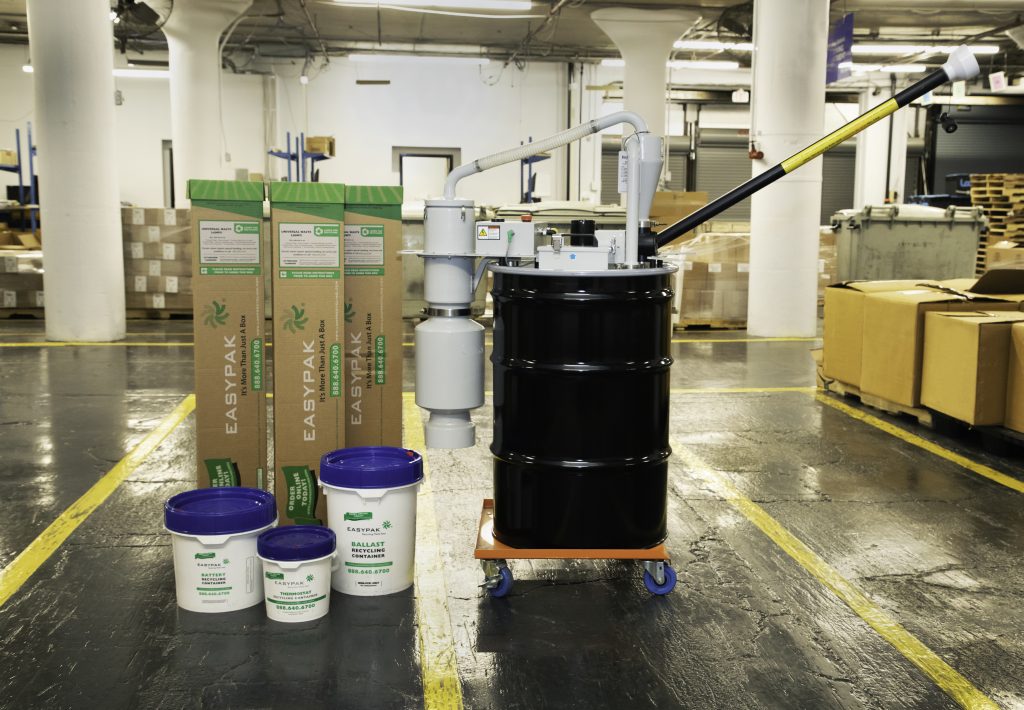 TerraCycle Regulated Waste sees continued growth in finding ways that make it simpler to recycle a variety of products that were hard to get rid of in a sustainable way in the past.
"We have expanded our e-waste recycling capabilities and now offer more what we call ITAD solutions, which stands for Information Technology Asset Disposition," Day says. "This boils down to more solutions for the responsible repurposing of electronics at the end of their life and secure data destruction for any materials, such as cell phones, tablets, laptops — whatever has memory on it."
The company also offers recycling of disposable PPE, such as masks and gloves.
"We can solve for virtually anything in the PPE category, provided that it's not hazardous," he says.
Day says contractors also need to look at adopting sustainable practices not only for their stewardship benefits, but also for their profit potential.
Need Parts? Let's Fix That!
Simply tell us what parts you're looking for, and we'll take care of the rest. You'll get quotes sent right to your email to quickly review and approve.
"If [a contractor] can be seen as a company that is sustainably and environmentally minded, then a lot of times it can be a tiebreaker between them and their competitor in terms of picking up and retaining existing business," he says. "It can also be driven by their customer's demand, who says we're only going to work with a contractor that offers some sort of a recycling solution on the back end."
These factors — paired with TerraCycle Regulated Waste's solutions — are increasingly making sustainability an easier choice for contractors to embrace.
Looking for more content designed to provide additional insights for heavy equipment management? Make sure to sign up for the Gearflow newsletter here.