With the United States' unemployment reaching the highest rate since the Great Depression, millions of Americans are currently out of work. With limited job openings, looking for work in a new industry may be overwhelming. As many of us continue to experience various difficulties with the ongoing coronavirus pandemic, we need to try our hardest to remain optimistic.
The construction industry is vast and fast-growing, with a wide variety of both skilled and unskilled job opportunities. In fact, according to the Associated General Contractors of America's 2020 Construction Hiring Report, 3 out of 4 construction firms had plans to hire employees throughout 2020. Although the construction workforce has shrunk significantly with layoffs due to the coronavirus, the industry is expected to bounce back once the pandemic is under control.
Where do I start?
Whether you're considering a career in the construction workforce or you're just interested in learning more, now may be the perfect time for you to make the shift. In order to simplify the process, we've put together your complete guide to finding the right job in the construction industry.
The amount of collaboration that goes into a construction project is usually unseen by those on the outside. Throughout the entire construction process, from planning to designing to building there are sometimes thousands of people involved in one project.
"Professional" careers, like engineers and architects, require certain educational qualifications. "Skilled trades" jobs can also require educational qualifications, and many require experience or an apprenticeship following the education. However, If you are interested in starting right away but have no prior experience, a job as a laborer or trades apprentice may be the best place to start.
Below is our list of the typical construction job site positions along with some key stats about each job. Some of these positions require more work or knowledge than others and similar to many other companies, you will most likely have to work your way up, especially if you have minimal prior experience.
Typical Construction Workforce Job Site Careers:
1.  General Laborer, Construction Helper, or Construction Laborer
Experience or education needed: None, but having prior experience may help to boost your pay.
Average Weekly Hours: 40+
US Median Annual Salary (2020): $36,860
Skillset: Endurance, Strength, Multi-tasking Abilities, Coordination, Spacial Awareness
Typical Employers: Contractors, Sub-Contractors, Skilled Trades Companies
10 yr Projected Growth: 11% (Greater than average)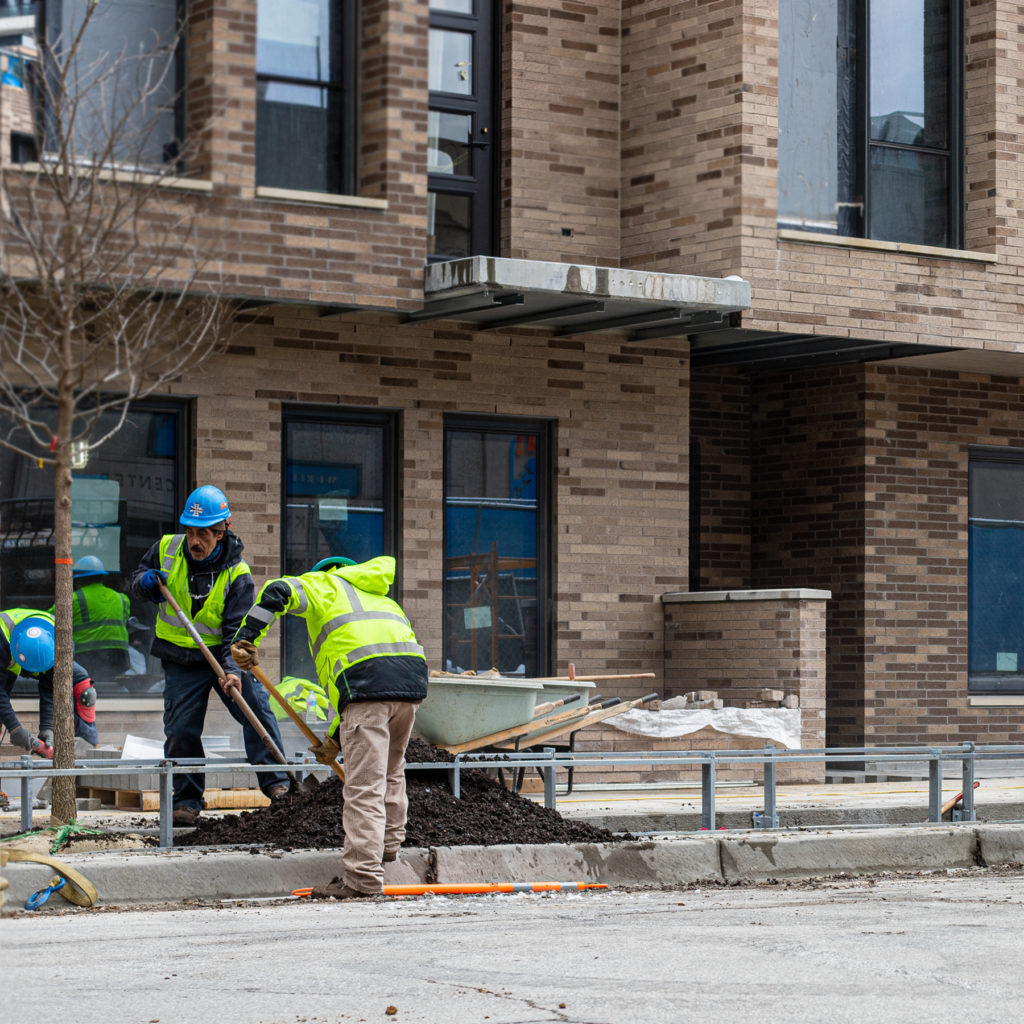 Job Overview: A general laborer or construction worker's responsibilities vary greatly based on the needs and scope of the project. The most common duties include site preparation tasks such as cleaning, grading, setting up and tearing down equipment, safety structures, and traffic control devices, loading, unloading, and delivering materials. Workers may also be required to use equipment including but not limited to forklifts, man lifts, blowtorches, drills, and saws.
Due to the nature of the duties mentioned above, you must be physically fit, possess good hand-eye coordination, and be tough-minded. Although there are not any technical requirements, it may help you exponentially if you are able to communicate effectively (depending on location possibly in both Spanish and English), read and understand both mechanical drawings and blueprints, and stay on track.
Regardless of your career choice within the construction workforce, becoming a general laborer will teach you the bones of the business and is the best way to get your foot in the door. You will learn how a job site functions first hand as well as how all the layers of the trades overlap throughout the construction process. As a laborer, you will more than likely spend the most time out of all the contractors on the project. This will give you quite a bit of experience and exposure to specific roles throughout the construction industry and can assist in positioning yourself for your future and the roles you may desire to transition into. Many people in the industry have started here.
2. Site Supervisor
Experience or education needed: Bachelor's Degree, On-the job training, Experience
Average Weekly Hours: 40+
Average Annual Salary: $40,000 + (depending on experience)
Skillset: Organized, Excellent Time Management, Authoritative, Good Communicator
Typical Employers: Large Construction Corporations and build design firms
10 yr Projected Growth: 10%
Job Overview: A Site supervisor mainly oversees the ongoing state of the project, as well as supervising the contractors and maintaining jobsite safety standards. Most site supervisors have in the field experience as they had their start as a laborer. Further to hands-on involvement in multiple projects they most commonly have or are working towards a bachelors degree in mechanical, industrial engineering or civil construction. This is a great position to learn leadership and organization, two very integral pieces to becoming a successful supervisor that any crew will want to work with.
3. Foreman
Experience or education needed: A high school diploma (or equivalent) is required and having an associate's degree in construction management will significantly help. Additionally, prior experience in management and/or technical fields are usually required.
Average Weekly Hours: 40+ (usually involves odd hours and travel)
US Median Annual Salary: $95,260
Skillset: Endurance, Strength, Multi-tasking Abilities, Coordination, Spacial Awareness, Management and Good Communication
Typical Employers: Large Construction Corporations and build design firms
10 yr Projected Growth: 10%
Overview: In most construction environments, there are multiple foremen. Usually, foremen are trade-specific and guide their teams to ensure the job at hand is completed in a timely manner with great precision. They are often responsible for maintaining the schedule(s) set by the project manager(s) and engineers. Foremen are almost always obligated to take the brunt of any errors or time delays caused by contractors or tradespeople, therefore requiring them to always be extremely diligent in their scheduling, followup, and communication with the entire construction team. The foreman role is one best suited to a seasoned and experienced senior leader. There are many details to account for, so an individual possessing extensive experience is of the utmost importance in this role. Education in areas of project management, human resource, skilled trades, and engineering would add the most value to the roles in which a foreman plays.
4. Heavy Equipment Operator
Experience or education needed: High school diploma (or equivalent), Apprenticeship, trade school, or similar program, and a Commercial Drivers license (CDL) is required.
Average Weekly Hours: 40+
US Median Annual Salary: $47,810
Skillset: Dexterous, Can handle sitting for long periods of time, Spatial Awareness, take good direction.
Typical Employers: Construction Companies, Manufacturing, Rental Companies, Trade Schools, Operator Unions
10 yr Projected Growth: 10%
Overview: Heavy equipment operators use large machinery to do a variety of tasks in both mining and construction projects. There are many different types of equipment you can operate, therefore there is no "one size fits all" job description. For example, earthmoving equipment is used for demolition, to dig foundations, and to move materials (dirt, rock, sand, etc.). Meanwhile, smaller material handling equipment is used for moving more fragile materials and people around the job site, lifting materials into place, and assisting in stacking materials upon delivery. But, depending on the job, other types of specialized equipment may have to be used, which typically requires the hiring of skilled tradespeople with knowledge of how to operate this specialized equipment.
View our step-by-step guide on How To Become A Heavy Equipment Operator
5. Tradespeople
Experience or education needed: Largely depends on trade. Most likely a high school diploma (or equivalent), many employers look for apprenticeships and/or trade school certifications.
Average Weekly Hours: 40+ Overtime is common
US Median Annual Salary: $38,820 – $63,100
Skillset: Technical and deductive reasoning, Organized, Detail Oriented
Typical Employers: Self-Employed or Trade Specific Corporations
10 yr Projected Growth: 14%
Overview: Tradespeople are specialized contractors who tend to focus on a specific field. Many contractors decide to specialize in a specific trade when they are starting their careers. Some examples include carpenters, glaziers, ironworkers, landscapers, masons, painters, plumbers, pipefitters, roofers, and welders, among many others. Many employers require an apprenticeship, completion of a trade school, or some other sort of detailed prior training.
The pay ranges significantly, with Boilmakers earning the highest median annual wage among trade workers at $63,100 to Pipelayers earning the lowest median annual wage among trade workers at $38,820. Because the term "tradespeople" is so general, job overviews and responsibilities vary greatly by trade. 
Glaziers, for example, specialize in fitting glass.  This specialized task requires specific equipment and proper training. Within this niche, finding specialized equipment and proper training can sometimes be difficult. Skyreach Equipment, right outside of Baltimore, MD, works with almost exclusively glaziers. 

Skyreach's owner, Kevin Gray, praises them saying, "These glass guys are highly trained; they know what they're doing. Some of the people I work with are so knowledgeable that I drop the machines off, and I don't see them for 7-8 months. The whole time, I don't hear a peep from those guys, and I don't worry because they know what they're doing."
Gray currently sells and rents specialized glass manipulators and offers in-house training programs. Gray is also in the process of developing a full on apprenticeship program for glaziers.
6. Subcontractor
Experience or education needed: No formal education is required and similar to tradespeople, subcontractors usually specialize in a specific trade. Some sort of training (either trade school or on-the-job) and experience are a plus.
US Median Annual Salary: $38,820 – $63,100, similar to tradespeople depending on many variables.
Skillset: Communication, Problem Solving, Project Management, Detail Oriented
Typical Employers: General Contractors
10 yr Projected Growth: 10%
Overview: A subcontractor is a type of contractor who usually specializes in a specific trade (ie. Drywall, Masonry, Tiling) or field. Subcontractors participate in a bid process whereby they are awarded the contract. Subcontractors are contracted by the general contractor overseeing the job, and not the client directly. They usually perform trade-specific tasks outlined in their contract and are likely responsible for providing their own equipment, tools, and materials.
7. General Contractor
Experience or education needed: Highschool Diploma or Equivalent, Experience
US Median Annual Salary: $91,370
Skillset: Project Management, Detail Oriented, Coordination, Excellent Reasoning, Networking
Typical Employers: Home Owners, Design Build Firms, Governmental Authorities
10 yr Projected Growth: 10%
Overview: General contractors, or often referred to as "GC's", are the main task organizer on a construction project or job site. They are responsible for selecting and hiring the subcontractors, coordinating construction equipment rentals, and sourcing and purchasing the materials required to complete the job in a cost effective and timely manner. GC's are almost always corporations. It is quite common that these contracting firms will operate in many different domains (ie. design – build) hiring and delegating specific trades tasks to subcontractors, allowing the GC's to be a one stop turn key solution for development.
8. Project Manager
Experience or education needed: Bachelor's degree in construction management, civil engineering or construction science
US Median Annual Salary: $67,280
Skillset: Good oral & written communication, time management, Documentation & record management, adaptability, stress tolerance
Typical Employers: Contractors, Governmental Authorities
10 yr Projected Growth: Not reported
Overview:
Project Managers, often referred to as "PM's" are the main component to a job or contract running smoothly. It is their sole responsibility to see the entire project through inception and operate seamlessly between the entire construction process. Execution of tasks and control of contractors (and subcontractors) is probably one of the most important and stressful aspects of development. Individuals who choose this career are usually amiable, incredibly cooperative, outgoing and positive people. It is a very high pressure role.
9. Architect
Experience or education needed: Bachelor's Degree, License, Internship/Residency
US Median Annual Salary: $80,750
Skillset: Creativity, Detail Oriented, Analytical, Strong Mathematical & Science foundation
Typical Employers: Contractors, Civil Engineers, Urban Planning Companies, Consultants, Lawyers, Landscape Architects, Designers & drafters.
10 yr Projected Growth: 8%
Overview: If you love to build with your mind, this is a career that may spark your interest. Architecture and design are the creative sides to construction. Imagine watching your wildest sketches and plans become a reality right before your eyes, not only that, but become a functional piece of history. Architects are educated in merging building design with structure and workmanship. They transform their studies, structure and imagination into a blueprint. There is a very technical side to this career as well. Not only is the overall appearance of the building designed by the architect, but also sometimes the HVAC, Electrical, Plumbing, Landscape and Traffic Flows.
10. Civil Engineers
Experience or education needed: Bachelor's Degree, License (Required in all states), Apprenticeship
US Median Annual Salary: $87,060
Skillset: Technical thinker in both math & physics, design, Strong Oral & written communication, time management
Typical Employers: Contractors, Urban Planning Companies, Consultants, Lawyers, Landscape Architects, Survey engineers
10 yr Projected Growth: 6%
Overview:
Before any construction project begins, civil engineers are required to survey the site and determine whether the environmental conditions can withstand the proposed development. This includes research and analytics on the area of the project location including soil conditions, boundaries and land records. This all happens before bids are submitted and land is purchased.
So, now what?
Depending on the position of interest, you might be ready to start looking for openings immediately, assuming you at least meet the minimum requirements. If you're interested in a job that requires education or experience you have yet to receive, consider searching for openings in a position you do qualify for to gain experience and if applicable, secure a stable income while you attend school.
If you are searching for an entry level position, you'll want to start with a Google search. Some search examples might include "construction helper jobs," "general laborer jobs," "construction labor jobs," or "entry level construction jobs."
Employers are looking to hire you assuming you are able bodied, punctual, and good at following directions. This position will be a good stepping stone for you to gain first hand experience and tends to lead to positions with more responsibilities (and higher pay) in the future.
If you have graduated high school or have the equivalent of a high school diploma, you could also consider attending a trade school in order to help you gain specialized experience and knowledge in a certain trade.
You may have multiple options during your job search depending on what you are looking for. For example, if you're set on becoming a welder in or around Los Angeles, but you have limited welding experience, you could go down two potential routes. These paths include searching for welder's helper jobs to gain experience and applying for a welding apprenticeship.
Welder's helper
You could search for "Welder helper jobs los angeles," or "welding apprenticeship los angeles."
Say, for example, we wanted more information on the first result. Before anything else, make sure to look into the job postings to be sure the company is still hiring. After clicking on the link, you will usually find a description about the company, what benefits the company may offer, pay range, job responsibilities or a job description, and job requirements. The screenshot below shows the requirements listed for the "Steel Fabrication Assistant & Welding Helper" position.
Now, assuming you fit (or are relatively close to fitting) the minimum requirements you'll want to submit your application. Make sure you have an up to date resume outlining your skills, relevant past experiences, education, and any training you may have received. Lastly, you'll want to create a LinkedIn profile that outlines your skills and experiences.
Apprenticeship
You could also apply for a local apprenticeship and learn skills directly on-the-job. Apprenticeship programs usually last five years and require you to log at least 2,000 hours on job sites and 144 hours in class sessions annually. You are paid throughout the apprenticeship with gradual increases following your progression. Because this allows for you to both make money and learn the ins and outs of your trade, many people choose this path.
Regardless of the path you choose, you will be taking the right steps for a successful career in the construction workforce!
Do you have any helpful tips you think we should add? Let us know in the comments!