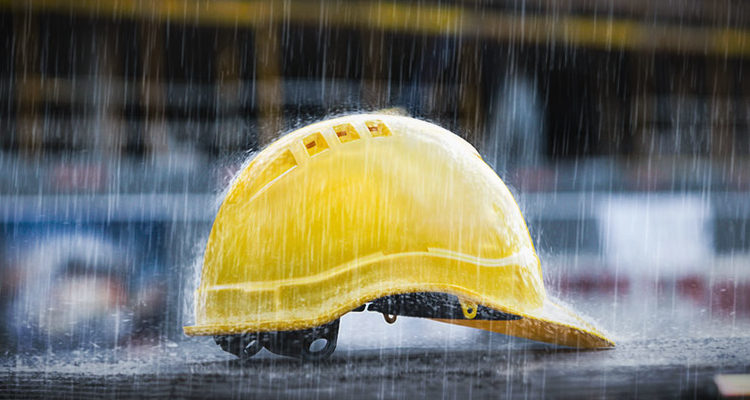 With winter coming to an end, contractors and heavy equipment operators across the country should be aware of the potential risks associated with working construction in the spring – cold and rainy environments.
The weather affects everything from employee wellness to the quality of concrete.
This guide serves to provide tips, tricks, and gear for the start of the busy season.
Worker Health
Combatting The Rain
OSHA is cracking down on enforcing employer regulations to protect the health of its workers in the cold. February through April are still dangerous months to be working outdoors due to the high potential of Cold Stress from cold rain. Cotton loses its insulation when wet, so it matters what you wear.
Trench foot, for instance, can still occur in temperatures up to 60 degrees.
The reason?
"Non-freezing injury occurs because wet feet lose heat 25-times faster than dry feet. To prevent heat loss, the body constricts the blood vessels to shut down circulation in the feet. The skin tissue begins to die because of a lack of oxygen and nutrients and due to the buildup of toxic products," according to OSHA.
To make matters worse, 37.5% of construction laborers say they do not have health insurance, according to MarketWatch.
It's important to get proper quality rain gear that is specifically designed for construction workers. A jacket must be waterproof (not water-resistant), mobile yet heavy-duty, lightweight yet durable. Coupled with a pair of bibs, you can be sure your workers will stay dry.
The key is in the material.
Look for rain gear made of PVC. PVC is a synthetic plastic polymer that is waterproof and highly durable.
The Carhartt Surrey line of rain gear is a popular choice for non-residential construction workers, especially in the spring. Made from PVC fabric, the Surrey line is lightweight but waterproof and breathable.
Some other highly regarded rain gear brands for construction, if you are willing to spend the money for them, are Milwaukee, Dewalt, and Makita.
For road work, your workers will need more protection.
Bulwark has a reputation for some of the safest, most durable gear for road work in poor conditions. Not only are they waterproof and high visibility, but they are flame resistant and meet the proper ANSI standards.
Lastly, your workers need the right boots.
The Muck Boot has built a well-respected name within construction for boots that stand up to any conditions. The Muck Chore or Artic Pro, both with steel toes, meets ASTM F2413-11 M I/75 C/75 EH regulations and will keep your workers safe and warm.
For female workers on the job, make sure they are also wearing proper footwear that is female-specific. Manufacturers like KEEN Utility are making strides in offering women-specific PPE (personal protective equipment).
Encourage your workers to bring a second set of clothes to change into during lunch. Finishing out a wet day in wet clothes puts your workers at risk.
Combatting The Wind
Spring is the windiest time of the year, with March being the windiest month.
The Spring winds are 3-5 times stronger than in July and August.
For contractors working at height, particularly those working on scaffolding, the spring is the most dangerous time to be working these construction projects. Protecting these construction workers would prevent an estimated 4,500 injuries and 50 fatalities a year, according to OSHA.
Falls are the biggest risk to construction workers, even more so in the spring. To make matters worse, having the proper fall protection is the most common OSHA violation (standard number 1926).
OSHA states that workers are not permitted to work on scaffolds in high winds or slippery conditions unless a competent person has said it is safe to do so. These decision-makers have to be especially diligent during the Spring. For instance, all scaffolding needs slip-resistant treads on all stairs and landings, to be on sound footing, and cannot be carrying more weight than they are designed to hold.
Contractors working on booms and scissors should also be protected with guard rails, fall arrest systems, safety nets, covers, and restraint systems.
Prioritize your workers safety over downtime.
The Effect on Materials
The spring weather can expose many mistakes made during groundwork construction done in the winter.
For instance, if concrete is poured on frozen ground, come spring, the ground will loosen and could compromise the concrete bearing. The durability of concrete is lowered by 40 to 60 percent when it freezes and then thaws, which ultimately reduces its strength by up to 40 percent.
Contractors can combat this issue by using products such as anti-freezing components mixed into the concrete or blankets meant to trap the heat for the concrete to bind correctly. Both have allowed contractors to counter this potential cold-weather challenge.
By using these admixtures, it ultimately accelerates the cement hydration when temperatures are below freezing.
Also, low temperatures can impact successful and timely drywall and paint installation. For example, joint compound used on drywall becomes more brittle in the cold and won't dry correctly. Paint also thickens when cold and will take longer to dry, which can add time to projected production.
When using a sealant outside of the preferred 39 to 100-degree range, manufacturers can offer suggestions as to how to prepare for proper adhesion.
When it comes to cementitious fireproofing on structural steel, the steel must maintain a minimum of 40 degrees for 24 hours before application, during the application, and for a minimum of 24 hours after the application. If this temperature is not maintained, you risk failed adhesion. Each job site that is operating this phase of work in cold weather should take proper precautions to keep the area warm and have someone on fire watch at all times if using space heaters to do so.
The Effect On Equipment
Coming out of Winter is a major relief. It not only has a significant impact on the productivity and psyche of your workers, but it also impacts your equipment. Job site managers should continue the habit of routinely checking the equipment that has been on the job site through the winter.
The most commonly overlooked issue that cold weather brings to a job site is tire pressure.
For every 10 degrees F drop, your tire pressure drops 1 PSI. Equipment with air tires that have been on a job site all winter long is likely at risk of tire failure from under-inflated tires.
Second, make sure to check the battery life of your equipment so that you don't run into unexpected downtime during the busy season.
Cold weather causes batteries to die typically because of damage done during the warmer months. The cold causes a reduced cranking power and slower chemical reaction inside the battery, making it harder for the engine to turnover. The fluids inside the engine thicken, which can impact seals and joints, causing friction.