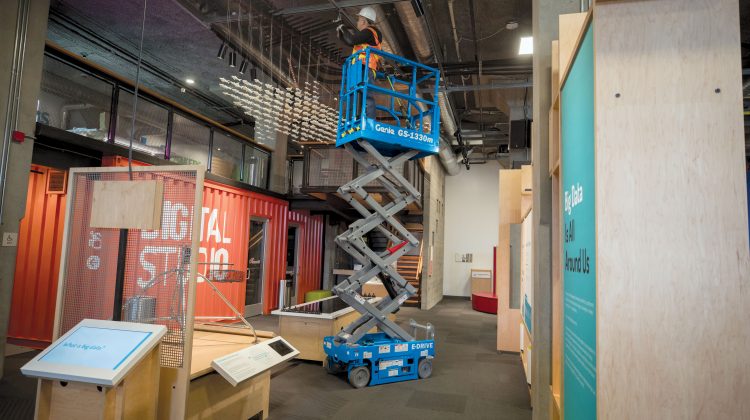 By Karen Scally
When you need new scissor lift tires, there are several factors to consider prior to replacing them.
First, you should only select a tire that is approved by the OEM for your scissor lift model.
Next, it's important to know some common scissor lift tire terms, including:
Solid: Puncture resistant and long lasting, these rubber tires are most often used for indoor, electric models.
Foam-filled: Tires typically pumped with polyurethane liquid that solidifies and are generally used on rough-terrain scissor lifts for outdoor applications.
Pneumatic: Air-filled tires that often are the most cost-effective option.
Finally, scissor lift tires come in a variety of treads, so you need to know what kind of ground surface you will be operating on and the type of work your machine will be performing. Consult with your customer service representative to ensure you select the appropriate tread.
---
Did you know?
Some companies specialize in foam-filling pneumatic tires as an aftermarket option, such as Carlisle TyFil.
---
How Do the New ANSI A92 Standards Impact Scissor Lift Tires?
The ANSI A92 suite of standards, which went into effect on June 1, 2020, have brought several changes for scissor lifts, starting with their nomenclature.
Previously, scissor lifts and boom lifts were referred to as aerial work platforms or AWPs. Now, both scissor and boom lifts are universally known as mobile elevating work platforms or MEWPs.
The ANSI A92 standards also set up new classifications for the categories of MEWPs, separating them into groups and breaking them down further into types.
Scissor lifts fall under Group A MEWPs, which means the platform stays inside the tipping line. Type 1 MEWPs travel only in the stowed position; Type 2 can travel while elevated, but they are controlled at the chassis; and Type 3 can travel while elevated by platform controls.
New stability testing requirements in the standards mean that the majority of rough-terrain scissor lifts will require foam-filled or solid tires, as opposed to pneumatic tires. However, it's important to note that equipment manufactured before the standards' effective date does not need to be retrofitted or updated to meet the current design standards.
If you would like to purchase the ANSI A92 suite of standards for more information on the design, safety, and training requirements for MEWPs, you can do so here at saiaonline.org..
When Should You Replace Scissor Lift Tires?
As part of your daily equipment inspection prior to using your scissor lift, inspect your tires.
Look for damage to the tread and sidewalls, such as missing chunks or cracking, or if there is any separation from the rim. If damage exists, the tires should be replaced.
Once you've determined that your scissor lift tires need replacing, here's a list of the top brands of scissor lift tires, including genuine and aftermarket options.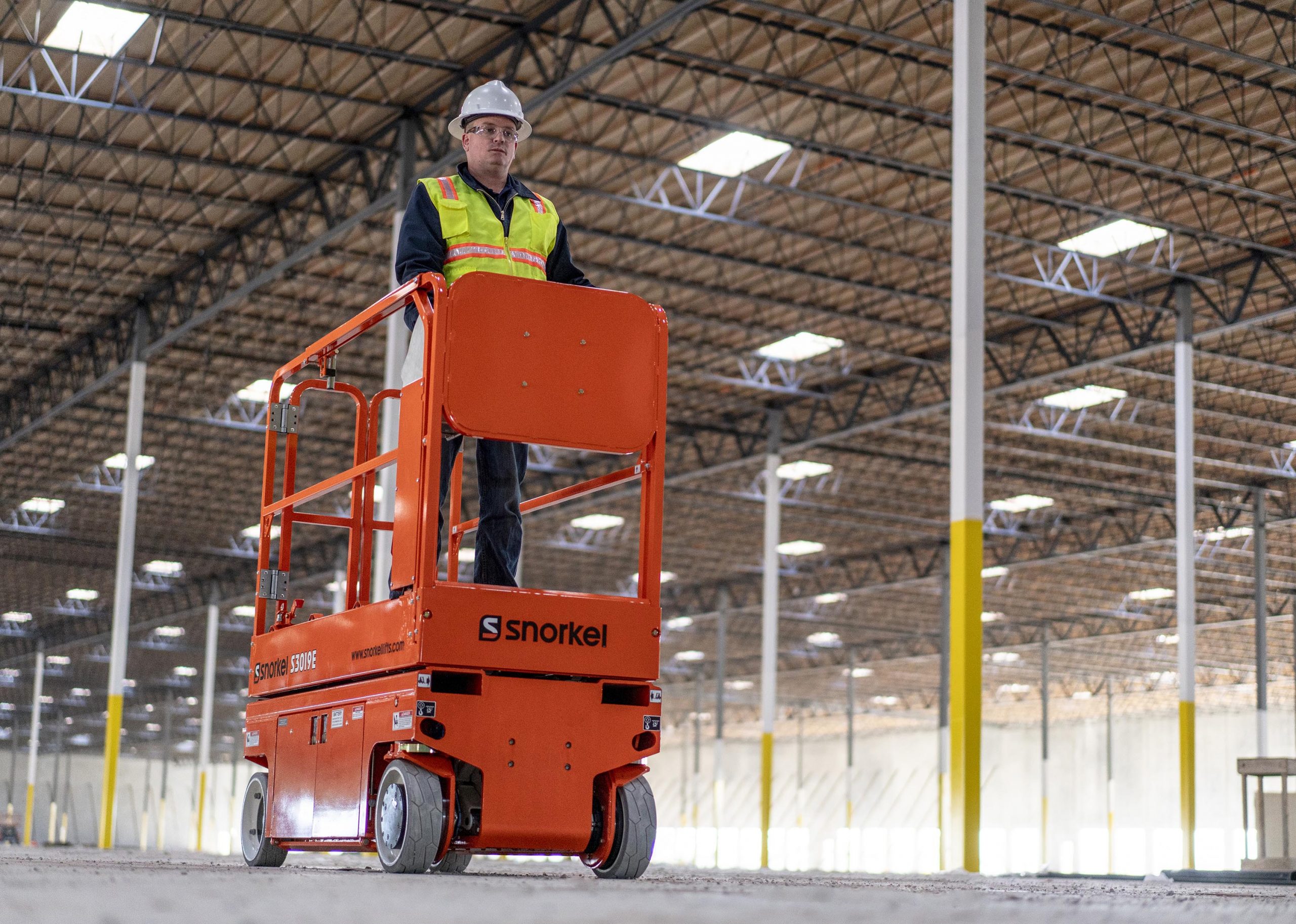 Founded in 1996, Amerityre tires are manufactured in Boulder City, Nevada. The company's scissor lift tires are made from polyurethane elastomer and do not require replacing the rim.
Located in McGregor Texas, Armadillo Tire opened in 2014 and offers at least nine tread patterns for its solid scissor lift tires. Its Exmile tires are approved by Genie, Manitou, Airo, and Dingli, and feature a high percentage of natural rubber. Armadillo offers a one-year warranty from the date of purchase or 500 hours from the date of installation, whichever comes first.
Camso (Solideal)
Camso offers nonmarking, solid scissor lift tires in at least seven sizes. The company's scissor lift tires feature an engineered compound with natural rubber and a cast steel wheel. Camso operates its own foundry and works from the tree to the tread.
Evolution Wheel's solid scissor lift tire series features an anti-vibration tread in a large block style to lower ground pressure. It is designed for easy replacement, requiring only a standard wrench or socket.
Genie offers aftermarket tires for its scissor lifts and genuine foam-filled tires for its rough-terrain scissor lifts. The nonmarking, solid tires come in a variety of dimensions to fit many models, and the foam-filled tires are available in rough-terrain and nonmarking treads.
Haulotte has genuine nonmarking tires for its range of scissor lifts. The company's tested and approved genuine parts are designed to extend their machine life and enhance their residual value.
JLG provides genuine and MaxQuip aftermarket scissor lift tires. JLG Genuine parts are factory-approved and engineer-tested to meet original specifications. Its MaxQuip line is designed to meet the needs of those with mixed fleets.
Fred Taylor founded OTR Wheel Engineering in 1987 as a small wheel shop in Rome, Georgia. The company provides mold-on nonmarking solid scissor lift tires with a nondirectional tread.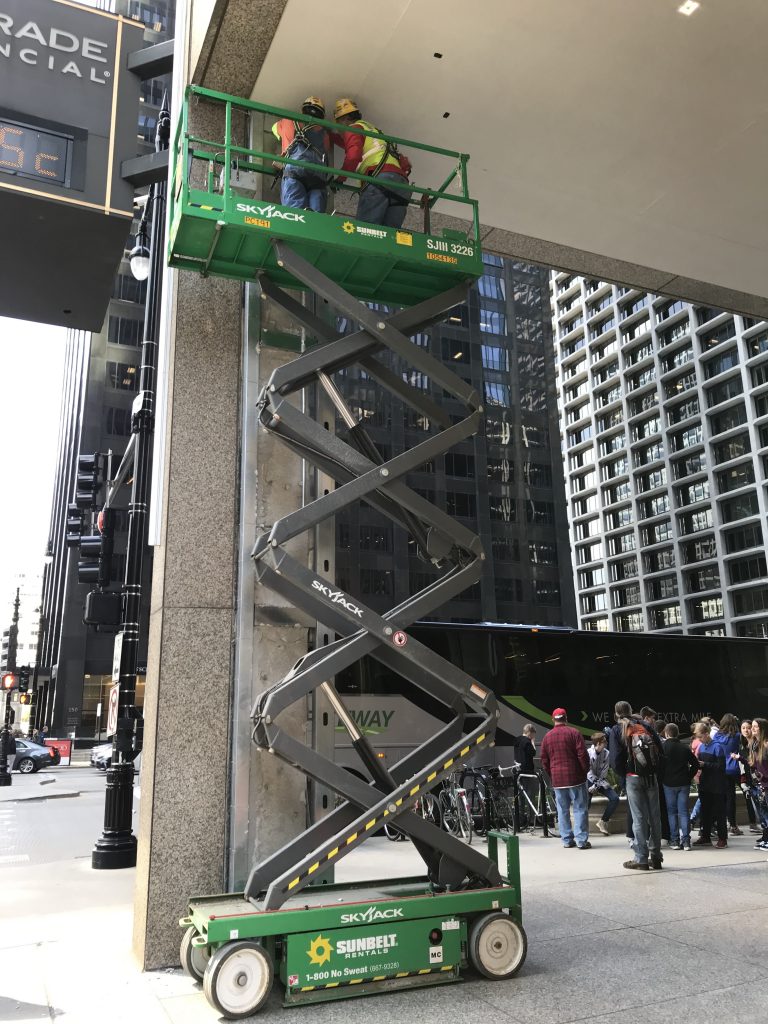 Skyjack's genuine scissor lift tires, which are manufactured by Carlisle, are available through their dealer network. A Skyjack Parts Support account is required for ordering.
Snorkel, founded in 1959 by Art Moore, offers genuine parts for its scissor lifts, including solid scissor lift tires. The company operates six manufacturing facilities globally, including Henderson, Nevada, and St. Joseph, Missouri, in the United States.
Titan International Inc. is one of the largest manufacturers of off-the-road tires and wheels. Titans design, tests, and manufactures tires to fit many equipment types and applications, including scissor lifts. Its Lift Rigger tire features thick lugs in its tread design to provide stability and flotation.
Since 1997, Trident has specialized in design, development, and distribution of industrial tires and tracks. The company offers a range of solid scissor lift tires for many makes and models. The tires feature an extra deep tread made with a compound designed to resist abrasions.
Yokohama Off-Highway Tires has three manufacturing facilities, one in Israel and two in India, and R&D centers in Israel, North America, and India. Its Galaxy brand Super Trencher tire fits scissor lifts and other machines, and it's designed with sidewall and rim shield protection and open, deep shoulders for traction.
———–
If there is a scissor lift tire brand you think should be listed here, please comment below or send us an email.
Looking for more content designed to provide additional insights for construction equipment fleet management? Make sure to sign up for the Gearflow newsletter here.