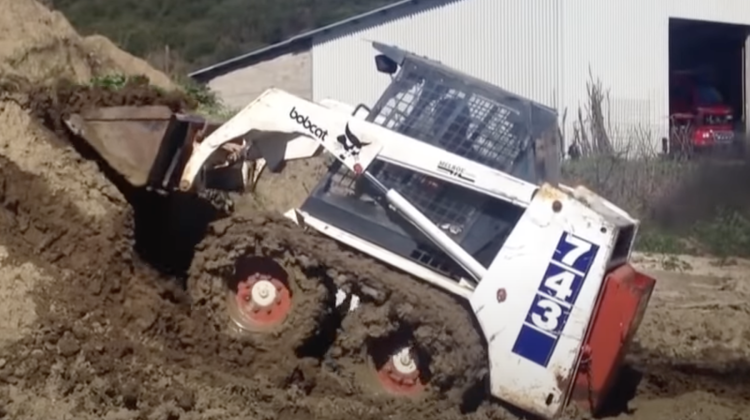 By Karen Scally
Over-the-tire skid steer tracks take your small but mighty workhorse of the jobsite to a whole new level.
These tracks provide the power of two machines in one by allowing your wheeled skid steer to transform into a compact loader. The system literally "runs over" the tires, providing versatility to tackle challenging terrains that would typically leave your wheels spinning.
When should you use over-the-tire skid steer tracks?
Because tracks offer more grip and flotation than tires, over-the-tire (OTT) tracks are a suitable option for wet or muddy ground conditions, snow, soft surfaces, or loose terrains, such as gravel — without having to purchase or rent a compact track loader.
What advantages do OTT tracks offer?
OTT tracks are also ideal for smaller contractors, who may not have many machines, and are more economical than adding a compact track loader to a fleet, especially for those that encounter moist terrains infrequently on their job sites. According to Total Landscape Care, the price tag for a skid steer is 20%-30% less than a CTL. 
In addition to the flexibility that OTT tracks give your skid steer, they are fairly easy to remove or replace. Most systems take less than an hour to install, using just one or two people.
What should you know before you buy OTT tracks?
Before you decide to purchase over-the-tire skid steer tracks, check your OEM manual for guidance on appropriate brands, sizes, and whether you need wheel spacers to provide enough room between the tracks and the machine. You need at least a 3-in. clearance completely around the tire to successfully install OTT tracks, according to McLaren Industries.
Over-the-tire tracks come in rubber, steel, or a combination of both. To help you discover which tracks are right for you, we've put together a roundup of the leading brands that offer models of these transformative tracks.
---
Want more tracks and tires content? Check out our other roundups on rubber skid steer tracks, scissor lift tires, and mini excavator tracks linked below.
---
Bobcat offers both steel and rubber pad over-the-tire tracks under its Genuine brand to change your wheeled skid steer into a tracked machine. They are available for 10-in. and 12-in. tire widths, and the company also provides the necessary wheel spacers for clearance between the track and the machine.
Camso provides steel and rubber over-the-tire tracks to add traction and flotation for skid steers. The company says its full rubber OTT tracks, which feature an embedded iron core and an internal traction rib, can be added in about 20 minutes and increase flotation five times more than tires.
Grizzly over-the-tire tracks are sold in at least four sizes for standard wheelbases. Their American-made tracks feature an open double-bar design and 7/16 in. manganese alloyed Grade 80 long-link chains. They also can be installed with just one person.
Grouser's over-the-tire tracks have built-in length adjustment on the pads and induction-hardened traction bars. The company says they reduce ground pressure by up to 50%, and they can be installed in under 30 minutes and removed in 10 minutes.
McLaren Industries has manufactured over-the-tire rubber tracks for over 20 years, offering four main product lines. Its rubber OTT tracks are the most versatile model, made from manganese-enriched steel for the base and chromium-enriched steel for the pins and links. The company also has heavy-duty, high-traction, and budget-friendly options.
MWE's steel over-the-tire tracks with rubber pads feature a patented heating process to increase their life. These tracks are designed to protect your tires on gravel or other stony ground conditions.
Prowler offers both steel and rubber OTT tracks, containing chromium and manganese steel components to handle harsh environments. The company says their tracks can be installed in under an hour.
The Trident OTT steel tracks feature a modular design with a reinforced, high-flotation profile and adjustable track length to fit a variety of machines. The company also offers optional wheel spacers, mounting assistance toolkit, and bolt-on rubber pads.
Looking for more content designed to provide additional insights for heavy equipment management? Make sure to sign up for the Gearflow newsletter here.