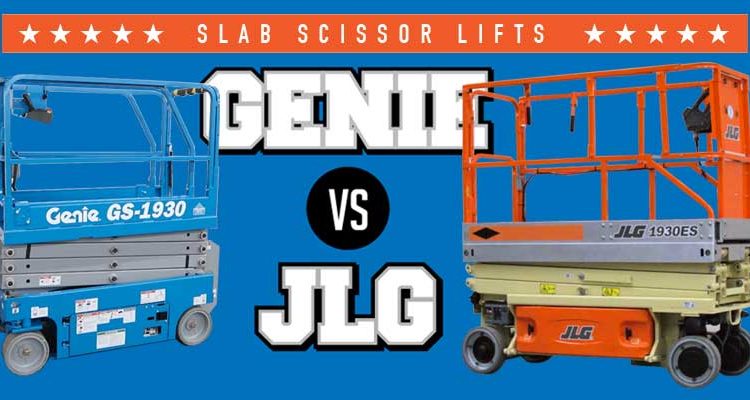 Choosing the right scissor lift for your construction or work project can be a daunting task. The amount of choices out can be overwhelming, but if have a good grasp of the job scope, the pool of equipment narrows considerably.
When buying or renting a scissor lift, there are many factors to consider. How much of a load to do need? How high do you need to go? How big or small is your work space?
For many projects that require mobility in tight spaces, the slab scissor lift is the perfect choice. Known for their versatility, they can be used indoors and outdoors, are exceptionally mobile and can work in smaller areas not accessible to larger boom lifts.
Because the platform is generally the same size as the base, this allows for a stable vertical lift and higher weight capacity. This stability ensures the work platform can safely raise both personnel and equipment without toppling.
Many have expandable platforms that provides a little more horizontal work space. The majority of machines are electric scissor lifts. This gives zero emissions inside so no exhaust.
Indoors is where the slab scissor lifts really shine. They are ideal for smaller indoor spaces such as buildings, construction sites, warehouses and other urban areas. Most hydraulics scissor lifts have working heights that range from 20 to 40 feet. Perfect for not only construction, but electrical work, HVAC installation, painting, pressure washing and all types of manufacturing. Many artists utilize scissor lifts to create murals on the sides of buildings and walls.
Although many lifts on the market are similar in specifications, some vary in height and weight capacity. Factors such as the material load, if any, how many workers will it hold and the height limit. The higher the height, the lesser the load weight for stability.
The size of the elevated work platforms are available in many sizes. Some considerations when buying or renting are the number of personnel and the weight of tools and building materials. Weight capacity on each lift will vary based on the lifts work height. For example, a scissor lift that can handle 1000 lbs when lowered might only safely hold 500 lb when elevated.
When it comes to safety, all MEWP (mobile elevated work platform) manufacturers design their equipment to reduce the risk of any accident. Since the most frequent work site accident that involve lifts are falls, these manufacturers comply with all OSHA standards.
Safety features include guard rails, emergency shut offs, lift speeds limitations and warning alarms to help alert nearby personnel of the lift's proximity.
Although the built in safety measures are state-of-the art, it still comes down to proper operator training. This brings awareness to the operator to maintain stability, avoid uneven ground, factor the wind, and other issues that can cause lifts to tip over.
SO, WHO DO I CHOOSE?
To help with your decision, Gearflow has created a side by side comparison of two of the industry's most popular slab scissor lifts. The JLG 1930ES and the Genie GS-1930. These two 19 scissor lifts are the ideal tool for indoor and outdoor use in tight quarters.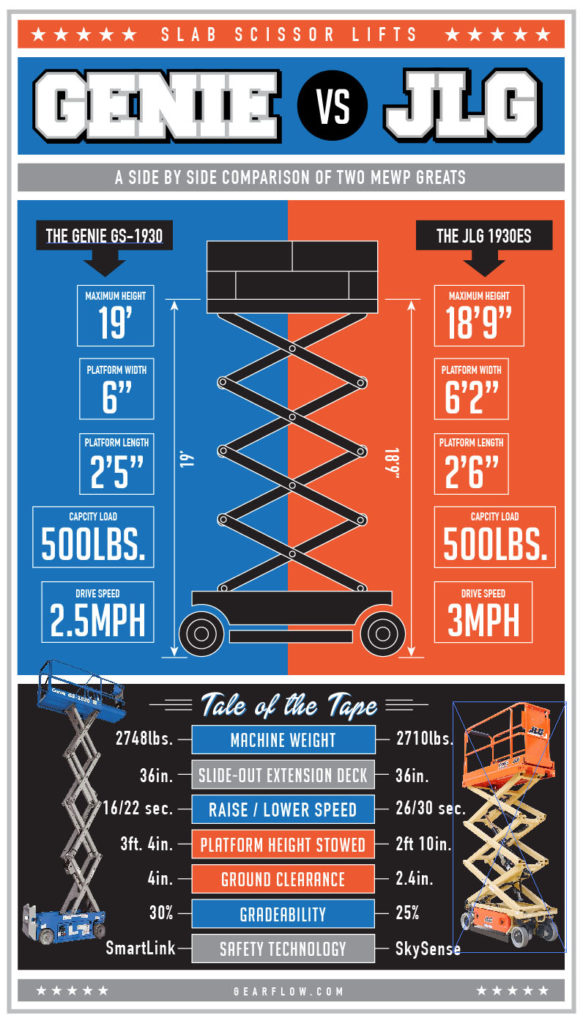 GENIE
The Genie GS-1930 scissor lift is known for its mobile versatility while working indoors. Although it can be used outdoors on solid, level surfaces, its ability to maneuver in tight spaces and go through single doors are what make it unique.

The 24V DC electric motor powers a dual front-wheel drive system, is quiet and gives off zero emissions.
The slip-resistant, working platform can raise up to 19 ft. and has a 25 ft. working height. The work area is a spacious 6 ft.. long and enough for 2 people and tools.
For the hard to reach areas, the roll-out platform can extend another 36".
When it comes to capacity, this machine is a heavy lifter. Its' compact, solid base allows a maximum weight of 500 lbs. While elevated, the platform's 36″ extension can hold up to 250 lbs.
The narrow 30″ width of the platform allows operators to get through tight spaces. When lowered, the GS-1930 can easily fit through single doorways and narrow warehouse aisles.
Just in case you get stuck up in the air, there is a manual platform lowering valve to get you down safely.
To keep you safe, the platform has fixed rail guards with a half-height swing gate. These rails can be folded when the machine is stowed.
The solid, non-marking tires have an inside zero turning radius which helps you reposition the lift while basically staying in one place.
Safety has always been a top priority with Genie. They have developed many innovative safety technologies to help avoid the risk of injury or property damage.
Features include a tilt level sensor with audible alarm, descent alarm, electronic horn and emergency stop on both the platform and ground controls. To stand out, dual flashing beacons are installed to alert other people of your presence.
When elevated, the lift's drive speed interlock limits moving speed to 0.5 mph. This avoid toppling and allow the operator to make safe maneuvers.
Genie has included its innovative SmartLink system that provides intuitive on-board diagnostics and troubleshooting. In addition to diagnostics, SmartLink ensures a proportional lift and drive that will keep the machine's movements flat and steady. Whether the platform is extended or not.
To stop, all of Genie's small scissor lifts utilize a front wheel dynamic braking system. Along with this front wheel design, the rear wheels are built with multiple disc brakes for a nice, smooth deceleration.
When the job is complete and it's time to load up, the GS-1930 the lift can handle a ramp up to a 30% grade.
JLG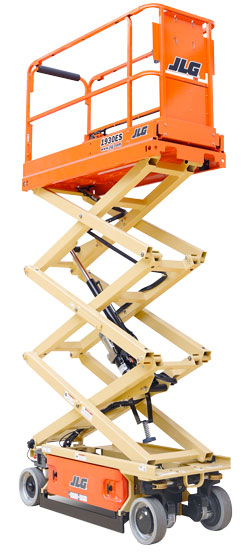 Like the Genie, the JLG scissor lift is one of the industry's best for job site performance. It's features are similar and an ideal solution for vertical work projects.
However, what really sets the JLG apart is its' battery life. On a single change, this machine can deliver twice the operating time and dramatically increase productivity.
The JLG's quiet, electric and emission free motor is perfect for closed indoor spaces. The 30″ wide platform allows the operator to maneuver through tight doorways and aisles.
The intuitive, fully proportional drive makes for smooth and tight movements. A zero inch inside turning radius and a 5 ft. 9 in. outside radius, lets you essentially spin in one place.
The machine's sturdy platform can be raised up to 18 ft. 9in. And provides a 24 ft. 9 in. overall working height. It gets you up to where you need to be. While elevated, the 1930ES can be driven at 0.5 mph for a continuous workflow.
While up top, workers will find the 6 ft. 2 in. platform spacious and provides a wide work area. Not wide enough? The platform can extend out another 36 in. for hard to reach work spaces.
As far as durability, the JLG's integrated components are designed with only two hydraulic hoses and four hydraulic fittings on the entire machine. This allows you to stay on the job longer by reducing the chance of leaks and service calls.
When it comes to safety, JLG's innovative SkySense technology reduces the risk of running into any type of object. The machine's object detection sensors warn the operator when a collision could occur. Along with these sensors, the 1930ES is equipped with motion alarms, a tilt alarm, descend warnings and a horn.
SIDE BY SIDE SPECS
| | | |
| --- | --- | --- |
| FEATURES | JLG 1930ES | Genie GS-1930 |
| Working Height Maximum | 24 ft. 9in. | 25 ft. |
| Platform Height Maximum | 18 ft. 9in. | 19 ft. |
| Platform height stowed | 2 ft 10 in. | 3 ft. 4 in. |
| Platform length | 6 ft. 2 in. | 6 ft. |
| Slide-out platform extension deck | 3 ft. | 3 ft. |
| Platform length extended | 9 ft. 2 in. | 9 ft. |
| Platform width | 2 ft. 6 in. | 2 ft. 6 in. |
| Guardrail height: fixed rails | 3 ft 7 in. | 3 ft. 3. |
| Height-stowed: fixed rails | 6 ft. 5 in. | 6 ft. 7 in. |
| Wheelbase | 5 ft. 3 in. | 4 ft. 4 in. |
| Ground clearance | 4 in. | 2.4 in. |
| Maximum platform occupancy | 2 | 2 |
| Lift capacity | 500 lbs. | 500 lbs. |
| Lift capacity – extension deck | 250 lbs. | 250 lbs. |
| Drive height | Full height | Full height |
| Drive speed – Lowered | 3 mph | 2.5 mph |
| Drive speed – Elevated | 0.5 mph | 0.5 mph |
| Safety Technology | SkySense | SmartLink |
| Gradeability – Stowed | 25% | 30% |
| Turning radius – Inside | 0 | 0 |
| Turning radius – Outside | 5 ft. 9 in. | 5 ft 1 in |
| Raise / lower speed | 26 / 30 seconds | 16 / 22 seconds |
| Drive | 24v electric | Dual front wheel |
| Multiple disc brakes | Electric, friction | Dual rear wheel |
| Tires Size | 12.5 x 4 in | 12 x 4.5 in |
| Power Source | DC | DC |
| Vehicle Weight | 2710 lbs. | 2748 lb. |
| Standards | AS/NZS 1418.10 2011 | ANSI A92.3, CSA B354.1, EN 280, AS1418.10 |
| Warranty | Full warranty coverage for 2 years. Major structural components for 5 years. | Major structural components for 5 years. 1 year for electrical, 3 years for hydraulic, 1 year for O-Rings, seals, hoses, and brakes |
| Battery | 4 x 6V, 220 Ah batteries | 4 x 6V, 225 Ah batteries |
| Hydraulic Reservoir: | 1 gallon | 3.75 gal |
| Cost | $14,498 | $14,299 |
CONCLUSION
Both the JLG and Genie are dynamic, versatile machines that increase will productivity, efficiency and have the utmost safety in mind. Each has very similar work features, yet there are varying options on the technology. We hope this comparison of two of the best slab scissor lifts in the industry helps your decision-making process.