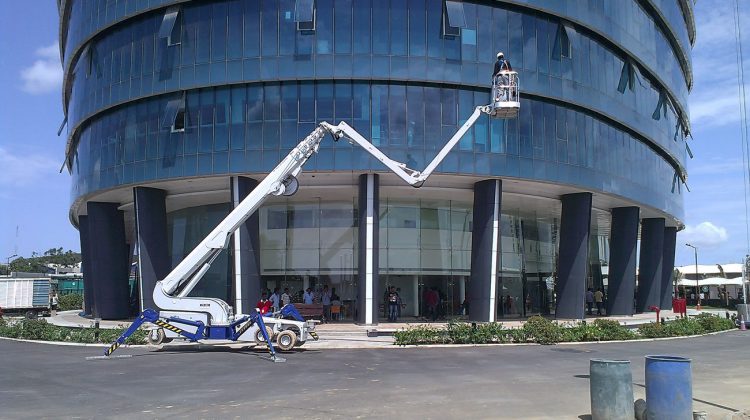 Chicago based USM ReRents announced that they have become the exclusive North American distributor of Falcon Spider Lifts, the original inventor of the spider lift.
ReachMaster, one of the largest Atrium Lift dealers in the US and the previous North American Falcon distributor, was recently acquired by Ruthman, the US truck mounted boom lift manufacturer.
I previously had the chance to speak with Ben Taft, president of Spimerica, about his recent partnership with Palazzani, the Italian spider lift manufacturer that he is working to introduce to the US.
JLG, Teupen, Jekko, Genie, UpEquip, NiftyLift, BlueLift, Platform Basket, Omme, and Denka are all among the increasingly crowded Spider Lift and Compact Crawler space.
So why the attention towards spider lifts?
I had a conversation with Matt Kline, CFO, and Tom Saxelby, VP of USM ReRents to discuss their recent Falcon partnership and why spider lifts are such an attractive investment.
First, let's dive into what a spider lift is.
What Is A Spider Lift?
Spider lifts, otherwise known as atrium lifts or compact crawlers, are articulating boom lifts designed to work in places that a traditional boom lift cannot. The spider lift was invented in the 1970's by the Falck Schmidt brothers to work at a height of up to 170ft but compact and light enough to work indoors.
A spider lift is easily identifiable due to its four outriggers, or legs, that lift the chassis of the machine off the ground to stabilize it on uneven terrain. These outriggers are what allow workers to safely reach points that are tough to access and are what gives them the spider-esque resemblance.
1. Spider Lift Rental Is Growing
USM ReRents, being a re-rental business, is a good pulse for rental utilization rates across the country. Given the state of the economy, rental rates are down across the board. However, utilization is starting to climb back up particularly among spider lifts and scissor lifts.
"People don't have enough of these spiders" said Kline.
"We have around 40 spiders in the fleet which are all doing quite well and have maintained nicely. There are a lot of empty buildings due to the pandemic which has opened up time for maintenance work to be done on these facilities" added Saxelby.
"There are a lot of good companies out there that are picking things back up. Oil has started to stabilize which has caused demand in Texas to climb back up. There is a lot of quoting going on for July" said Kline.
There is optimism that the equipment rental industry will not only normalize, but surge in the months ahead because of the pandemic.
"There are a tremendous number of airport projects, all funded already waiting for work to open back up. Boeing's Everett WA Factory is one of the largest buildings in the world square footage wise and they are building another one in upstate New York. There is going to be a boom when all of these projects resume at full force" said Kline.
2. Spider Lift Adoption Is Growing
The spider lift was originally invented to go places that a traditional boom could not in order to replace the need for scaffolding indoors. It has proven to be really effective for indoor up and over jobs as well as work that requires reach at a negative working height.
However, this once niche machine is being used on far more jobs than the hard to reach, indoor working heights.
"We have a 108' spider lift going out to a horse farm in Virginia, that is not a typical application for a Falcon. We have painters, treecare, glazers, oil refineries, you name it, asking for spider lifts" said Saxelby.
The spider lift's versatility is getting noticed by contractors of all types and replacing more than just the traditional booms and scaffolding. For instance, spider cranes, an adaptation of the spider lift, are beginning to replace traditional cranes and even helicopters.
3. Support Is More Readily Available
With a growing number of applications, I wanted to learn more about whether the USM ReRents team experiences any challenges with training or support working with a complex machine from an international manufacturer.
"[Spider lifts] definitely need orientation to use the product safely and correctly. There are complexities whenever you have remotes and outriggers being placed on uneven terrain like steps. Falcon certainly has some nuances to become proficient but they have been great for support" said Saxelby.
"Falcon actually has a portal we can login to for diagnostics. Falcon part orders come through no problem. There are also a lot of universal fitting parts that domestic aftermarket part suppliers can supply. The only thing missing is the onsite training which we are looking forward to doing more of once borders open back up" said Kline.
I asked what USM ReRent's plans are to support the spider lifts domestically.
"We are supporting the Falcon product out of our repair facility in Gallatin, TN and are going to expand out to the east coast shortly" added Saxelby.
This increase in support has made it easier for US contractors and rental companies to work with international spider lift manufacturers.
As Saxelby mentioned in a previous article about what he looks for in choosing an OEM partner, the increase in support lowers the total cost of ownership of the equipment and presents opportunities for the rental partner to innovate alongside it's OEM.
So what features make the spider lift so popular?
4. Spider Lifts are Lightweight
The Falcon FS 520C has a working height of 170ft but weighs half as much as the JLG 1850SJ which is the only JLG boom lift that can get to the same working height.
The light weight of the spider lift allows you to work indoors without worrying about cracking the marble or tile floor you are working on.
"They are a premium product versus a traditional boom lift but the ROI is higher. They are much easier to maneuver than a traditional boom, won't crack any tile or marble floors, and are much more efficient than scaffolding so our customers are able to get their jobs done much faster" said Saxelby.
"We had a customer in Texas take one unit to a gymnasium where they typically use scaffolding which takes days to put up and take down. They were able to get the whole project done in less than a day and were able to avoid the cost of putting up the scaffolding and shutting the building down for days" added Kline.
5. Fits Through A Single Door
The main advantage of a spider lift is its ability to access places that traditional booms cannot.
The Falcon 520C, which can reach a working height of 170 feet, can compress down to a width of nearly 4 feet and a height of under 7 feet.
This allows it to fit through a standard single door for any indoor job.
6. Climbs Stairs
The double crawler of the Falcon FS 370C/420C and its ability to climb a 37% gradeability while in it's transport position allows the machine to safely climb stairs and maneuver around turns.
The tracked system and gradeability also makes the spider lift versatile enough to work outdoors. The spider lift has been quickly adopted by tree care professionals and arborists as a safer alternative to climbing trees.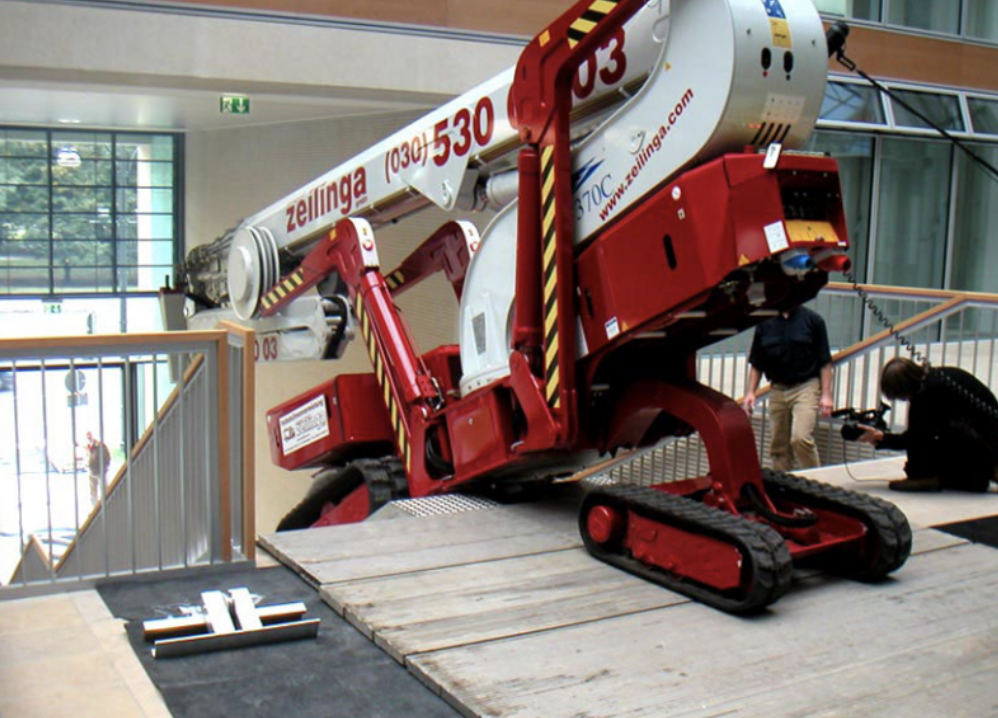 7. Works In Hard To Reach Jobs
The largest Falcon spider lift in USM ReRents fleet has a working height of up to 170ft and a double jib system that allows for a 200° reach. 
The double jib system can be hydraulically telescoped nearly 20ft. This allows workers to reach the up and over or underneath jobs that would be extremely difficult to get to with any other machine or scaffolding.
The outriggers are also independently controlled. This allows the operator to safely setup the spider lift in limited space.
Recap
The spider lift is becoming streamlined because of the many advantages it has for a growing number of jobs. This has created an opportunity for companies like USM ReRents to narrow in on owning a growing category.
Similar to our conversation with Kevin Gray of SkyReach about his focus on serving glazers, the more you can narrow your focus on certain types of customers the more your brand will be trusted among those networks.
Your Turn
Now we'd like to hear from you.
What has your experience been with spider lifts?
Do you see the same growth in the atrium lift category or are there concerns that will prevent widespread adoption?