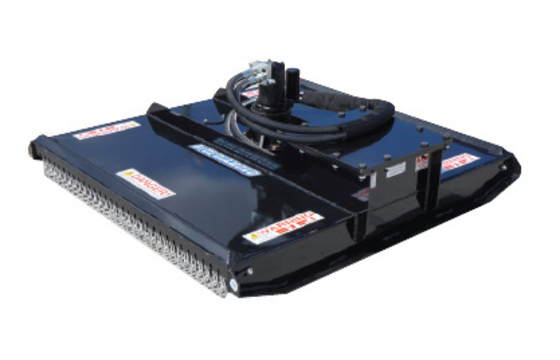 Blue Diamond Attachments
Part Number: 50 13-22 80cc
Brush Cutter, Mini Excavator Heavy Duty 50" Deck, 13-22 Gpm 80cc | Blue Diamond Attachments | Part #103600, 103610, and 103650
$11,421.07
Free Shipping!
An excavator brush cutter is a go-to attachment when you're clearing land, cleaning ditches, and shredding trees. Excavator brush cutters are useful for clearing trees, brush, and stumps down to the ground.
This helpful accessory digs into ditches and reaches up into tight spots for selective removal of bush and weeds. Bush fires are minimized significantly due to this attachment, with its careful movement in the spaces between trees.
What parts form an Excavator Brush Cutter?
Not all cutters are made equal, and some will have parts that differ slightly. The rotating cutter's standard parts are blades, drum, v-belt, poly chain, fixing and locking bolts, side, and inspection plates. There's also a hydraulic system, bearings, and a protective block for the drive motor.
What happens if your Excavator Brush Cutter is faulty & what can be the cause?
If your machine attachment isn't performing as it should, here's what to look out for:
Power loss - Hydraulic fluid is low, overheated, or contaminated; low level of gearbox lubricant; Gearbox is broken, or an input shaft key is missing.

Extreme vibration of the unit - There might be damage to the blades, or they're dull or broken; Gearbox shaft is bent; loose bolts and nuts or blade carrier is off-balance; Rope or wire is wrapping around blades.

Oil Leakage - A possible rupture of the hydraulic motor seals; the hydraulic connections can be loose; the Gearbox shaft might be bent; the motor drain plug is possibly loose or missing.
How do I choose an Excavator Brush Cutter?
When deciding on a cutting attachment for your machine, consider what material you're going to process. The other factor to consider is the environment where you'll be working, as the landscape type helps narrow down options.
What types of Excavator Brush Cutters are there?
There are two categories under which you can classify this attachment. Below, we discuss them in more detail.
Rotary Excavator Brush Cutters
This category has the cutting tool or blades which rotate parallel in position to the terrain.
Horizontal Excavator Brush Cutters
In this category, the blades of the attachment pin onto a steel drum. There are three forms of this attachment, namely flail, fixed, and ax blade.
Flail: This component creates the finest mulch and is also the fastest, using sharp blades or blunt hammers to break up underwood.
Fixed tooth: The fixed tooth mulchers effectively cut below level terrain and sometimes reduce metal in bushes. The blades of this cutter are attached to the exterior part of the drum.
Ax blade: These mulchers are proficient at trimming weeds, brush, and grass up to six inches in diameter. Its head consists of sharp blades and is handy for producing fine cuttings, although they need regular sharpening.