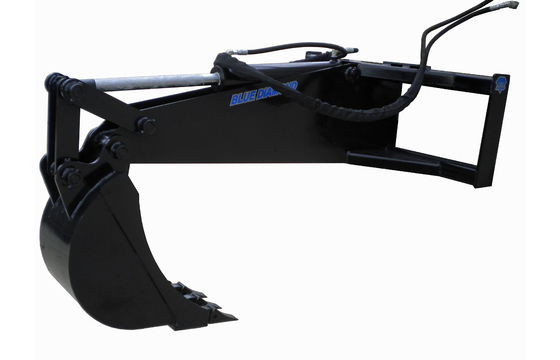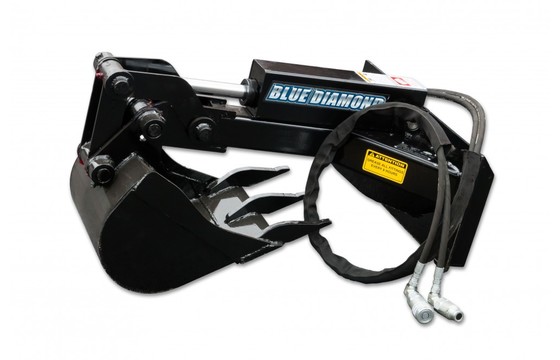 Blue Diamond Attachments
Part Number: 130500, 130505, 130509, 130512, 130515
Mini Hydraulic Backhoe Only, 48" Long, Mini Uni Mount | Blue Diamond Attachments | Part #130500, 130505, 130509
Backhoe attachments have a variety of uses across different industries. Here's a closer look at how they function, and what you need to keep in mind if you're looking for one.
Which Parts Do Backhoe Attachments Consist Of?
Backhoe attachments are relatively complex to facilitate all the functions they need to fulfill. Besides the primary bucket, arm, and boom, there's also a full complement of hydraulics. Depending on which type you buy, it may also feature a grappling hook.
What Do You Use Backhoe Attachments For?
This type of attachment allows you to use your skid steer to perform tasks previously restricted to equipment like backhoes and other digging apparatuses. The main focus of this kind of device is excavation and lifting.
How Do Backhoe Attachments Function?
A skid steer attachment works through a fully hydraulic system. Not only does it feature the typical backhoe abilities, but a hydraulic function allows it to move left or right freely on the front of the skid steer.
You can have either a fixed-arm attachment or a mobile one. In the case of a fixed-arm device, you can move the entire arm up and down and move the bucket independently.
However, if you have a mobile unit, it will usually consist of an arm and a boom, allowing a whole extra range of movement.
Nevertheless, whichever attachment you choose, the concept stays the same. You line up the arm with the location you want to dig in and use the arm and bucket's combined up and down functionalities to dig a hole or trench.
If you have a bucket with a grappling hook, you can use the same concept to lift and move items.
What Will Happen If My Backhoe Attachment Isn't Working Properly?
Any faulty backhoe attachment will apply an extreme amount of unnecessary pressure to your skid steer. Symptoms of this may be that the skid steer might creak, move slowly, or show other signs of taking more strain than usual.
In severe cases, the machine may fail to lift or dig entirely. The attachment may move slowly in less complicated cases, or the device may operate well without the attachment responding.
When Should I Replace My Backhoe Attachment?
Typically, you only need to replace a backhoe attachment when it well and truly fails. This kind of device consists of many loose moving parts that you can repair when facing a problem.
However, when you reach the point where the machine as a whole isn't functioning efficiently, consider a replacement.
Choosing the Right Backhoe Attachment for Your Skid Steer
Fortunately, the hydraulics system narrows down your options significantly as you can only buy one that matches your machine.
The only question you need to ask yourself is for what you'll be using the machine. If you're going to be lifting things, consider a grapple attachment. If you plan on digging, choose the bucket size according to the trench's size you need to create.
Finally, do you require a movable arm's functionality, or is a fixed arm sufficient for your purpose?