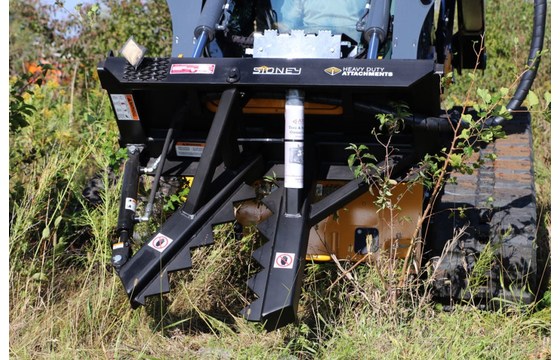 Sidney Attachments
Part Number: TJ12UN-TRK
Attachments | Tree & Post Puller | Part #: TJ12UN-TRK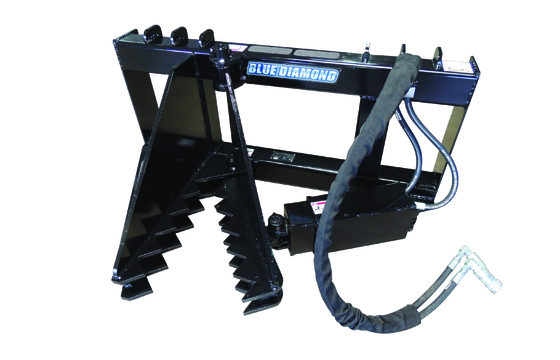 Blue Diamond Attachments
Part Number: 127006, 127010
Tree And Post Puller, Standard Duty | Blue Diamond Attachments | Part #127006, 127010
Blue Diamond Attachments
Part Number: Tree and Post Puller, Hd
Tree and Post Puller, Hd | Blue Diamond Attachments | Part #127006, 127010
This component is primarily used to pull out trees and remove fence posts. Elimination of brush and other foliage is made possible with this accessory too.
The skid steer tree puller is useful in projects for arborists, landscapers, and farmers, including private garden or yard upkeep.
What Are the Features and Parts of a Skid Steer Tree Puller?
This attachment is universal and therefore fits most standard machines. The environments that this accessory works in requires it to withstand corrosion and rust; therefore, a powder-coat finish is necessary.
This attachment's jaws have hydraulic cylinders powering its clamping ability, a single hinge pin and rugged steel teeth. These teeth eliminate roots and wood fence posts from the ground.
Some flat-faced couplers and hoses form part of the attachment's functionality, as they maintain pressure levels the operator requires during operation.
What Problems Can Arise and How Do I Solve Them?
Machinery and its attachments can have hiccups at times, but resolving them is possible. We discuss three of these below:
If the hydraulic cylinder doesn't operate:
It's possible that the quick coupling didn't engage: reconnect them to your equipment.

The hydraulic flow of the machine isn't active: reactivate this system.

There is inadequate hydroelectric flow: check the stream at the attachment.

Your machine's low on hydraulic fluid: top up the quantity.

There's a chance that the hose broke, or there's a pinch or obstruction in the circuit: replace the damaged piping; correct the pinch or remove what's obstructing the fluid.

There's air in the hydraulic lines: couple the system to the attachment until full expulsion of air is complete.

There's damage to the cylinder, or the rod bent: repair or replace accordingly.

The hydraulic cylinder is damaged: repair hydraulic cylinder.

The cylinder rod is bent: replace cylinder rod.
If a tree does not pull:
Get to know the species of trees you work with, as some have stubborn root systems. Move your machine back and forth or side to side to help loosen the roots. Sometimes using the spade part of the jaws to dig at the roots will help.

The soil can be too wet to support your machine or too dry and hard to pull the trees from the ground. Wait for it to dry or firm up after some rain.
Post does not pull:
What Do I Need to Look for When Choosing a Skid Steer Tree Puller?
There are a few points to take into consideration before you purchase an attachment. Here are things to keep in mind:
Operation Capacity: The capacity of your machine will limit the size of trees you're able to pull. Higher capacity equipment enables larger tree pulling to be possible.

Condition of the ground: Dense soil requires more force and power to pull up plants and trees.

Jaw Opening Width: Larger trees need jaws to open wider to fit their circumference for safer, firmer removal.
Tree Type: There are different root systems for various trees; deeper and thicker roots call for a heftier attachment or need more groundwork to release the flora.