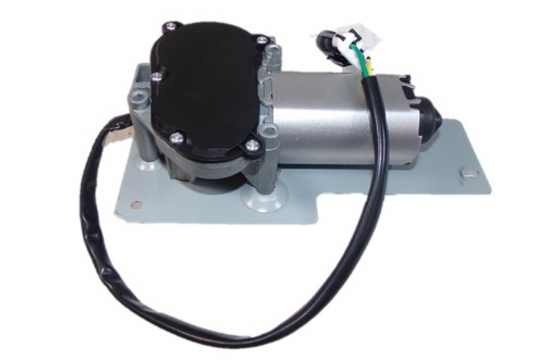 Loader Parts Source (LPS)
Part Number: WWF12C15-210
Includes the Motor, Electrical Connector (pigtail) OEM 6677836, and Cover OEM 6677836.
Trenchers play an essential part in many plumbing and cable installation industries. However, few people realize how many parts come together to make these machines function. they are heavy-duty vehicles, and many parts will require regular repair or replacement.
The most commonly used type of trencher is the chain variety. You can find variants of this vehicle at most large vehicle supply stores.
Trencher Chains
As the name implies, the chain is an essential part of this type of vehicle.
Chains come in different lengths, widths, and levels of durability, depending on its purpose.
The size and width of the chain is dependent on the type of trencher that you use. If you have a larger trencher, you will need a longer, wider chain than small compact varieties.
A chain type that has become particularly popular of late is one that has removable teeth. Buying such a chain allows you to change the teeth on your main chain depending on the terrain.
These chains have tremendous financial implications as you don't need to buy a separate set of chains for every type of terrain you wish to work. Instead, you can buy the teeth that you require for the ground you're trenching.
Trencher Teeth
When using this type of chain, teeth are the next most commonly replaced element on a trencher. They're sometimes referred to as auger teeth because they're similar to augers used to dig boreholes and wells.
The main reason for replacing them is that they take a lot of wear while cutting through rock, frost, and soil. You can buy thin cutting teeth that make narrow trenches to allow for electrical cabling, to large jagged teeth for cutting rock and frost.
You can also use multiple types of teeth as a combination system when you're trenching soils that are somewhere between sand and rock. Whether you're buying complete chains or simply teeth, always consider the type of terrain before making a final purchase.
Potential Problems With Trencher Chains and Teeth
Both of these parts of a trencher take a tremendous amount of strain during the cutting process. Either or both of the chains and the teeth could snap at any time.
Naturally, if the chains snap, you're left without a trencher and will have to replace them. The same is true for the teeth.
Since both of these essential parts are inexpensive and easy to replace, doing repairs shouldn't be a problem. If you continue to use your trencher with teeth missing, you'll have jagged cuts and experience unnecessary strain on your trencher's motor and arm.
A Note About Trencher Teeth
Trencher teeth not only come in a variety of sizes, but different hardnesses as well.
Any reputable dealer will organize them by their hardness and purpose, so you can easily find what you want.
When you purchase teeth, ensure that you buy the correct size and durability for your chain and project. You'll be surprised how much life you can get out of an appropriate tooth.