> Higher-than-OEM Standards


> Only Virgin Rubber Used in Thailand Factory
> Patient and Highest-Quality Mixing Standards
> Engineering, Testing, and Tools of the Highest Grade
> Just as Many McLaren Tires in the World as Chevy + Ford Combined
McLaren Industries is a privately owned US company founded in 1997. The company is widely recognized as a high quality manufacturer of OEM and aftermarket rubber tracks, over-the-tire tracks and solid cushion tires for a broad range of construction machines, carrier vehicles, and agricultural equipment. Thanks to the professionalism of its employees, the utilization of highly advanced technologies and quality raw materials, McLaren has quickly become a world leader stretching beyond customary limits to design and build innovative rubber and steel products.
For over 20 years McLaren has proven to be a rock-solid vertically integrated manufacturer and distributor. In recent years, the company has expanded its activities in direct response to meet increased market demand. McLaren is now directly involved in the design and manufacture of machinery, molds and tooling for the rubber industry, rubber mixing and compounding, and the design and manufacturing of finished rubber and steel products, to include a wide range of rubber tracks, over-the-tire tracks, and solid cushion tires.
The new state-of-the-art manufacturing plant in Thailand, which is currently the largest country producer of natural rubber in the world, allows McLaren to deliver competitively high quality products to satisfy even the most demanding customers. In 2017, McLaren Thai factory was certified ISO 9001: 2015 by SGS SA, recognized as the global benchmark for quality and integrity, and the world's leading inspection, verification, testing and certification company.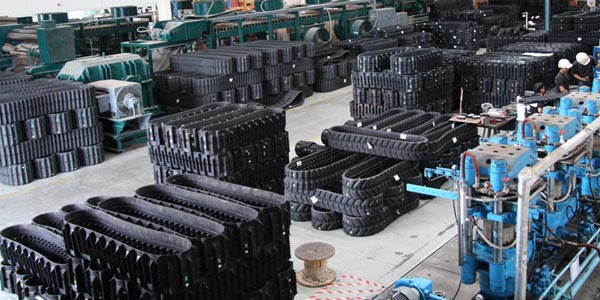 In-stock orders placed before noon EST are shipped the same business day. Distribution centers:
Jacksonville, FL
Portal, GA
Kearny, NJ
Rancho Cucamonga, CA
Alsip, IL
***Please note for Residential Deliveries: $75 delivery fee added
McLaren Industries Inc. provides different warranty periods depending on the product line and price level.
The warranty shall be enforceable from the invoice date.
The warranty is prorated to reflect remaining time unused within the warranty period
Any modifications to the product without a written authorization by McLaren will void the warranty.
McLaren does not warrant its products to meet any OEM requirements, nor assume responsibility for costs and/or damages resulting from the product use. There are no other warranties.
Product sizes can and do vary in width and height, which can cause damage or a clearance problem. It is the responsibility of the customer to determine that final fit including clearances and safety shielding is correct.
McLaren Industries Inc. warrants McLaren products against defects in material and workmanship, subject to the following limitations. This warranty shall not cover defects resulting from improper or abnormal use, damage as a result of machine failure, lack of undercarriage maintenance or damage from the effects of field material and workmanship. Furthermore, this warranty cannot be transferred from the original owner of the product.
In case of a claim, the customer must provide all requested information on the claimed defect.
Upon approval of the claim, McLaren Industries Inc., at its sole discretion, will compensate the customer in one of the following ways: (1) Repair, (2) Replacement, or (3) Credit of the prorated amount against a future purchase of any McLaren products. McLaren's liability with respect to any such defect is limited to such correction, replacement, or credit.
McLaren Industries Inc. shall not be subject to, and disclaims:
1) Any other obligation or liabilities arising out of breach of contract or warranty,
2) Any obligation whatsoever arising from tort claims, including negligence and strict liability, or arising under other theories of law with respect to the products sold or services rendered by McLaren, or any undertakings, acts, omissions, relating thereto, and
3) all consequential, incidental, and contingent damages whatsoever. In all events, the extent of McLaren's liability for enforcement or breach of the foregoing warranty is limited in amount to the sale price of the product covered by this instrument.
The above warranty is exclusive, in lieu of and to the exclusion of, if allowed by law, all other warranties, whether expressed or implied, including the implied warranties of merchantability, fitness for a particular purpose, and non-infringement. No oral or written information or advice given by McLaren, its employees, or dealers shall alter, modify, or increase the scope of the above warranty or create any new warranties.
To the fullest extent allowed by law, this Sale Agreement expressly excludes all implied warranties, oral or written, including, without limitation: (a) any implied warranties of merchantability; and (b) any and all implied warranties of fitness for a particular purpose. There are no warranties that extend beyond the description on the face thereof.
To the extent an implied warranty cannot be excluded under applicable law, the implied warranty is limited in duration to the applicable express warranty periods. Because some jurisdictions do not allow limitations on how long an implied warranty lasts, the above limitation may not apply, and other rights may exist and may vary from jurisdiction to jurisdiction.
For the warranty detail of your purchase, please contact us at corporate@mclarenusa.com.