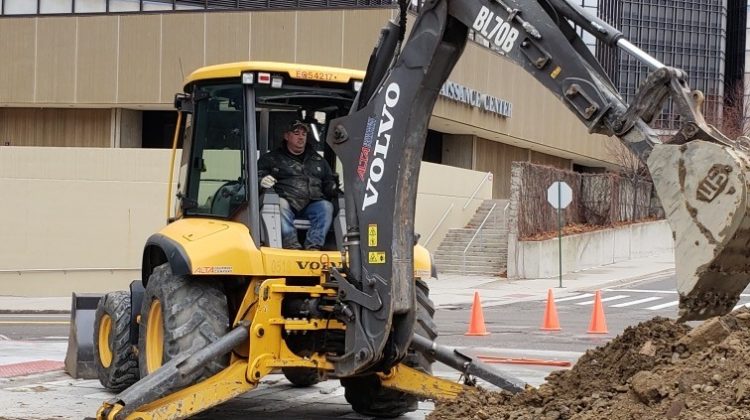 By Karen Scally
Nothing is more aggravating than when your construction equipment goes down.
"It makes you want to punch something," says Dave Marsh, president of Nu Pipe Lining, a Michigan-based water and sewer pipe contractor. "If a backhoe had a throat, I would have punched it in the throat a few times."
His frustration is a common one among contractors. The amount of time trying to find heavy equipment parts needed for repairs leads to productivity losses, missed deadlines, and project overruns.
"When you shut down on a project because of a piece of equipment — and you're spending hours that day trying to source and find that part when the equipment is down — just the payroll alone if you're on a prevailing wage project can add up quickly," Marsh says. "It's just ridiculous the amount of money and cost that you incur when a piece of equipment is down."
This pain around heavy equipment parts is a contributing factor to the construction industry's pervasive productivity problems, which costs the global economy $1.6 trillion a year. It's often due to contractors depending on limited sources and inefficient processes for their parts needs.
But over the past year, Marsh has unlocked access to a broader parts supply that until recently has been previously unavailable.
How can you tap into these hidden sources for your construction equipment fleet needs?
The answer is right at your fingertips.
A Legacy of Parts Procurement Headaches
Marsh's problems of finding heavy equipment parts quickly and efficiently go back just about as far as he can remember.
"I've basically been in the construction and excavating world my entire life," he says. "My grandparents, my dad, and I grew up running equipment and drilling wells and putting in septic systems."
In 2002, he started his own company. Nu Pipe Lining is a pipe lining and pipe bursting company that specializes in water, sewer, and some oil and gas work in the Midwest.
In the early days of the company, Marsh says his parts procurement methods were rather haphazard.
"When I first started Nu Pipe and a machine went down, we didn't have much of a parts strategy," he says. "Our strategy was … let's go pillaging a junkyard or some equipment boneyard somewhere and hope they've got what we need, and hopefully I can make a deal with them, because we couldn't even afford dealer parts."
A lot has changed since those scrappy days starting out, but as Nu Pipe grew, it didn't mean that getting the right parts for their construction equipment fleet got much easier.
"It's always kind of a pain in the butt," Marsh says. "It's a pain in the butt when any piece of equipment is down no matter what."
Marsh says he has primarily relied on his heavy equipment dealers to locate the parts he needs, as most contractors do. During the 2021 Association of Equipment Management Professionals (AEMP) Connect Conference, nine out of 10 attendees reported that they turn to their dealers first as well.
One of the main benefits of leaning on your dealer is that it's a known channel: The dealer knows you and your equipment brand.
But Marsh says that dependability doesn't necessarily translate into speed.
"Finding the right part could sometimes take several days, based on the salesperson you got or what counter guy you got at the dealership and how ambitious they are to actually help you," he says.
Once a dealer has located the part, it could take weeks more after ordering it for them to get it in stock based on shipping and availability. Then when it is ready, Marsh says it often means dropping what you're doing and driving three to four hours to go pick it up.
Adding to this headache is the fact that sometimes he would return to the shop, only to discover that it's not the right part.
"Just because someone works for a dealer doesn't mean they know anything about the piece of equipment that you're trying to fix," Marsh says. "You need a resource that you know will offer detailed information on a part, and if it's the right one for your machine."
Finding the Hidden Sources for Heavy Equipment Parts
What many contractors don't know is there are multiple channels that exist for finding replacement parts for their heavy equipment fleet.
Those sources include:
Part manufacturers
OEMs
Local dealers
Aftermarket part suppliers
Refurbished part suppliers
Obsolete part suppliers
Historically, it's been very challenging to discover part sources outside of the dealer or OEM, even though there are hundreds of suppliers out there. One of the few ways to do so is during construction trade shows, the largest in North America being ConExpo-Con/Agg, held once every three years in Las Vegas.
Still, that is not a comprehensive solution.
---
Want to learn more about how you can improve productivity by creating heavy equipment parts efficiencies? Check out the video presentation at the 2021 AEMP Connect Conference below.
---
In addition, many part suppliers lack an online presence, making it difficult to find information by searching on Google.
And if contractors locate an alternative part supplier, how do they know if it's a quality source?
In order to evaluate this, contractors should know:
How long has the supplier been in business?
Where are the supplier's parts manufactured?
What kind of materials does the supplier use?
What warranty options does the supplier provide?
What shipping does the supplier offer?
What is the supplier's return/exchange policy?
Does the supplier have any references or recommendations?
Some contractors have tried horizontal online marketplaces, such as eBay or Amazon, or ecommerce sites, which can offer limited insights into the quality of suppliers or specifications about the product. Plus, ecommerce sites have a 30% return rate compared to just under 9% for brick-and-mortar stores.
It's easy to see why most contractors rarely venture outside their known heavy equipment parts supply channel.
However, this past year, Marsh found a new source that is designed to solve all these challenges: a transparent, vertical online parts marketplace built completely for the construction equipment industry.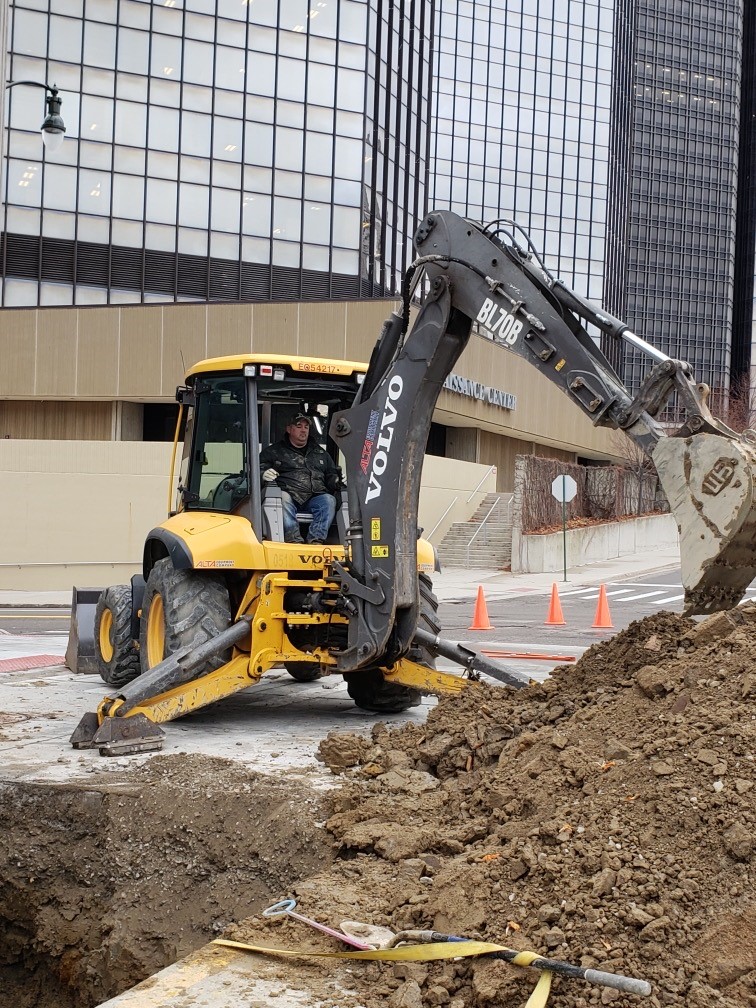 The Benefits of Increasing Heavy Equipment Parts Access
With a simple search, chat, or call, Marsh can find what he's looking for from dozens of vetted heavy equipment part suppliers, including OEM and aftermarket, on Gearflow.com. If one supplier doesn't have the part available, another one is bound to have it in stock and ready to ship.
"That's made it 100 times easier … it's given us more options," he says. "Over the last year, the time that we have spent on getting parts has been far less than the previous years."
Once the correct part is located, Marsh hasn't needed to spend hours on the road to pick it up.
"We don't have to drive to get anything; it's delivered right to our shop door, usually within a day or two," he says. "I'd much rather spend my time waiting for the part while getting other work done than spending a day in the car driving to get the part."
One of the concerns that contractors may have about using an online marketplace is that they would lose the element of personal customer service.
"Nothing beats talking to someone who knows exactly what you're looking for and what you want," Marsh says.
He says the differentiator with this online marketplace is that it is created for the construction equipment industry with staff that is experienced in it. That knowledge and dedication to the market has kept Gearflow.com's return rate to just 6% in 2020.
"If you're having trouble on a site, and you're able to call for help and have someone who is articulate and who can know exactly what you need, that is priceless," he says. "And we've found that kind of service only enhances online parts procurement."
For example, Marsh says a few months ago, his crews found themselves in a desperate situation when they lost a set of keys to a scissor lift they needed to use on a job site.
"I made a call to a sales rep for the online marketplace with the serial number of the machine and had the keys the next day," he says.
Going to one place that aggregates many quality heavy equipment part suppliers instead of depending on a single source has helped Marsh's crews get back to work much faster when equipment does inevitably fail.
"I would estimate that over the last year, we've saved about eight to 10 hours a month," he says.
"Honestly, it's hard to place a value on how beneficial opening up parts sourcing has been."
Overall, Marsh says it's allowing Nu Pipe to focus on its successful growth.
"Opening up parts procurement this way is keeping us more productive," Marsh says. "At the end of the day, that gives us the opportunity to be more profitable."
Looking for more content designed to provide additional insights for heavy equipment management? Make sure to sign up for the Gearflow newsletter here.