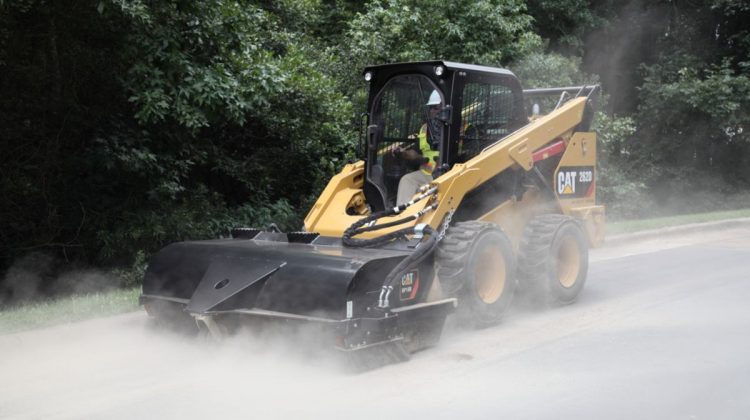 By Karen Scally
Skid steer loaders are one of the most popular types of compact construction equipment, due to their wide range of available attachments and easy maneuverability around the job site.
If you own these small-but-mighty workhorses, at some point, you will need to find replacement skid steer tires.
To help your research, we've put together the ultimate list of skid steer tire brands, compiling info from trade show exhibitor directories, construction equipment media guides, distributor listings, and web searches.
With almost 40 brands listed below, you should be able to locate the best skid steer tires in the dimensions and treads that fit your particular model and application.
Basic Skid Steer Tire Terms
Before you get started, there are a few skid steer tire terms that are important to know.
Pneumatic: Tires that are air-filled and often the most cost-effective option.
Solid: Durable and long-lasting tires that cannot be punctured.
Foam-filled: Reduces the possibility of a flat tire but are not solid-state.
Radial vs. Bias: According to For Construction Pros, radial tires are constructed in two parts using steel belts, whereas bias tires commonly use layers of rubber-coated plies of nylon.
Finding the Right Skid Steer Tire
Before you buy skid steer tires, you also need to know your:
Skid steer model
Tire/wheel dimensions
Desired tire construction (see terms above)
Appropriate tread pattern for your application
Number of bolts
Bolt diameter/spacing
We recommend working closely with your customer service representative at your supplier or distributor to ensure you select the proper fit and type of tire.
Read on to find the skid steer tire brand that's right for you.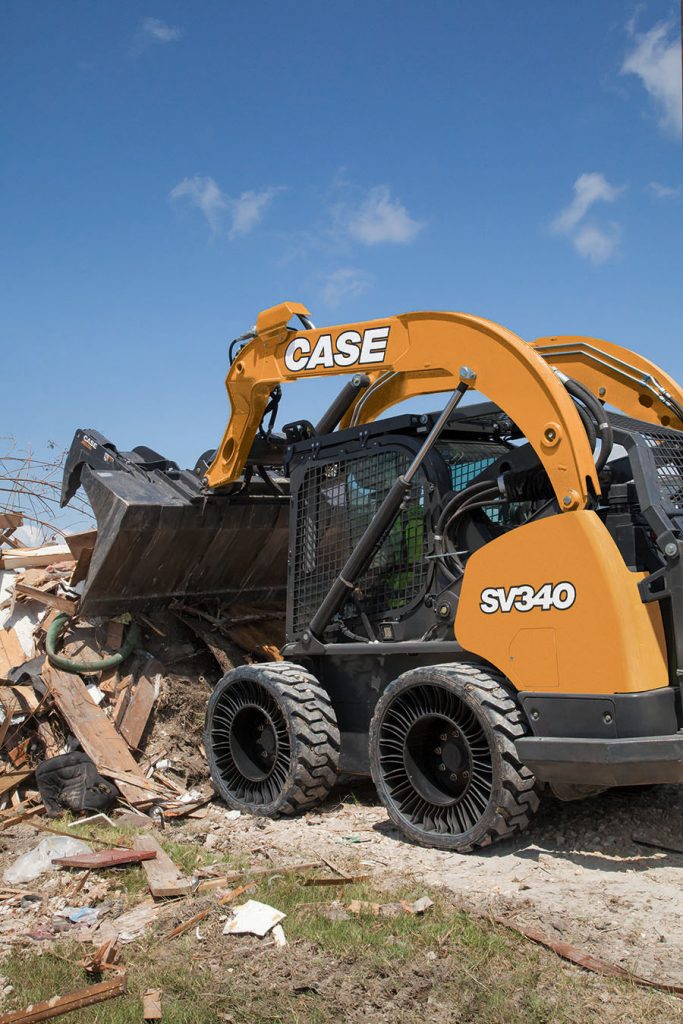 Armadillo (Exmile, MileMax, Eclat, and Kilomax)
Armadillo Tire LLC, located in McGregor, Texas, opened in 2014. Founded by Steven Smith, Armadillo searches for the best skid steer tires and brings factory-direct pricing to you. Armadillo offers a one-year warranty from the date of purchase or 500 hours from the date of installation (whichever comes first) for its solid and pneumatic skid steer tires.
Established in 1995, Blue Diamond Attachments is located in Knoxville, Tennessee. The company's average ship time is 3.5 days with 69% of orders leaving the facility in two days. Blue Diamond offers snow tires and wheel sets for skid steers with a 90-day satisfaction guarantee for its end-user customers.
Balkrishna Industries Limited (BKT) launched its off-highway tires in 1987. The company has a research and design center in Bhuj, India, that focuses on innovative product design and development and the use of sustainable materials. BKT produces its tire molds and carbon black pigments in-house, and all tires undergo 500 tests in their production cycle. BKT offers at least 11 skid steer tire models with bias construction.
Genuine Bobcat Parts for Bobcat skid steer loaders allow for work in extreme conditions. Some Genuine Bobcat Parts are available online, including its Bobcat Heavy-Duty skid steer tires, which are designed to protect against punctures and cracks with their bead guards and extra-thick sidewalls. Self-cleaning rubber and a high ply rating make them ideal for rough applications such as rental, construction, landscaping, and industrial jobs. They offer solid and pneumatic models.
Camso (Solideal)
Camso serves the material handling, construction, and agriculture industries by manufacturing and distributing pneumatic, airless, and solid skid steer tires. Camso operates its own foundry and works "from the tree to the tread," offering award-winning skid steer tire models that feature bias construction.
Carlisle produces skid steer tires for OEMs and aftermarket retailers, and the brand is known for its quality, technology, and product performance. Carlisle offers at least five skid steer models appropriate for a variety of applications and job site conditions.
Genuine Cat Parts are built so that contractors can work with confidence. Caterpillar's Flexport construction tread tires, which feature models designed for skid steer loaders, offer patented sidewall ports and deep treads to deliver long wear life and traction.
Founded in 1982, Deestone is a manufacturer and international exporter of a wide range of tires. Located in Thailand, Deestone supplies premium quality tires to over 90 countries worldwide. The company offers at least six skid steer tire models.
Since 1992, Double Coin has offered its tires in North America. Double Coin skid steer tires feature a uni-directional tread and radial design construction to enhance performance and increase tire life.
Evolution Wheel provides innovative heavy equipment traction technology. The company uses extensive engineering, R&D, and destructive testing to develop its patented products. Evolution Wheel offers replacement tires for a variety of skid steer brands and models.
Firestone and Bridgestone off-the-road tires are available through more than 2,500 certified dealer and partner locations across the U.S. and Canada. For more than 100 years, Firestone has offered some of the most durable tires on and off the road today, with at least five skid steer tire models featuring bias construction.
Pro Tip: Did you know the tires for the Genie GTH-5519 telehandler can also be used on a skid steer?
With its American heritage and European manufacturing, General Tire has offered tires for more than 100 years. In early 2021, General Tire announced it is launching three new skid steer tire models to extend its current earthmoving tire line.
JLG Aftermarket Parts supplies solid aperture tires for skid steer loaders. Their solid skid steer tires offer a low cost-per-hour use with their durable natural rubber compound construction that provides three to five times longer life than standard pneumatics.
The Kage founders have 60 years of combined experience in grounds maintenance. Kage offers its Klawz snow tires for skid steers to provide ultimate traction and control. The tire's gripper tread features a wavy pattern and open edges to allow more weight per square inch.
Maxam Tire offers quality, reliability, and value. The company's solid skid steer tires are ideal for extreme applications, and their extra deep tread provides three to five times longer tire life compared to pneumatics.
McLaren Industries is a leading manufacturer and supplier of solid skid steer tires, with a complete range of flat-proof skid steer tires. For over 20 years, McLaren has delivered innovations for the construction machinery solid tire industry. Their solid tires are ideal for rough terrain to avoid downtime and improve productivity.
The Michelin X Tweel SSL family of airless radial tires eliminates downtime from flat tires. The energy transfer from their poly-resin spokes reduces bounce associated with pneumatic tires, while providing superior handling. Two tread designs are available: all-terrain and hard-surface traction.
In 2016, Mitas became part of Trelleborg. Currently, the Mitas-branded tires are produced in the Czech Republic, Slovenia, Serbia, Sri Lanka, and in one production plant in America. Mitas offers at least five skid steer tire models.
MWE offers performance and reliability with its XTRA WALL and Lifemaster pneumatic skid steer tires. These off-road air-filled tires are known for their deep tread, damage resistance, and premium-engineered rubber compounds.
Fred Taylor founded OTR Wheel Engineering in 1987 as a small wheel shop in Rome, Georgia, and it landed its first major OEM customer in 1995. OTR Wheel Engineering has five patents on its tires and offers over 300 tread types and sizes.

With over 20 years of operation as a discount OTR distributor, OTRUSA.COM offers pneumatic skid steer tires with a wide profile. The company has 12 warehouses throughout the United States for rapid delivery on domestic orders.
Serving the construction industry since 1993, Prowler Industries is headquartered in Greensburg, Indiana. Prowler's solid skid steer tires feature large aperture holes to reduce vibration and provide a softer ride for the operator.
Tom "Junior" Salisbury founded Reliable Aftermarket Parts in 2009 with a small online store in his basement and has since experienced significant growth. Reliable offers aftermarket parts that meet or exceed OEM specifications with free standard shipping to the 48 contiguous states.
Rio Rubber Track Inc. specializes in manufacturing premium quality rubber and carbide replacement wear-parts for heavy construction equipment. Rio's solid skid steer tires feature flame-resistant premium rubber compounds and are ideal for hazardous environments.
RubberTrax Inc. offers aftermarket replacement flat-proof cushion tires mounted on reusable rims. The company's flat-proof solid-cushion tire lasts up to four times longer than pneumatic skid steer tires. RubberTrax solid cushion tires fit a variety of skid steer models.
Sentry Tires makes pneumatic and solid tires with manufacturing facilities in Vietnam, China, and Taiwan, and its products are sold in over 25 countries worldwide. The company offers at least 10 patterns for its skid steer tires.
According to Setco Solid Tires, the company created the first OTR solid tires on rims, and it runs its solid rubber tire operation out of a 100-acre facility in Idabel, Oklahoma. Setco skid steer tires are compression molded for durability and longevity.
SnowWolf is a family-owned company that offers its WolfPaws snow tires for skid steers. WolfPaws provide nearly double the ground pressure, and their tread pattern is specifically designed for snow and ice.
Estabished in 1984, Super Grip Corporation builds tires using only the best raw materials available. Super Grip uses high-grade natural rubber, quality carbon black, and ultra-high tensile nylon cord. Its skid steer tires feature extra heavy-ply construction and a thick body design.
Founded in 1964, Superior Tire & Rubber Corp. is a designer and manufacturer of polyurethane and rubber industrial components, and its products are engineered and produced in the United States. Its solid Cushomatic skid steer tire features 100% virgin-tread rubber with no fillers or segments, allowing for a softer ride and low maintenance.
Taiga Traction LLC has over 30 years of experience providing replacement parts as well as parts designed for OEMs. The company offers at least five skid steer tire models.
Titan (Goodyear Farm)
Titan International Inc. is one of the largest manufacturers of off-the-road tires and wheels. Titans design, tests, and manufactures tires to fit many equipment types and applications, including skid steer loaders, offering both radial and bias construction.
Since 1997, Trident has specialized in design, development, and distribution of industrial tires and tracks. Its solid skid steer tires feature a deep tread with an abrasion resistant compound and are available in a wide range of application-specific patterns.
Trojan Tracks was founded by Jeff Verhiel and Derek Charles, who both have decades of experience working with light and heavy machinery. Trojan Tracks manufactures and distributes skid steer tires for a wide variety of machines, and its flat-proof solid tires last up to four times longer than traditional, inflated tires.
TVS Srichakra Limited is one of India's largest manufacturers and exporters of off-highway tires, and the company exports to over 70 countries across the world. TVS offers at least nine skid steer tire models.
Founded in 1958, Tong Yong Cushion Tire makes solid skid steer tires for a variety of OEMs. Their tires feature a deep tread and a two-ply nylon cord to reinforce the tire rim.
Yokohama Off-Highway Tires includes three brands: Alliance, Galaxy, and Primex. The company has three manufacturing facilities, one in Israel and two in India, and R&D centers in Israel, North America, and India. They offer bias, radial, and solid construction for their skid steer tire models.
Founded in 1958, Zhongce Rubber Group Co. Ltd. is a leading manufacturer in China. They offer premium skid steer tires in at least four sizes.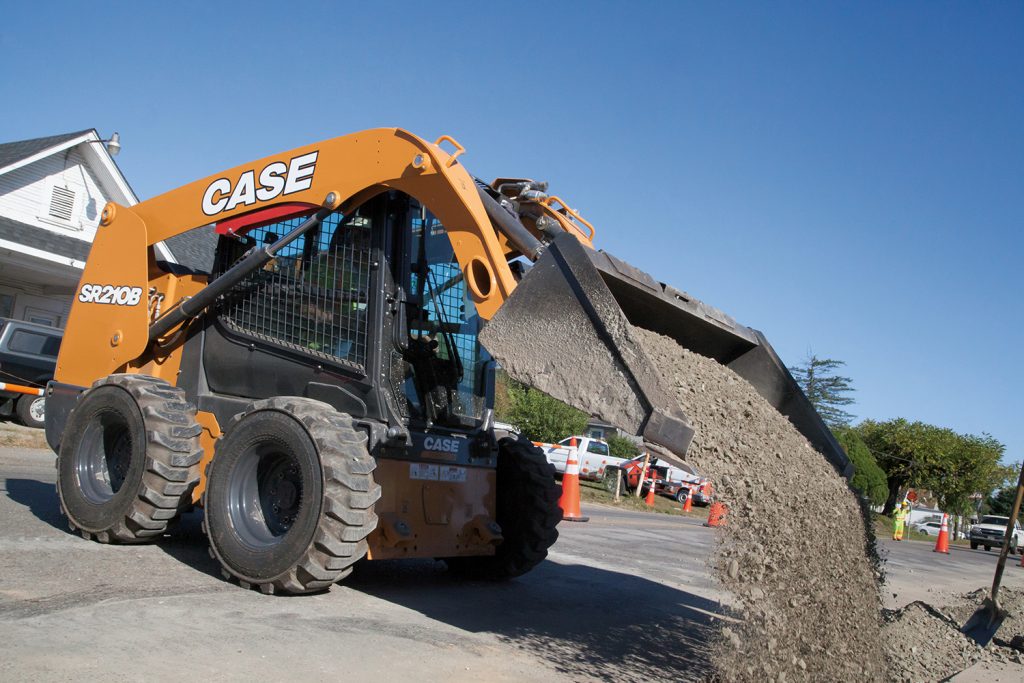 The skid steer tire industry is ever-changing, with mergers and acquisitions or new aftermarket companies entering the market. If there is a skid steer tire brand you know about that you do not see listed here, please comment below or send us an email so we can update the article.
Looking for more content designed to provide additional insights for heavy equipment management? Make sure to sign up for the Gearflow newsletter here.