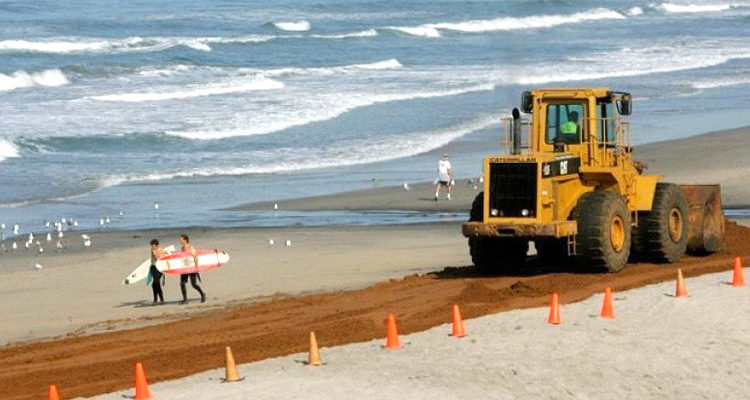 Starting a construction project in the San Diego area? Whether you are looking for heavy equipment or small construction tools, Gearflow compiled a list of local highly rated rental companies for outstanding customer service and quality equipment.
American Bobcat and Backhoe Service
5.0 stars (1 review)

Serving San Diego and Orange Counties for the past 41 years, American Bobcat and Backhoe Service has continued to serve their customers with first-rate service and state of the art rental equipment. Specializing in Bobcat and John Deere Extendahoes, American Bobcat has the heavy equipment expertise and professional customer service. They are constantly upgrading equipment and adding additional services to better serve customers. American Bobcat offers an full-time dispatcher and equipment is available 24/7.

420 Olive Ave, Vista, CA 92083
760-744-3125
http://ambobcat.com/
Clairemont Equipment Rentals
4.9 stars (16 reviews)

Since their beginnings in 1970, Clairemont Equipment Rentals has focused on providing quality, well maintained construction equipment for the private and governmental sectors. Now with locations in San Diego, Escondido, Fontana, Imperial and Indio, Clairemont only provides top of the line equipment manufacturers which is supported by superior customer service. They are Authorized Dealers for brands such as Komatsu Construction and Mining, Komatsu Forklift, JLG (SkyTrak), Stihl, Yanmar, Atlas Copco, Avant, Terex, and Gorman Rupp.

4726 Convoy St., San Diego, CA 92111
858-278-8338
https://www.clairemontequipment.com/
El Camino Rentals
4.9 stars (19 reviews)

For over 40 years, El Camino Rentals has offered a vast inventory of top quality equipment that contractors and homeowners look for to complete any type of project. Landscaping, renovations, construction and industrial projects, large or small. The equipment is up-to-date, company owned and well-maintained. They have a friendly and knowledgeable staff who actually care about your San Diego equipment rental needs. Many of the staff have been loyal employees for over 20 years. Listed as one of the 100 largest rental companies in the U.S. by Rental Equipment Register. El Camino Rentals serves all of Southern California from Orange County to the Mexican border.

1121 S Santa Fe Ave, Vista, CA 92083
760-724-7368
626 Equipment Rentals
4.8 stars (6 reviews)

626 Rentals provides well maintained earthmoving equipment, Bobcats, excavators, dump trucks, forklifts, scissor lifts, trenchers, construction tools and homeowners equipment. Serving ​San Marcos, Escondido, Carlsbad and Oceanside. The staff is experienced, qualified and service minded to help you with all construction rental needs.

175 Via Vera Cruz, San Marcos, CA 92078
760-744-5005
https://www.626rentals.com/
Toolshed Equipment Rental
4.6 stars (16 reviews)
Family owned Toolshed Equipment Rental specializes in homeowner equipment and construction equipment rentals. Serving all of San Diego County, their extensive inventory includes heavy equipment from manufacturers such as Caterpillar, John Deere, Bobcat, Ditch Witch, Vermeer, Multiquip, Barreto and Tanaka. The expert staff will assist and will train you on how to properly and safely use the equipment before you leave. Toolshed Equipment also offers U-Cart Concrete portable mixing trailers to make concrete delivery fast and easy.

156 W Mission Ave, Escondido, CA 92025
760-743-6700
https://www.toolshedrentals.com/
Fallbrook Equipment Rentals
4.5 stars (34 reviews)

A long time rental business in North County, Fallbrook Equipment Rentals has been serving San Diego, Imperial and Riverside Counties since 1966. Fallbrook provides well maintained earthmoving equipment, forklifts, scissor lifts, trenchers, construction tools and homeowners equipment.
Current owner Rick Windbigler bought the company in 1994, upgraded the lot size added over 6 million dollars worth of equipment. The staff is experienced, qualified and service minded to help you with all construction rental needs. Fallbrook Rentals also sells propane, Cart-A-Way cement mixing trailers, bagged concrete, mortar, lime and ready crete.

235 W College St, Fallbrook, CA 92028
760-728-1555
https://www.fallbrookrental.com/
Ocean Beach Equipment Rentals
4.5 stars (6 reviews)
Serving the coastal communities of Ocean Beach, Mission Beach, Point Loma and Pacific Beach, Ocean Beach Equipment Rentals offers a wide variety of state-of-the-art construction equipment. Their inventory includes Bobcats, excavators, boom lifts, scissor lifts, trailers, trenchers and smaller construction tools. All equipment is well maintained, safe and reliable. OB Equipment also offers parts and service repairs to your damaged or used tools. All done in-house to make sure your equipment is up and running for your next industrial, commercial or home project. Get 20% off your first rental.

2186 Bacon St., San Diego, CA 92107
619-224-2977
https://obequipmentrentals.com/
Sunstate Equipment
4.4 stars (7 reviews)

Offering a wide range of quality rental tools and heavy equipment, Sunstate Equipment has the inventory for any event or construction project throughout San Diego and surrounding areas. Whether it is a massive commercial development or smaller home renovations, Sunstate's fleet is top-quality, well maintained and in compliance with California Tier IV safety standards. For over twenty years, have been involved with great events like the Rock n' Roll Marathon and partnered with companies like Lockheed Martin. Sunstate's equipment has been onsite for big commercial projects like Manchester Pacific Gateway, the San Diego International Airport expansion, San Diego County Federal Courthouse, the Mid-Coast Trolley expansion, and widening of Interstate 5.

5590 Eastgate Mall, San Diego, CA 92121
858-546-1010
https://www.sunstateequip.com/
Quinn Rental Services
4.3 stars (8 reviews)

Located in Murrieta, Quinn Rental Services is an authorized Cat dealer that provides a full range of heavy equipment to meet any construction project needs. Quinn is a reliable source for renting quality Cat and allied equipment, including scissor lifts, boom lifts, excavators, lift trucks, skid steer loaders, compact track loaders, telehandlers and on-highway trucks. Quinn has also partnered with customers in general construction, government, landscaping, agriculture and a variety of other industries. This allows Quin to provide homeowners the machines and power systems they need to make a project possible. In addition to heavy equipment rentals, they also offer a comprehensive selection of machine parts and allied equipment sales.

41105 Raintree Ct, Murrieta, CA 92562
951-677-3787
https://www.quinncompany.com/
Ahern Rentals
4.3 stars (9 reviews)

Ahern Rentals carries one of the largest rental inventories of heavy construction equipment, hand tools, high reach equipment, rough terrain forklifts, boom lifts and scissor lifts. In addition to rentals, Ahern offers sales of new and used equipment, plus spare parts. Ahern Rentals works with all leading equipment manufacturers, including JLG, Genie, Kubota, Snorkel, Xtreme Manufacturing, Skyjack, Case, Stihl, Hyster, John Deere, Caterpillar, and many more. Founded in 1953, Ahern Rentals prides itself in offering the best rental equipment out there while providing the best service to their customers.

10529 Vine St, Lakeside, CA 92040
619-938-8242
https://www.ahern.com/
Pauley Equipment Rentals
4.0 stars (26 reviews)

Family owned and operated since 1983, Pauley offers complete dealership services including new or used equipment sales, rentals, parts, and service for the homeowner, contractor, and agricultural markets. They are constantly updating their inventory in order to offer the newest lines of rental equipment in southern California. Pauley specializes in hard to find equipment and is an authorized dealer for Kubota, New Holland, Mustang, Gearmore, Genie, Zieman, and many other leading manufacturers. If you are looking to buy, Pauley sells a wide range of equipment such as tractors, mini-excavators, and skid-steer loaders.

1110 W Washington Ave, Escondido, CA 92025
760-745-8745
https://www.pauleyequipment.net/
BJ's Rentals
3.9 Stars (14 reviews)

Founded in 1982, BJ's Rentals, is a locally owned equipment rental company with a vast inventory and knowledgeable staff. The equipment offered includes forklifts, boom lifts, scissor lifts, tractors, back hoes, concrete equipment, trenchers, pallet jacks and more. BJ's offer a convenient delivery and pick up to bring whatever equipment you need right to your job site or home. The equipment is regularly maintained by experienced mechanics which ensures quality equipment before it leaves the yard. BJ's Rentals has 11 locations throughout San Diego and Riverside Counties.

7585 Mission Gorge Rd, San Diego, CA 92120
Tel: 619-265-0690
https://www.bjsrentals.com/
Otay Sales Inc,
3.5 stars (24 reviews)

Otay Sales specializes in the sale and rental of construction and industrial equipment. One of the leading companies in Southern California, Otay provides the latest model fleet available which meets or exceeds California's strict carb laws. Family owned for over 100 years, Otay prides itself in not only offering the best maintained equipment, but the most knowledgeable sales team in the industry. Their vast inventory includes warehouse forklifts, boom lifts, scissor lifts, excavators, skip loaders, bulldozers, backhoes, trenchers, pallet jacks and more.

1596 Radar Rd, San Diego CA 92154
866-871-6188
http://www.otaysales.com/equipment_rental
Coast Equipment Rentals
3.4 stars (11 reviews)

Since 1982, Coast Equipment Rental has served near San Diego and North County for all types of heavy equipment and construction tool rentals. They are locally owned and operated and has earned a reputation for high quality equipment rentals and outstanding customer service. Coast can provide any type of equipment regardless if it is for a large commercial excavation or small residential project Coast is conveniently located off 78 at Emerald. It's large inventory includes boom lifts, backhoes, excavators, graders and scrapers, skidsteers, forklifts, bulldozers, all types of small construction tools and much more.

1713 West Vista Way, Vista, CA 92083
760-941-8003
http://coastequipmentrental.com/