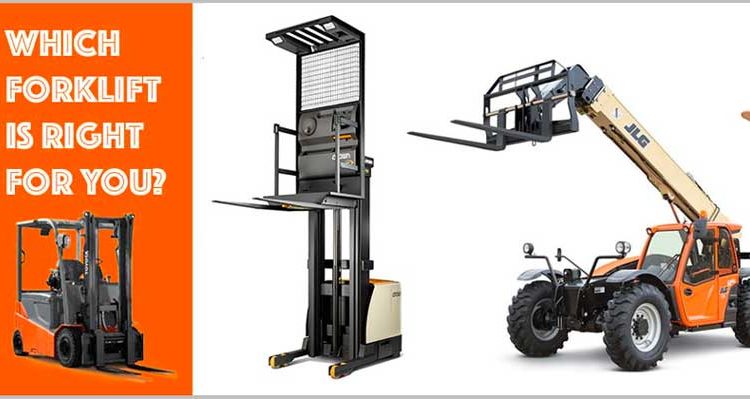 When buying or renting a forklift, there are many factors and types to consider. To help narrow down your options, Gearflow has put together an informative guide on the different types of forklifts and their uses. 
What type of forklift is right for you? It will mainly be based on the type of environment where it will be used. An indoor warehouse that has narrow aisles with tall inventory racks will require a specialized machine. An outdoor setting, such as a construction site, has more space, but typically needs a forklift with more lifting power for heavy materials.

The following is a list of the types of forklifts in the industry and some guidelines on which machine is right for you. Let's break it down.
Warehouse Forklifts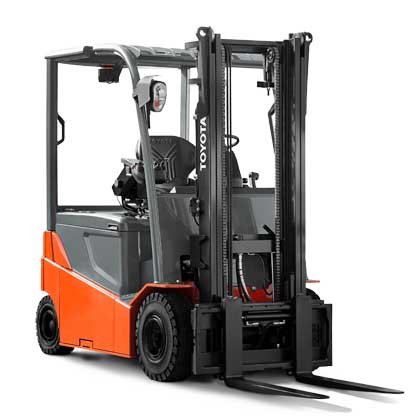 When you think of a forklift, this is the classic style you picture in your mind. Predominantly used in warehouses and big box retail stores, these workhorse trucks are the most common in the industry

Also referred to as a counterbalance forklift, this 4 wheeled machine has back wheel steering for sharp turns in really tight spots. For circular turning, a 3 wheeled model is also available.

Compact and strong, these golf cart size forklifts are ideal for lifting and transporting inventory off delivery trucks and up and onto tiered storage racks. They really shine in narrow aisle and tight spaces.

Each machine is fitted with two forward facing forks that can slide right under any pallet or load and can carry up to 5000 lbs.

The extendable mast can not only raise up and down, but can be tilted back and forth for stability and help with offloading. From there, the operator can move inventory wherever needed.

Many warehouses have constructed 2 and 3 tiered storage racks to maximize space. In order to reach those high upper racks, a forklift mast can be raised up to 19 ft. For stability, the extended mast is well balanced with mounted weights on the body. This includes the engine and/or battery at the rear of the forklift which off-sets the load at the front.

With safety in mind, the warehouse forklift driver operates from a protective cab.

Warehouse forklift types are generally divided by power source: electric, gas or propane. For small warehouses or stores, electric is preferred to prevent noxious fumes. Propane and gas offers more power, speed and lift capacity and can be operated indoors or outdoors.

Accessories such as a carpet spike, drum clamp, sideshift and fork extenders can be added for multiple use applications.

A true workhorse, it is no wonder that this type of truck is the most popular.

Brands: Hyster, Komatsu, Toyota and Caterpillar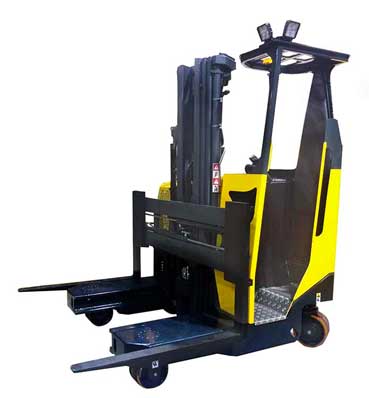 Side Loaders
Similar to the warehouse forklift in work performance, the side loader has one unique feature that sets it apart. As opposed to the front, the forks are located on the side of the machine. This allows the truck to travel sideways down aisles and have access to longer inventory that a conventional forklift can't get to. Materials such as lumber, tubing and other bulky materials that are stored on racks parallel to the aisle.

These versions have multi-directional wheels and can turn 90 degrees in any direction. This allows the operator to drive up and down any aisle without having to turn. The sideways design allows the machine to simply follow the direction of the load.

Side loaders are popular not only in an indoor warehouse setting, but in the timber industry and manufacturing as well. One difference being that out door side loaders will have an enclosed cab for driver safety. Stand-up industrial side loaders are more applicable indoors.

Brands: Toyota, Raymond Corporation, Yale, and Hyundai.
Order Picker Forklifts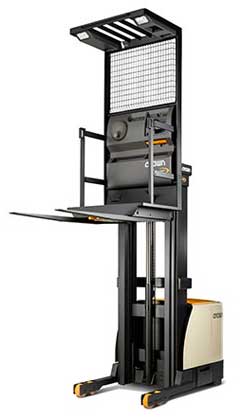 Not every forklift needs to lift and load heavy pallets. Some situations call for pulling just a few items off the shelf.

Order picker forklifts are very handy when used for single item inventory. As a warehouse gets a small order, these types of forklifts give the operator more accessibility to the stored products.

To reach inventory, the operator stands on a platform and actually moves up and down on the mast. The operator can then raise themselves and the forks to an upper bay to pick just one or two items instead of bringing down an entire pallet. Items such as single boxes, tools or furniture.

These stand up forklifts are compact and ideal for navigating down narrow warehouse aisles and still have room to turn and face the racks. Platforms can be raised between 15 and 32 feet. Perfect for reaching the second and third tier racks.

One disadvantage of the order picker is that it can very top heavy. It cannot be operated safely on slopes or uneven ground.

Brands: Hyster, Raymond, Yale, and Crown.

Telehandler Forklifts
Telehandler forklifts are a heavy duty truck that can get material loads up to places where a conventional mast type forklift cannot reach. Because of its extending telescopic boom, these types of forklifts are sometimes mistaken for a crane.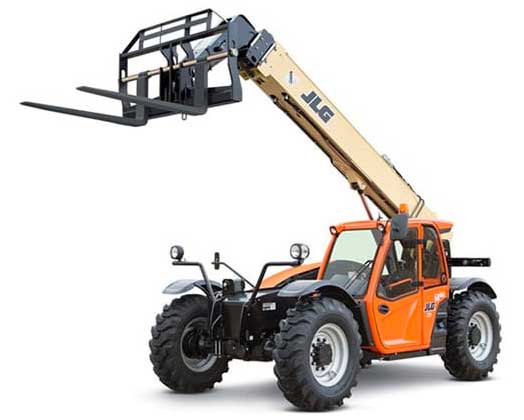 About the size of a small car, telehandlers have the ability to unload pallets and material from a trailer, transport it, then lift the load to its desired height.
Primarily used in agriculture and construction, a telehandler is designed with a telescopic boom. The boom is equipped with dual forks and can lift approximately 5000 lbs and extend up to 19 feet in the air.

On construction sites, telehandlers can be seen lifting lumber or roofing supplies up to high areas on the projects. Areas that might have tight spaces or odd angles where a crane can not access.

Although the telehandlers do raise a heavy load, caution does need heeded. A heavy load at a higher than average height could lead to instability.

JCB, Genie, Bobcat, Haulotte and Caterpillar
Rough Terrain Forklifts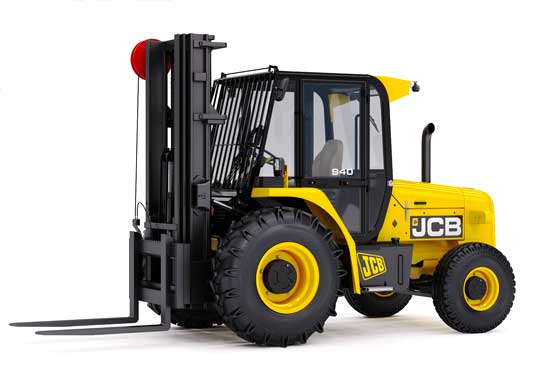 The name says is all. Rough terrain forklifts are all about the outdoors. These are the go to choice on any job site where the ground is rough, rocky or full of mud. It is like off-roading at work.

With oversized pneumatic front tires, these forklifts actually resemble a tractor with forks. The thick tire treads gives more traction, balance and stability when offloading and transporting materials. Although the name may suggest a 4×4 terrain situation, caution and good judgement should be used when operating.

This outdoor model generally has a gas or propane powered engine for more speed, maneuverability and the ability to lift heavier loads. Models come in 2-wheel or 4-wheel drive options. The straight mast forklift has a lift capacity approximately of 5000 to 8000 lbs. Depending on your needs and the forklifts' manufacturer, build types may vary.

Brands: Bobcat, Case, Caterpillar, JCB, JLG, Linde and Manitou.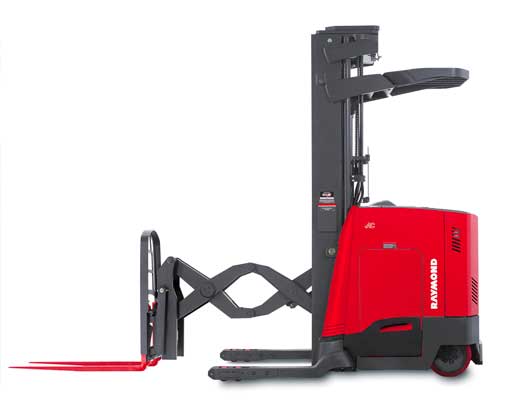 Reach Forklifts
When you want to get something really high, these versatile forklifts will do the job. Sometimes called a high-reach forklift, these machines are ideal for working in those narrow aisles and reaching the upper bays on inventory racks. This allows quick and precise pallet picking in indoor situations.

The mast extension can reach up 40 feet and lift between 2000 and 5000 lbs. Designed to not only reach high places, some models can extend the mast and forks outward to reach pallets stored toward the back of the bay.

For support, two outer legs and forward extending forks give it stability and help distribute the weight when transporting the payload. A single set of wheel in the back is used for directional movement.

Depending on the manufacturer, the operator will either be standing on the back or sitting sideways in a covered cab. This allows the operator to look forward and backwards with ease.

However, when training for forklift certification, a new operator may find it a little challenging to learn. The sitting or standing position along reversed steering controls takes a little getting used to.

Overall, reach forklifts give you the option to go higher on storage racks without losing access to inventory.

Brands: UniCarriers, Clark Materials, and Yale.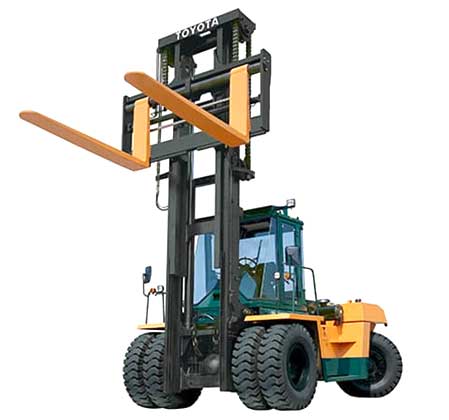 Industrial High Capacity Forklifts
For the really heavy lifting, an industrial forklift has superior capacity compared to it's warehouse cousin. This industrial truck is also built with dual forward facing forks and a tilting mast. The major difference between the two being load capacity.

This big guy is ideal for transporting heavy loads in large warehouse or construction sites. It combines the power of a telehandler and the versatility of a counterbalance forklift.

While this high capacity machine has a lift range between 19,000 to 36,000 lbs., it is bulkier, harder to maneuver and tougher to reach angled heights. It is, however, ideal for industry applications such as concrete, metals, forest products, produce, and paper. Although the industrial does have its purpose, for a day to day chores, a smaller warehouse lift is more practical.

Brands: Yale, Hyster, LiftKing.
Pallet Jacks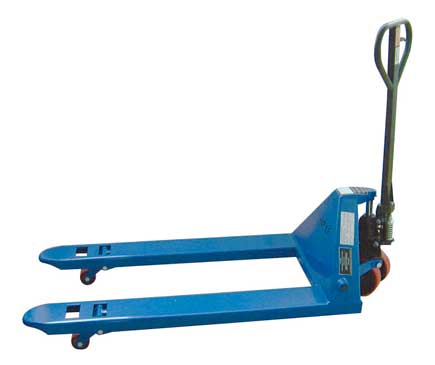 The pedestrian operated lift truck, more commonly known as a pallet jack or hand truck, are small and perfect for moving pallet loads on the ground floor. The front facing dual forks have wheels underneath that slide right under any pallet. Then, with a few pumps on the hydraulic handle, the jack raises the payload just high enough to clear the ground. The operator can then easily move the material to another location.

Although the hydraulic lift cannot handle an extremely heavy load – most can lift up to 5000 lbs – they are very practical for smaller warehouses and retails stores.

An option to a manually operated hand truck is an electric motorized version that can move the load with ease for longer distances. It has a steering tiller and electronic controls right on the handle. These generally perform the same small tasks as the pallet jack, but with much more ease and power.

For value, the hand operated pallet jack is the most practical, economical and should be considered for smaller warehouse and retail stores.
Which Type is Best for You?
Hopefully, this guide shed some light on the types of forklifts you might need for day to day operations. Finding the right tool for your business can be tough. Renting may be an option to gauge how much muscle you really need.

Forklift Classifications
OSHA has organized and classified forklifts into 7 unique categories or types.
Class I – Electric Motor Ride Truck
Fuel Type: Electric
Use: Indoor settings where exhaust fumes are a concern.
Class II – Electric Motor Narrow Aisle Truck
Fuel Type: Battery
Use: Moving inventory in narrow or right spaces
Class III – Electric Motor Hand Truck
Fuel Type: Battery
Use: Quickly uploading delivery trucks across short distances
Class IV – Internal Combustion Engine with Cushion Tires
Fuel Type: Gas or Diesel
Use: Low-clearance situations
Class V – Internal Combustion Engine Trucks with Pneumatic Tires
Fuel Type: Gas or Diesel
Use: Indoor and outdoor with rough surfaces
Class VI – Electric and Internal Combustion Engine Tractors
Fuel Type: Battery, Gas, or Diesel
Use: Hauling or towing loads
Class VII – Rough Terrain Forklift Truck
Fuel Type: Gas or Diesel
Use: Construction sites, uneven ground, high elevation lifting