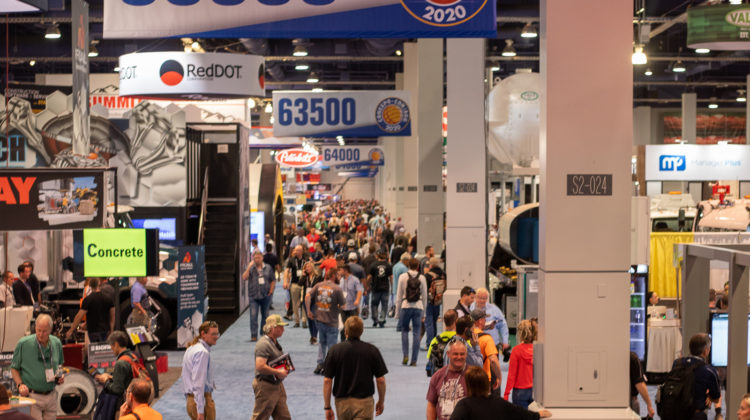 This year's CONEXPO-CON/AGG show was still an overall success despite global COVID-19 fears. If you're unfamiliar, CONEXPO-CON/AGG is held once every three years in Las Vegas. ConExpo is the largest construction trade show in North America and is the only trade show that brings together contractors, heavy equipment operators, dealers, distributors, service providers, engineers, and manufacturers. Over 2,250 companies presented exhibits ranging from small booths to large-scale demo-stages.
Most of the Gearflow team was also able to attend this year. We've put together our top 5 highlights of the show, plus some exclusive Gearflow content:
The "future of technology" dome, situated in the middle of the Silver Lots, caught a lot of people's attention. Outside of the dome, there was a statue to acknowledge the women in construction. ConExpo claims, "The statue is the world's largest 3D printed statue of [a] person. Standing upon a ten-foot base, the statue stands an additional nineteen feet high, with her feet placed approximately ten feet apart."
1. Future Cities, Busses, and more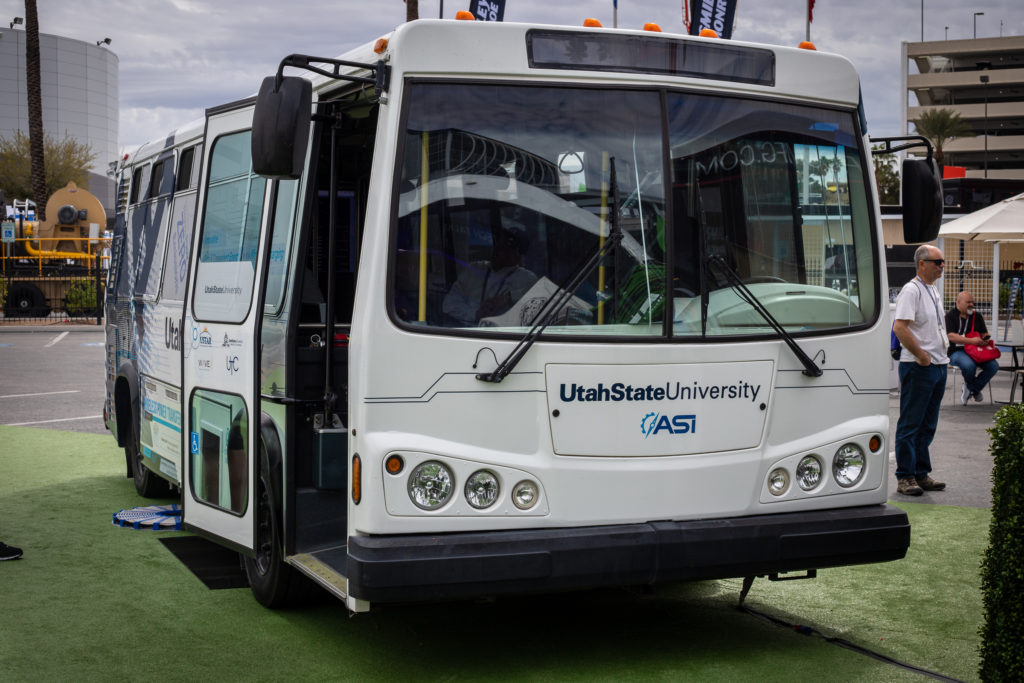 Outside the dome, Utah State University featured it's battery-powered, wirelessly charging bus. The concept behind this idea is there, but this idea has already been in the works for over eight years and it could be a while until this futuristic concept becomes a reality.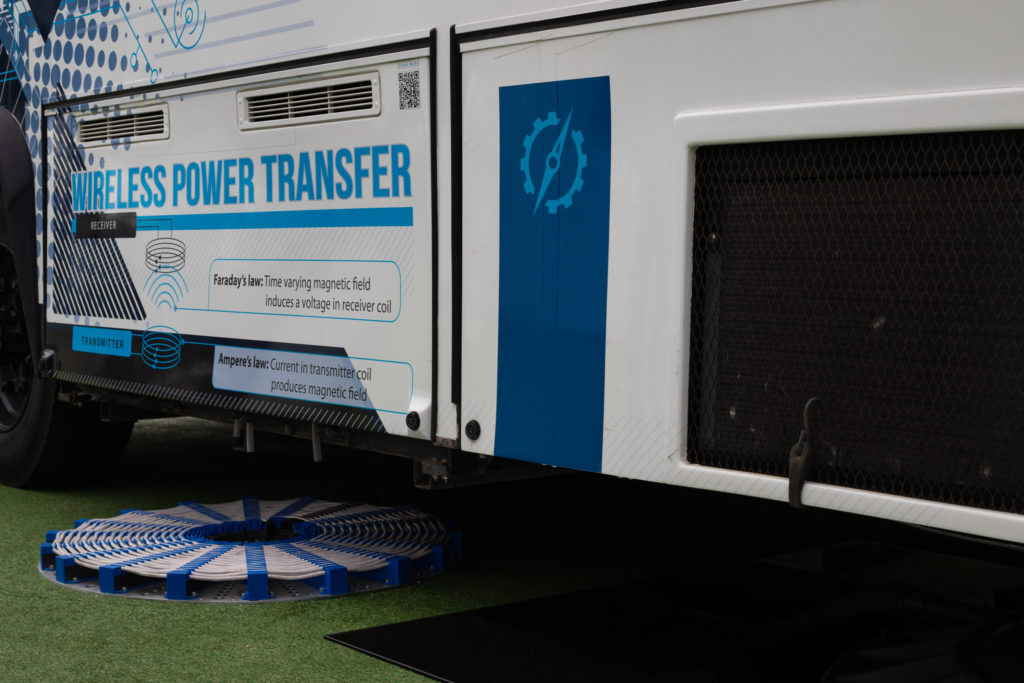 Inside the dome, many futuristic technologies were featured, including a drone-like "flying car", fully sustainable construction ideas, and a large model of a futuristic city grid.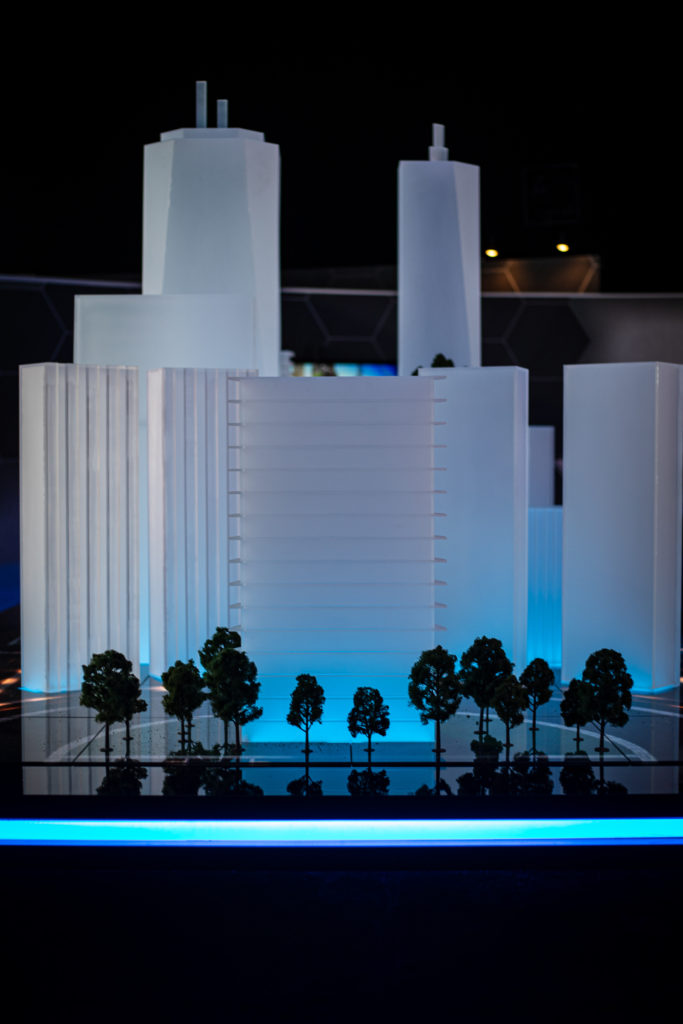 2. Snorkel's 210 foot "mega-boom"
Many people interested in aerial equipment were excited to see this "mega-boom" in person at Conexpo 2020. The 2100SJ is an engineering feat that breaks from convention and is best described by Michael Roth of Rental Equipment Register as:
"A telescopic boom lift reaching a maximum platform height of 210 feet (64 meters), with an industry-leading horizontal outreach up to 100 feet (30.4 meters), and an unrestricted platform capacity of 660 pounds (300 kg). The new Snorkel 2100SJ telescopic boom lift provides for enhanced access and flexibility at height with a 30 foot (9.1 meter) jib boom, with a working arc of -55° to +73°, combined with 150° rotation of the 8-foot-by-3 foot (2.4m x 0.9m) tri-entry platform."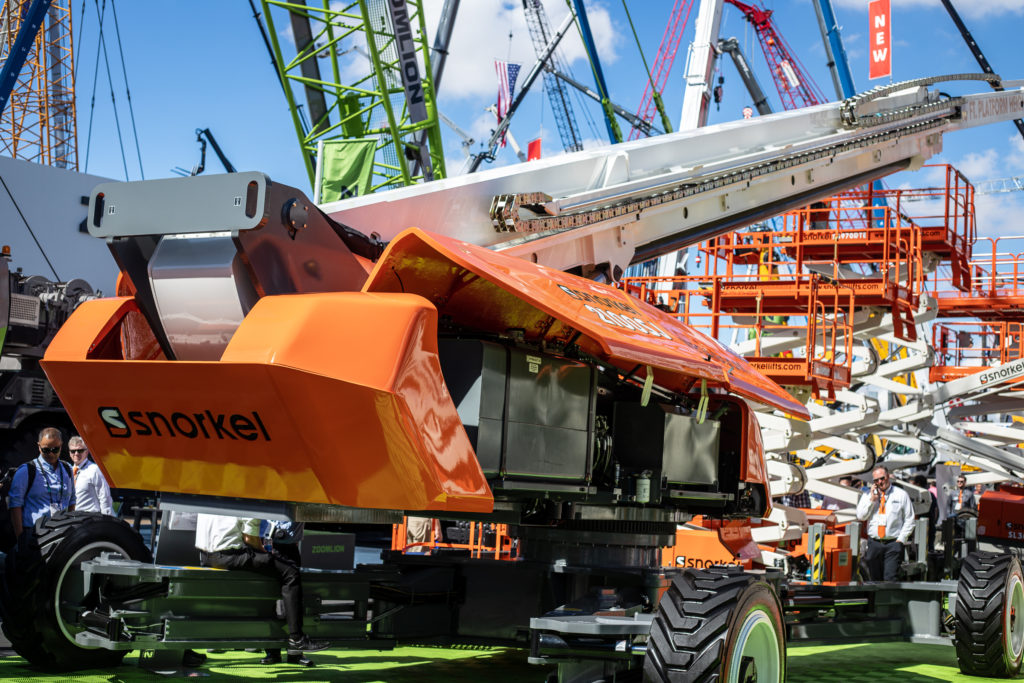 The 2100SJ was impressive to see in person and was a big talking point at the show.
3. Cat's "Wide range of new models"
For Cat, ConExpo is a huge marketing event where they get to demo their latest and greatest equipment for contractors and dealers. Their booths draw large crowds, and the new equipment releases that they unveil at the show tend to do extremely well. This year, the very large Cat booth was located in the Festival Grounds.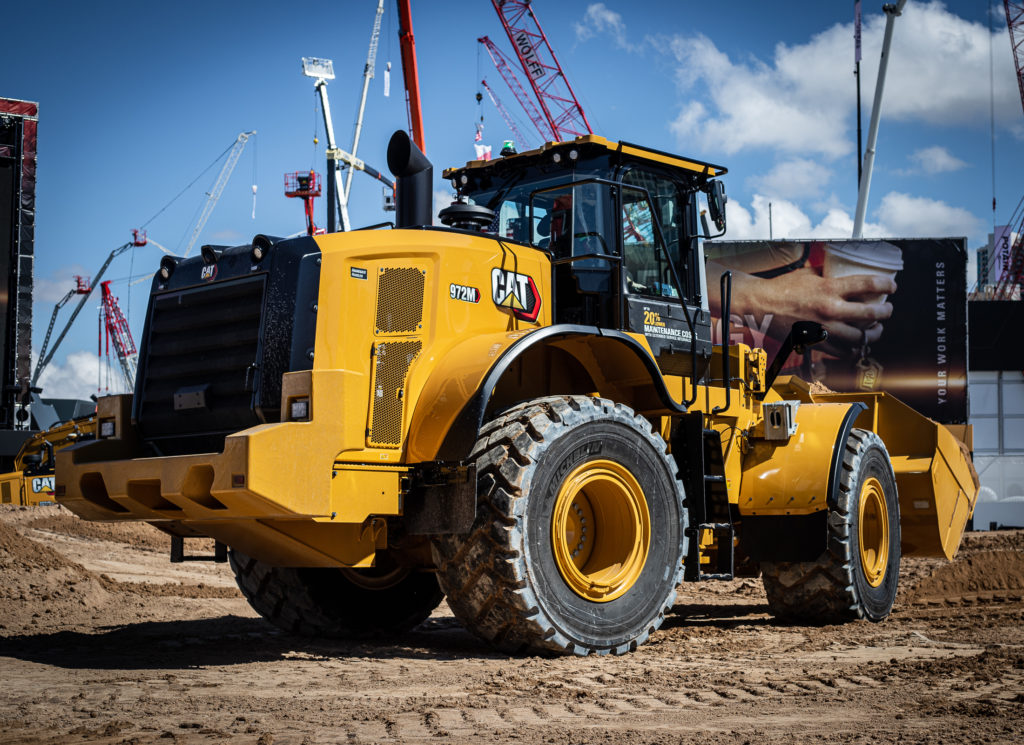 Cat performed many demos with the various new equipment throughout the duration of the show. At ConExpo, Cat also crowned their "Global Operator Challenge" winner (watch here).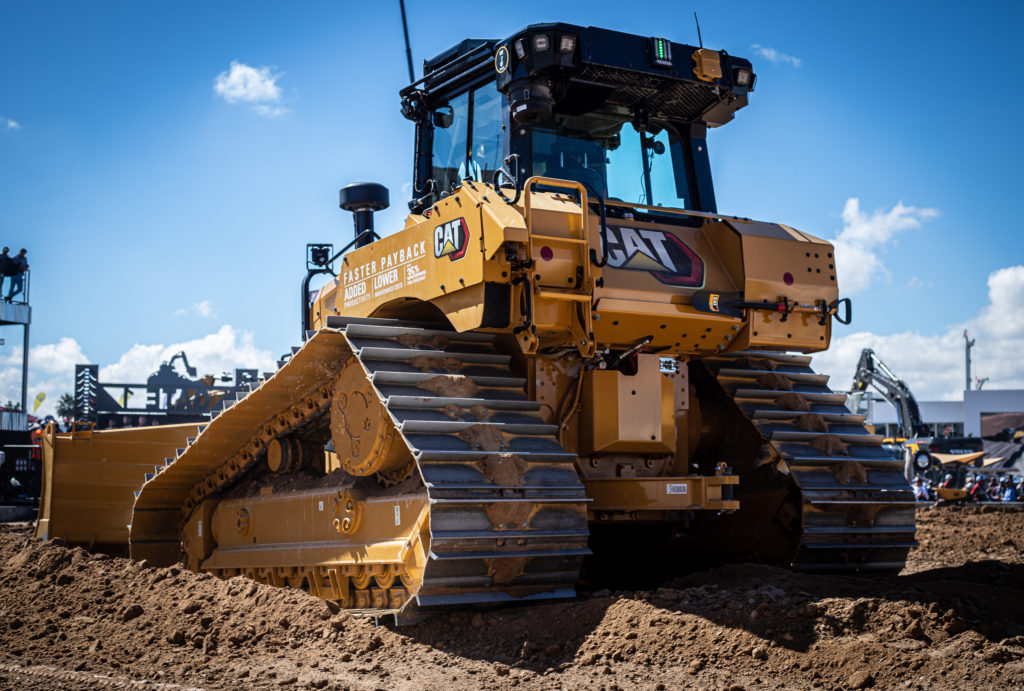 New products include Cat's upgraded models: D3, D6, and D7 dozers, center-pivot 420XE backhoe loader, 150 AWD motor grader, 725 articulated truck, M318 wheeled excavator, 313 GC excavator, 315 excavator, 325 excavator, and the 395 excavator. For more information on each model, view Cat's 2020 ConExpo Press Release.
4. Husqvarna's Demos
The Husqvarna booth located in the Bronze Lot was filled with engaging employees performing various demos. Whether it was the Husqvarna LP 9505 articulated trench compactor, the Husqvarna CRT 36, 36-inch, ride-on trowel, or their demolition robots, Husqvarna brought in a lot of curious customers by featuring these equipment demonstrations.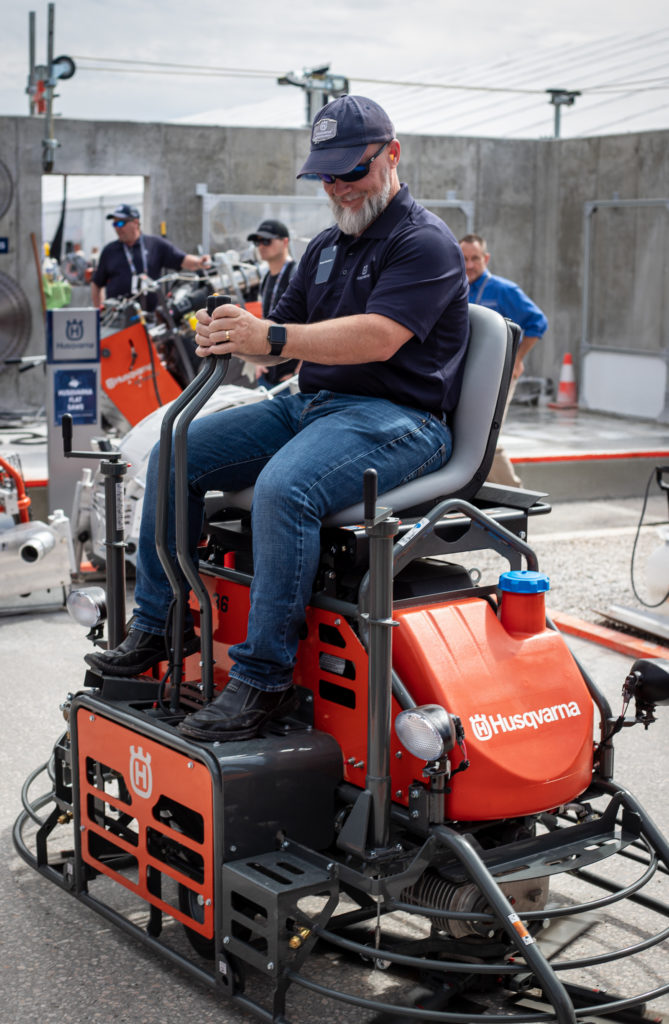 5. "No Offense, Just Makes Sense"
Finally, If you were able to attend the show, you know what I'm talking about. COVID-19 was on everybody's mind at one point or another. Throughout the show, these stickers were handed out to prevent people from shaking hands. Despite the global health concerns, the turn out at ConExpo 2020 did not seem to be affected.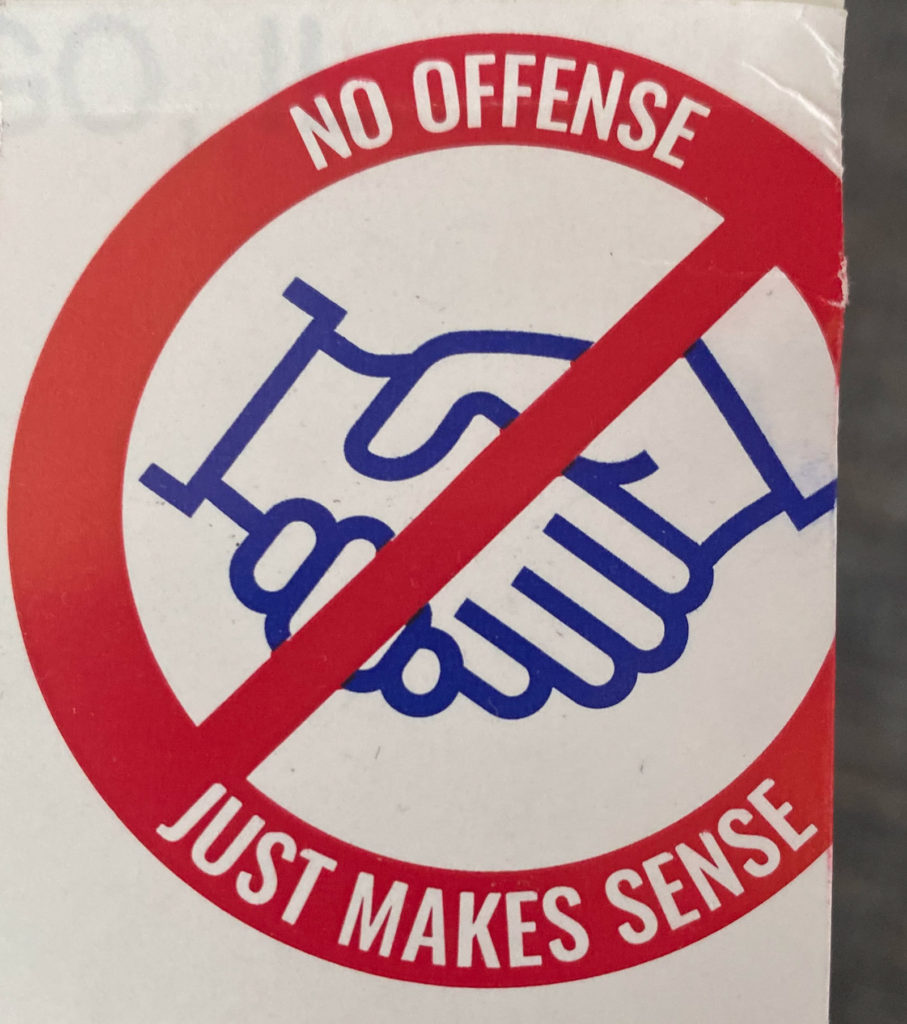 Be sure to check out the list below of ConExpo press-releases and other ConExpo news across the industry. This list is not inclusive of all things at the show, as there were so many amazing things going on!
Bobcat:
Case:
John Deere:
Hitachi:
Kobelco:
Komatsu:
Kubota: