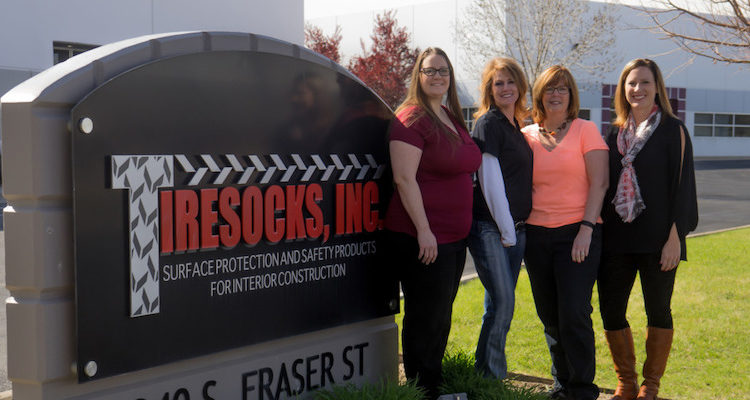 It's no secret that the construction industry is a male dominant industry. As of 2018, only 10% of the construction industry as a whole and 14% of the construction equipment manufacturing industry is comprised of women.
This is the lowest percentage of any major industry category.
Gearflow sat with Kali Peterson, General Manager of TireSocks, to talk about her experience in the construction industry and her advice to other women in the industry.
Peterson joined TireSocks as General Manager in 2017 and has been a big part in continuing their 20% YoY growth. Prior to joining TireSocks, Peterson spent ten years running her own accounting firm which she sold in 2016.
Peterson had the following advice for organizations to help influence a systematic change to the makeup of the construction industry workforce.
Build Confidence and Develop Experts
"Encouraging employees to gain the knowledge necessary to make decisions confidently is key to the success of an organization."
Entering a male dominant industry as a female professional has the potential to feel intimidating, but those feelings are lessened as you build confidence in what you do. Peterson emphasized the importance of learning as a way to build confidence.
"You can't fake it"
"When you enter a new field, you must make an effort to become an expert. Don't hide behind the things you don't know. Any new endeavor presents challenges as well as the opportunity for growth. Embrace the opportunities and if you don't know something, learn it." Peterson uses her colleague Patti Reichert as an example of someone who exemplifies these traits.
"Patti is an expert in what she does. Our product is such that when someone needs it, they need it now. Patti has mastered the art of customer service and is a product expert. She's built her confidence through her knowledge of the customer and it shows through the relationships she has built. Her success has been key to our success as a company."
Evaluate Fit Based On Skill Sets, Not Historical Industry Norms
This sounds like a no brainer, but it is easier said than done.
Talent is often evaluated with a biased lens. It is regularly based on "likeness" but disguised as "culture fit". In this case, by nature of the construction industry, women have a major disadvantage.
"Don't be afraid of it, don't default to the norm. Look at your team and talent and put people that have the skills in the position they deserve. We focus on skill sets and recognize when someone is capable whether male or female."
TireSocks has grown their team from 17 to 25 in the last 2.5 years and significantly increased front office operations. Peterson continues to identify new opportunities to grow the TireSocks brand and what skill sets are needed to get there. As an example, Peterson hired their first Creative & Marketing Manager, Kami Nelson, within months of starting her role at TireSocks.
Follow Two Principles
To recap, Peterson believes in embedding the following two principles into the culture of your organization:
1. Encourage continuous learning to build confidence.
Developing employees into experts builds the confidence required for them to feel comfortable in an unfamiliar industry. This is vital for female employees within a male dominant industry.
2. Evaluate fit based on skill sets, not likeness
It's not about homogeneity, it's about identifying what gaps your team has and what skill sets are needed to fill those gaps. Once organizations can evaluate talent based on skill sets alone and not on preconceived notions based on gender, we will be one step closer to a more diverse industry.

About TireSocks
We're construction people, and we know that if you don't have the right equipment you can't get the job done on time. That's why we created the TireSocks® line of products with construction people in mind. Easy to Use. Durable and Dependable. We also know that a great product is nothing without great service, and we're proud to say we ship orders the same day EVERY DAY.

You can check out their products on Gearflow.com/tiresocks-inc