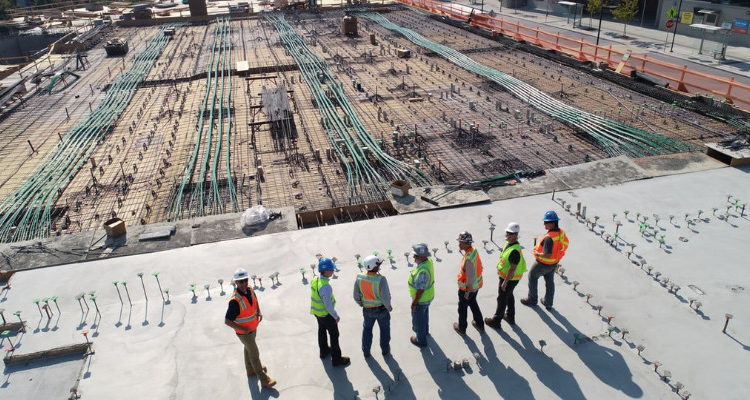 As the light shines brighter on construction technology companies, it has become evident we are in a period of change in the industry. Equipment is getting smarter and rental companies are now able to do more with less. What does the future hold for equipment rental?
Lindsey Anderson has been the Editor for Access, Lift and Handlers (ALH) Magazine for 11 years. She joined KHL, the parent company of ALH, in 2008 and has been closely covering the lift and access industry since. She has grown the magazine to 8 issues a year and started the ALH Conference & Awards four years ago.
Anderson has also orchestrated three "top lists" a year, ranking mast climber, telehandler, and aerial rentals by size of fleet. She has spent the last decade meeting with and interviewing manufacturing and rental leaders in the aerial lift and material handling space.
Gearflow sat with Anderson to get her predictions on the future of lift and access equipment and how equipment rental companies will adapt.
1. Complete Digitization
"The biggest change I see with rental companies is that everything used to be done on paper. Now, everything from ordering to asset management is going digital" says Anderson.
End users now want to get as much done on their own before talking to a salesperson. In fact, buyers prefer to self-educate versus talk to a sales rep by a factor of 3 to 1 across all other B2B transactions. This trend has made its way to equipment.
For the most effective rental companies, digitization of sales and operations is embraced as workforce enablement as opposed to workforce replacement.
With the implementation of e-commerce, for example, sales reps can eliminate wasted time on order processing and focus on building customer relationships.

CRM systems allow businesses to track the type of customers they serve and the frequency of their transactions in order to make better decisions about their fleet composition.

Rental software continues to grow, making it easy to manage asset utilization and fleet rotation.

This most tangible signs that times are changing are what is going on with rental companies like United Rentals, marketplaces like BigRentz, and part suppliers like Grainger.

A few stats:
BigRentz, an online rental marketplace launched in 2012, does an estimated $35M a year in revenue according to Crunchbase and doesn't own any equipment.
BigRentz is also currently receiving the fourth most organic site traffic of any equipment rental company, almost as much organic site traffic as Herc Rentals.
In 2018, United Rentals realized more than 50% year-over-year growth in e-commerce revenue from UR One®
In 2018, United Rental's digital commerce across all channels attracted over 30,000 net new customers, resulting in a 45% increase in digitally generated revenue year-over-year
56% of Graingers sales, or $5.84B, came from their e-commerce channel
The digitization of commerce, asset management, and operations will need to be adopted out of necessity for rental companies to remain competitive in the changing equipment rental landscape.

However, we still have a long way to go.

It's estimated that less than 50% of heavy equipment and tool rental businesses use some sort of rental management software.

Beyond the adoption of currently available tools, the future of construction tech is complete vertical integration between each silo from equipment rental e-commerce to asset management, to customer relationship management to project management.

The rapid M&A activity in the construction tech space is a leading indicator that larger tech companies are beginning to think about "owning more of the process".

There are still many disconnects but expect more of the gaps to be bridged in the coming years.
2. Telematics Adoption
"We are witnessing amazing advancement in telematics. Just about every OEM has either partnered with a third party provider or created their own telematics system" says Anderson.

According to the ARA, 72 percent of larger contractors with 50 employees or more said they were familiar with telematics.

Telematics today primarily answers two questions:
What is my machine doing?
Where is my machine located?
"Before, telematics was primarily used for tracking equipment. Now, everything from battery levels to hydraulic fluid levels can be monitored to help prevent maintenance. I am really impressed with how much telematics has changed over the last five years" adds Anderson.

SkyJack Elevate, Genie Lift Connect, and JLG ClearSky have all been announced in the past year to help rental companies maximize asset utilization and uptime.

"You do not need to be a national rental company to reap the benefits of telematics data. I was with Bob Kendall, President of Star Rentals, who said his business has gone from zero to full implementation of telematics data into their operations to be smarter around fleet management." says Anderson.
Telematics is being implemented into components of equipment as well.

For example, Perkins Engines recently launched the Perkins SmartCap which monitors your engine and sends usage data straight to your smartphone enabling mechanics in the field to be more effective with preventative maintenance and part ordering.

With the amount of data being collected from the equipment coupled with fully integrated data visualization platforms will begin to change the way rental companies think about acquiring, managing, and maintaining their equipment.

With a fully, vertically integrated ecosystem capabilities such as predictive part ordering, artificial intelligence powering fleet composition recommendations, and automatic order fulfillment will start becoming a reality.
3. AR/VR for Training
"With the new ANSI standards, training is going to be required for MEWP operators. Augmented Reality and Virtual Reality are really new to the industry but quickly going to change how training is delivered." says Anderson.
For example, Serious Labs, in collaboration with Skyjack and Nationwide Platforms, launched the MEWP VR Simulator to provide a virtual aerial operator training solution, changing the future for the equipment rental industry. This allows trainers to safely put trainees in high-risk situations in order to develop safety skills without the risk of physical harm.
"With these online courses and simulators (United Rentals has quite a few), you don't have to drive to sit in a classroom for six hours. You can complete the classroom portions on your own time." says Anderson.
The industry continues to innovate around operator safety and adoption should only increase.
4. Semi-Autonomous Equipment
In early 2019, both Skyjack and JLG debuted their own autonomous loading and unloading equipment.

JLG released their R Series scissor lift which allows driving, steering, and loading to be done via mobile app. This adds a layer of safety and versatility for operators navigating in tight corridors or in risky loading and unloading conditions.

SkyJack demonstrated their completely autonomous SJ3215 at the 2019 ARA Show in Anaheim as part of their autonomous equipment research initiative.
"Autonomous loading and unloading adds to the safety of our job sites and rental yards so I see more autonomy happening for these use cases." says Anderson.
Some of the larger equipment rental companies are already embracing autonomous equipment.

For example, Sunstate announced a partnership with Built Robotics to test their line of autonomous equipment with customers over the next 12 months.
The economic and safety benefits coupled with the labor shortage in construction makes autonomous equipment an exciting opportunity. Although we are still a ways off from fully autonomous job sites, there are lots of applications that can create incremental improvements to the safety of the handling and delivery of equipment.
5. More Telehandlers
JLG released their 3rd quarter results which showed a 42% increase in Telehandler sales over their first 9 months of FY 2019 versus the same 9 month period last year. Meanwhile, aerial sales grew just over 1%.
"Telehandlers, with their increasing number of attachments, have been able to fill gaps in product lines and have quickly become the first one on and the last one off job sites.

More and more units are coming into the field that can operate as the jack of all trades, even replacing a lot of crane work in urban areas" notes Anderson.
In fact, according to GlobalNewsWire, the telehandler market is expected to experience a 5% growth rate from 2019 – 2029 and reach a $4B market size in 2019.
The shift towards telehandlers is hard to ignore. This could be an indication that equipment rental companies, especially among the independents, are now able to do more with less so therefore focusing on equipment with more utility versus specialization.
"Independents are on fire. Chicago's Lizzy Lift reported a 53% increase in rentals, Cooper Equipment Rentals 37%, Battlefield Equipment Rentals 11% to name a few. They are quickly growing their fleets while some OEMs, like Snorkel, narrow their focus on independents" says Anderson.

Independent rental companies, which makes up 80% of the $55B heavy equipment rental industry, need to continue to find ways to compete with the national rental companies while staying lean.

Telehandlers can be one of those areas of opportunity.
6. Fully Electric & Hybrid Fleets
"We are seeing a huge shift towards electric and hybrid fleets.

For instance Haulotte, who just achieved their best quarter in ten years, announced at Intermat that moving forward all of their machines will be electric with the introduction of the Pulseo generation.

Manitou also released their Oxygen line, making them the first OEM to have a hybrid and electric telehandler" says Anderson.
Hybrid and electric vehicles are also getting larger. With rough terrain lifts and telehandlers already in circulation, it is safe to expect electric applications to grow into heavier weight classes.
They are a win economically by lowering the total cost of ownership.
They are a win environmentally by reducing emissions.
And they are a win in quiet environments and emerging markets.
"OEMs are going smaller, not bigger. No one has it in their plans to go bigger i.e. with a 190ft – 200ft boom. Instead, Genie, MEC and Snorkel came out with a 13 foot lift. Hy-brid came out with a line of pusharounds as a replacement to ladders. No one is looking to reinvent the wheel with the bread and butter of boom lifts and scissors, more so coming out with more compact, cleaner options" says Anderson.
Recap
It's no secret that technology is changing the way the construction industry operates. What is considered as one of the final frontiers for technology, the construction industry has seen the highest amount of venture capital activity of any technology sector.
Lindsey Anderson broke down her six predictions for the future of the rental equipment side of the construction industry:
Digitization of rental commerce and operations
Adoption of telematics for improved preventative maintenance
Advancement of VR/AR for improved training in alignment with the new ANSI standards
Adoption of semi-autonomous equipment for safer inspection and operation
Growth in telehandler sales leading to smaller fleets and higher utilization
Adoption of 100% hybrid and electric fleets
Technology needs to be thought of as workforce enablement, not as workforce replacement. To date, there is a reluctance to adopt technology on the commerce side of the business either out of fear of being replaced, satisfaction with the status quo, or a lack of urgency to innovate.

The use of technology and the data that comes with it allows equipment rental companies and operators to focus more time and energy on the human element of the business that has built this industry.

It allows us to be smarter around our economic decision making, more efficient with our sales and fulfillment, and more personalized with the customer experience we provide.

The biggest shift is in our perception of technology and our behavior as consumers of it. One thing is for certain, the future of the equipment rental industry does involve integration with technology in one way or another.