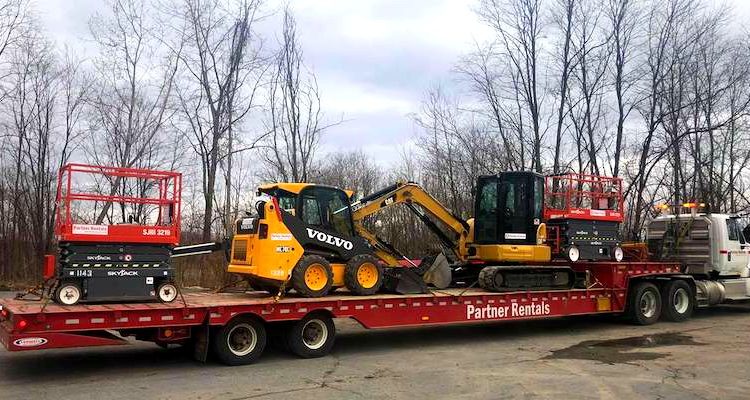 "While at Volvo Rents, I played a role in rental systems training and data conversions during their acquisition spree. I was able to see the good, bad, and the ugly of tech in the construction equipment rental industry"
Hernán del Aguila, Founder and CEO of Partner Rentals in Kingston, NY, has a very unique perspective on the application of technology in the construction equipment rental industry.
Gearflow sat with del Aguila to discuss the role technology plays in building a successful equipment rental business in today's age of the self-serve consumer.
First, it is important to understand del Aguila's background which lends to his unique perspective on the intersection between technology and equipment rental.
From Equipment Rental to IT, to the Intersection of Both
Del Aguila grew up around equipment. His parents started their construction equipment rental business in 1992 and ran it through 2011. In 2003, they joined the Volvo Rents franchise program and grew their business to two rental locations.
After being acquired, Del Aguila started his career as an IT Specialist. Eventually, he grew into the Director of Fleet at Volvo Rents. He successfully led the company's rental ERP conversion of 132 retail locations and over $1.5b in assets.
In 2014, Volvo CE decided to get out of the rental business so, they sold the Volvo Rents business to a private equity group in LA. This group transitioned Volvo Rents into BlueLine Rental which eventually got acquired by United Rentals for $2.1b late last year.

About a year after the transition, del Aguila started working at Wynne Systems. This equipment rental and tracking software company is known for its RentalMan solutions. RentalMan solutions are used by many of the largest equipment rental companies in the industry.

In 2016, del Aguila had an opportunity to start his own equipment rental business in Kingston, NY and Partner Rentals was born.

During his time at Volvo Rents, del Aguila was part of the acquisition team. This afforded him the opportunity to see the good, the bad, and the ugly of technology in construction equipment rental.
The Good
"The bigger companies use technology to make operations more efficient, to overcome organizational challenges like communication, and to digitize the processes typically found off-system process. The best companies integrate all of these moving pieces into one central system to better access associated data and trends" said del Aguila when asked about what themes he saw in the successful companies.

It was clear from del Aguila's experience that the best companies didn't just "have" technology, it was embedded in the everyday operations of the business. This does not happen overnight and there is no silver bullet. It takes time and patience.

"Partner Rentals is taking baby steps towards a fully integrated process. We have a solid ERP system that acts as the brain for our operation and augment it with proprietary mobile app functionality for business metrics dashboarding, equipment condition and inspection functionality, and on-the-go inquiries and market pricing data. We are now trying to tackle CRM integrations and e-commerce."
E-Commerce for Equipment Rental
I asked del Aguila how technology is changing the industry and how he sees companies successfully adapting, he started with e-commerce.

"A good example is e-commerce. The top tier of our industry is starting to get into e-commerce. This has led to buyers getting accustomed to managing their orders online. Our ability to order products online and via apps, like Amazon, our customer base demands a similar ordering experience.

Now for us smaller companies, it is not that we want to have e-commerce, we need to have e-commerce.

Our customers work with both independents and the big boxes. As buyers start to become more self-serve with the larger competitors, we can't get left behind."

Business to business buyers now expect more and more of an "Amazon-like" experience. They are closer to a purchase prior to talking to a sales person than ever before and prefer to be able to re-order from a self-serve platform versus talk to a sales person.

E-commerce is a need, but it is very difficult to do right.

"E-commerce is a huge thing to tackle. There are few, if any, off the shelf packages that do rental e-commerce in a way that resembled the real buying experience. I think the way it is well done is the way Amazon does it, especially because people are so familiar with it nowadays.

I want to look up my shoes, pick my size and color, pick my delivery, put in my credit card, and see it in two days without ever having to talk to someone. The e-commerce mecca is to get to this point."

Del Aguila explains why it is so difficult in equipment rental and how he is approaching it with Partner Rentals.

Baby Steps
"We have rental rate calculations, ancillary charges, sales tax, freight, etc. The customer is looking to complete the whole transaction on their own which is hard, but not impossible.

Start with baby steps. First, get a website. There are lots of inexpensive tools to get a nice looking landing page so people can find your business online.

Second step, you need a product catalog of some kind. Partner Rentals is currently at this stage. We have a product catalog with pricing that has an e-commerce feel. When you get into a listing and want to rent, there is a form to fill out and someone will contact you. A person still needs to get involved with this step.

Third step is automating that form – accept credit cards, automate the calculations, freight, etc.

Fourth step, have a place where the user can sign into a customer portal to see past orders. Ordering itself is not e-commerce, creating a one stop shop for customers is the ultimate goal.

It takes time, money, and the tools aren't available yet to make it easy to get there."

Take it from us, building e-commerce for construction equipment is not easy. Gearflow's vision is to support the equipment rental industry by leveling the digital playing field, allowing every business online presense.
The Bad
There are a lot of rental equipment companies that know tech should be a priority but simply "check the box" instead of building a fully integrated system they can trust. A lack of trust in the systems you implement can make for inefficient processes and defeat the purpose of the technology all together.

"Let me go check in the back. This means that the business doesn't trust the system they have in place. Their process of inventory management is poor or they don't update equipment statuses enough to be accurate. When there is no trust in the systems in place, businesses will find another way to manage their operations.

I've seen businesses manage equipment with magnets and a big board. They would grab a magnet from the "ready to rent" section and move it to the "on rent" section. Magnets would move around the board all day long. Effective, but probably not efficient nor great at communicating to those outside the immediate area of the board.

If you have a computer system to do this, then use it" says del Aguila.
The Ugly
"The general themes were lack of communication between employees which resulted in inefficient, manual processes."

Del Aguila notes that some of the less successful businesses share similar themes. Ineffectiveness started with inefficient operations coupled with manual processes to exacerbate the problems.

"If you have a few items in the yard you can easily line up one row of equipment, write the rental contract, grab a machine, and go. You then begin to grow and add gear to your yard. Then [your yard grows] to the point where you have two rows of machines.

Without a system in place, people start getting opinionated on which machines go out. Naturally, the yard guys are going to want to send out whichever unit is easiest. This creates problems. If your average utilization is less than 50% then you would never get to the second row of machines.

I saw businesses that operated this way and essentially turned their yard guys into the fleet managers. They would call out an order, the yard guy would determine which unit was easiest to get to, and only half of the gear would be used while the other half sat.

The equipment rental tech systems are typically good at rotating inventory. They sort the one that was rented the longest time ago to the top so you cycle through your equipment."

The good rental equipment businesses have fully integrated technology (tech) systems to support their operations. The bad businesses have manual systems. The ugly businesses have no systems.

Recap
1. Start with making internal operations efficient
There are great inventory management systems and equipment tracking to cut down on human error mistakes and streamline order processing once a call comes in. Tech in Equipment Rental for organization is essential.
2. Use technology to streamline communication
CRM systems can be great central hubs for communication. The most successful businesses have a unified team regardless of who is physically in the office. Breakdowns in communication can kill a business.
3. Integrate internal systems
With a CRM system as the hub, build spokes to help centralize the different customer touchpoints. Phone, email, accounting, ERP, order processing, billing, marketing – all can be integrated into one system.
4. Embrace e-commerce – do not get left behind
The industry is evolving as buying behavior changes. The signs are there, don't get left behind. Start the process of implementing e-commerce into the future of your business and take baby steps to get there. Don't feel like you need to do it on your own, it's a big task to tackle.