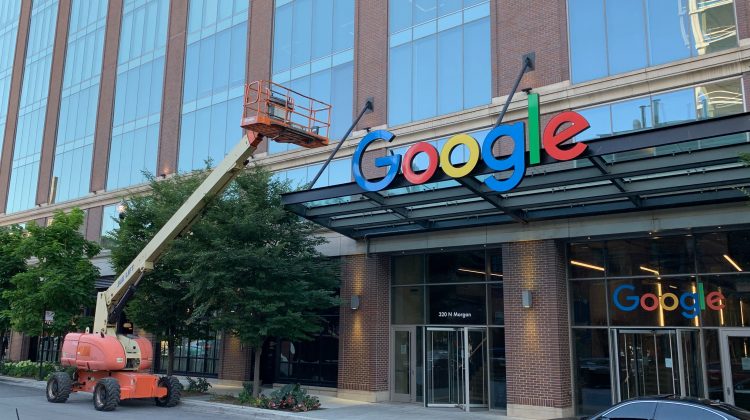 During the keynote presentation of ARA's inaugural RentalTech conference, Dale Asplund, the COO of United Rentals, said digital is the new way forward.
"In today's world, customers expect to do business when they want to do business, having a system … that gives them access 24/7 when they want to get the support," Asplund says. "The days of sitting at a rental counter will soon be behind us."
The same goes for all suppliers in the construction industry.
The need for a digital customer experience, however, did not begin in March when the pandemic hit. The pandemic only accelerated the timeline by five years according to a study by IBM.
Why? Because your customer's behavior is shifting.
70% of all business-to-business (B2B) buying decisions are starting on Google.
This makes sense because, according to a Merit study, up to 73% of all B2B buyers are millennials, who are now between the ages of 25 and 39.
This means that a growing segment of your prospective customers prefer to do things on their own online versus talk to a sales rep.
In today's world, customers expect to do business when they want to do business … digital is the new way forward.

Dale Asplund, COO of United Rentals
And how do these customers decide which vendors to use?
75% of all clicks for any given Google search go to the top three organic spots.
Organic is the key distinction here. Organic spots on the first page of Google are more valuable than a paid spot by up to 10x.
You actually have a better chance of getting a customer to your website if you are the 10th organic spot than if you paid for an ad on Google Adwords.
For the construction equipment parts supplier or independent dealer, this is good news. It means that you have just as much of an opportunity to attract customers online as the big guys do, despite not having a comparable budget.
So if customers are relying on Google more and more to find the parts they need, yet 98% of all clicks go to the businesses that appear on the first page of Google's organic results, what do you do?
1. Google My Business
Difficulty: Easy
Time Commitment: Low
Cost: Free
Impact: High
For any business that relies on local customers, Google My Business is the single most important piece to the marketing puzzle.
In fact, for local businesses, your Google My Business profile actually has more influence than your own website when it comes to appearing in Google Maps results.
Google My Business is a free tool from Google that allows local businesses to appear in local searches and on Google Maps. It ranks local businesses based on relevance, distance, and prominence.
Prominence is the one factor you can control. Prominence is based on the quality of the SEO on your website and the number of positive reviews your business has on Google Reviews.
Reviews, especially ones that are responded to by the owner, establish trust in the business. Trust is one of the foundational factors in Google's ranking.
All SEO rules still apply. Google states that your position in web results affect local search results. Therefore, the higher your website ranks, the higher you will rank in Google Maps.
So how can you help boost your position?
Ask your customers to leave reviews. Link to the page where they can do that as part of the transaction or in your emailed receipt or invoice.
Respond to your reviews. This shows that you are engaged, and Google will reward you for the engagement. Implement an internal process to make sure this gets done by designating a team member to manage reviews and respond within 48 hours.
Add photos, posts, and products to your Google My Business page. The more complete and fresh your content is, the higher you will rank.
Optimize your website for SEO.
2. Online Directories
Difficulty: Easy
Time Commitment: Low
Cost: Free with some paid options
Impact: Medium
A major factor in where your website ranks on Google is the number of sites that link to your site as a source of information. The more backlinks your site earns, particularly ones from high-authority sites, the higher you will rank.
There are several directories and business listing sites that are free to create a profile on and will help improve your local SEO quickly. Start with Yelp, Yellowpages, and local directories, such as your local chamber of commerce or local online newspaper.
Be sure that your NAP (name, address, and phone number) are consistent across all directories.
3. Modern Website
Difficulty: Medium
Time Commitment: Medium – High
Cost: $
Impact: High
If you have an outdated website, you are not alone.
The good news is that, contrary to popular belief, creating a modern website does not require a lot of money to pay an agency, software engineer, or listing site.
In fact, a modern website is more achievable now than it ever has been before.
The bad news is that if you don't have a modern website then the rest of this guide is moot.
Site builder tools such as BigCommerce, wix.com and WordPress, allow you to create beautifully designed websites with built-in lead generation functionality for less than $100 a month.
Their tools are intuitive, have many helpful third-party integrations built in, and are already technically optimized for SEO.
These websites will not necessarily get you a total ecommerce solution but they will get you a clean-looking site that represents your brand and enables you to attract customers online.
Josh Nickell, owner of Nickell Rental, said it well in his interview, "What we did not want is for customers to visit our website and question whether they want to do business with us … we know we are competing for people's mindshare."
4. Unique Location-Specific Content
Difficulty: Medium
Time Commitment: Medium
Cost: Free
Impact: High
This is a prime example of how SEO rules apply to localized search.
Google will seek out pages that are the most relevant to any search phrase. Therefore, it is our job as marketers to have a page designed specifically for any search that is important to our business.
Having a landing page specific to the different areas you serve will give you the best chance to rank for searches specific to those areas.
Take this flooring company as an example. They show up on the front page for "Flooring Lakeview" and "Flooring Lincoln Park" even though they are located in Chicago proper.
5. Sitemap
Difficulty: Medium – High (depending on your website)
Time Commitment: Low – Medium
Cost: Free
Impact: Medium
You can think of your sitemap as the blueprint of your website. Your sitemap makes it easy for Google to find your site's pages and understand the contents.
Google Search Console is where you submit your sitemap.
A sitemap is not required in order to be found on Google, but it gives you control over the pages that you deem to be important and high quality for Google to prioritize.
6. Rich Product and Category Content
Difficulty: Hard
Time Commitment: High
Cost: Free – $
Impact: High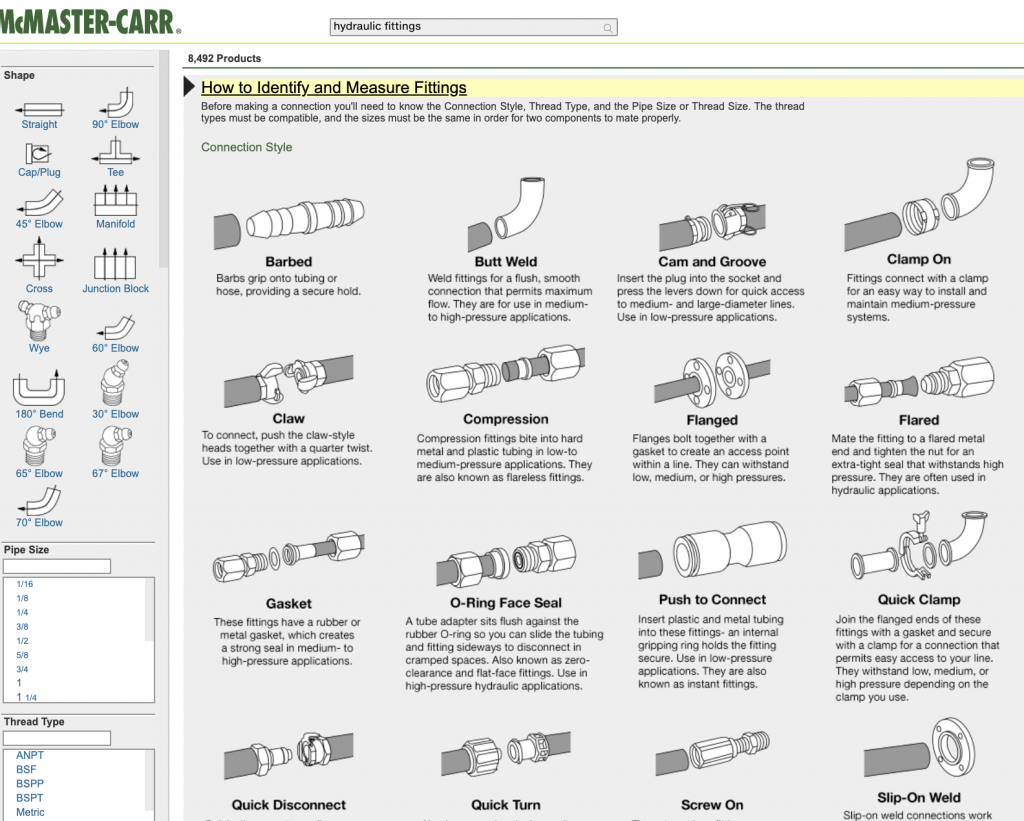 Your product pages and product category pages can serve as tremendous content assets.

Instead of thinking about your product and category pages strictly in the transactional sense, think of these pages as a resource for your customers.
For example, the industrial supplier McMaster-Carr has handpicked about 50,000 pages that they deem to be their most important product and category pages to send out to Google, and they block the other pages for their 550,000 products from being indexed by Google.
Those 50,000 product and category pages are super rich resources for customers to learn about the product and better understand what they need.
This is what allows McMaster to rank on the first page for terms like "Hydraulic Fittings" because of pages like these.
7. Nail Your Value Proposition
Difficulty: Easy
Time Commitment: Medium
Cost: Free
Impact: Medium
Your value proposition needs to be clear as soon as a prospective customer lands on your website.
This could require multiple landing pages tailored to the value propositions that your different customers care most about.
Think about what content you can serve each specific customer segment that you work with that will explain exactly who you are and why you are the right company for the job they need to get done.
8. Job-Specific Content and Buying Guides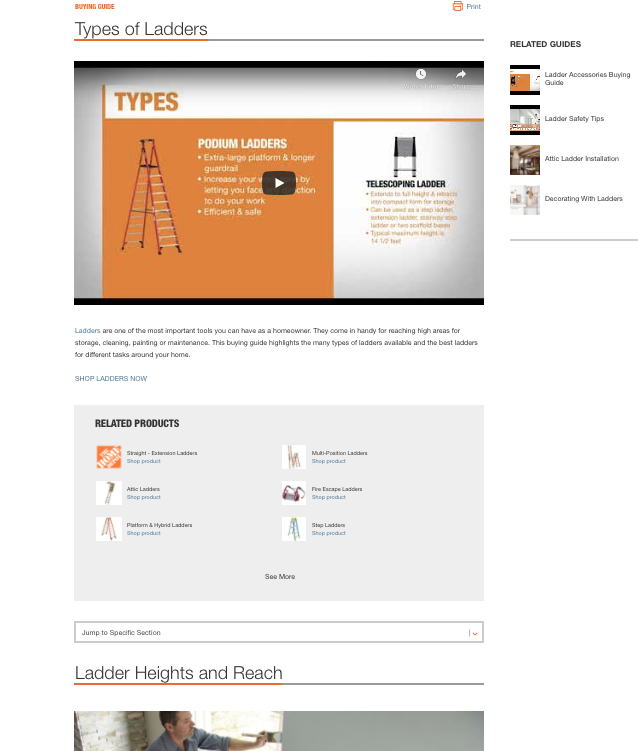 Difficulty: Medium – Hard
Time Commitment: High
Cost: Free – $
Impact: Medium
Your website is not there just to sell people the parts and equipment you offer.
Treat your website as the best resource online for the customers you serve.
This means that if you sell telehandler parts, for example, you should create content that covers all of the ancillary topics around telehandler parts including telehandler buyers' guides, how-to content on telehandler maintenance, and job-specific content about jobs that may use a telehandler.

Home Depot, which many regard as the SEO gold standard in the industrial space, has this kind of content in spades including buyers' guides, DIY project ideas, and how-to videos.
9. Case Studies
Difficulty: Easy
Time Commitment: Medium
Cost: Free
Impact: Low – Medium
Trust is the single most important element to establish online. Trust, of course, is earned in countless ways, but case studies can be some of the best content to build trust.
It gives you an opportunity to share the kind of work you do and the expertise you have about the areas you serve.
10. FAQ Content
Difficulty: Medium
Time Commitment: Medium
Cost: Free
Impact: Medium
FAQ content is often overlooked as an SEO opportunity, but it's a big one. Think of the questions that you hear most from your customers and turn those into articles on your site.
The reason?
If you hear the question a lot from customers then chances are there are a lot of customers Googling that same question.
Turn your sales reps and customer service reps into content creators by having them create FAQ content as they field questions from customers.
With the proper schema, your FAQ content is what has the best chance of appearing in the FAQ featured snippet on the first page of Google.
11. Blog Content
Difficulty: Hard
Time Commitment: High
Cost: $
Impact: Medium – High
A blog is foundational to a great SEO strategy. It is your best format for high-quality content that acts as a resource for your customers higher in the purchase funnel. The more resources you make available to your customers, the more you establish your authority and trust over your domain and the higher you rank over time.
Your blog content also has the highest likelihood of accruing backlinks, which in turn boosts your domain authority.
Website services such as Wix or WordPress have a built-in content management system to support a blog, so there shouldn't be any extra technical resources required to get a blog up and running.
I have written about how to write high-value blog content at length in our Ultimate Guide to Construction Marketing on the Gearflow blog.
12. Newsletter
Difficulty: Medium
Time Commitment: Medium
Cost: $
Impact: Low – Medium
You should spend 3x more time distributing your content as you do writing it.
One of the best ways to distribute your content is in the form of a newsletter. This builds trust with your current and prospective customers while adding an additional customer touchpoint.
The construction industry has the second highest email open rate (45%) among the 28 industries analyzed by Hubspot.
Start with free tools such as Mailchimp or Constant Contact and grow from there.
Here is an example of one of our newsletters. You will find that there is nothing promotional in this email; it is instead designed to be a resource to our readers.
13. Social Media Content
Difficulty: Easy
Time Commitment: Medium
Cost: Free
Impact: Low – Medium
The average person spends 50 minutes a day on Facebook and its properties.
Even if customers in the construction industry spend half the time that the average person does on social media, you still have an opportunity to get your brand in front of your customer for 25 minutes a day.
Think of your social media channels as another outlet to distribute your content. Additionally, listing your NAP (Name, Address, Phone Number) across all of the major social media channels will help boost your local SEO.
For companies that do social media well, the payoff can go beyond selling more products and services — it can also work as a recruitment and retention tool for your employees.
In an interview with Gearflow, Barry Schlouch, president and cofounder of Schlouch Incorporated, a civil/heavy highway contractor based in Blandon, Pennsylvania, says he effectively uses social media to promote their employees, making it simultaneously work both as a recruitment and retention tool.
"We have a huge presence with our families and our employees on social media," Schlouch says. "I get a lot of children of employees who come work with us. It's a good reinforcer."
This can also speak to your potential customers about your business environment and values.
14. Referral Program
Difficulty: Medium
Time Commitment: Low
Cost: $$
Impact: Medium
All the time and effort put into connecting with your customers, becoming a resource, and establishing trust creates a natural lead into an effective referral program.
Many major tech companies, such as PayPal, Airbnb, and Uber, credit a lot of their early growth to their referral program.
Create an incentive for both the referrer and referred customers. If you blow your customers away with great service, you could be surprised by how effective a referral program could be.
15. Chat Bot
Difficulty: Medium
Time Commitment: Medium
Cost: $$
Impact: Medium – High
According to studies by IBM, Chatbots Magazine, and Mobile Marketer, ecommerce stores experience a 7% – 25% increase in revenue and a 30% decrease in customer service costs when a chatbot is implemented. This is because 40% of millennials say that they engage with a chatbot every day.
16. Online Marketplaces
Difficulty: Low
Time Commitment: Medium
Cost: $
Impact: High
The value of an online marketplace can extend well beyond incremental sales.
First, marketplaces present an easy opportunity to increase your presence on the first page of Google.
Second, the reach of a marketplace extends well beyond the audience of a single supplier.
This gives you an opportunity to capture the "non hand-raisers." These are the customers that discover your business as they are headed down a path to purchase something different.
Lastly, a successful marketplace becomes a conduit for data that cannot be found elsewhere.
This data powers the many features built into a marketplace that are designed to deliver a personalized experience to every customer on behalf of its suppliers.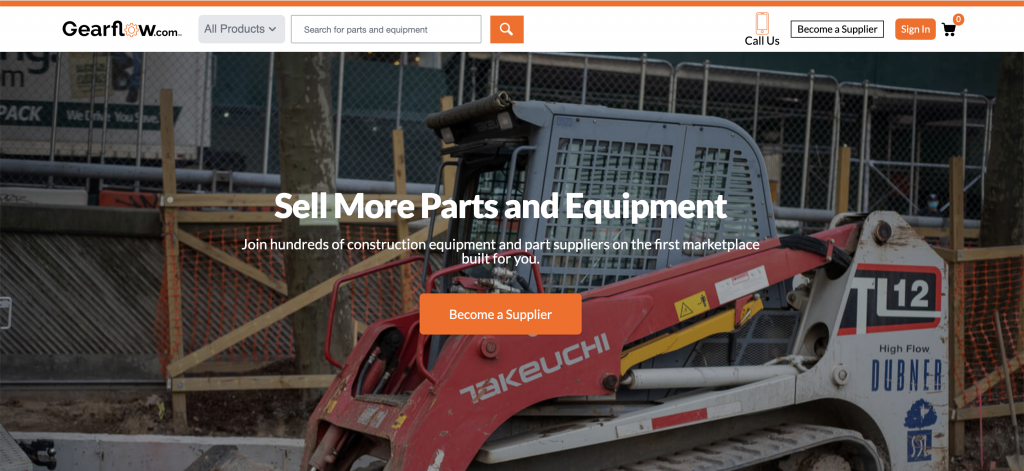 A lot of our focus at Gearflow.com is to create a platform that automatically does the SEO and ecommerce heavy lifting for our suppliers so they don't have to.
That way, suppliers can immediately compete online regardless of whether Gearflow is their sole ecommerce presence or a complementary channel to their existing website.
Final Thoughts
The purpose of this guide is to transform ecommerce from a threat into an opportunity for your business.
The construction equipment industry is built by small businesses. Small businesses typically do not have the advertising budget to compete online. Luckily, all of these marketing initiatives mentioned in this article build a more sustainable flow of traffic than any paid acquisition strategy ever could.
Truly, the biggest investment you'll need to turn the internet into a customer acquisition asset for your business is time, diligence, and patience.
Then you'll see these strategies pay off.
Discover more content designed to provide additional insights for heavy equipment management by signing up for the Gearflow newsletter here.