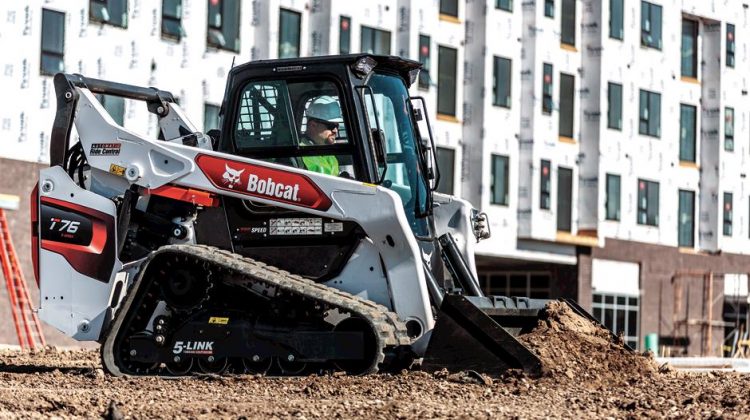 By Karen Scally
Over the life of your skid steer, your rubber tracks will need to be replaced several times.
Rubber skid steer tracks typically last between 1,200 and 1,600 hours. This is about twice as long as air-filled, also known as pneumatic, skid steer tires. Tracks are ideal for soft and uneven ground, because they are less likely to damage surfaces while providing necessary traction to maneuver around a job site.
According to Caterpillar, rubber tracks are due for replacement when tread depth is less than 8 mm and tread forging is less than 34 mm. Your service technician should also evaluate replacement if your skid steer tracks cannot maintain appropriate tension or the embedded steel cording skips or ratchets over the sprocket teeth.
---
Skid Steer or Compact Track Loader?
Some people call it a skid steer, others say compact track loader or CTL. Which is it? One defining feature is that a skid steer has wheels and a compact track loader has tracks. So why are we using "skid steer tracks" in this article? Many people use these terms interchangeably or refer to both types of machines as a skid steer, making skid steer the more popular term in vernacular usage. But technically, we are talking about replacement tracks for CTLs.
---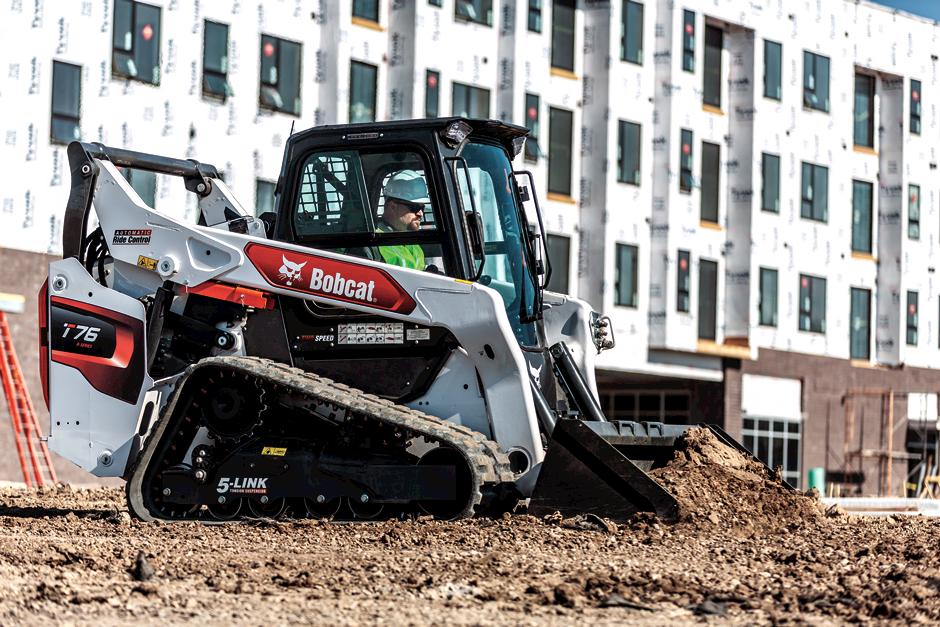 How to Choose the Right Tread Pattern for Your Rubber Skid Steer Tracks
While a wide variety of tread patterns for skid steer rubber tracks exists, depending on the application, the most common types are:
Block tread
C-lug tread
Straight-bar tread
Multi-bar lug tread
The popular staggered block tread is a multi-purpose tread that can perform well on many surfaces, but especially on hot paved roads and gravel.
The C-lug tread resembles a "C" shape and works on both on- and off-road surfaces.
The straight-bar tread offers superior traction for wet and muddy conditions but can result in a bumpier ride.
The multi-bar tread is one of the most versatile for operators that need to shift between on- and off-road surfaces during a single job. This tread also works well in the snow.
How to Measure Your Rubber Tracks for Replacement
If you cannot locate a part number on your current skid steer rubber tracks, there are several key pieces of information you need to know in order to find replacements that fit.
Note the brand, model, and year of your machine.
Measure your track size. This includes:

Track width in inches/millimeters
Distance between links/lugs in inches/millimeters
Pitch (distance between centers of two links/lugs) in inches/millimeters

Count the total number of links/lugs around the full track length.
Determine the applications and job site conditions that you will use the tracks on.
Once you have this information, consult with a qualified customer service representative to ensure proper fitment of your replacement rubber tracks for skid steers.
Below, we've put together a list of 25 OEM and aftermarket rubber track brands to help you find the replacement tracks that will work best for you and your job site needs.
---
Did You Know?
Worn sprockets are one of the leading causes of rubber tracks wearing out prematurely. Replace sprockets when they are visibly worn or missing teeth to help prolong your track life.
---
Blumaq, established as a family business in Spain in 1992, offers a variety of rubber track sizes and models for all types of operating conditions. The international company says it keeps continuous stock and can ship many models within 24 hours, with two branches located in the United States.
Bobcat rubber tracks are available in multiple tread patterns designed for your particular application, with wide tracks ideal for flotation and narrow tracks designed for increased ground pressure. While the C-pattern is the original Bobcat rubber track, the brand also offers block, multi-bar lug, and nonmarking turf patterns.
One of the largest suppliers of rubber tracks for OEMs, Bridgestone was founded in 1931 and has over 180 production facilities in 25 countries around the world. According to the company, its engineers pioneered the rubber track in the 1960s, and it makes the raw materials, such as natural rubber, synthetic rubber, carbon, and steel cord for its tracks. Bridgestone offers four tread patterns — Vortech, block, multi-bar lug, and Polar — for compact track loaders.
Camso, previously known as Camoplast Solideal, offers at least three models of rubber tracks for compact track loaders. The company uses a single-cure technology for its rubber compound and endless high-tensile steel cables to reduce downtime from breakage. Its iron core and heavy-duty carcass is designed to add durability and improve rolling path life.
Cat offers three patterns for its compact loader rubber tracks, with general duty, heavy-duty block, and heavy-duty bar treads. The company's steel-embedded rubber tracks provide necessary traction, while their design contributes to high flotation, low ground pressure, machine stability, and a smooth ride.
Trabber tracks by Cohidrex, based in Spain, feature its GL system, which offers reinforced sides, steel track cord, and forged sprocket teeth. This prevents premature breakage and cuts while improving its durability. The brand also includes an anti-vibration track system where the roller leans on the track's metal core.
In 2002, Dominion Equipment began marketing its own brand of rubber tracks, with at least eight warehouses across North America. Dominion offers a six-month limited nonprorated warranty against manufacturer defects for its skid loader tracks.
According to the company, DuroForce manufactures aftermarket rubber tracks for compact track loaders that meet or exceed OEM standards. Their tracks feature solid-steel, forged links, and all steel parts in the tracks are treated in a special acid wash to help bond the steel and rubber. Six tread patterns are available.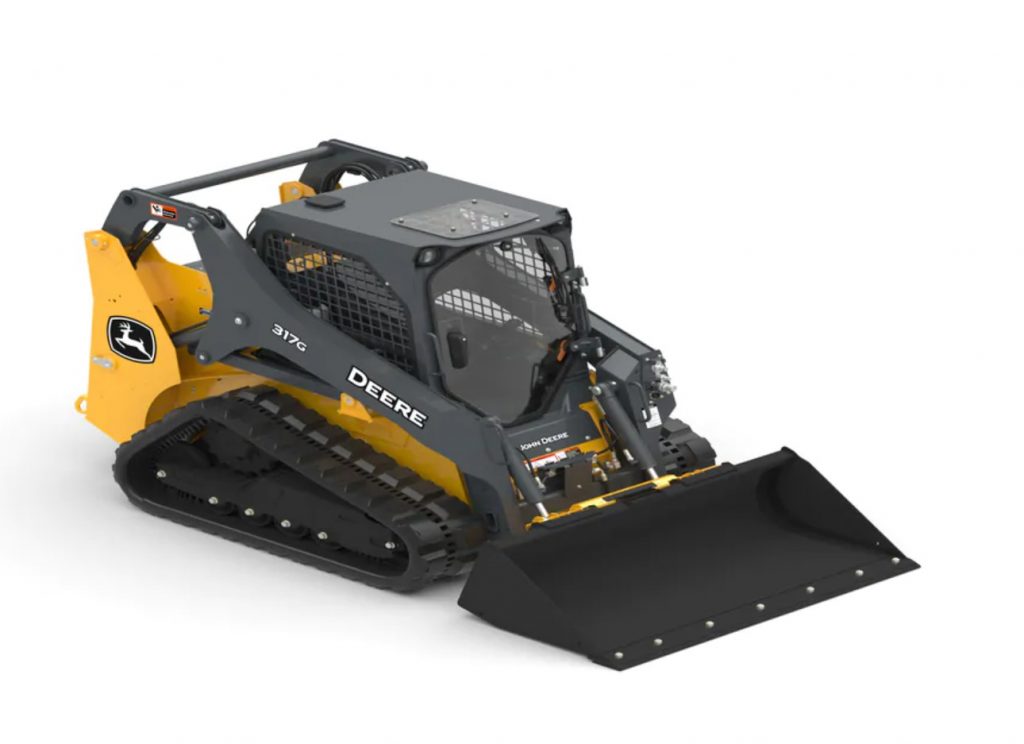 Founded in 1996 in Australia, the Global Track Warehouse Group (GTW) has its North American headquarters in Chicago and is a full-service OEM track supplier that designs, manufactures, and distributes its products. GTW uses a natural rubber formulation with up to 70% natural rubber in its CTL rubber tracks to prevent cracking.
ITR Solutions depends on its field tests and real-world experience to produce high-quality rubber tracks. The company opened its new undercarriage facility in Hobart, Indiana, in 2019, next to its North American corporate headquarters. ITR offers multiple tread patterns for various applications.
John Deere rubber tracks feature a curved roller path, which extends roller-path life up to 22% over the previous version. The company has also made improvements to its metal-core adhesive strength and steel-cord durability. John Deere CTL rubber tracks include an 18-month or 1,500-hour warranty on materials and workmanship.
Established in March 2010, KTSU America offers metal and nonmetal core rubber tracks for compact track loaders and multi-terrain loaders. The track structure is designed to guarantee correct fitment and performance.
With more than 20 years of experience, McLaren Industries offers an extensive line of tread patterns for its rubber tracks. McLaren's tracks are built to OEM specifications and suited for a variety of applications. Its Terrapin tracks are turf-friendly, while its NextGen tracks provide superior traction. The Maximizer tracks are durable and designed to fit your budget.
MWE's rubber tracks are built with continuous steel cords and nonrecycled rubber. Their high-quality tracks are designed to provide optimal traction with a long service life for harsh job site environments.
Prowler follows strict ISO 9001 quality standards in the manufacturing of its CTL rubber tracks. The extra deep, heat-resistant lugs enhance traction and its heavy-duty steel embedded links provide a smooth rolling path for the undercarriage. Prowler tracks also feature a thick carcass made with all-natural rubber and synthetics and continuously wound steel cables.
Established in 1992, Romac Industrial Parts carries a large inventory of rubber tracks in the United States, and the company's warehouse staff will ship orders the same day they are placed. Romac's tracks are made with the highest standards for rubber compounding, and they use three steel cord technologies for optimal performance.
Rio Rubber Tracks are made according to ISO quality processing standards. The tracks feature jointless internal steel cord technology and five-ply symmetrically wound steel cable braiding. They are available in many sizes and tread patterns, with a six-month warranty for compact track loaders.
Rubbertrax was one of the first aftermarket track suppliers to offer continuous steel cord rubber tracks, adding strength and durability. The tracks feature dropped forged metal inserts for a strong metal core and premium natural/synthetic rubber compounds. No recycled rubber is used in any of their tracks.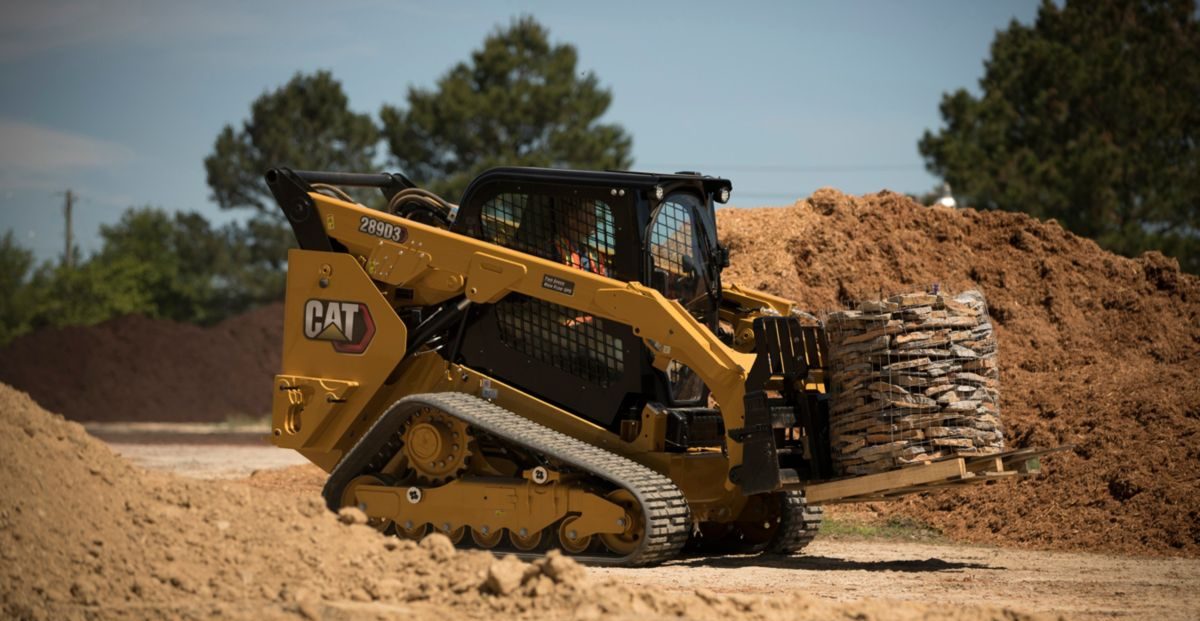 The HiQual rubber tracks by SRJ Inc. feature the company's patented S'Wave tread pattern. This pattern is designed to offer more traction than block or C-pattern tracks. All tracks are manufactured with 100% natural virgin rubber, drop forged and dipped 1045 iron cores, and continuous high tensile steel cables.
Established in 1982, Summit Supply has eliminated 95% of rubber track failures with its proprietary continuous steel cord technology. As a direct importer, the company's tracks use a strict blend of natural and synthetic rubber — no recycled materials.
Trelleborg's CRT-800 CTL rubber track features a cost-effective, low-vibration design and an advanced rubber compound. The tracks include a continuous-wound cable bundle and forged metal pieces to improve their durability and reduce breakage.
Trident's rubber tracks use continuous steel cord for strength and coated steel cord for corrosion resistance. Featuring forged and heat-treated metal cores to extend their life, Trident models fit over 5,000 machine models with application-specific lug patterns.
Trojan Tracks use a specially formulated rubber compound to reduce cutting and tearing. They feature dual continuous steel belts, which are multi-strand cables wound in a spiral to form a wide-steel belt. Trojan Tracks also use drop-forged steel inserts that are hot-dipped in a bonding adhesive for added strength.
TVH rubber tracks for skid steer loaders feature continuous metal inner belts. The company offers rubber tracks for Bobcat, Case, Caterpillar, JCB, John Deere, Kubota, Takeuchi, Volvo, and Yanmar loaders.
VMT International offers more than 200 different types of rubber tracks, all of which have steel wire incorporated. The company uses a special compound of pure natural rubber, not recycled materials.
Looking for more content designed to provide additional insights for heavy equipment management? Make sure to sign up for the Gearflow newsletter here.