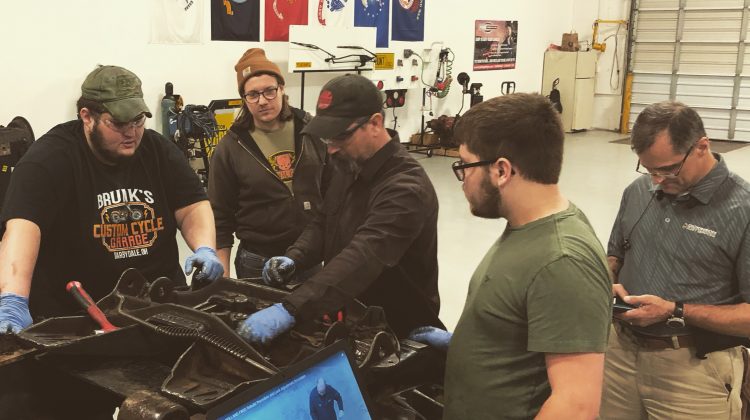 By Karen M. Scally
There have never been better reasons to be a diesel mechanic than right now.
Due in large part to the COVID-19 pandemic, more than 16 million people in the U.S. were reported to be seeking work with an unemployment rate over 10% in July, according to the Bureau of Labor Statistics.
In this time of job transition and economic uncertainty, workers are reassessing current opportunities and career goals. Though some industries are experiencing hiring freezes or permanent reductions of roles, the immediate need for diesel mechanics remains high — and it will continue to be for years to come, says Tim Spurlock, CEO of American Diesel Training Centers.
Spurlock estimates less than 25% of the diesel technicians needed in the U.S. are entering the workforce each year — and that's a conservative estimate.
Meanwhile, the economic impact due to the shortage of skilled technicians could be costing $2.4 billion a year for the members of the Associated Equipment Distributors alone, according to a study by the College of William & Mary commissioned by The AED Foundation in 2016.
In order to stop this ongoing loss of potential revenue, heavy equipment dealers, rental companies, contractors, repair shops, and OEMs all need open diesel mechanic positions filled — and fast.
Spurlock, who cofounded American Diesel Training Centers in 2017 in Columbus, Ohio, to provide innovative solutions to address the technician shortage, says more people should consider becoming a diesel mechanic. Here are his 10 reasons why.
No. 1 Reason to be a Diesel Mechanic:
The Need in the U.S. is Great
Every day, Spurlock has the same routine.
He goes to Indeed.com and searches for the job listings for diesel mechanic in the U.S. In August 2020, there were more than 19,000. Searching for heavy equipment mechanic produces another 17,000 open positions.
Experience tells him that the listings on Indeed.com most likely represent about half of the actual open diesel mechanic jobs in the U.S.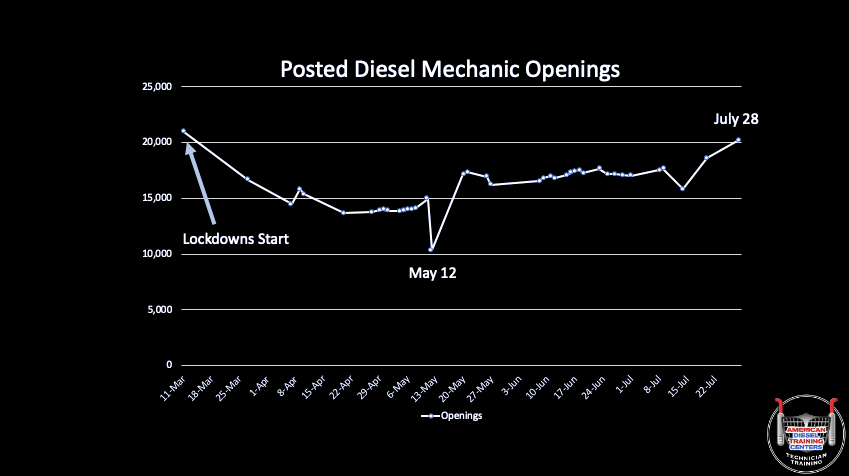 "The real need for technicians is between 30,000 to 50,000 diesel technicians a year," Spurlock says.
And yet, before the pandemic, U.S. schools were producing around 5,000 to 6,000 diesel mechanics a year, based on Spurlock's estimates from students receiving Title IV government funding for schooling in that field.
"We have a real input problem," Spurlock says.
Diesel mechanics are clearly leaving the market faster than they can be replaced. The continued retirement of baby boomers, at a rate of 10,000 a day, will only accelerate this. According to the U.S. Census, all boomers will be at least age 65 by 2030.
This pronounced input gap in the marketplace affects employers significantly. In 2015, the AED reported that more than 50% of its members say their inability to find qualified technicians hinders business growth and increases costs and inefficiencies. The industry says that it's losing 9% of its annual revenue due to this problem.
So where are all the mechanics to fill these roles?
No. 2 Reason to be a Diesel Mechanic:
Traditional Post-Secondary Education Has Flaws
The problem is the debt. It's just not sustainable. The idea that you're going to take a kid who comes out with $40,000 of student loan debt and then they start out at $40,000 a year and then have to service that debt, it's a nonstarter."

— Tim Spurlock, CEO of American Diesel Training Centers
Spurlock, whose background is in the educational publishing industry, says upcoming diesel mechanics are not in the schools.
In the U.S., there are about 200 post-secondary diesel technology programs, including on-highway and off-highway, averaging out to about four per state, according to American Diesel Training Centers' research. Spurlock says he noticed during his travels in his previous roles that classrooms in these programs are often mostly empty, and some programs can accommodate only about five or six students at a time.
If the need for diesel mechanics is so great, why are there so few students in these programs?
For one thing, Spurlock says more students are recognizing that, in general, higher education is not for everyone, and it is growing increasingly costly.
The average annual cost, including tuition, fees, room, and board, of a public four-year institution in the U.S. was estimated to be $20,000 for the 2017-18 academic year, according to the National Center for Education Statistics. Private four-year institutions were estimated to cost more than $43,000 a year for the same time period.
With the costs so high, student loan debt continues to mount, with 45 million borrowers owing a total of $1.6 trillion in the U.S.
And though it is less, Spurlock says his research shows the cost to become a diesel mechanic at two-year community college is about $20,000-$25,000, or about $30,000-50,000 at a 12-month post-secondary trade or technical school.
"Cost is a huge barrier," he says. "I literally talked to a kid yesterday … his bill would have been $60,000 for one year of training. It's totally crazy."
While the pay for a diesel mechanic, with a median salary of $48,500 in 2019, is comparable to many other entry-level positions for new graduates, it is not enough for students that also have monthly loan bills.
"The problem is the debt," Spurlock says. "It's just not sustainable. The idea that you're going to take a kid who comes out with $40,000 of student loan debt and then they start out at $40,000 a year and then have to service that debt, it's a nonstarter."
The good news: Taking on student loan debt to pay for costly tuition is no longer the only option to become a diesel mechanic.
No. 3 Reason to be a Diesel Mechanic:
Alternative Training Now Exists That is Cheaper, Faster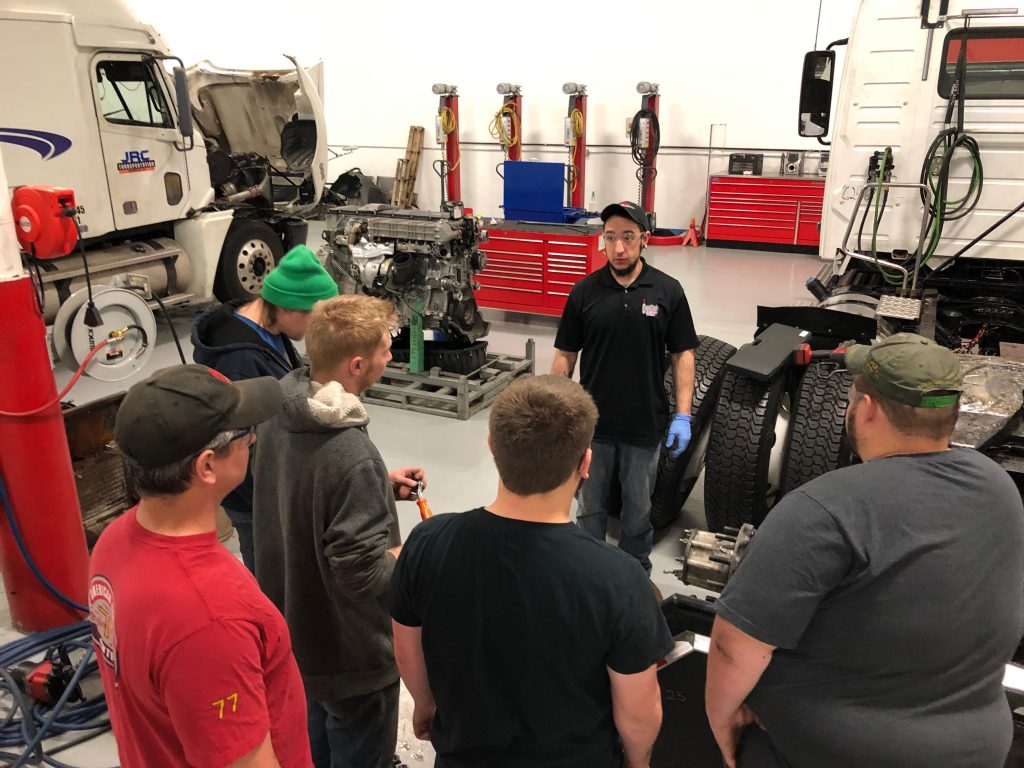 Recognizing the lack of a pipeline into the diesel mechanic field, Spurlock and his business partner Chris Ellis set out to do something about it with the creation of American Diesel Training Centers.
Similar to how American Diesel Training Centers set out to find innovative solutions for the diesel mechanic shortage in the U.S., Gearflow.com launched its online construction parts marketplace to disrupt parts fulfillment challenges. Find the part you need for your repair today at Gearflow.com
Because they are not tied to the regulatory constraints required for government funding like many traditional post-secondary schools, American Diesel Training Centers was able to design a diesel mechanic program that is only 10 weeks long. The cost: $10,000.
Spurlock says their first class in 2017 at their Columbus, Ohio, headquarters had 21 students.
"Since we started, we've become one of the largest producers of diesel mechanics in the United States," Spurlock says. "Currently, we have about 400 graduates in three years."
They have added a location in Cincinnati, as well as about 18 partner affiliates that use their model throughout the U.S., with more expected by the end of the year.
In September, American Diesel Training Centers will launch a new program specifically for heavy equipment diesel mechanics.
"Though we're just launching our off-highway curriculum, we already have graduates that work for Bobcat and Sunbelt Rentals," Spurlock says.
So, how do they do it?
No. 4 Reason to be a Diesel Mechanic:
Only Basic Skills Required to Get Hired
U.S. schools ironically overtrain when they don't need to. They overtrain because they have to."

— Tim Spurlock, CEO of American Diesel Training Centers
Spurlock says the idea for a new approach to train diesel mechanics came from a 2017 taskforce of the Technology & Maintenance Council, which is the training arm of the American Trucking Association. The taskforce conducted a study asking companies what skills they wanted an entry-level diesel mechanic to know.
"They got a couple hundred responses back, and lo and behold, nothing was about rebuilding engines or tearing apart a transmission," Spurlock says. "It was exactly what you would do with your car — it was electrical, it was preventative maintenance, it was diagnostic work. The absolute same holds true for heavy equipment."
So American Diesel Training Centers built its program around 420 essential tasks identified as necessary by employers for new diesel mechanics to enter the field. This sets them apart from lengthier, more in-depth programs.
"Essentially, we're a boot camp for truck and heavy equipment mechanics," Spurlock says. "U.S. schools ironically overtrain when they don't need to. They overtrain because they have to. If they take government money, they have to do what the government tells them to do. Their programs have to be a certain length."
No. 5 Reason to be a Diesel Mechanic:
Students Can Work, Get Training at Same Time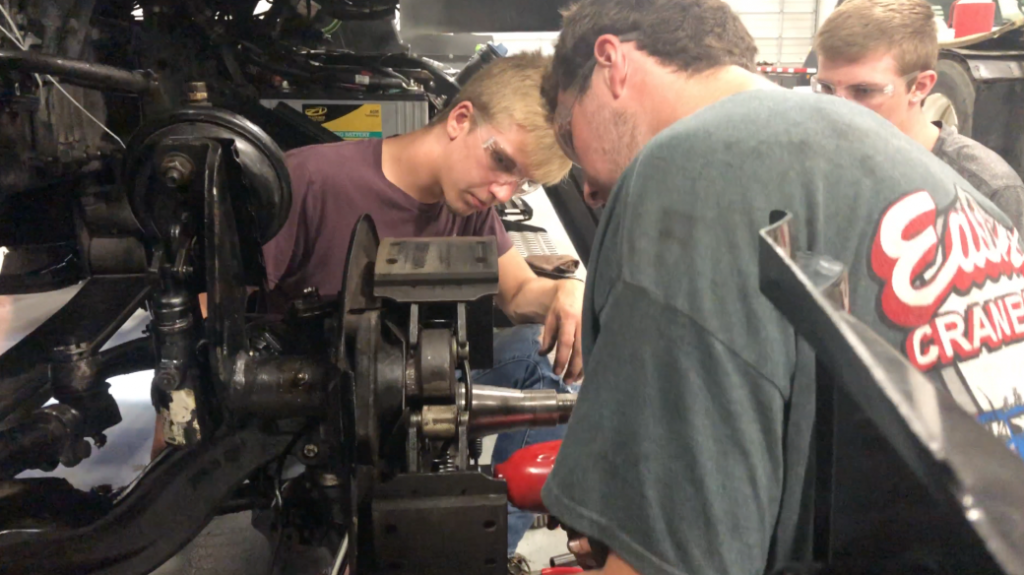 One of the challenges that exist to pursuing a career as a diesel technician is that many people find it difficult to obtain training or education in a different career while trying to earn a living wage, Spurlock says.
"There are millions of people in this country … breaking their backs every day to make $12 an hour, but they can't get out of that job," he says. "We don't believe this silliness that no one wants to work these days. It's that they don't have any actual pathway into upward careers."
Because of this, American Diesel Training Centers specifically designed their program for students to attend training part-time while working a full-time job, if needed.
They offer two classes: a morning class from 8 a.m. to 1 p.m. and an evening class from 4 to 9 p.m., allowing students to work either first or second shift while going through the diesel mechanic program.
"Our program is really built for working adults," Spurlock says. "At the end of the day, American Diesel is all about removing barriers for our students."
No. 6 Reason to be a Diesel Mechanic:
Student Loans Aren't Necessary
Though the $10,000 tuition at American Diesel Training Centers is lower than the cost of most trade schools or community colleges, it is still a lot of money for many people.
In order to make training obtainable for students, American Diesel Training Centers primarily utilizes income share agreements as opposed to student loans to fund the cost of tuition. In an income share agreement, the student receives funding and agrees to pay a fixed percentage from their salary for a set time after finishing school.
"The payment is funded by the public marketplace," Spurlock says. "Investors bet that a school will produce a quality graduate who will get employed and make monthly payments. What that forces American Diesel to do is to produce a quality student who will get a quality job who will service their income share agreements."
Payments are typically 8% to 10% of a student's monthly income. Unlike student loans, they cap out at four years, and there is no interest.
"Let's say you're making $40,000 a year, and your income share is 10%," Spurlock says. "So you'll pay $4,000 a year, and then there's usually a cap. It'll cap how much you pay in dollars, and it'll cap how long those payments last."
Spurlock believes this is how higher education will be increasingly funded in the future.
"It's a true free-market solution," he says.
No. 7 Reason to be a Diesel Mechanic:
Online Curriculum Adapts to How You Learn
Another challenge that can block the pipeline of diesel mechanics entering the field is often those who want to pursue that career don't like school all that much.
Knowing that and how today's workforce is increasingly digitally savvy, American Diesel Training Centers developed an online curriculum that uses adaptive learning technology.
"Basically, the system treats everyone uniquely," Spurlock says. "It adjusts based on what you know and your competence level in what you know. It's the fastest, most efficient way to learn."
For example, perhaps a student already has some experience as an auto technician. That person may be able to move through the electrical content more quickly than someone without any previous experience.
The system also doesn't penalize students for things they don't know — no letter grades or scores are issued. Students learn at their own pace, progressing once they have satisfied a particular objective.
Spurlock says students are expected to complete the relevant online component before each class, and the average student will take 30 to 40 hours to go through the online portion.
No. 8 Reason to be a Diesel Mechanic:
It's Not Just for Recent Grads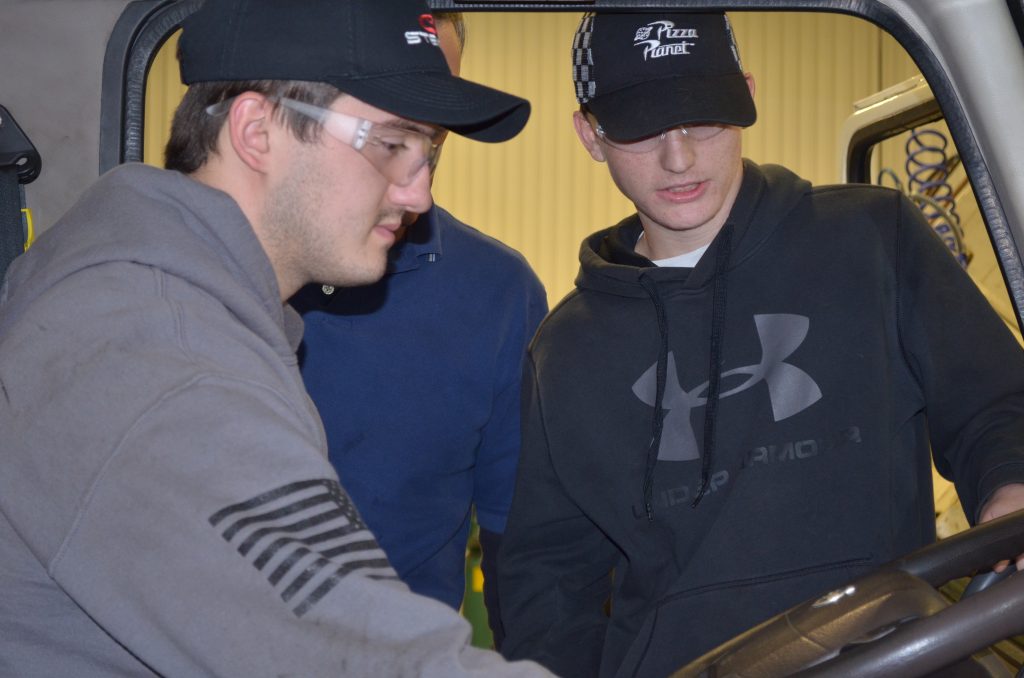 Unlike most post-secondary technical schools or community colleges, American Diesel Training Centers does not target high school students for its diesel mechanic programs.
"There's a lot of people out there who would really benefit from a job that would raise their economic prospects in an industry that's not going anywhere," Spurlock says. "Our average age is 27 years old. We like people to have a little life experience, and so do employers."
Primarily using social media, American Diesel Training Centers strives to paint an accurate picture of what those interested in a diesel mechanic career can expect.
"We don't recruit; we decruit," Spurlock says. "If you don't like to get your hands dirty and show up on time, skip past us. Everybody else, listen up. We're super transparent. We actually embrace the grind — we embrace the grittiness of the job."
Spurlock says this type of career can particularly appeal to military veterans. At their Columbus location, American Diesel Training Centers offers a full-time, five-week program that accepts the GI Bill.
"The nice thing about our program is, unlike other programs, it only takes 16% of the GI Bill," Spurlock says.
The full-time, five-week program also accommodates workers who've been recently laid off or displaced during the pandemic.
"Our biggest challenge was recruiting in a 3.5% unemployment economy," Spurlock says. "Enrollments now are at a record high."
No. 9 Reason to be a Diesel Mechanic:
Hands-On Training Opens Doors to Many Career Paths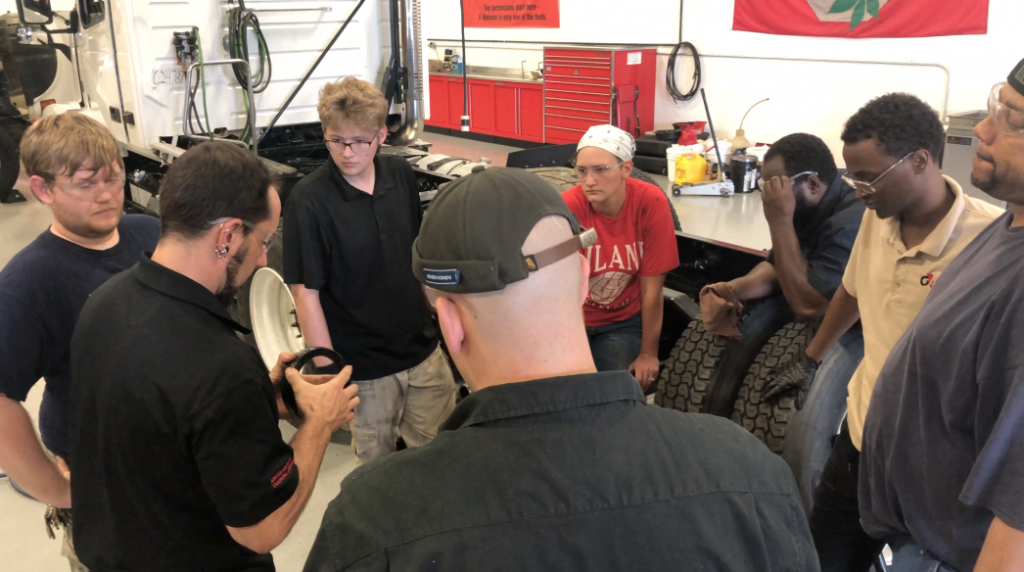 Classes start with a short lecture on the material students are learning, and then students get their hands dirty with practical tasks on the equipment in the shop. Students must visually satisfy instructors that they can perform the required tasks, as well as complete all online work and demonstrate excellent attendance, in order to graduate from the program.
But Spurlock says it's a common misconception that those who start in diesel mechanic careers must end there.
"We really view ourselves as a portal into the business," he says. "There's no greater place to start in the transportation or off-highway market than as a technician, because if you are a mechanic, you know everything."
He says diesel mechanics can work in that role for three years or 30, making good money.
"But if you decide that it's not for you, that's OK," Spurlock says. "Because you've been on the shop floor, you know exactly how things run, and you can then go into human resources, parts, or management. There are hundreds of CEOs and presidents of companies out there who started out as mechanics."
No. 10 Reason to be a Diesel Mechanic:
You're Almost Guaranteed a Job Making an Average $10K More a Year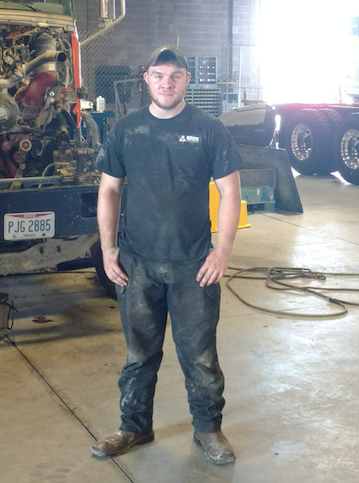 Currently, there are more than 140 companies that American Diesel Training Centers graduates work for, in just the three years since they've opened.
"Our placement rate is almost 100%, because the need is so bad," Spurlock says. "We're really good at pointing our folks to the right level of opportunity. Most of our folks are placed before they graduate."
American Diesel Training Centers also has a multifaceted career services team that works with students on their professionalism, resumes, interviewing skills, and financial literacy, Spurlock says.
Another way that students find jobs is through training at one of their platinum partners, which is a company that essentially creates their own training academy paired with American Diesel Training Centers' curriculum and recruitment method. Students are hired as employees and receive their on-the-job training in exchange for a set time commitment with the employer.
Spurlock says an example of this is Star Truck Rentals in Michigan.
"We went out and recruited candidates for their training academy, and they were hired as Star employees on Day One," Spurlock says. "I mean, you want to talk about a smoking deal. You're getting paid while you train, you're hired, and you have no student loan debt. I think at this point, Star's probably put 15 people through that program."
American Diesel Training Centers has about 12 platinum partners operating with this method across the U.S., with locations including Savannah, Georgia; Dallas, Texas; and Des Moines, Iowa.
They also have about a half-dozen gold partners, where they use a sharing economy model with independent shops that have space and availability in their facilities.
"They basically provide the infrastructure, and we provide the recruiting, the curriculum, and the program management," Spurlock says. "And then we split the revenue. So what it does for independent shop is it can deliver a very healthy, almost pure profit to their bottom line."
Plus, the gold partners get their first pick of graduates to bring on-board, he says.
Diesel mechanic graduates that are hired see an immediate average salary increase of about $10,000 a year, Spurlock says.
"We've had kids that come in making $12 an hour that leave making $25 an hour working for iconic companies," Spurlock says.
In less than three months — and without the huge burden of student loan debt — Spurlock says becoming a diesel mechanic can be life changing.
"I think that's what we're most gratified about," he says. "You take someone who thought, 'I'm just going to have to work dead-end job to dead-end job,' and you give them a career in 10 weeks."
Though this article may have given 10 reasons to be a diesel mechanic, for those that are ready to get started, thousands of opportunities await.
Heavy equipment technicians need faster, more effective ways to find the replacement parts they need to efficiently make repairs and avoid costly downtime. Find the exact part you're searching for at Gearflow.com.