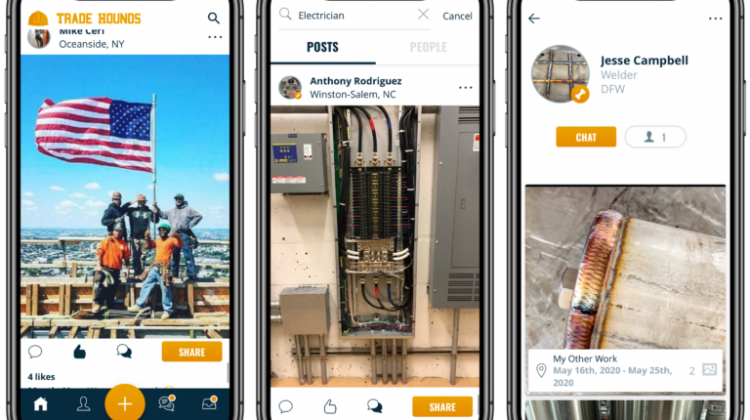 By Karen M. Scally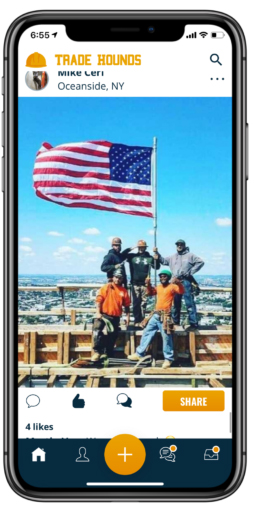 The construction labor shortage is dire.
According to the 2020 Workforce Survey by the Associated General Contractors of America, more than half of responding construction firms said they could not find enough skilled tradespeople for their open jobs.
The problem is even bigger for highway and transportation contractors, with nearly three out of four reporting at least one unfilled hourly craft position.
One of the problems certainly is a lack of skilled tradespeople entering the workforce, but there is also the problem of connecting qualified commercial trade workers to relevant construction job openings.
In today's digital world, sourcing skilled tradespeople through word of mouth is not working like it did in the past.
Traditional online job boards, such as Indeed and Craigslist, or even a business-oriented social network like LinkedIn aren't cutting it either.
Peter Maglathlin believes he has the answer: An online labor marketplace platform designed specifically for the construction industry.
Maglathlin is the co-founder and CFO of Trade Hounds, which is the first online professional platform in the U.S. created exclusively for tradespeople.
So how can Trade Hounds provide the missing solution for the skilled trades shortage?
Read on for four reasons why.
It's Designed For Contractors
Trade Hounds co-founder and CEO David Broomhead grew up in a construction family.
He saw first-hand how old-school recruiting methods were no longer effective in the trades. He thought there was potential in emerging digital platforms, but none of them were great at serving the skilled trades, Maglathlin says.
Facebook is for connecting with family and friends. LinkedIn is built for the office professional.
"Most construction workers still lack a professional identity online because no one has built a platform with their needs in mind," Maglathlin says.
Broomhead also knew an effective solution needed to go beyond a purely transactional job board, such as Indeed or Craigslist.
"Job boards are something workers use once every 12 or 18 months," Maglathlin says. "We need to build something that provides enduring value for the worker over time, regardless of whether or not they're looking for a job."
How do online marketplaces work?
By definition, an online marketplace is a digital platform where demand and supply are connected, according to Keith Holmes, senior vice president of BigRentz, during a recent webinar titled, "Using an Online Rental Marketplace and What the Future Holds." The webinar was part of the American Rental Association's inaugural RentalTech conference, held Oct. 5-8.
Of course, Amazon is one of the most well-known and successful examples of an ecommerce marketplace, with a $1.72 trillion market cap. The platform has played an instrumental role in the shift of consumer expectations: People want to go to one spot online to find a wide range of products and services.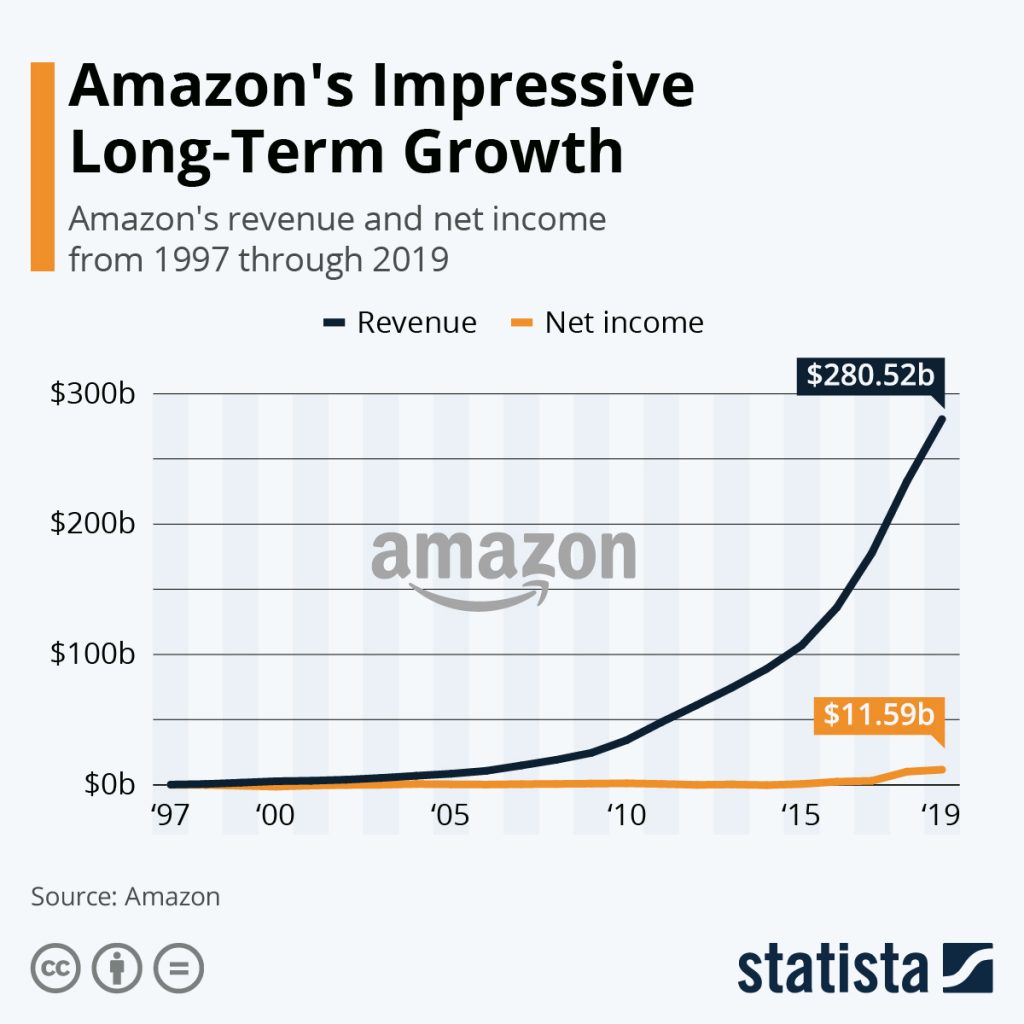 Millennials, who are now between the ages of 25-39, are also influencing this change. The research journey of this generation, increasingly becoming the decision-makers in their organizations, naturally starts online.
This is making the solutions offered for organic search rise in significance.
"How do you find that supply? The demand wants to find that supply," says Kevin Forestell, co-founder and CEO of Dozr, during the ARA's online marketplace webinar. "If they're all together in one spot, it makes it very easy."
What are the current trends in online business?
A February 2020 article from Webinterpret identified niche, or vertical, marketplaces as the No. 1 ecommerce trend.
"When it's difficult to compete in the established ecosystems of marketplaces like eBay and Amazon, niche marketplaces can give smaller sellers a competitive advantage," author Karolina Kulach says in the article.
Luke Powers, co-founder and CEO of Gearflow.com, says this is one of the key distinctions in customer-based marketplaces.
"The value to customers differs depending on where they are going," Powers says.
Industries with a high degree of fragmentation on both sides of the market — supply and demand — are primed for a vertical marketplace. This has happened in B2C with GOAT taking its slice of the online retail sneaker market away from eBay, and AirBNB carving out its rental housing niche from Craigslist, Powers says.

Now, the B2B market is ready to see this same level of success, with the splintered construction market particularly ripe for this opportunity.
"I'm a big believer in vertical marketplaces," Maglathlin says. "We felt there needed to be a true focus on construction, because there are so many horizontal platforms out there that try to be something for everyone."
The Parts and Equipment Marketplace FOR Construction: Find the parts, tools, and equipment you're searching for in the only marketplace built for the construction equipment industry at Gearflow.com.
Borrowing the Best of B2C for B2B Marketplaces
One of the benefits of LinkedIn is that it enables everyone to create a professional storefront — a way to be discovered, Maglathlin says.
It's not just for people seeking work; it's for employers to also identify a person with the right skill set who may consider a new opportunity.
"It's also not just a static resume," Maglathlin says. "It's something that's living and constantly updated and vibrant."
The highly skilled tradespeople that are building the world around us deserve a construction-only marketplace."

— Peter Maglathlin, co-founder and CFO of Trade Hounds
Broomhead and his team of co-founders, which also includes CTO Jon Clark, wanted to design a similar environment for construction workers.
"The highly skilled tradespeople that are building the world around us deserve a construction-only marketplace, because they require a unique set of functionality," Maglathlin says. "A welder is very different from a nurse … they require very different products."
Tradespeople are on job sites most days, so they use their phones far more frequently than a computer. Therefore, the Trade Hounds platform had to be mobile. They also prefer to showcase their skills with imagery and video as opposed to a written resume, Maglathlin says.
"It's very much a show, not a tell, type of industry," he says.
With those factors in mind, the team launched the Trade Hounds app in 2019 — without any job posting features initially.
It Builds Community
The lack of job listings at the time of Tradeshounds' launch was intentional.
"What we ended up doing first, and what is thriving today, is building a worker-first community," Maglathlin says. "Our strategy is that the community is the foundation that enables us to do everything else. So if we don't get the community right, then jobs aren't even a possibility."
Trade Hounds essentially pulls together the best features from Instagram, Facebook, and LinkedIn that are ideal for skilled craft workers. Through images, videos, and engagement, Maglathlin says the online platform, which is free for tradespeople to join, provides three distinct benefits.
First, they can showcase their high-quality work.
"So many of these workers across this country feel a little bit forgotten," he says. "This gives them the opportunity to be recognized."
Second, users can connect to others in a network that's relevant to them.
And third, they can create professional profiles they are proud of — portfolios that highlight their accomplishments.
"This is a community that is deep and active. It's all about capturing the hearts and minds of the worker." — Peter Maglathlin, co-founder and CFO of Trade Hounds
Users can comment on their work or ask questions about projects or processes. This creates the ability for apprentices to learn from journeymen or other masters of their crafts.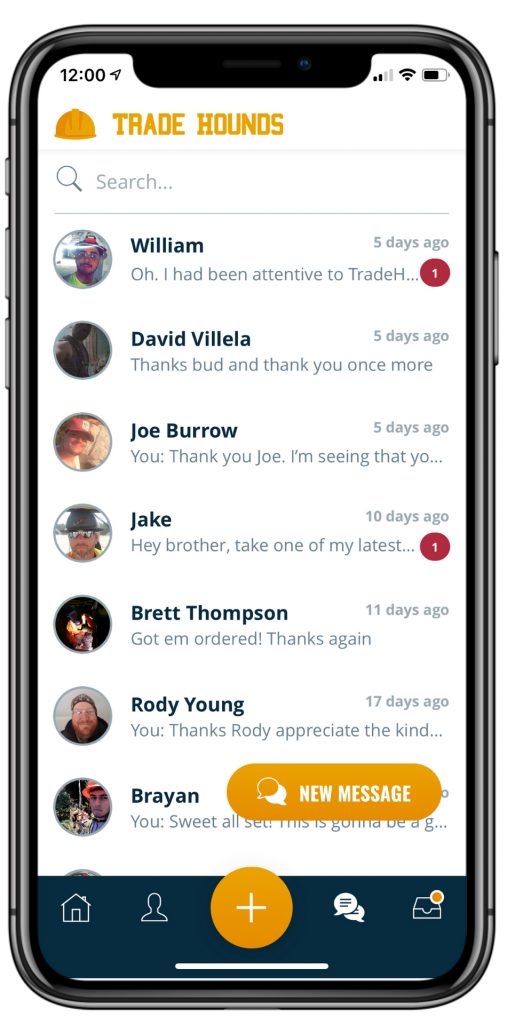 "The community then becomes a great verifier of quality," Maglathlin says.
This idea of building a home specifically designed for the trades is working, as evidenced by its growth.
In less than two years, Trade Hounds has nearly 200,000 commercial construction workers, which includes electricians, plumbers, welders, carpenters, HVAC installers, and more on the platform, Maglathlin says.
"This is a community that is deep and active," he says. "It's all about capturing the hearts and minds of the worker and serving that side of the market first, since skilled tradespeople are the scarce asset in the ecosystem."
News of Trade Hounds' existence is spreading primarily through word of mouth, boosted by a hardhat sticker campaign, Maglathlin says. Users who fill out their profiles receive 10 hardhat stickers to pass on to their peers.
"What's really cool is when workers get these hardhat stickers and they put them on their hat, they'll actually take a photo of it and post it to the platform or share it with the community," he says.
It Forges Connection
With the community thriving, it was time to take the next step.
"The natural extension of the community, from our perspective, was enabling our users to find that next great job in their area that pays them well with great benefits that they struggled to find previously through technology," Maglathlin says.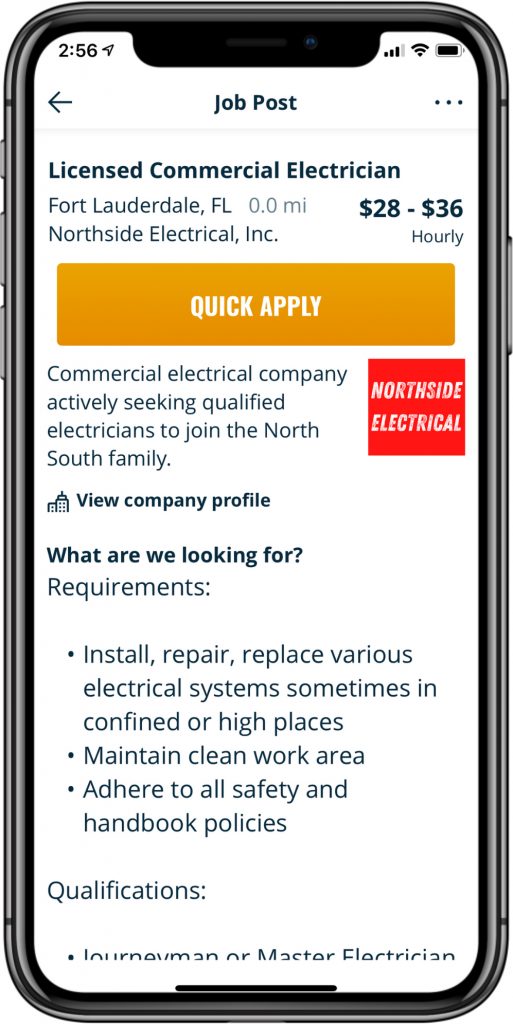 The Trade Hounds jobs platform is currently live in New England and in the Southeast, and will be expanding nationally in the near future.
Just like the community Trade Hounds has built, the jobs feature is designed to connect for the construction environment it serves.
"The hiring process is different because their requirements are different," Maglathlin says.
Depending on the position, it may call for certain certifications, safety training, licenses, or union membership. Users can highlight those elements in their profiles to position employers to make more informed decisions.
How the jobs functionality works is that construction companies pay a flat fee of $200 to post a job opening for 30 days. Trade Hounds then pushes that job posting to relevant, qualified users based on their profiles and preferences.
"Then those workers that are interested are able to look at the job and apply if it's a fit," Maglathlin says. "We felt like it was really important to make the process simple for the worker. If their profile is complete, they're able to apply with one click."
That user's profile then gets sent to the employer, who can choose to accept it and begin to chat directly with the trades worker on the platform.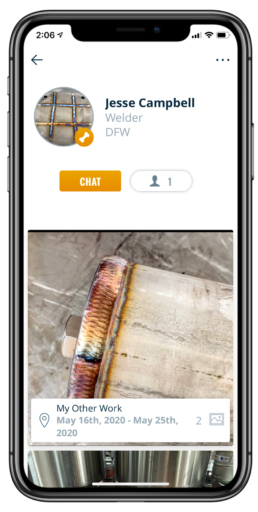 Employers, which range from large general contractors to smaller specialty contractors, say they are finding the value in this kind of functionality, Maglathlin says. Many have said they intend for it to become a key part of their hiring strategy moving forward.
"The preliminary problem that we're solving is making the connection," he says.
Another benefit is that employers can also establish a presence and brand recognition within the Trade Hounds community — plus, they get access to passive job seekers.
In the future, Maglathlin says Trade Hounds envisions building out additional features within the app for employers, such as background checks.
It Creates a Path for Worker-First Technology of the Future
Maglathlin says there is broad opportunity for other types of online marketplaces and ecommerce platforms to be created for construction.
"I think there's much room for technology to be injected into the construction industry, across the entire stack," he says.
But in order for new technologies in construction, such as online marketplaces, to be successful, they cannot be driven by the top down.
"Most of the innovation we've seen in construction has been through tools that are sold into the boss and forced upon workers," Maglathlin says. "It's really hard to win over the worker with that type of model."
He notes that some of the most valuable technology businesses that have risen to prominence in the past few years, such as Zoom and Slack, were products built for the individual user that became enterprise products over time.
"There's much room for technology to be injected into the construction industry, across the entire stack." — Peter Maglathlin, co-founder and CFO of Trade Hounds
By designing technology with the individual worker in mind, like with the Trade Hounds model, it then has the power to bubble up to the decision-makers and beyond.
"When you're introducing new technology to an industry like construction, it's not really about what we think," Maglathlin says. "It's about what the workers and the employers think. It's really important that technology is focused on the workers and the ways they want to use it."
This will be the path forward, Maglathlin says, for the construction industry to embrace innovative solutions that can make the skilled trades shortage and other challenges a problem of the past.
Looking for more content designed to provide additional insights for heavy equipment management? Make sure to sign up for the Gearflow newsletter here.
Here's an example of the content you'd receive: